Archive Entries for
2010
Saturday December 11, 2010
Books in December
The Girl who Played with Fire and The Girl who Kicked the Hornets Nest by Stieg Larsson, (translated by Reg Keeland) [read by Saul Reichlin]

I spent this month listening to conclusion of Stieg Larsson's Millennium trilogy. As it was so long since I read the first book I started by listening to the audiobook version of the Girl with the Dragon Tattoo before starting on the other two.
I found the second book a fairly good thriller, but by the time we got to the third - which was really just an extension of the plot of the second, it all sounded rather like the first book all over again.
The hero ends up by finding the perfect woman (physical and intellectual) as well as the journalistic scoop of a lifetime - again - and of which we are led to believe is his third such scoop. Reading page after page of what really amount to the fantasies of an aging journalist became rather tedious in the third book.* However, the books are well-deserved best-sellers and it is a shame there are not going to be any more like them.
* As usual, I looked at other reviewers ideas and was surprised that they did not speak with one voice. Some were critical of the writing and the plot, while others praised it - though I felt perhaps on the grounds of "approving" of the underlying strong moral stance.
Posted on December 11, 2010 at 4:06 PM. Category: Books of the Month.
Wednesday December 1, 2010
Icy Weirdness
I return to find weird weather.
Posted on December 1, 2010 at 5:57 PM. Category: The Garden.
Tuesday November 30, 2010
Books in November
The Triumph of Caesar Steven Saylor [read by Peter Wickham]
I was a bit surprised (and pleased) that Saylor has written a further Roma Sub Rosa novel. I thought we had seen the last of Gordianus in Egypt in The Judgement of Caesar. As the earlier novels progressed rapidly through history, I always felt that Saylor planned to continue the sagas perhaps by focusing on other members of Gordianus' family, but this never fully developed. I think Gordianus proved to be more interesting than any of the others. However, our hero is certainly getting on a bit now, and the style of the novel seems affected by that fact, (which is interesting in that the author himself is not so very ancient). This is a way of saying that I did find the pace a bit slow and the basic plot a little weak, but as usual the historical detail is very interesting in itself, and clearly where Saylor's interest and expertise lie.
I think that may be the overriding reason that we have not moved to later periods in history with G's sons or daughter. And - presumably to keep a plausible lifespan for Gordianus, while avoiding a chronological dead-end for the series - the next novel is said to be a "prequel that will take the young Gordianus to the Seven Wonders of the World".
I look forward to it.


Scarpetta by Patricia Cornwell [read by Lorelei King]
So - I plod on reading the Scarpetta series - always a good read (if you like crime thrillers - not so good if you don't). You can see from other notes on these books, I have some reservations about the portrayal of the heroine. However, in this book I seemed to discern a change. Kay seems to have become much more human, and I had a greater sense of warmth from all the characters - as if a study in black and white had suddenly been tinged with colour. I think the analogy works well as the black and white depiction stands on its own artistic merit as well as colour adding interest.
Looking back on the series and Cornwell's other novels I think she has quite simply adopted different writing styles and that alters how I feel when reading. The most notable is writing in the third person and yet in the present tense. You (I) would imagine that writing in the present tense would add to the tension and immediacy of the action, but the use of the third person makes for a sense of icy detachment, as if you are watching the characters and the plot unfold through a pane of glass.
In this book we return to third person past tense ("normal"!) and the characters suddenly seem more alive. So I'm looking forward to her next couple of books which seem (from excerpts I have read) to continue with this style.

Posted on November 30, 2010 at 9:24 AM. Category: Books of the Month.
Sunday November 28, 2010
Medlars
We have a medlar tree in France and this year we found some fruit from it, so I "left them to rot" for a while, as instructed, and then made jelly and jam.
Not sure if it's because it's a good year for medlars, but whatever the reason they seem to be having a lot of items about them in the media. I did know you have to blet them, but, having watched the TV programs, I think that's more for eating them as fruit rather than making jelly. For the latter I think you need more of a mix with unripened fruit. My jelly and jam was somewhat bland, and not very exciting. Eating the raw bletted fruit was much as described - like stewed apple with the cinammon and spices already added.
Posted on November 28, 2010 at 12:38 PM. Category: The Garden.
Sunday November 21, 2010
San Francisco
It was dull and drizzley so what else but to hit the shops. We went to Nordstrom in the Westfield Center - mostly just Nordstrom! It boasts the first spiral escalator - and it is a pretty impressive centrepiece to the mall.
Last night's torrential rain had ceased but it was a cloudy brooding day - this is a perhaps a less-than-picturesque view from our hotel window - but I thought it was great.
To rally ourselves for the shopping, we had a marvelous "brunch" at Dottie's True Blue Cafe, in the Tenderloin neighbourhood. It's a much-loved unpretentious cafe which I would liken to a UK transport cafe (in a good way). The main difficulty with Dottie's is a cramped interior (adds to the charm) and thus the potentially long wait for a table (not so charming). However, on the day, we hardly had to wait any time (20 mins?) and the food was great.
Since our visit, Dottie's has reopened at a new location in Sixth Street - the interior looks very swish, but I think the biggest plus must be the increase in covers, which - even if you regret the old earthy styling - must mean that more people can enjoy their great food without the terrible queue.
Posted on November 21, 2010 at 8:35 PM. Category: Holiday USA.
Saturday November 20, 2010
China Beach and Lands End
We take a weekend off in SanFrancisco.
Having had fabulous holiday weather ("for the time of year" - as the natives kept reminding me but which I took entirely for granted), the predictions for the weekend were for heavy rain. However, on our arrival, the day was beautiful - breezy as usual in SF, but lovely. We visited Lands End and China Beach, where I could not resist a paddle. The sea had one lone swimmer, but I did not envy him his bracing experience.
We had a light lunch at the Cliff House - we could not get into the restaurant but in fact that suited us better because it turned out they had "bar snacks" which meant a proper cafe style lunch (as opposed to an inappropriately large meal). The Cliff House has burned down a couple of times in its early history, and when rebuilt around 1909 it was in neo-classical style, not the amazing and wonderful Victorian edifice that preceded it.
The Sutro baths were part of the same development - to my amazement built in the 1890s. I was going to embed a YouTube clip here - but there were so many good ones, I simply refer you to these:
This is just the sort of place that interests both of us - in history and style. Sad that none of the amazing architecture of the baths survive, (always too expensive to maintain "working" buildings that no longer pay their own way).
In the late afternoon, before checking in to our hotel, we found our way to Imagine Knit - a lovely yarn store on 18th and Sanchez. We spent some happy hours browsing books and yarn, and finally bought some absolutely fabulous lace-weight yarns that we don't really need. Perfect.
We had parked on a residential side street that seemed to be almost vertical, which was quite something even taking into account SF's reputation in this area; the cars were parked sideways on, and we puzzled over how the residents got their cars into their built-in garages, which were at street level on one side of the doors, but about a foot higher at the other side, (....ramps?). So it was quite a relief to get back to the car and manoeuvre it back on to saner streets, and finally into the hotel's valet parking. We got under cover just in time as the rain swept in. The hotel restaurant has a reputation for good dining, so we began discussing the issue of where to have dinner over a refreshing cup of tea, went seamlessly on to happy-hour cocktails, and then as we watched the rain tipping down outside, we happily settled on an excellent dinner in the hotel.
Posted on November 20, 2010 at 10:41 PM. Category: Holiday USA.
Friday November 19, 2010
Quarter Century
And now to the main purpose of my trip to the USA. Alison has been with our company for 25 years, and this is her celebratory lunch with colleagues at the California Cafe in Los Gatos. It was a really good experience and great to meet all her co-workers.
Posted on November 19, 2010 at 8:15 PM. Category: Holiday USA.
Thursday November 18, 2010
Santa Cruz and Natural Bridges
We both love Santa Cruz and spent a lovely day here - mainly to see the Monarch butterflies - which, despite many trips, excursions around Monterey, and tales from colleagues about the amazing sites, I have never managed to see the reputedly spectacular congregations of these insects.
Note: also took in lunch and purchased lovely Coach bag... (!)
If we look slightly wild in the above photo, it's because we took it with a delayed timer; we had many attempts before managing this one, involving balancing the camera on a tree stump, rebalancing (quickly) after pressing the button, then running round into shot. What Larks!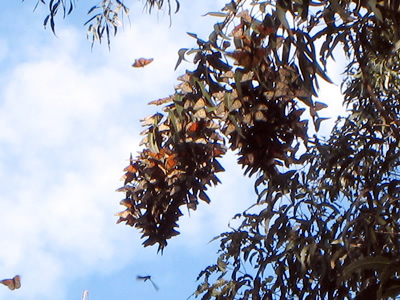 The butterflies were much more wonderful than my ability with a camera can convey. Above you can see what looks like a hanging cluster of dead leaves - which are the Monarchs; the more orange colours are them with their wings open (you have to trust me).
Below is the best close-up shot I could achieve of one with closed wings - sadly focussed on the twigs rather than the insect. However, you can see how a mass of them just look like dead leaves.
---
Monarch Grove
Directions to trailhead: Natural Bridges State Beach is located off Highway 1 in Santa Cruz at 2531 W. Cliff Drive. Follow the signs from Highway 1.
The hike: Signed Monarch Trail begins near the park's small interpretive center. Soon the trail splits; the leftward fork leads to a monarch observation platform. Sometimes on cold mornings, the butterflies look like small, brown, fluttering leaves. As the sun warms the tropical insects, the "leaves" come to life bobbing and darting. As many as 200,000 monarchs cluster in the state park on a "good" butterfly year. The other branch of the trail is a self-guided nature trail. It ends in a grove of Monterey pine.
Posted on November 18, 2010 at 9:42 PM. Category: Holiday USA.
Tuesday November 16, 2010
Blossom Hill
So this is just a boring road - with some pretty autumnal trees.
But it is bestowed with a name to conjure with. It is filled with nostalgia, encompassing my first ever visit to California through to the very origins of its name. For me, it was the first road I had to become familiar with in California stretching right from my initial lodging in Los Gatos up to the factory gates of where I was working in San Jose (which in those days was almost a little town all on its own - and is now bulldozed, despite having been designated of historical interest); and going home to my condo "down Blossom Hill, turn right at Snell". It makes me think of those sad lyrics dating from long before there was a Silicon Valley, when a lonely would-be actor wistfully dreams of home.
You are hard pressed to find the plum trees there now - but I always see the blossom.
---
San José
The City of San José has a rich history, one that has been marked over the years by the extent of change that has accentuated its landscapes - both physical and figurative. Once a largely agrarian community, San José was a city of bucolic hillsides and an expansive valley dotted with orchards of apricots, walnuts, cherries and plums. In those days, San José was known as the "Prune Capital of the World." Decades later, the city successfully carved out a niche as the Capital of Silicon Valley, and is known around the globe as a high-tech center.
San José Statistics
Founded: November 29, 1777 San José was California's first civilian settlement
Incorporated: March 27, 1850 San José was California's first incorporated city and site of the first state capital.
Incorporated Area: 178.2 square miles
County: Santa Clara
Population: 1,007,000*
San José is the third largest city in California, following Los Angeles and San Diego.
It is the 10th largest city in the U.S.
*2009 California Department of Finance
Technology Expertise: The San José area is home to the largest concentration of technology expertise in the world--more than 5,600 technology companies employing more than 240,000 people.
Climate: Temperatures vary from an average of 50º in January to an average of 70º in July.
San José boasts an average of more than 300 sunny days per year, and has a mean annual rainfall of 14.4 inches.
Elevation: The highest elevation is 4,372 feet at Copernicus Peak on Mt. Hamilton (near Lick Observatory) in the Diablo Range; the lowest elevation is sea level.
Distinctions
10th Largest City in the U.S.
#1 Recycler among nation's largest cities
Highest credit rating of any large City in California
#1 median household income in the United States
San José by the number
Cultural Events (Approx.) ..........................450
Arts Groups (Approx.) ...............................125
Regional Parks .............................................9
Neighborhood Parks..................................203
Parks Acres.............................................2,884
Libraries......................................................18
Community Centers....................................29
Senior Centers ..........................................12
Youth Centers ............................................14
Fire Stations ..............................................34
Sworn Fire Personnel ...............................716
Sworn Police Personnel .........................1,343
Total Employees ....................................6,623
Miles of City Streets ...............................2,300
Miles of Trails .............................................50
Airport Area Acres .................................1,050
---
All information in extended entry about San José copied from San Jose City Facts Leaflet 2009
Office of the City Manager
200 East Santa Clara Street, San José, CA 95113
Customer Service Call Center
(408) 535-3500
www.sanjoseca.gov
Posted on November 16, 2010 at 4:31 PM. Category: Holiday USA.
Friday November 12, 2010
Where in the world...?
I am always so excited I have to take a photo like this.
Posted on November 12, 2010 at 12:23 PM. Category: Holiday USA.
Sunday October 31, 2010
Books in October
Popco Scarlett Thomas
This was an enjoyable book - well written, fun to read. There is a "but" coming as I had some reservations about completely enthusing about it. It has a number of layers to it and retains interest throughout but I think the author showed more inspiration in writing some of the passages than others.
The opening was excellent and engaging as the heroine commenced her overnight train journey, to join a "team building" exercise run by her huge international company at their own country-house training centre. I found this all well-observed and funny - I could easily empathise as it is all very familiar territory to me (not that my own dear multi-national company ever offers quite such lavish affairs). The coffee-table style explanations of mathematics were interesting enough though not new to me, and Popco's global marketing strategies were very interesting, if somewhat sinister. However, I found the back story and the ending less satisfying - as if the book had been written and then it was simply necessary to tie up loose ends.
Overall though - do read it. To quote Kim Newman in the Independent in 2004: "..it's hard to resist a book which comes complete with a crossword puzzle, a list of prime numbers, a frequency chart for the occurrence of letters in English (bound to come in useful) and a recipe for "Let Them Eat Cake" cake.


Euclid's Window by Leonard Mlodinow
Reading Popco made me want to read this book again. Before I recommend it, be aware that it definitely is about maths. You don't need to be a mathematician to read or understand it but you do need an interest in that direction. I find it interesting and fun.

"An optimist would say that although the probability of winning the lottery is 14 million to one, you can't win if you don't buy a ticket.
However a mathematician would say that the probability of winning is the same whether you buy a ticket or not."

Posted on October 31, 2010 at 9:33 AM. Category: Books of the Month.
Thursday October 28, 2010
Diaghilev and the Ballet Russe
A late birthday outing for Robert to the V&A.
We are both interested in this topic; in the 1980s we were lucky enough to see the Ballet Rambert's Rite of Spring, (reconstructed from dance notations and photos of Nijinsky's original ballet). Delightfully, we found they were also performing the Ghost Dances, accompanied by Incantation themselves - a memorable evening. [About which I can find no reference on the web - it being pre-1992!].
Robert's interest is professional as well, since this was an exhibition not only of photos and memorabilia but theatrical costumes and - probably most excitingly - painted back cloths, (which are surprisingly stunning due to their awesome size as well as history). The centrepiece (apparently) of the exhibition is a cloth for Le Train Bleu by Picasso - with contemporary photos of its being painted with Picasso and others. Not many of these cloths survive due to their vast size, and I would think for many cloths in general, debatable merit - so it is fantastic to see them displayed.
Do look at this blog entry from the V&A with a short video of its being hung by the staff - and this one showing the Firebird cloth being rolled up at the end. In fact I would recommend viewing all these blog entries covering the exhibition period!
I was a little underwhelmed by the costumes, only because they are simply that - theatrical costumes - the sort of thing that Rob's students produce. There were of relatively simple construction and were not at their best on close inspection. I think also the designs were in influenced not only by traditional folk costumes, but also by the paired down lines of (what became) the 1920s fashions, which I do not find so appealing.
However, to see such an historical collection of design drawings, costumes, together with "backstage" photos of the people and designs coming together - simply wonderful.
I was very interested to see the Coco Chanel costume designs (used in the V&A publicity materials) for Le Train Bleu as they included knitted swimwear - fabulous.
I am not certain if photography was permitted or not, but I took this to try and show the colour of the lovely knitted swimsuit. As ever, there was very low lighting throughout the exhibition presumably in order to preserve the fabrics, thus, of course, definitely no flash, so you'll have to regard it as an "art" photo due to the excessive camera shake.
Posted on October 28, 2010 at 11:48 PM. Category: Art and Culture.
Friday October 22, 2010
Longwool and combs
A farmer came to our open day with a few fleeces to sell. They were Leicester Long Wool, a rare breed, which I had not heard of before but similar in type to the other "long wools". They were huge fleeces, and in the end I split a "lamb" fleece with Kate. The fleece has some appeal as the colour changes across the sheep - creamy white through to grey, and with a slight sheen (only visible on the inside of the fleece!). Overall they did not look especially promising but this farmer does not keep them for the fleece - we were a kind of charity for him I think.
Uncharacteristically, I washed the fleece the very next day - my usual method of steeping in hot detergent and then rinsing on a very gentle wool cycle in the machine left me slightly disappointed as it came out more matted than I would have liked, but I managed to separate it into reasonable locks.
Today I decided to start the preparation. I began by spending a few minutes reviewing combing techniques on the web (time well spent in fact) and then clamped the Guild's combs to the dining table, covered the floor with a tarp, and started off with the medium grade locks.
The whole thing went much better than I expected. I found the process overall more satisfactory than carding, and the fleece itself seems to be very soft and attractive. I have not really followed all the advice I have read - but one thing I will be doing next time is spraying the locks with oil/water mixture - it really is very fly-away without this.
At this stage I could say it seemed to be the nicest raw fibre I had worked with. I am now looking forward to trying to comb the washed but matted Wensleydale that I have in the attic (a gift...). I may even invest in my own combs...
As I am publishing all this very much in arrears I can add an addendum. The fibre I have spun so far is slightly rough and hairy. Alison also tried out one of my nests. However in its defence I have not yet prepared the best parts of the fleece as I wanted to practise my combing first.
This fibre went on to be part of the Winter Wonder Hat plied with some silk and merino - the main hat was in Spelsau and this made a good colour match.
Posted on October 22, 2010 at 5:05 PM. Category: Spinning, Dying, Weaving.
Tuesday October 19, 2010
The end of the quest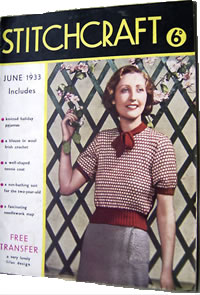 Today I completed my Stitchcraft collection with the illusive (for me anyway) edition June 1933 - acquired from Todmorden Books. An unremarkable Stitchcraft example but very pleasing to me. The early editions featured recipes and film reviews as well as fashion and knitting:
"Everything for the Woman and her Home".
Posted on October 19, 2010 at 8:46 PM. Category: Red Letter Days.
Saturday October 16, 2010
Creative Fibres Open Day 2010
It was our Guild group open day. Lots of fun and very busy, with even more visitors than last year.
Posted on October 16, 2010 at 5:51 PM. Category: Spinning, Dying, Weaving.
Saturday October 9, 2010
Knitting and Stitchery Show 2010
The fun day has come round again - this year was a first as we had to go on a Saturday. I think our conclusion was that it was more crowded and there may have been more drivers to the event as the local tube line is closed for repairs - I met one of our Guild members who had not known in advance and she had taken 3 hours to get there... Anyway no such issues for us.
This year the great theme was "renew and recycle". There was a huge display of Mors Bags in the main corridor:
I discovered Mors Bags some time ago and spent a pleasant May Bank Holiday making some out of old curtains - but what I had failed to fully realise was that the fabric was utterly degraded, and my beautiful bags shredded when washed. However, I have not given up on the idea so watch this space... Luckily many other people seem to have found more robust fabrics to recycle.
Unfortunately my camera misbehaved on the day so my photos have flaws - but these are a few of the interesting exhibits we saw. I loved this retro chair, (but I don't want to own it... in case you are thinking of themed Christmas gifts....!).
I was also very impressed with this exhibit by artist Claire Platt - my own photo of this is so bad I have used hers from her site - take a look there for other interesting work.
I had my own flying duck set once - not plaster I'm afraid - having been so ubiquitous (and reviled by teenagers) in my youth, they are now quite rare as plaster is so fragile. My set was the traditional 1930's green but, strangely, made of metal...
However Aran knitted versions!
Now we're talking....

This year we did not buy so very much - Sheila has taken up knitting again and purchased some bright blue yarn from Black Sheep's bargain section - I agonized over some Rowan Damask as I love knitting with it but decided to pass as I have no specific project in mind. For myself I bought some more Knitpicks (Knitpro) interchangeable needle tips - the multicoloured wood type - from Coleshill Accessories; my steel ones only go down to 3½mm and I found they are available in 3 and 3¼mm. I also found that you can get shorter ends (they are 100mm as opposed to the standard 128mm and called "special" tips in case you want to buy any). They are designed to go with shorter length wires (40cm) but I am finding them useful all round. Even with shorter old circulars I often have trouble turning in the tips as they are too long; in fact my general comment on these needles is that the length should change as the needle size increases - I have the "chunky" set in steel and 128mm is too short to handle properly in those sizes. I did think the short wires might be good for socks - but they are still too long - suitable for hats apparently; one thing they will be excellent for is the sleeves and neck on a guernsey (yes, I am still planning to knit another one day!).
I also found this lovely coat pattern (V2884), a reissue of a 1954 design.
I decided to restrain myself and not to buy some lovely red woollen fabric from The Shuttle - but now wish I had! I did buy some fine brown linen (for a doll's dress) and crushed purple velvet (for a a bag inspired by one I saw on sale at Wisley).
My final purchase was a giant ball of Rayon string from Empress Mills. This has mystified everyone ... but I like it...
Finally - an enchanting display of tiny hats: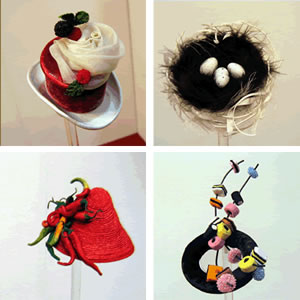 Posted on October 9, 2010 at 10:53 PM. Category: Days Out.
Thursday September 30, 2010
Books in September
The Suspicions of Mr Whicher: or the Murder at Road Hill House Kate Summerscale
I can highly recommend this book as a fascinating read. Some other reviewers say that there was far too much detail based on the author's research and complain that it's not much of a mystery novel; my conclusion is that they were misled by the cover blurb which does the book an injustice if it implies it's in the detective fiction genre. I would class myself as a fairly lightweight reader who enjoys murder mysteries - and yet I was really gripped by this book, in the same way that I loved The Victorian House (Judith Flanders).
I really appreciated the frequent references, and also the absence of material where there is no historical information available. The picture of the early detective force in the 1850s seems to show their reliance on keen observation identifying somewhat naive criminals, and arrests of the form "come along quietly now lad" followed by immediate confession. Not to underrate their skill, but it makes an interesting contrast to today's methods of detection, where increased skill in producing hard evidence seems to have led to increasingly sophisticated criminals. It is very interesting to understand through writings of the day, how much social class influenced the role of the police - they had an odd status, having the power of the law behind them but no power at all in social standing - their need to pry into everything to uncover the truth was not considered right or decent. [In fact, I even noticed something similar in a contemporary TV episode of Midsomer Murders where on being asked whether the suspect had "stayed overnight" with the witness she replied stonily "how is that possibly any of your business?" - even though the question had a clear purpose.]
I find it hard to see how this book could be taken for a conventional murder mystery as such - the actual murder is really so horrid (as real-life murders always are) that it does not make for a good fiction story. It was the sensational news of the day akin to Ian Brady or Ian Huntley, and seems to have spawned the original police detective story. A number of authors of the day produced fictional stories, using the (then) police methods, but none reproducing anything like the actual Road Hill House murder.
The author cited The Moonstone frequently, showing how it very much followed the pattern of clues in the true story and how the detective (Cuff) was an amalgamation of Whicher and some of his fellow detectives at the time - so I thought I had better read it again to compare...


The Moonstone Wilkie Collins [Read by Peter Jeffrey]
I say "read it again" but actually I am not sure I ever made it through the whole book before even though I have owned the book for a number of years. This time I listened to a spoken-word version - and it was great. The tale is told in sections by a number of different narrators; the story has a conversational style which changes according to the "writer" and therefore is well-suited to the spoken word, especially as Peter Jeffrey seems exceptionally adept in giving the characters voice. So I found it very digestible; in addition, there is a lot of tongue-in-cheek humour in the book, and I must say even though I think I take an interest in Victorian history, I was surprised by how much the humorous content felt quite contemporary. The story was originally written for serialisation in a magazine, so it is episodic in nature and somewhat "spun out" - and this also worked well as an audiobook.
Given that the story is about a theft and not a murder, it is astonishingly similar to the Road Hill House crime, and is very obviously inspired by it. It follows the form: crime in a "posh" house, (erroneous) suspicion falling on a young lady, the key clue of the "missing nightgown" (stained with paint rather than blood), the character and fall from grace of Detective Cuff... and so on. Unlike the real world of course, it concludes with a satisfyingly happy ending.
[Sadly, no happy ending would ever have been possible for the real murder story.]

Posted on September 30, 2010 at 10:11 AM. Category: Books of the Month.
Saturday September 18, 2010
Bound to be (more) Beautiful
Chrissie and Diana were back with us today with a project entirely different from our previous workshop with them.
We were all a bit slow - except Felicity, who you can see calmly knitting in the background as she has finished her step of the process while the rest of us struggle.
We made 4 little Japanese bound booklets with sewn bindings and folded pages - each one slightly different. They fit into a little cover - which I finished off once I got home.
Posted on September 18, 2010 at 5:30 PM. Category: Crafts.
Friday September 10, 2010
IKnit Weekender
I went to IKnit with Felicity
Herdy was there selling his (her) mugs and we shared a set between us.* Felicity bought an extra ball of pink mohair wool from the Natural Fibre Company to finish her pink cardigan - started at Woolfest. I bought a ball of sock wool.
We had lunch watching a Rowan fashion show introduced by Erika Knight - and I tried on a few of the latest Fair Isle designs with Felicity's reassurance that they did not enhance the benefits that nature has bestowed on me. The afternoon was spent in a class on "Continental Knitting", which I found a lot more interesting than I had hoped - and has made me see moss stitch in a whole new light.** Our tutor was Biggan Ryd Dups - she was excellent.
* George was not amused at the addition of another mug to our cupboard - especially as it was pink so he cannot clearly identify a "his" and "hers" theme.
** Since the course I decided to practice on a sock. I know for fact that so-called continental knitting is the fastest technique and is traditionally used by Fair Isle Knitters who used to produce a sweater in a day for day-trippers to the Island, (I saw a "Look at Life" film at an impressionable age!). I got George to time me and found that although I thought I was knitting pretty fast, it took me 2 minutes to knit rounds using my usual method but a disappointing 2 minutes 50s using the new method. I guess it takes practice...
Posted on September 10, 2010 at 10:54 AM. Category: Knitting.
Wednesday September 8, 2010
House of Ghosts
A new Morse play starring Colin Baker. So far so good. But....
Let me focus on the positive - I liked the set very much - it covered for a stage set for Hamlet, a church, a country house, a police station ... and was generally very evocative of the idea of "Morse" and Oxford. I was (and I am not being ironic or sarcastic) glad to see the actors were clearly enjoying their tour. It made the audience join in the fun and also produced excellent acting - some dramatic scenes were played with particular skill and conviction.
I did find that there were some very heavy handed references in the script to the setting in the 1980s - unnecessary in my opinion - I know some people did not live through the era but I am sure they could have kept up!
But the fundamental flaw was that the main cast were basically to old. This is not an ageist statement but the entire plot hinged around the premise that the main characters were at college together "25 years ago" and I think either you have to cast accordingly, or write around it in the script. The writer did actually pen some of the Morse episodes, which meant that some of the linguistic foibles of the TV characters really jarred when repeated by different actors on stage ( I am thinking of Chief Superintendent Strange) - and in the same context there was really no particular reason to make Lewis a Geordie in this play - I think he was (as his name implies) Welsh in the original books.

Rob and I loved the truly high quality TV adaptations - and this was lots of fun - well worth an evening out.
Posted on September 8, 2010 at 11:30 PM. Category: Art and Culture.
Sunday September 5, 2010
Lizzie's Party
Unbelievable but Lizzie has reached 21! This fabulous cake created by her Mother.
Opening that special gift from Granny and Grandpa.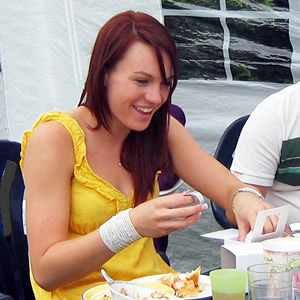 Posted on September 5, 2010 at 6:31 PM. Category: Red Letter Days.
Wednesday September 1, 2010
Green (...and white and orange)
All summer we have been eating our own vegetables. The results have been variable - mostly we have had very small crops as we grew only a few plants.
Above are the butter beans - I am very proud of them - we had only 2 plants that made it to maturity so we have had literally 2 or 3 beans with each meal....! The runner beans are highly productive and undemanding as usual. This years carrots are great - different variety from last year but just as successful in containers. We had some tomatoes this year - the blight did not get them. I have been eating these cherry ones every day for lunch.
These larger tomatoes are from G's Mother who grew them from seed. They were very late developing and are still very green - but we will ripen them indoors later on if necessary. We used some interesting little pots designed to work with a grow bag, and they have their own personal greenhouse.
Posted on September 1, 2010 at 9:41 AM. Category: The Garden.
Tuesday August 31, 2010
Books in August
This month saw the publication of a brand new magazine for spinners here in the UK called the Yarnmaker. I have been anticipating it for a while and it is truly excellent - quite a slim first issue but packed with content - and all about the things which interest me most (so my love for it may be a rather personal preference). I have immediately signed up with a subscription and fervently hope that they can keep up the high standard they have set.
Also this month, Rowan published their magazine for autumn/winter 2010 (No 48) somewhat earlier than usual. However the controversy about this year's free gift for members cast a bit of a shadow. I was absolutely delighted by the idea of their giving away an eco-friendly tote bag, and having received it now, I have to say it pretty well lived up to my expectation. However, there was a mass of complaints about it on Ravelry and other fora. Many people wanted yarn and not yet more tote bags, some did not want a bag "advertising a company", but mostly they complained about the quality - and I think Rowan's supplier did rather let them down over the latter. For myself - I have a lot of yarn, and the free gifts never gave me enough yarn to make anything I really wanted so my previous year's free gifts are all sitting around untouched. But even though I actually liked my bag, I was also sent an additional free book "to compensate me" - Winter Kids.
Anyway - the magazine itself is great - the Russian Doll section is especially lovely although I doubt I will ever knit any of its complex Fair Isle patterning (been there, done that, still working on it...); I had no time for the Timeless section - hated the presentation and pretty much hated the styles.
Posted on August 31, 2010 at 9:09 AM. Category: Books of the Month.
Sunday August 29, 2010
Wisley
Having been a member for two years, we finally decided to visit RHS Wisley and see the Sculpture Trail. It was very interesting and some items were quite desirable - but not quite in our price range.
I was very inspired by the vegetable plots on show - especially the "caged" brassicas which protected them from caterpillers. In the end we purchased a tiered set of shelving so that I can make a home for a mass of strawberry offshoots that I brought home from France. These were last years named varieties that I took over there at the end of the season and the fruit is delicious - each has a different flavour - though George and I only got to eat about 3 strawberries from them! I originally chose them as they each cropped at different times but now I have no idea from which plants the babies are derived.
This year I found a tray of pathetically sick looking strawberries for 25p in Homebase - 3 seem to have survived and cropped about 2 strawberries - which were nice but not wonderful. The plants are now doing well so - maybe next year....
Posted on August 29, 2010 at 8:28 PM. Category: Days Out.
Friday August 27, 2010
Janet's Day
Another year has rolled around and we were all spinning in Janet's Victorian greenhouse again - and feeding the alpacas.This year she offered some of her alpaca fleece for sale, which was much appreciated by all.
I was spinning this lovely batt which I bought from Emma of Lavender Cottage Fibres when I met her at Shabden Park Farm. The batt was rolled up exposing only the wine colour - but this did not do it justice - unfurling it revealed other colours, and it is spinning into a lovely soft yarn.
Posted on August 27, 2010 at 9:10 PM. Category: Days Out.
Thursday August 26, 2010
Railway Children at Waterloo
Ridiculous I know but I have been looking forward to this all summer. Feeling that I am a child of the railway myself, (though not like the ones in the story), plus the memories of my Father linked with Waterloo station, this was a nostalgic outing not to be missed.
Anyway - it was wonderful - lived up to every expectation. I liked the fact that they staged it rather like Dennis Potter's Blue Remembered Hills (a particular favourite of mine) in that the "children" were the adults they "are now", as it were, playing themselves as children. This opens up possibilities for the play - not the least of which is that you have the skill of adult actors in the roles - and led to a portrayal of the story with all the passion and romance but without the sentimentality.
And - there was a real steam engine and everything! - I cried almost all the way through - I'm crying now.... (Luckily Rob does not embarrass easily).
Charmingly - for the media publicity when the production opened - Bernard Cribbins came along for a photoshoot at Waterloo. (What a professional that man is!). And in this production Marshall Lancaster makes an excellent Mr Perks.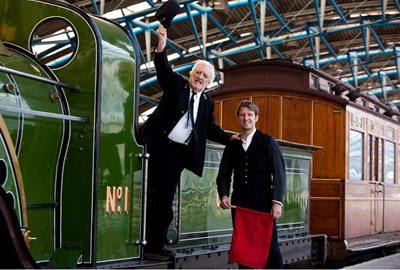 Tickets available through to the New Year. Go on....
Posted on August 26, 2010 at 11:39 PM. Category: Art and Culture.
Wednesday August 25, 2010
Dragon Tattoo
I was very cross when I saw the trailer for the second of this movie trilogy advertised to be released on the 25th - as it underlined the fact that I had missed the opportunity to see the first one! However, one of the art cinemas was showing The Girl with the Dragon Tattoo all this week in preparation for opening The Girl Who Played with Fire on Friday. So I was able to grab some last minute tickets and George and I went over to Walton this evening (that is "on Thames" rather than "on the Hill" - sadly the village a mile away has no cinema - art or otherwise). This was the Swedish film subtitled - my Swedish has improved immensely through watching Wallander but .....
I thought it was an excellent adaptation of the book. When it was released there were a lot of shocked complaints about the graphic sex and violence in the film - but really I do not really see why since it merely represented what was clearly described in the book - I cannot imagine an expurgated version, and as such am truly looking forward to seeing what kind of film the planned Hollywood remake will be. As we left the cinema George gave a hollow laugh and said drily that he had heard a review of the second film on Front Row, which said it was "very dark - even darker than the first" - on which basis he did not think he wanted to see the second one.

Posted on August 25, 2010 at 12:37 AM. Category: Art and Culture.
Sunday August 15, 2010
Fouine
We are on another short break in France - the weather is pretty terrible - however, during one less ferocious interlude, George managed to snap this "little fella".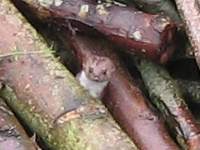 This is a fouine which is a stone or beech marten - relatively common in France apparently.
It's hard to see the scale of the beast - smaller than a cat - but we think he (or she)'s a youngster - very curious - popped its head out every time George approached the woodpile.
Posted on August 15, 2010 at 9:07 AM. Category: France.
Thursday August 12, 2010
Shoreham-by-Sea
My sister and I met up with our cousin David for lunch in Shoreham-by-Sea. We have always loved Shoreham which was a rather scruffy working working port when we were young. Now it is a little more gentrified but this has not destroyed it - somehow it retains an air of pleasing eccentricity. One of the positive aspects of gentrification is a good choice of restaurants - we ate (fish) at Suter's Yard - and after lunch we went for a walk...
The spit which forms the harbour can be accessed by a footbridge - which we crossed - to see the amazing collection of houseboats along the Adur mud flats - they are made from converted barges, tugs, mine sweepers, motor torpedo boats etc and are weirdly beautiful.
[After all this, I had to just pop in to Shoreham Knitting and Needlecraft - wonderful shop - otherwise known as English Yarns - I used to visit them in person on a regular basis but I find myself down that way less frequently now so I use their excellent online shop.]
Posted on August 12, 2010 at 6:06 PM. Category: Days Out.
Monday August 9, 2010
Summer Rose
Rob trimmed his floribunda white rose and gave me this lovely country arrangement.
Posted on August 9, 2010 at 1:27 PM. Category: The Garden.
Sunday August 8, 2010
Potatoes
We were forced to empty a bag of potatoes prematurely (they are late earlies so needed a bit longer to mature) as one of the potato plants seemed to be withering and I feared blight. In the event the single plant had not developed and the attached root was rotten but it did not seem to have bothered the others.
Not a truly great yield but - yum.
We have subsequently had lots of potatoes, runner beans, french beans, butter beans, courgettes, and carrots - again not huge yields, as I think we do not enrich our soil sufficiently, but quite satisfactory. I still have fennel, curly kale, and broccoli to crop. I have rather rashly put our name down for an allotment, (there is a long waiting list!). We visited a couple of the allotment sites - a recce - and they are delightful - like walking into a bygone age.
Posted on August 8, 2010 at 9:15 AM. Category: The Garden.
Saturday July 31, 2010
Books in July
Dissolution C J Sansom
This is another book gift which it took me a while to get round to reading - it seems it's Sansom's first book of a series (up to about 5 now I think) featuring Matthew Shardlake a hunchback lawyer in the Tudor times. I am not a really a fan of historical "detectives" as such, with whodunnits being an invention of the Victorian era as I see it; some contrivances completely lack credibility - and are then poorly written. But a good story (well executed) is always a good story and I thought this one was excellent. One aspect I particularly enjoyed for myself is that it imparts a lot of information on this period of Tudor history about which I knew relatively little. I do like to learn new things in such a digestible form.
Many other reviewers have used the description "gripping" and I leave you with some words from James Naughtie, writing in the Sunday Times: "As good a new thriller as I have come across for years. The London of the 1530s smells real, the politics and the religious machinations are delicious and Sansom's voice rings true. His troubled hero Shardlake, doing Thomas Cromwell's dread work in the burning monasteries, is a kind of Tudor Morse and a character to treasure. Great stuff."
[There was some rumour of the BBC commissioning a series starring Kenneth Branagh but that seems to have evaporated. Someone suggested Tony Robinson for Shardlake - an excellent choice but sad to say a bit too old for the role now, as the character is pretty young - I would suggest maybe Burn Gorman.]


Charlotte Gray by Sebastian Faulks [Read by Jamie Glover]
I will begin by saying the book is excellent and well worth reading. Again, I learnt a lot about (rather more recent) history. Although I am familiar with the facts of the chronological progress of WWII, I never before had pointed out to me - or bothered to look into - what the occupation of France really meant, with the willful collaboration of the Vichy government after 1940, and the so-called "free zone" of France.
I was very interested in seeing the film starring Cate Blanchett when I saw the trailers in 2001; most of the reviews suggest it lacks passion, but despite that I am keen to catch it some time on DVD.
I understand that Faulks did a lot of research using contemporary accounts as the source for his fiction - this makes compelling and heart-breaking reading. I did find - though this is not necessarily a criticism - that the story was in two parts - the traumatic sub-plots sourced on real events, and the love story involving Charlotte. For all the detail about Charlotte's passion for her airman, I did not really feel for her; she is a restrained and someone cold little soul and I can see why they had trouble bringing her to the screen.
I do notice that the film has a different ending from the book. I think Faulks wanted to make a broader point about keeping faith, but I thought Charlotte's relationship with the Frenchman was more real than what I was perceiving as a fantasy about the airman. I was a little surprised by the reconciliation that ended the book - and also that it had a "happy" ending, (at least to Charlotte's romance - though you can't help feeling that it was rather small beer in comparison with the other events described).

Posted on July 31, 2010 at 8:49 AM. Category: Books of the Month.
Friday July 30, 2010
The Man from Stratford
I had a full day today - with a man coming to destroy two wasps nests in my house (maybe I should not say that as it seems popular to encourage the wasp these days - but it was getting hard to pass in and out of the front door, or open the bedroom window!) - and the men from Wickes delivered our kitchen units for the Bakehouse in France.
In the evening we went to see Simon Callow in a one man show about the life of Shakespeare. I love SC but felt he was slightly uncomfortable with the material and as I understood he wanted to tour prior to Edinburgh I thought maybe he was still adjusting - but he has done quite a few venues already.
I wonder if his issue was the same as my own - which was that Richmond Theatre had a simply dreadful arrangement as an aid to the deaf. It is Stagetext which provides open captioning converting the spoken word into visible text - which is continually beaming out at you in bright lights at the side of the stage. I am sure it can be a boon to the hard of hearing but I cannot see how the marketing material can say:"providing a more enjoyable experience for current audiences whether they have a hearing loss or not". It is no exaggeration to say that it utterly ruined the performance for me. My eye was constantly drawn away from the action of the play to watch a lettered board - I could not ignore it.
Future venues for the tour include Riverside Studios London, New Theatre Cardiff, Theatre Royal Glasgow, and the Churchill at Bromley.
Posted on July 30, 2010 at 8:33 AM. Category: Art and Culture.
Thursday July 29, 2010
Knit Nation 2010
Felicity and I went to our workshop "Wheel Mechanics" with Judith McKenzie McCuin at Knit Nation. The workshop was a bit laid back which was probably not ideal given we had only 3 hours - but I have found myself remembering and considering Judiths demonstations and advice long after the event.
Here is a You Tube video of Judith in a workshop (that looks similar to ours) demonstrating plying.
There were a couple if little gripes about the event - one was that the signage (once you had made it to Imperial Campus) was pretty poor - well - there was none from the (tube) side of the campus where we arrived. So even armed with maps it was tricky. Still it's their first one and if that was the only logistics issue it was minor.
The other issue was that the price of our workshop ticket - unlike on other days - did not entitle us to get into the market place. We would have had to pay extra for "preview" tickets - and in any case they had "sold out" - so all in all I felt slightly cheated. If everyone had to pay extra on all days I might have felt less so.
O - and also - I felt the wheel creche should have been free, and the website for the event was not good - looked nice enough but hard to find the information - on our workshop, one person showed up without a wheel - as I would have done if my prudent friend had not called the event organisers to check, since the information stated that we did not need to bring anything. The "homepage" was not a home page but became a kind of scrappy noticeboard which I think was a result of poor organisation of information that should have been elsewhere on the site.
Posted on July 29, 2010 at 10:31 PM. Category: Spinning, Dying, Weaving.
Wednesday July 14, 2010
Sissinghurst and Tudeley
After only about 25 years, my friend Jocelyn came over to see me from Australia - she has been over before but we have always missed each other. It was great to see her again, and we went on a couple of days out.
We visited Sissinghurst - I've always wanted to see the famous garden (now owned by the National Trust) - and it was as lovely as I expected. Unfortunately I have had camera issues for a while now and failed to get any personal photos of Joc or the garden. Anyway - I decided to post this photo of 3 generations of the family (men) take around 1967.
The next 3 generations posed in the same way about 20 odd years later - for fun I imagine - and the two photos were exhibited side by side. This kind of idea always has great appeal for me (as in my crude attempts to copy the original model poses in POM) - so I was hoping to post the same here but am unable to find a copy of the later photo on the web.
As we were (relatively) close - in Kent at any rate - I finally took that detour to Tudeley to see the Chagall windows in All Saints Church. I did not warn Joc of where we were going as I was not sure what to expect - but it was utterly beautiful in its tranquil setting with not another soul about; a very impressive end to the day.
Posted on July 14, 2010 at 8:29 PM. Category: Days Out.
Wednesday June 30, 2010
Books in June
The Shanghai Union of Industrial Mystics Nury Vittachi

This is a "Feng Shui detective novel" - part of a series - a remarkably original gift from my step-daughter. It is a light-hearted humorous book - albeit rather black humour. Personally, I feel sorry for the elephant - yes, I am afraid to tell you that innocent elephants were indeed harmed in the making of this book....


Sparkling Cyanide Agatha Christie [Read by Robin Bailey]
I enjoy listening to Robin Bailey reading Agatha Christie novels. His voice is like a comfortable chair - like listening to one of my old uncles reading to me (not that they ever did - this is an imaginary uncle).
I first read this novel when I was a teenager in a single afternoon - but remember little of the plot, as so often happens when you read a book quickly. Listening to it now, I quickly realised that this is a revamp of the short story "Yellow Iris" (1937) which featured Poirot. This novel (1945) does not feature her famous detective - though it does feature his good friend "Colonel Race". However, it is told from the point of view of an innocent heroine, Iris, (as opposed to Iris being the victim in the short story) and the victim is her sister Rosemary "for remembrance" whose character is somewhat altered and expanded. [The person wot dunnit has also changed!].
Iris does not see quite everything as we the readers do, and it is a (slightly) psychological thriller similar in feel to Margery Allingham's "Black Plumes". Will she escape the fate of her sister? Is she in love with the murderer?
I recently watched a very modernised TV adaptation (2003) starring Pauline Collins and Oliver Ford Davies - where they appear to be playing some kind of "Tommy and Tuppence" characters in a pretty unconvincing scenario (to be fair - probably no more unconvincing than those two fictional characters and their plots always were!)


Taken at the Flood Agatha Christie [Read by Hugh Fraser]
It was good to listen to the original text - and good to hear Hugh Fraser reading it. I have seen/heard several adaptations including the radio play - which seemed to stick pretty closely to the novel - and the TV adaptation as part of the David Suchet Poirot series - which did not.
I did not much like the deviations in the TV adaptation - I think they were done mainly to fit with resetting the plot into the 1930s. As a consequence the fundamental foundation of the story line becomes a pre-planned "gas" explosion rather than an unplanned air raid. This not only does not fit half as well with the characters and their occupations (the heroine has been away serving her country and the emphasis is on how the war disrupted all their lives) but it also rather spoils the title reference.
"There is a tide in the affairs of men. Which, taken at the flood, leads on to fortune; Omitted, all the voyage of their life Is bound in shallows and in miseries. On such a full sea are we now afloat, And we must take the current when it serves, Or lose our ventures."
It is a quote about grasping an opportunity as it arises - now or never. It is not about anything preplanned.
I am not universally opposed to plot changes to suit adaptations of AC's work. Some are very original and she herself rewrote her own plots (as above in Yellow Iris for one example). I much enjoy the recent reworking of the Miss Marple stories where she is shoe-horned into other people's adventures in a completely seamless way. After all, Joan Hickson said all there was to say about the original character as written, and these newer stories are exploring ways to add something. But... the Poirot alterations have not been so good; David Suchet has yet to complete his definitive TV adaptations of the canon - so it's not the time to fiddle about with the plots to such a degree. Sadly, "Cards on the Table" was a particularly unworthy of his stated aims for the series - and, now it's done he will have no opportunity to "correct" it.

Posted on June 30, 2010 at 8:58 AM. Category: Books of the Month.
Saturday June 26, 2010
Back to reality.
No I have not been there all night (note the change into traveling clothes) but could not resist spending the last hour in the garden before being picked up to travel home.
Over breakfast I met up with a fellow Woolfest attendee (no names exchanged?!) whom I had met last year at the hotel - and like me she had gone to some lengths to book it again. Talking to her made me wonder if we had attended the same event as she had seemed to see so many things I had missed; this made me resolve to attend on both days next year - there is plenty of time to spend the morning there on the second day as well as travelling home.
On the way back we dropped in at a small farm which had Shetland sheep - the owner had been unable to get her small flock sheared in time for Woolfest and was taking orders - she also related the sad (but ultimately uplifting) story of rescuing her sheep from the flooding. I think all the farmers around must have such stories.
I also amazed some very old friends in Windemere by dropping in on them at an unsociably early hour for a Saturday morning. I guess we have not met for over 20 years and they were a bit bemused but very welcoming for all that. Andy and Jeff are due to confirm their civil partnership next weekend and as this post is very late (technical issues) I am slipping in this photo of them (taken by Rob) on that memorable day.
Unfortunately I could not stay with them for very long (Adam and Felicity occupied with coffee and cake and a long journey ahead of us).
Throughout the car journey I was knitting "Puzzle" - a chunky cardigan design by Louisa Harding for which I am using Sirdar Peru. Being chauffeur driven on such a long journey has been great for headway on the knitting - and it says a lot for Adam's smooth driving that I was able to do it.
Posted on June 26, 2010 at 10:17 PM. Category: Spinning, Dying, Weaving.
Friday June 25, 2010
Woolfest 2010
I have had the usual wonderful day. My first visit was to collect my spindles from Spindlers2 (Carol and Pete Leonard).
I spent quite some time there collecting 2 spindles and choosing some fibre; I also eyed up a delightful Turkish spindle which I lusted after for its cute size, but at 11g it was a bit too specialised for me. Afterwards, I moved on to look at the display area and bought some Yak and Silk fibre which I used with my Greensleeves "Fox" spindle during the Spin In in the evening; it is tricky to spin and probably better suited to a supported spindle, so I was pleased with my efforts.
I was immediately drawn to Deb Gillander's display of ganseys - she had lots of interesting books and stories to tell as we gossiped.
Before the browsing started, we had two missions to complete - one was to get to the fleece sale as soon as possible so Felicity could buy some Wensleydale fleece. In fact she bought 3 fleeces including a Ouissant, which was incredibly soft but not a breed we had ever heard of. Later on we were to see one in the rare breeds parade and this explained why the fleece was only about 1Kg in weight! I was under orders not to buy any fleeces at all but finally could not resist a Gotland; I was torn between a young fleece which was very soft and smaller, and an older one which had better colour variation - I went for the latter, but I'm still not sure I made the right decision.
In the afternoon, we attended the demonstration by Sue Blacker of the Natural Fibre Company, which went into assessing wool quality on and off the sheep, the right fleece for the right purpose, and how to sort a fleece. I found it very interesting and was right in there squeezing the fleeces but Felicity was a bit more reserved - raw fleece not being to everyone's taste...!
Our second mission was to pick up tickets and hand in my pennant. I was disappointed as the pennants were not due to be hung until after closing at the end of the day - however I crept in after the show was officially closed, (during the Spin In) and took this photo of my pennant in its display position.
I was also able to sneak a go on a Great Wheel - I have never tried it before and was pleased and surprised that it was not so difficult - I think it's all in the fibre preparation (which was not down to me!).
When I got back to the hotel, I was still enthusiastic to work with my new spindles and fibre, so I started spinning the merino and bamboo fibre using my other Spindlewood Round made from apple wood. It was a wonderful experience to be outside in such beautiful surroundings, spinning in the twilight.
Photo album created with Web Album Generator
Posted on June 25, 2010 at 10:51 PM. Category: Spinning, Dying, Weaving.
Thursday June 24, 2010
We're off
Today I made the long journey north to Woolfest. I was delighted to stay at the Derwent Bank again - and this year I had an even more wonderful room on the first floor with a prime view of the lake.
I say "I made the journey" but in fact I had a chauffeur in the shape of Felicity's husband Adam - which was wonderful - I (and Felicity) knitted all the way up there. This meant I was able to knit my contribution to the bunting that the Woolclip are co-ordinating as a team effort to decorate the venue from year to year. Here it is lovingly displayed at the window of my room.
I knitted a "right" side but actually the reverse may look even better with the effect of the garter stitch. I am really overly pleased with this effort as it is knitted with the first woolly efforts I spun (and dyed) to knit - Ava's Suffolk sheep making a hat, and a pair of blue socks - and now bunting.
Later on I walked down and sat at the lake's edge and did some more (different) knitting. It is wonderfully peaceful - right in the centre of the picture is a heron, who was quietly fishing as I quietly knitted.
Posted on June 24, 2010 at 8:12 AM. Category: Knitting.
Saturday June 19, 2010
June spinnings
There were quite a few spinners at this month's meeting.
Claire and Felicity sporting their new wheels. Felicity's Majacraft Suzie has only just been delivered to her after long anticipation. Amanda (in the foreground) has an unusual wheel hand crafted by her husband, which spins from a point - the wheel itself being a substantial block of wood propelled by her foot. This is a type called a kick spindle or kick wheel.
My wheel and teacup are the only visible evidence of my presence -
and, yes...... that is a bloke in the background.
Sandy was busy preparing ply-split braiding kits ready for the group's participation in Celebrating Surrey at Loseley Park next weekend.
I shan't be participating in this event next week as I am off to .... Woolfest!
Posted on June 19, 2010 at 6:16 PM. Category: Spinning, Dying, Weaving.
Sunday June 13, 2010
Shabden Park Farm
Shabden Park Farm Open Day - including tractor rides and sheep shearing - and our group spinning to show kids what happens to the wool after it comes off the sheep.
It's always fun to spend the day in the sunshine spinning - provided you can steel yourself to endure small children with their ice-cream hands on your fleeces - and in one case sneezing and wiping hands on the wool!
There was a farmers market where I discovered that Emma of Lavender Cottage Fibres has a regular stall every month - I bought some lovely hand-dyed fibres from her - she stores them all with lavender so they smell wonderful too.
She also sells her own handspun and I chose the multi-colourway in the basis of seeing the effect in her spun fibre. The red batt is a scrumptious colour, with just a hint of sparkle.
The farm is very local to me and I may well visit the market in the future - for yarn and other produce. George came along for a while and bought some of the edible wares.
Posted on June 13, 2010 at 11:29 PM. Category: Days Out.
Sunday June 6, 2010
Minor problems
We spent the week in France, and I took a few photos of the garden - our wonderful strawberry bed and so on (on our last day there were just two ripe strawberries - one each) - but when I got back I found that all my photos were black. My camera had every appearance of working - but was not. It's a nice camera but I have mistreated it somewhat - and it's now sufficiently old that I was quickly able to find a refurbished replacement of exactly the same model (with no extras - I have all the extras...) at a very reasonable price.
While I was in France I finished a couple of projects - and started some more.
A new project is yet another Louisa Harding cardigan using Sirdar Peru that I bought at Alexandra Palace last year. I am very fond of this yarn, and it feels lovely when knitted - but - I was a bit surprised to find it coming out in stripes. I knew it had colour variations but I had not expected it to be so evenly striped in this way.
I think it would knit up better into Fiona Morris' modular knitting designs - but too late for that thought now I'm afraid.
Posted on June 6, 2010 at 12:01 AM. Category: Oddments and stray thoughts.
Monday May 31, 2010
Books in May
I have been catching up on a lot of podcasts this month - very ancient "Front Row" highlights from Radio 4. However, the copious quantities of knitting have led to the consumption of a couple of "old favourites" - reading to match my vintage knitting I think.
Over the Gate by Miss Read [read by Gwen Watford]
While idling through one of Lucy Mangan's regular articles in the Guardian earlier this year, I was caught by her reference to the "Miss Read" stories. I was aware of Miss Read from my teenage years, but spurned her books as cosy and trivial (once I had discovered they were not about crime). However - I find myself drawn to Lucy and her opinions - and she seems very keen on these books - so I figured it must be "OK" to read them...
As she puts it they tell "the (very small) adventures of fine English folk in a variety of fine English villages" and admittedly she has more of an excuse to read them than I do - in her case being a "palate-cleanser between meatier courses" whereas in my case I suspect they are undoubtedly the main course - in fact the only course.
They are of course charming (you have to use that word) and I enjoyed this reading by Gwen Watford giving the perfect voice to the school mistress.


Queen Lucia by E F Benson [read by Geraldine McEwan]
E F Benson seems to have a cult following akin to that of G&S or the Goons. Despite my enthusiasm for Lucia - I was a bit surprised to discover this (when I visited Rye and found there was an E F Benson tourist walk). I suppose I first came upon the books through a non-purist route of seeing Geradine McEwan capture Lucia on the television - and after listening to the audiobooks, those TV adaptations seem to me to have achieved a perfect depiction.
I listened to several of the books in the 1980s read by McEwan and Prunella Scales (Miss Mapp on the TV), and I thought they were worth revisiting - and again I was surprised that although the audiobooks are available, the versions read by these two actresses are hard to obtain. Anyway - this was the first - and just as much fun as ever.

Posted on May 31, 2010 at 3:03 PM. Category: Books of the Month.
Saturday May 15, 2010
Buttonhole Books
This month's workshop was about making little books. Somehow cutting up little pieces of paper brings out the small child lurking within.
It was not quite a rigorous as the previous workshop on book binding - this one used simpler techniques and materials, and the books were sewn with little glue involved. The accuracy (or otherwise) of our cutting was left very much up to us.
Viva was a great tutor for our group - she chose books where she felt we might use other craft work that we do (for example felting or braiding) in making the covers. These are my books - my actual "buttonhole book" was not ready for the group photo - I had to complete it once I got home.
Posted on May 15, 2010 at 5:15 PM. Category: Crafts.
Sunday May 9, 2010
Cowpie
Today was spinning at Cowpie - in Betchworth this year. We had our own area and were demonstrating spinning and braiding etc.
On the adjacent stand was a chap selling walking sticks. Somehow I managed to exclude him from my photos. However I bought one of the sticks for George. ( Not sure he wants or needs one but I have been keen to get him one for some time - they are wonderful works of art made from hazel, with carved antler and horn pommels from Jacobs, Portlands, Buffalo etc).
Posted on May 9, 2010 at 8:50 PM. Category: Days Out.
Saturday May 1, 2010
The First of May
Hooray, Hooray, the First of May. You can cast your clouts today....
(well what were you expecting to do?!).
So for once I was up bright and early to greet the dawn with the Morris Men on Box Hill. There were 3 sides today - Off Spring Morris, Ragged Rooster, and Ewell St Mary.
What a gang they made.....
I was a bit cold - seemed mild enough to not wear a coat when I got out of the car, but to stay warm you had to be dancing!
It was all rounded off nicely, though, with a warming cup of tea and a cooked breakfast.
They know what's important in life those Morris (Wo)Men.
Posted on May 1, 2010 at 7:27 AM. Category: Days Out.
Friday April 30, 2010
Books in April
The Little Stranger by Sara Waters
I saw a review of this book along with 5 other Booker Prize nominees in 2009; it did not win the prize but is also nominated for the Orange prize 2010. I loved it from the start as it drew me in to the description of post-war rural Britain and a declining country estate. However, it is a strange and rather sad tale about the "little stranger" which it took me a while to catch on to as I was so enjoying the story of the characters.
It reminded me of my favourite J B Priestley novel Bright Day which is set somewhat earlier before the war (both wars in fact), and also recounted as a reminiscence. It also has two layers - the first being a wonderful cosy description of the hero's life as he starts out working in what is actually Bradford - somewhat autobiographical I believe - and then the actual nub of the story and moving on to "present day" (1946) with the sting in the tail. Like many of Priestley's stories ( Inspector Calls, Dangerous Corner ) this is a kind of morality play - and this moral I particularly like. It points out how misleading it is to believe someone else's life to be "perfect" and perhaps wishing you were they.
Little Stranger is a very different story but has the same flavour, poignantly evoking an older culture - and where things are not quite as they seem on the surface. I highly recommend it.


Third Girl by Agatha Christie [read by John Woodvine]
Having seen the TV adaptation of this book with David Suchet, I went back to the source. This is from AC's 1960s period where you can feel her own sentiments about the modern age coming through - Poirot is a little perplexed and out of his depth - "modern girls" and their lifestyles are explained to him (and us!) by Mrs Oliver - he is told he is "too old!" ...and he feels it. There is a lot of time spent where we watch the little grey cells at work through the pages. Overall the TV adaptation did it justice - they are generally not able to reproduce the chemistry of the cast, and light-heartedness of the short story adaptations in the 1980s.
Having said that, I recently watched a TV adaptation of The Pale Horse (1997) - which I remember as a gripping book. Here AC seems totally at home among the new generation of bright young things - I always thought there was a great similarity in culture between the 1930s and the 1960s - both times of great change in art, lifestyles, and outlook. However, seeing the publishing date of 1961, I guess it more reflected the 1950s art world - certainly the TV adaptation was very true to the styling of the late 50s with the hero in leather jacket and black turtle neck (he was an artist...). Third Girl is squarely in 1966 - swinging London, mini-skirts, .... drugs (pretty central to the plot).

Posted on April 30, 2010 at 11:15 PM. Category: Books of the Month.
Sunday April 25, 2010
Grace is the beauty of form.
I spent yesterday at the V&A taking in both the Quilts exhibition - ancient and modern - and "Grace Kelly: Style Icon", which showed how her wardrobe evolved from that of a stylish actress to royal princess.

In the latter, we were able to see her film costumes, dresses made for her trousseau and wedding, as well as the later French haute couture of the 1960s and '70s. In 1955 Grace Kelly first met Prince Ranier wearing a cotton dress made from a McCalls pattern of the day (albeit not hand-sewn by herself - she had modeled for McCalls spring catalogue for that year) but going forward as Princess she easily embraced the haute couture gowns by her favourite couturiers Dior, Balenciaga, Givenchy and Yves St Laurent.


I loved the outfits from the 1950s - envisioning myself on all of them (!). The dresses were inspirational and made me want to go home and start sewing immediately! The 1960s fashions were a little less appealing to me, based on simpler straighter lines - though the Mondrian dress is always striking (I think M&S even had recent version of this type of 1960s design).
Of course, they have their own beauty, which she was well able to carry off with her height and slender figure -

- and rather despite the bizarre 1960s rigid hair styles, bolstered by hair-piece additions, (which were a fairly normal feature even in less formal hair dressing at that time).
In the 1970s, the fashions moved favourably for an older Grace (in my opinion) but these are my least favourite - probably because this was the sartorially unsatisfactory era of my youth ("the decade that taste forgot"). The exhibits were more formal dresses: long, floaty, layered (visualise Abigail's Party); they showcased wonderful colours and fabrics.
As the exhibition pointed out, Grace's appeal for the masses in the 1950s was that she wore clothes that any girl could have worn - even to meet a Prince..... and I think I follow the masses here....

The quilt exhibition was quite different in atmosphere; the lighting was kept low to protect the items, making it seem mysterious and almost sacred. Many of the quilts on show featured applique and embroidery - picture quilts, symbolic, incorporating religious texts, or commemorating people or events. But I have to say, I preferred the traditional pieced and quilted exhibits - some of which were surprisingly ancient yet in excellent condition. The Bishops Court Quilt, shown below, dates from around 1690.
One coverlet was unfinished, and was on display so that the front and back could be viewed with the paper pieces used in the construction on show. The papers can provide important historical evidence for dating quilts - the one on show used old receipts and ledger papers.
The 65 quilts on show were mainly from the V&A's own collection but also included a number of new works by contemporary artists, which were on loan - some commissioned especially for the show. It could be argued that some of the newer works were not "quilts" at all - they more explored the term as an artistic concept. For me, quilts represent safety and comfort, and I did not take to being challenged by cutting edge art forms. I liked Sara Impey's "Punctuation" - a silk machine-quilt poem of fragmented phrases. However, my favourite of the modern works was Tracey Emin's bed (no - not the bed but "To Meet My Past" 2002) - neither the artist nor this work could really be said to represent safety and comfort, but I found it poignantly pleasing.
Quilts: 1700 - 2010 runs at the V&A until July 4th, and
Grace Kelly: Style Icon runs until September 26th.
Posted on April 25, 2010 at 8:26 AM. Category: Quilting.
Monday April 12, 2010
Croydon Film Festival
Rob has had a film short listed for the Short Film Contest, so this evening we went to a screening of the 12 chosen films in the Croydon Clocktower. A tiny excerpt is featured in the title flash sequence on the website - Rob is 9th out of the 10 shown, (2 are not shown as they have potentially offensive content). The theme was "passion".
My favourites were "The Boyfriend Song" - which seemed very derivative of the Monkees (who are likely unknown to the musicians... ) but none the worse for that, and "The Perfect Cup" as the film makers seemed to be having such a laugh. Rob did not progress to the next stage of voting - which is a shame - but I think most of the ones I liked did not get through to the next stage - and 2 I really disliked got through. However, they are not being judged simply on the content.
Posted on April 12, 2010 at 1:51 PM. Category: Art and Culture.
Sunday April 4, 2010
Easter
The weather has been pretty bad all week - but today we are due to leave and it is quite lovely. I took a few photos - this is the progress on the bakehouse since I was last here - small doors on the back of the building.
The progress inside is more interesting but it is a very small space to try and photograph. It now has a ceiling - which is a floor of what is a surprisingly large airy space above (bedroom) - I was expecting a hayloft and I have a reasonable room. The bathroom has skeletal walls.
All the flowers are late in blooming as it has been so cold.
The baby strawberry plants seem to have survived well. Lloyd really put the major effort into these so I hope he gets to eat them before the birds do so.
Posted on April 4, 2010 at 1:38 PM. Category: France.
Wednesday March 31, 2010
Books in March
Walking in Pimlico by Ann Featherstone
I thought this book was absolutely wonderful. It is a psychological thriller - a great story, as well as well written. Another of Robert's choices for me, it also has a connection with arts and entertainment. The author is (or has been) a lecturer in performance history at Manchester University, and a researcher in drama department at Royal Holloway, University of London. She presents her dialogue (or at least some of it) in the argot of the Victorian music hall and - unlike my final book for this month - provides a fantastic depiction of the life, including the police force, of that time. I cannot comment on whether or not it is correct but it is is utterly convincing. She uses her research and knowledge apparently effortlessly within the plot, making for a fascinating read, while skilfully allowing the narrative flow and not be bogged down by extraneous detail.
To 'walk in Pimlico' is colloquially "to be handsomely dressed".


The Monster in the Box by Ruth Rendell [read by Nigel Anthony]
Inspector Wexford story in which he looks back to his life as a young policeman in order to solve his current case. One could view the outcome as successful or not - given that he is sure of the murderer from the outset but not only fails to prevent a further murder, but actually seems to instigate one. The book explores our attitudes to a multicultural Britain from a few different viewpoints, though I am not sure I felt any conclusion is reached.


The Railway Viaduct by Edward Marston [read by Sam Dastor]
This is not the best book I have ever read. A rather strange depiction of policing in general as well as Victorian Britain, and criminal motivation.
Good enough to amuse me while driving and while spinning (....not at the same time), since the plot is not hard to follow and is delivered at a pedestrian pace.

Posted on March 31, 2010 at 1:06 AM. Category: Books of the Month.
Monday March 29, 2010
Joy
We are in France for the week and the weather is foul. But the fire is nice and I brought lots to do. I am spinning some silk and alpaca that I bought from Fibrecrafts in pale grey. I am trying to spin an Aran weight yarn to make the Gallery Jacket.
OK I admit it - I have acquired a new wheel. I'm afraid it was one of those opportunities I could not pass up.
Posted on March 29, 2010 at 8:45 AM. Category: Spinning, Dying, Weaving.
Saturday March 20, 2010
Jethro Tull
Lots of fun at the Fairfield Halls - much of it observing the audience. I had hoped the photo would contain more bobbing bald heads and pony tails - but I think the climb to our seats made for a younger demographic...
Our seats were "at the very back" - the furthest up and back you could possibly go - in fact I was not aware that Fairfield Halls went up quite that far... the Gods were full of wheezing middle-aged people - as we sat down the couple next to us said "o - well-done!".
Some single-leg work (as below in Basel 2008) - well done indeed!.
Posted on March 20, 2010 at 10:35 AM. Category: Art and Culture.
Saturday March 13, 2010
Birthday Bash
This year: Fliss's birthday bash on the day itself.
We went to Jimmy Spices - but the cake was home made by Fliss's stepdaughter, Helen - and it was one of the most delicious carrot cakes I have ever had - despite Helen "just using the first recipe that showed up on-line" and not having any walnuts. I think she thought we were kidding but it really was great - how I love carrot cakes!
Look closely for the piggy candles.
Posted on March 13, 2010 at 11:26 PM. Category: Days Out.
Tuesday March 9, 2010
Finishing touch...
I completed the jacket for Sheila (from Fi Morris pattern) some time ago - and delivered it last week. However since then, Sheila has been looking at it with some frustration - wanting to wear it in this cold weather but unable to do so, as it has no buttons!
I had decided to make Yorkshire buttons but my experiments were a bit amateurish as I could not get a consistent size due to variations in tension as I was needle weaving. Anyway last weekend in C&H fabrics in Canterbury I was looking at papier-mâché beads (used for this beading technique**) and realised if I covered them instead of stuffing the buttons they would have a good shape and half the battle would be won.
Sure enough, it worked out fine - I could measure the bead to decide how big to make my template and .... voilà.... 100% success. I bought both 1 inch and ½ inch beads, and as I suspected, once covered with a thick woolly layer, the smaller ones came out right.
They went straight into the mail.
Alas, when Sheila put them on the jacket - she did not like them. Although they are the right size for the loops, they look like clown's pom-poms! I think I may try them again, cutting the spheres in half , so they are not so prominent. Meanwhile - Sheila is off to the "Button Shop" to look for some kind of toggles that might be more acceptable.
** a href="http://froogal.blogspot.com/" target="_blank">Froogal has made a couple of great necklaces - using wooden beads rather than paper ones.
Some fabric necklaces use pony beads threaded over a fabric tube in between the large beads to get the gathering effect. This means your necklace uses only one fabric and you have to choose a fairly fine fabric and have a reasonable balance between small and larger beads otherwise you won't fit the fabric tube inside the pony bead. I thought this was a fairly well-known technique but struggled to find it explained on the web. Maybe it's too simple.
I also had the idea that the buttons themselves could be used as woolly beads but they do have a "right and wrong side" as it were, so you would have to overcome that in your design. Anyway - love those Froogal versions....!
Posted on March 9, 2010 at 12:50 PM. Category: Crafts.
Sunday March 7, 2010
Is it that time already..?
Can't believe it's already a year since I met up with some of my old school friends. Anyway - here we are again in Canterbury this time. It is so great to see everyone.
Canterbury is a lovely city - I don;t think I have ever been there before - so I took a few photos and admired the cathedral from afar.
This is because I was too mean to pay the really excessive charge to get in. I don't know why it offends me so - but it does. Intellectually I believe that in a time when fewer and fewer go to church then lots of us heathens that want to trip around as tourists should fund the building - but my heart feels it's wrong. Still - Canterbury as a religious tourist attraction with tacky souvenirs etc is very traditional - probably dates back to the murder of Thomas Becket in 1170 causing a massive increase in urban development in Southwark, and even the reconstruction of London Bridge as pilgrims followed the route of Becket's last journey from there to Canterbury (as described in the Canterbury Tales in the late 1300s).
Above is a detail of the Christ Church Gate - off Butter Market (below) and where you "pay". The centre statue of Christ dates only from 1991 - the original bronze having been destroyed during the Civil War in 1642.
Posted on March 7, 2010 at 1:29 PM. Category: Friends.
Wednesday March 3, 2010
Icelandic Shawl: complete
Finally complete - blocked and ready to go...
It's much smaller than I expected (or intended in the pattern) and I can't really work out why - my tension knits the same as the yarn suggested - however I used a lot less yardage than the pattern said. I thought I must have missed out a complete pattern or something, but I cannot detect that I have. One other person on Ravelry complains that it has come out small - but other have photos of clearly larger shawls.
As it was I undid the centre section twice to make it bigger - the first time I used larger needles - the second time I increased the stitches considerably before starting the blackberry stitch (as it the stitch tends to tighten the work) and used larger needles .
Anyway - I think the result is pretty satisfying
Posted on March 3, 2010 at 1:50 PM. Category: Spinning, Dying, Weaving.
Sunday February 28, 2010
Books in February
All knitting books this month - not doing well with reading. I did make an attempt at Eat, Pray, Love - lent by my sister, though she was not very smitten by the book but, like me (and, I presume, all women), recognised some of the scenarios. I could not read more than a chapter or two as I was not very interested in the author or what happened to her. Read the Wikipedia entry where it quotes the New York Times critic descibing it as "narcissistic New Age reading" - which about sums it up for me.


Debbie Bliss magazine (issue 4) by Debbie Bliss
Another lovely magazine from Debbie Bliss. I have not felt so smitten by the designs in this issue - but maybe I am not so keen on casual summer knitwear in general. However, it is a whole "lifestyle" magazine with knitted soft furnishings, and even recipes - in the true Stitchcraft magazine tradition! I love the insights into Debbie's inspirations, and her book (and other) collections.


Rowan Magazine 47 edited by Marie Wallin
As you know I am committed to the Rowan canon and this is another excellent magazine from the brand. Again, I am rushing off to buy the wool - which may, be as above, that I am less smitten by summer styles, or it may be that I already have a lot of outstanding UFOs. I have only recently knitted one of the winter offerings - I find my style influences tend to be a couple of years behind the times - takes a while for me to get used to new trends! Of these designs I did like Brighton (from new designers I think) and Tourquay the theme here being the ice cream colours used assymetrically.



500 Handmade Dolls: Modern Explorations of the Human Form (500 Series) Lark Books

A weird and wonderful book of art dolls - a sort of Mervyn Peake world in 3-D miniature. Needless to say, this delightful book was found for me by Robert, who has a knack for turning up the unusual.

Posted on February 28, 2010 at 10:04 AM. Category: Books of the Month.
Saturday February 27, 2010
Unravel
This weekend was occupied with Unravel at the Maltings in Farnham.
My objective for the day was to avoid buying yarn in favour of perhaps finding some high quality fibre to spin. In the event, resisting the yarn was hard, and there were some lovely fibres at for example Fiberspates- but nothing appealed sufficiently to justify the expense. I did buy a small amount of natural mohair from New Forest Mohair, (to blend with my existing fleeces as recommended throughout the book A Fine Fleece).
It was notable that there were quite a few button vendors of varying types: some with with very original unique handmade buttons, Dixie Nichols with her Father's vintage glass buttons, and the Textile Garden with their selection of excellent value items. I bought buttons from the latter for a Louisa Harding cardigan which demands 36 buttons as decoration (so potentially an expensive project).
Tessa Wolfe Murray was demonstrating making her smoke-fired ceramic buttons - as well as selling them. Many vendors offered interesting demonstations of their wares for weaving and spinning, and of course the exhibitors included the local Guilds (in the cellars!). I visited Fi Morris there, and met Linda Newington who is the Head Librarian at Winchester School of Art. It seems they have a pattern archive with major donations from the collections of Richard Rutt (author of A HIstory of Hand Knitting, and Jane Waller - so I have found somewhere to bequeathe my modest collection in the future! Linda was giving a talk later in the day, but I did not stay long enough to see her - in fact I wish I had checked out the talks and workshops beforehand as I didn't really plan properly to see items I would have found very interesting - on Sunday Susan Crawford (who collaborated with Jane Waller on the Stitch in Time project) was giving 2 talks, one on Knitted Fashions from 1939-1949 which I would have loved to attend.
As I left, I had a chat with the sheep I had seen arriving at the same time as I did in the morning. They were very unwilling to get out of their cosy transporter and into their tiny show-pen in the rain. However the weather was more cheerful later on, and I found they were very user-oriented sheep - ashamed to say I have no idea of the breed though they may have been Gotlands (who I know are very friendly). I suspect they were from Well Manor Farm - I was tempted to buy some lovely grey fleece from them, but it was in its "natural" condition - and I already have too much fleece like that.....!
Throughout my time there I cursed not having taken my camera - hence this is mainly descriptive.
Posted on February 27, 2010 at 9:10 PM. Category: Spinning, Dying, Weaving.
Sunday February 21, 2010
Yorkshire Buttons
Yesterday we had a "show and tell" at the Guild meeting. There were a good number of members in attendance, and I was quite mesmerized by other people's work - the variety was quite surprising, given that there was no pre-planning, (well - variety within the context of fibre-related arts and crafts...).
Mavis showed us her latest free-form jackets from her handspun. As she talks about the fibres, she relates each little section to her own rabbits and animals, which is particularly charming. Her jackets are finished with "Yorkshire buttons" which caused much interest and comment.
Dorset buttons are a fairly well-known technique, but Yorkshire less so it seems. I was inspired to go straight home and try them out - one from memory of what she said, (on the left), and a second, (on the right), from these useful web instructions for Yorkshire buttons where you can also find Dorset buttons.
There were quite a few knitting projects, and mostly from member's own handspun. Claire came with her new birthday wheel (Kromski), and an astonishing amount of completed spinning projects - which would be fine if it were representing her whole year's work, but was in fact "just what she happened to have with her..."). Her man was able to give me a few website-related tips for our own (new) Guild website.
Posted on February 21, 2010 at 7:11 AM. Category: Crafts.
Tuesday February 9, 2010
Foxy
..so on and off over Christmas, I put all this stuff out for the birds (Christmas excesses etc)... and they really loved it - one minute it was there and the next it was gone!
Here they are tucking into some cheese rind.
Posted on February 9, 2010 at 8:06 PM. Category: The Garden.
Sunday January 31, 2010
Books in January
No fiction again this month. I have been listening to podcasts of the BBC series The History of the World in 100 Objects, which in itself is a fascinating project even without the series - and by the way - isn't it curious to choose to "display" objects in this way on the radio? But then - I think that is part of the point - see them on line and at the British Museum.
Respect the Spindle Abby Franquemont
All my spinning books start with some elementary spindle information, but I never found it very interesting - it bore little relation to the act of using a spindle I felt. I included this book on my wishlist, as I don't have a book on this topic and I thought - why not?. I have my new (decorative only?) spindle from Woolfest - so I felt I could invest a little more in the knowledge. I certainly had no intention of "going into" spindle spinning in preference to the wheel. But...
This is really is one of the most interesting books I have read. The author really made me understand - and believe - that the spindle is a better and faster tool for spinning certain types of thread. It is not an accident or lack of technology that prevented ancient peoples developing the wheel, but appropriate choice for the job in hand. She also discusses the physics of spindles - which is fascinating for me - and made me think I might actually start to see the point of angles of momentum, and moments of inertia in a way that I did not when at school - no-one ever discussed spindles at that time, or it might all have been different.
It also indicates that my apparently random choice of spinning my little bag of alpaca on my fancy spindle might just have been a sound one after all.


The Hummingbird Bakery Cookbook Tarek Malouf
Tony recommended this American cup cake recipe book from the Hummingbird Bakery. So it became another wishlist item, along with a set of reusable silicon cake cases. Now I simply want to make all the cakes at once, they sound so good, (though I shall be making fairy cakes not cup cakes of course...!).
I like the recipes as they are not simply plain cakes with inventive decorations but actually different flavoured cakes and toppings. The decorations are relatively restrained - but I am sure you can use your own initiative on that score. The only snag I see now is that I need a food mixer (or jolly strong arms) - Tony acquired mixer and book together I think. Not sure if I am ready for a new gadget... maybe... George and I did get out his juice extractor to make the clementine and cranberry marmalade....
Anyway - "Yum's the word".


Rôtis Stéphane Reynaud
This was a surprise gift, and though I am always pleased with a cookbook, I did think it was odd to have a book all about roast dinners. I imagined each recipe must read: heat up oven, put in large joint of meat, take out joint of meat, carve, eat.
Well... there we are - I was quite wrong. This is a book of "every day" roasts and includes pot roasts - which are almost stews - and is not restricted to meat and poultry but includes fish - and veg.
The layout appeals to me as well - each dish wonderfully photographed; this stems from my first and still favourite cookery book today - the Good Housekeeping Picture Cookery Book from the 70s - which has pictures. A trained chef friend of mine always scorned my love of pictures in cookery books - but it really does help if you have never seen the dish before. A German friend once produced some little cakes with a big flourish saying "no need to tell you what these are!" - but I had no idea - I was racking my brains for a well known English cake - they looked like brioche - anyway they turned out to be scones, and they were delicious... just... different. A schoolfriend once entered a competition for "rock cakes" but hers were in little cake cases and looked like fruited queen cakes - she was quite amazed to see everyone else's untidy little piles of cake.
Back to the roasts - "yum" again.

Posted on January 31, 2010 at 12:53 PM. Category: Books of the Month.
Tuesday January 26, 2010
Project 365
Tony has started a new project for 2010 - Photo365 (clue's in the name) -
- and has featured some birthday mittens I made for Cathy.
Posted on January 26, 2010 at 6:24 PM. Category: Knitting.
Sunday January 24, 2010
Sandown Show
I spent Saturday and part of Sunday on our Guild stand at the Stitch & Creative Craft Show at Sandown. Amazingly (to me) I was demonstrating spinning on a drop spindle and on a wheel. The wheel was Sandy's Ashford Joy, and it was lots of fun to be allowed free rein on a different model.
I managed to tour the show as well, and purchased some little items - some more patterns from Fi Morris (who had some great new designs), some large ceramic beads, a bit of glitter (more of that in a POM when I get round to it), a Vogue dress pattern, and - some delicious Welsh cheese!
In honour of dressing credibly as a knitter for the show, I finally wore my Debbie Bliss Astrakhan cardigan (which I first started working on in 2007, I think). It was warm and easy to wear - the wool is lovely and soft - and I am pleased with how it looks.
Posted on January 24, 2010 at 7:42 PM. Category: Spinning, Dying, Weaving.
Friday January 22, 2010
Sacred Made Real
A birthday outing so as not to miss this National Gallery exhibition, (final day tomorrow), of Spanish painting and sculpture from 1600 - 1700.


It included Velázquez and Zurbarán masterpieces alongside life-sized carved sculptures made from painted wood - all designed for religious buildings. The sculptors went for hyper-realism, sometimes using glass eyes (as for dolls) and tears, as well as adding ivory teeth and human hair. The skill of the sculptors, I might mention, was such that the human hair was used for the eyelashes, not for the hair - they showed off their fantastic level of skill in their ability to carve the hair and amazing renditions of fabric, so fluid you cannot believe that it was made of wood. The separate skill of polychroming, was performed by specially trained painters, who often considered themselves more important than the sculptors as they "brought the pieces to life".
As was made clear in the exhibition, this form of art has been much overlooked, as the pieces generally do not leave the religious buildings in which they are housed - except to be paraded around the streets on religious high days and holidays, of course - so they are rarely seen outside Spain.

The sculpture above was Rob's favourite. Rob was very interested to glean everything he could about both the techniques of sculpting and painting the statues, to the lighting effects illustrated in the paintings; (he has recently been trying to get his video students to try different styles of shooting in order to understand how they achieve their effects and moods).
Above is a view of St Francis, who has lost whatever he was holding in his outstretched left hand - however, paintings were often made of these sculptures, and this exhibition shows the two art forms together. The contemporary painting in this case shows him holding a crowned skull, which symbolises wordly vanity - and this specific device is used in some of the other works. It led me to think of what double meanings there might be in Shakespeare's famous use of the skull in Hamlet, since that was of roughly the same period.
This view of the gallery with Mary Magdalene visible through the doorway, gives you some idea of the scale of the sculptures. I took a picture of an "interesting shadow" cast by a really wonderful exhibit which was, by contrast, really tiny; this was Saint Francis Standing in Meditation (most of them were "standing in meditation"...) which had never before left Toledo Cathedral.
I must also say: this whole exhibition was exceedingly gory and macabre, for example, John the Baptist's head with really nothing anatomically left to the imagination. That is one of the things that made the effect rather startling - lots of life-sized creations of Christian suffering. The sacred made real.
My favourite was not one of the sculptures, but Velázquez's Immaculate Conception. This is from a postcard of her - but I think the painting must have been cleaned since the pictures were taken, as it positively glowed under the excellent lighting of the exhibition.
Once outside I felt the need to picture the fountains in Trafalgar Square - the Madonna picture has some symbolism in it which I do not pretend to understand but presume it is purity and virginity: she stands on a moon, there is a kind of citadel in the background, and, in the foreground - a fountain.
Posted on January 22, 2010 at 6:26 PM. Category: Art and Culture.
Friday January 15, 2010
Umble Pie
I have been watching a delightful TV series The War Time Kitchen and Garden. It is a semi-reenactment of domestic life during WWII with Ruth Mott and Harry Dodson who partly act out roles as cook and head gardener, and also provide their personal memories of the period - all interspersed with period film footage and radio broadcasts.
Harry works with a "land girl" making a slow burning bonfire working from instructions in a government information leaflet (which he clearly finds somewhat lacking in "information"). It's rather like the charcoal burners in Swallows and Amazons.
Whilst Ruth makes "swiss breakfast" (muesli) with grated carrot, chopped apple, and oats.
She also made mayonnaise..... without any eggs.... (she had to use the egg in the VE Day party cake - o what's that? what about the pancakes? they were made with powdered egg and milk of course!). The mayonnaise was made by simply substituting the egg by cooked potato, rubbed through a sieve, then whipped up with mustard, vinegar and the usual gradual addition of oil. (I think I might have coped with a simple vinaigrette?).

If the above appeals, see:
Snuffling around the web I find I have woken up a little late to this series from 1993. The other parent series are available on DVD but not this one. However, it is a gem, and is currently being shown on the UK TV history channel Yesterday. I have to confess I ran across it after watching a TV drama series that I remember from my youth.... it seems Yesterday shows these series as ... well... "history"!
Posted on January 15, 2010 at 7:55 AM. Category: Kitchen and food.
Thursday January 14, 2010
Hand of Good
Do you have those days when a few stray elements randomly coalesce?
This is one of those days for me.
Last March when I was in Worcester with my old school friends, George and I visited the City Museum where there was an Crafts Council touring exhibition called Deviants "Peer Into the Subversive World of Craft". I was fascinated by it (and I took some pictures but did not publish as I suspected the artists might not be too happy without permission). Of particular interest to me was an exhibit called "Hand of Good, Hand of God" by Freddie Robins - a kind of fractal knitted glove.

I would not have remembered any of this, but that today, I ran across Knit a Work of Art from a Free Pattern at the V&A site, which is Conrad - gloves by Freddie Robins. This immediately reminded me of the exhibition and spurred me to look up Freddie's site (wwww = wonderful world wide web) and confirm she was indeed the artist whose work I had seen in Worcester.
Even more pleasing is that these gloves are inspired by a poem in Struwwelpeter - a 19th century German book of cautionary tales for children (!). This book so fascinated me that I bought a modern fac simile of it when I was in Germany. This tale is of Konrad der Daumenlutscher whose thumbs were removed by the tailor's big scissors - a true horror including fantastic onomatopoeia in the wonderful German language ["jetzt geht es klipp und klapp, mit der Scher' die Daumen ab"], and graphic illustrations.

Coalescence - it's very satisfying when it happens.
Posted on January 14, 2010 at 9:41 AM. Category: Art and Culture.
Tuesday January 12, 2010
Icelandic Shawl
All my enthusiasm is now taken up with the Icelandic Shawl. I have been almost dyeing, carding, and spinning to order as I needed the various colours for the pattern. The specified colours include dark, medium, and light greys - but these looked like indigo blues to me in the picture, so I used a French reactive dye called "Jeans" and blended the fleece to get the colours I wanted.
I did get on well with the knitting, but have had to frog the centre section and start again. This is because I have spun a variety of thicknesses - I seem to be consistent within the colours, but each colour seems to end up slightly different. The white (undyed) skeins are the finest, and in the centre portion, the pattern stitch makes the tension much tighter. These two factors in combination meant that the shawl was not lying flat enough.
I also used 3¼mm needles instead of the 3½mm called for in the pattern. This was an expedient choice - UK traditional sizes are either 10 (3¼mm) or 9 (3¾mm). Of course I can obtain 3½mm needles as they are available on the continent (France) or from America (part of my Knitpicks set of interchangeable needles).
So to fix my current problem I have decide to do two things - one is to use 3¾mm needles for the centre portion, - and probably 3½mm when I get to resuming the border. The other is to reskein the white wool and wash it again. Having read the Amy King book Spin Control I took the "fulling" process a little more seriously with my recent blue and brown skeins. They were much improved after vigorous fulling, so I am hoping it will have a similar effect on the white.
Posted on January 12, 2010 at 8:20 AM. Category: Spinning, Dying, Weaving.