Archive Entries for
August 2010
« July 2010 | Main | September 2010 »
Tuesday August 31, 2010
Books in August
This month saw the publication of a brand new magazine for spinners here in the UK called the Yarnmaker. I have been anticipating it for a while and it is truly excellent - quite a slim first issue but packed with content - and all about the things which interest me most (so my love for it may be a rather personal preference). I have immediately signed up with a subscription and fervently hope that they can keep up the high standard they have set.
Also this month, Rowan published their magazine for autumn/winter 2010 (No 48) somewhat earlier than usual. However the controversy about this year's free gift for members cast a bit of a shadow. I was absolutely delighted by the idea of their giving away an eco-friendly tote bag, and having received it now, I have to say it pretty well lived up to my expectation. However, there was a mass of complaints about it on Ravelry and other fora. Many people wanted yarn and not yet more tote bags, some did not want a bag "advertising a company", but mostly they complained about the quality - and I think Rowan's supplier did rather let them down over the latter. For myself - I have a lot of yarn, and the free gifts never gave me enough yarn to make anything I really wanted so my previous year's free gifts are all sitting around untouched. But even though I actually liked my bag, I was also sent an additional free book "to compensate me" - Winter Kids.
Anyway - the magazine itself is great - the Russian Doll section is especially lovely although I doubt I will ever knit any of its complex Fair Isle patterning (been there, done that, still working on it...); I had no time for the Timeless section - hated the presentation and pretty much hated the styles.
Posted on August 31, 2010 at 9:09 AM. Category: Books of the Month.
Sunday August 29, 2010
Wisley
Having been a member for two years, we finally decided to visit RHS Wisley and see the Sculpture Trail. It was very interesting and some items were quite desirable - but not quite in our price range.
I was very inspired by the vegetable plots on show - especially the "caged" brassicas which protected them from caterpillers. In the end we purchased a tiered set of shelving so that I can make a home for a mass of strawberry offshoots that I brought home from France. These were last years named varieties that I took over there at the end of the season and the fruit is delicious - each has a different flavour - though George and I only got to eat about 3 strawberries from them! I originally chose them as they each cropped at different times but now I have no idea from which plants the babies are derived.
This year I found a tray of pathetically sick looking strawberries for 25p in Homebase - 3 seem to have survived and cropped about 2 strawberries - which were nice but not wonderful. The plants are now doing well so - maybe next year....
Posted on August 29, 2010 at 8:28 PM. Category: Days Out.
Friday August 27, 2010
Janet's Day
Another year has rolled around and we were all spinning in Janet's Victorian greenhouse again - and feeding the alpacas.This year she offered some of her alpaca fleece for sale, which was much appreciated by all.
I was spinning this lovely batt which I bought from Emma of Lavender Cottage Fibres when I met her at Shabden Park Farm. The batt was rolled up exposing only the wine colour - but this did not do it justice - unfurling it revealed other colours, and it is spinning into a lovely soft yarn.
Posted on August 27, 2010 at 9:10 PM. Category: Days Out.
Thursday August 26, 2010
Railway Children at Waterloo
Ridiculous I know but I have been looking forward to this all summer. Feeling that I am a child of the railway myself, (though not like the ones in the story), plus the memories of my Father linked with Waterloo station, this was a nostalgic outing not to be missed.
Anyway - it was wonderful - lived up to every expectation. I liked the fact that they staged it rather like Dennis Potter's Blue Remembered Hills (a particular favourite of mine) in that the "children" were the adults they "are now", as it were, playing themselves as children. This opens up possibilities for the play - not the least of which is that you have the skill of adult actors in the roles - and led to a portrayal of the story with all the passion and romance but without the sentimentality.
And - there was a real steam engine and everything! - I cried almost all the way through - I'm crying now.... (Luckily Rob does not embarrass easily).
Charmingly - for the media publicity when the production opened - Bernard Cribbins came along for a photoshoot at Waterloo. (What a professional that man is!). And in this production Marshall Lancaster makes an excellent Mr Perks.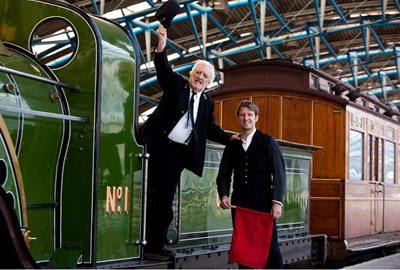 Tickets available through to the New Year. Go on....
Posted on August 26, 2010 at 11:39 PM. Category: Art and Culture.
Wednesday August 25, 2010
Dragon Tattoo
I was very cross when I saw the trailer for the second of this movie trilogy advertised to be released on the 25th - as it underlined the fact that I had missed the opportunity to see the first one! However, one of the art cinemas was showing The Girl with the Dragon Tattoo all this week in preparation for opening The Girl Who Played with Fire on Friday. So I was able to grab some last minute tickets and George and I went over to Walton this evening (that is "on Thames" rather than "on the Hill" - sadly the village a mile away has no cinema - art or otherwise). This was the Swedish film subtitled - my Swedish has improved immensely through watching Wallander but .....
I thought it was an excellent adaptation of the book. When it was released there were a lot of shocked complaints about the graphic sex and violence in the film - but really I do not really see why since it merely represented what was clearly described in the book - I cannot imagine an expurgated version, and as such am truly looking forward to seeing what kind of film the planned Hollywood remake will be. As we left the cinema George gave a hollow laugh and said drily that he had heard a review of the second film on Front Row, which said it was "very dark - even darker than the first" - on which basis he did not think he wanted to see the second one.

Posted on August 25, 2010 at 12:37 AM. Category: Art and Culture.
Sunday August 15, 2010
Fouine
We are on another short break in France - the weather is pretty terrible - however, during one less ferocious interlude, George managed to snap this "little fella".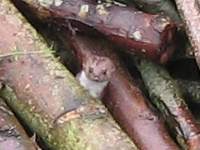 This is a fouine which is a stone or beech marten - relatively common in France apparently.
It's hard to see the scale of the beast - smaller than a cat - but we think he (or she)'s a youngster - very curious - popped its head out every time George approached the woodpile.
Posted on August 15, 2010 at 9:07 AM. Category: France.
Thursday August 12, 2010
Shoreham-by-Sea
My sister and I met up with our cousin David for lunch in Shoreham-by-Sea. We have always loved Shoreham which was a rather scruffy working working port when we were young. Now it is a little more gentrified but this has not destroyed it - somehow it retains an air of pleasing eccentricity. One of the positive aspects of gentrification is a good choice of restaurants - we ate (fish) at Suter's Yard - and after lunch we went for a walk...
The spit which forms the harbour can be accessed by a footbridge - which we crossed - to see the amazing collection of houseboats along the Adur mud flats - they are made from converted barges, tugs, mine sweepers, motor torpedo boats etc and are weirdly beautiful.
[After all this, I had to just pop in to Shoreham Knitting and Needlecraft - wonderful shop - otherwise known as English Yarns - I used to visit them in person on a regular basis but I find myself down that way less frequently now so I use their excellent online shop.]
Posted on August 12, 2010 at 6:06 PM. Category: Days Out.
Monday August 9, 2010
Summer Rose
Rob trimmed his floribunda white rose and gave me this lovely country arrangement.
Posted on August 9, 2010 at 1:27 PM. Category: The Garden.
Sunday August 8, 2010
Potatoes
We were forced to empty a bag of potatoes prematurely (they are late earlies so needed a bit longer to mature) as one of the potato plants seemed to be withering and I feared blight. In the event the single plant had not developed and the attached root was rotten but it did not seem to have bothered the others.
Not a truly great yield but - yum.
We have subsequently had lots of potatoes, runner beans, french beans, butter beans, courgettes, and carrots - again not huge yields, as I think we do not enrich our soil sufficiently, but quite satisfactory. I still have fennel, curly kale, and broccoli to crop. I have rather rashly put our name down for an allotment, (there is a long waiting list!). We visited a couple of the allotment sites - a recce - and they are delightful - like walking into a bygone age.
Posted on August 8, 2010 at 9:15 AM. Category: The Garden.