Archive Entries for
2011
Saturday August 27, 2011
The Wedding Party
My cousin* Jim and Tara tied the knot down in Plymouth and this was their "second wedding" in Jim's home town. Below is Jim with proud parents, cousin Jenny and Eddy.
* As my family is ever extending, I was driven to look up my exact relationship with Jim - which is "first cousin once removed" apparently.
Posted on August 27, 2011 at 2:38 PM. Category: Red Letter Days.
Friday August 26, 2011
Spinning in the Glasshouse
Janet had all the gang round to hers again, (a glutton for punishment as we say).
All is a positive hive of activity, except I notice that my wheel in the foreground has nothing on it....! I seem to spend most of my time chatting to people.
Posted on August 26, 2011 at 11:51 AM. Category: Days Out.
Thursday August 25, 2011
Sheep may safely graze.
On the way back from a lunch date at Dragons Green, I noticed signs advertising a windmill at Shipley, so I followed to take a look, and have a walk around the village. The windmill was made more famous by having featured in Jonathan Creek, and is no longer open to the public apparently - and I could not even find the adjacent path from which "it can be viewed externally" - this was as close as I got.
Me and the sheep got a little closer.
The lunch date was with my sister and cousin David. She and I were incapable of taking a decent photo with my phone, but I want to record the day so I went for the ones where we were at least smiling.
Posted on August 25, 2011 at 9:49 PM. Category: Days Out.
Saturday August 20, 2011
Creative Fibres 20th Year
It's our Guild's 20th year and we had a little lunch party to celebrate.
Above: the spread.
Below: the team that made it all happen (not quite so much me, though I seem to have a prominent place in thepicture...)
Posted on August 20, 2011 at 8:53 PM. Category: Spinning, Dying, Weaving.
Thursday August 18, 2011
Blithe
In 2006 I made Deep (a cardigan) in Rowan's Summer Tweed. The colour really suits me but I never wore Deep very much. So I am reinventing it in a new shape. It's an Aran, so knits up speedily. The pattern is by Marie Wallin from Rowan Magazine 47 and looks deceptively simple - and turned out to be a complete nightmare.
I am a pretty experienced knitter and I could not work from the chart at all. In the end I resorted to someone else's drafting of the stitch pattern (thank heavens for Ravelry for pointing me at it) - and made the rest up myself. If I look at all strained in the photo, it is because I was.
The photo itself does not do the yarn justice as it is a wonderful turquoise colour with flecks of pink and other colours, and I had trouble deciding on the perfect buttons - I hope these are they - lovely wooden buttons with faded stripes.
For those who might need some help as I did, I have written out the pattern, in a way that I hope shows the pattern repeat and the end margins; I worked entirely from this but everyone "sees" a patten differently so not guaranteeing it will sort everyone out*. I'm afraid when you get to the increasing and decreasing you are on your own...!
* One Raveller said she "quite got into it" after a while... but I never did, having to refer to the pattern for every row.
Mermaid's Mesh
The most important fact that I missed is that you need 2 margin stitches at the beginning and end of the rows, not just one, so the pattern is worked over a multiple of 9 stitches plus 4.
The blue text shows the sts to knit at the beginning an end of each row, and the stitches enclosed between the symbols || need to be repeated until you get to the last few sts in each row.
All odd-numbered rows are purl working the "YO twice" as K1, P1.
I have used to symbol ¦ to indicate how the decreases and yarn-overs balance each other out. You need this to ensure you keep the same number of sts in the row overall. Sometimes the balanced set of sts straddle the end of one repeat and the beginning of the next - I have used dots to indicate this continuation; at the beginning an end of this type of row, there are unbalanced decreases and yarn-overs in the margins to balance the row out overall.
| | | | |
| --- | --- | --- | --- |
| Row 1 | K1 yo | || ...ssk ¦ yo ssk ¦ yo ssk ¦ yo K3tog yo ¦ yo...|| | ssk K1 |
| Row 3 | | || K2tog yo ¦ yo ssk ¦ yo ssk ¦ yo K3tog yo || | K2tog yo K2 |
| Row 5 | K1 | || K2tog yo ¦ yo ssk ¦ yo K3tog yo ¦ K2tog yo || | K2tog yo K1 |
| Row 7 | K2tog yo | || K2tog yo ¦ yo K3togtbl yo ¦ K2tog yo ¦ K2tog yo || | K2 |
| Row 9 | K1 K2tog yo | || K2tog yo ¦ yo K3togtbl yo ¦ K2tog yo ¦ K2tog yo || | K1 |
| Row 11 | K2tog yo | || K2tog yo ¦ yo ssk ¦ yo K3togtbl yo ¦ K2tog yo || | K2 |
| Row 13 | K1 K2tog | || ...yo ¦ yo ssk ¦ yo ssk ¦ yo K3togtbl yo ¦ K2tog...|| | yo K1 |
| Row 15 | K2tog | || ...yo ¦ yo ssk ¦ yo ssk ¦ yo ssk ¦ yo K3tog...|| | yo yo ssk |
Posted on August 18, 2011 at 3:11 PM. Category: Knitting.
Thursday August 4, 2011
The Visit
Alison found the time to come and stay during her visit to the UK. We had such a lovely time that I'm ashamed to say this is the only photographic record I have! We went walking to Walton pond and Alison practiced with her new SLR camera.
We may have done a bit of spinning........
Posted on August 4, 2011 at 7:56 PM. Category: Friends.
Sunday July 31, 2011
Books in July
There have been more audio books than usual this month as I work my way round painting the kitchen to show at least some progress in time for Alison's impending visit. (She claims it's not important.... but we know better...)
Wolf Hall Hilary Mantel
This won the Man Booker 2009 - when I thought the Sarah Waters The Little Stranger should have won - but that was before I read this. I borrowed it as an eBook from the library - all new experiences - and the choice is currently limited. However, what a great choice it turned out to be. A fantastic novel - almost not a novel of course. Had I not been so engrossed in the text I would have wondered where the title came from, but this became abundantly clear in the closing pages.
Co-incidentally I have been since exposed to several other cultural experiences about the same historical period through TV, film, and coutry house exhibitions, and it is really fascinating.


Bones to Ashes and Devil Bones Kathy Reichs [read by Lorelei King]
More library loans, which make good listening for long car journeys, or painting walls! Tony is a great Reichs enthusiast. However, Rob surprised me by saying he did not enjoy the book he read, finding it tedious in forensic detail - I wonder if they are better as spoken word.


The Private Patient P D James [read by Michael Jayston]
This is completely in the standard mould, confined in the setting of a private hospital for plastic surgery. The characters are a shade wooden and dated, but I think I have always felt that about James books. I think I am more of a "plot" person with less interest in the psychological depths of the characters - and the characters are not very warm or likeable. However, as far as I can tell James writing is as good as ever, and the actual plot (under all the psychology) is quite strong.
PD James has recently been awarded the Theakstons Old Peculier Outstanding Contribution to crime fiction - only the second author to recieve it.


Bloodline Mark Billingham [read by the Paul Thornley]
Eighth in the series proved as interesting as ever. I am pleased to say that although he sticks with the serial killer theme, the books rely far more on the likeable character of Tom Thorne, than weird and wonderful ways people can be murdered. The writing encompasses Thorne's life and work to equal degree, without becoming boring about either. I find the characters very real, which is quite something when reading about murders which by sheer weight of numbers have to be pretty far from reality.


Lord Peter Views the Body Dorothy L. Sayers [read by Ian Carmichael]
An enormously entertaining short story collection:


"The Fantastic Horror of the Cat in the Bag"
"The Unprincipled Affair of the Practical Joker"
"The Vindictive Story of the Footsteps That Ran"
"The Bibulous Business of a Matter of Taste"
"The Piscatorial Farce of the Stolen Stomach"
"The Unsolved Puzzle of the Man with No Face"
"The Adventurous Exploit of the Cave of Ali Baba"
"The Abominable History of the Man with Copper Fingers"
"The Undignified Melodrama of the Bone of Contention"

It seems the audio version omits some of the original stories which contained visual clues: "The Entertaining Episode of the Article in Question" ; "The Fascinating Problem of Uncle Meleager's Will" ; "The Learned Adventure of the Dragon's Head".

Posted on July 31, 2011 at 8:37 AM. Category: Books of the Month.
Saturday July 16, 2011
Buttons!
Felicity ran a workshop for making buttons from polymer clay and other wash-proof materials, suitable to embellish our hand-knitting. Everyone had an exceptionally good time - there was a big variety of activities and materials and we all rushed around like a kindergarten class. (You can see below that a few non-button items slipped into the mix, such was the enthusiasm).
Posted on July 16, 2011 at 6:18 PM. Category: Crafts.
Sunday July 3, 2011
Small Holders 2011
Another sunny day at the Smallholders show - all the usual mix of interests for a grand day out. I had to snap the van (one of a number of old vehicles in the parade) - our first family car in my lifetime was a tiny Austin A35 - almost a museum piece even then - beautiful, but not fully appreciated by me at the time!
My other favourite - I would have stayed and watched for longer, but my companion was not quite so interested - and together we considerably elevated the average age of the audience.
Posted on July 3, 2011 at 6:40 PM. Category: Days Out.
Thursday June 30, 2011
Books in June
Death du Jour Kathy Reichs [read by Bonnie Hurren]
I guess I just like Kathy Reichs books; occasionally I find that they have some "cause" associated with them which I am a little ashamed to say I can find a bit tedious, but overall still good.
This is only her second novel, and I really like the added historical notes and the interweaving of the plot. In the opening scenes (a sub-plot), Tempe is trying to exhume the bones of a nun within a known environment where all the graves are supposedly clearly documented and yet are not where they should be. This kind of "recent history" error really interests me - in the end a very elderly member of the order is able to confirm the actual location, but it is only the living memory that is useful in this instance. With that character the information would have been lost. So many instances of family connections and identification of photos are lost because you suddenly wake up ne morning and realise there's no-one left around to ask.


When Will There Be Good News? Kate Atkinson
I read this book just as they were screenig the TV adaptations, so I watched the TV episode afterwards, and I have to say I thought they made quite a good job of it. Of course, there is much more in a book so much of the detail is left out, and they had to make some plot changes since they appear to have set all the TV series in Scotland which is not the case for the books.
Anyway, as far as the books is concerned - excellent - can't wait to read the next one (which I observed lurking on Helen's bookshelf while I was staying there).


The Scarpetta Factor Patricia Cornwell [read by Lorelei King]
Another excellent book about Kay Scarpetta which continues to "humanize" the otherwise overly detached pathologist. I still find it hard to empathise wholly with her reactions to situations but I don't find her quite so irritating a character as I used to. I guess in that respect she is replaced by her niece, Lucy.
There is one thing in the book that really struck a chord, and made me laugh. Scarpetta is let's say "about the same age" as me, and in the course of the plot she has a Blackberry foisted upon her (by Lucy), which she finds so frustrating that she removes her secure 8 digit password altogether - what bliss, and sadly not an option for me! Of course it leads to lots of interesting plot intrigues - whereas for me I doubt anyone would care except our company data security auditors.

Posted on June 30, 2011 at 2:52 PM. Category: Books of the Month.
Wednesday June 29, 2011
The Bell - Morris and Clog
This evening we cycled over to the Bell (or the Rat as it also seems to call itself) at Withybed Corner, to see Rob's Morris side in action. In fact, they were guests of a clog side - truth to tell I somewhat prefer clog dancing - so it was quite a interesting departure from the norm.
All the while we were there, the clouds threatened, and everyone was fearful for our getting wet on the way home (not realising that our house is in very easy walking distance from Walton, never mind cycling). However, the light was really eerie and on the way back we saw rainbow - weird in the twilight - which needed a rather better camera to capture properly.
Posted on June 29, 2011 at 6:18 PM. Category: Days Out.
Saturday June 25, 2011
Woolfest 2011
As usual, the animals were the stars of the show - along with their good-humoured handlers. When we first entered the building, I thought we might have to immediately leave due to Helen's being prone to asthma, but luckily she seemed to recover (we spent minimal time in the "animal" section), and we caught the Rare Breeds Parade without having to rush Helen to hospital. We tried out the new area for tea and coffee, though actually I'm less keen on this - I liked the "sit down" area with music, as it was, in the middle of the venue, with the demonstrations in this area - old stick-in-the-mud that I am - and the dancers: nice touch but basically just in the way.
I managed to avoid buying a fleece - it was not too hard since almost everything was sold, as it was the second day - and I learnt afterwards that they had sold more fleeces in the first 2 hours of the event than the total sold last year. (Indicative of the increasing numbers attending, which again, selfishly, I am not too cheerful about).
Surprisingly (to me) Helen bought herself a picture felting kit, and also surprisingly, I bought some felt figures rather then a kit (!). They were a chicken for my sister, and a Sylvester-style cat for myself. Jenny Barnett was in the middle of making the latter when I purchased it, and I had to wait while she finished it off.
She subsequently made me a second chicken (to my specification as a Croad Langshan), so I had the 2 in time for Christmas gifts.
In the evening, we went out to the Little Theatre by the Lake in Keswick, to see Noises Off by Michael Frayn, of which I had only ever seen the film production in the past. It was pretty funny and well-observed, (although we had to sacrifice a second gourmet outing to the pubs and restaurants near our hotel!).
Posted on June 25, 2011 at 11:56 AM. Category: Spinning, Dying, Weaving.
Friday June 24, 2011
Slockavullin
I'm visiting Helen in Slockavullin (that's a place...).
It's the first time I've been to her place, although she's been there some years now, and this is her wonderful newly fitted kitchen, with Helen herself - mistress of all she surveys.
Helen picked me up in Glasgow (early) and we spent the day there, eating and shopping. I was very keen to take lunch at the famous Willow Tea Rooms, and managed to get a photo of the more formal dining room (not available for lunch).
When I shared Helen's house for a short time in Kingston, we used to put together garden pots for the tiny patio, so on this visit, we did a reprise, though her garden is now much bigger. This pot is worthy of note as it's a departure from our tried and tested colour scheme.
Her garden is on a slope and this is a picture of the summer house at the top of the garden, which is also home to a large family of house martins which Helen was able to watch at close quarters as they progressed and finally fledged.
The weather was not good for my sight-seeing day, but somehow the fantastic scenery and ancient standing stones are well-suited to the grey skies with a touch of rain in the air.
As is often the case with British weather, a day later and we enjoying a final breakfast in the garden, before setting off south to the Lake District. If we look wild and somewhat hysterical in this photo, blame the automatic camera function, which involves my running round to take my position just in time.
... and by evening we were in Borrowdale at our delightful B&B with even more fantastic scenery - this a view from our bedroom window and...
.... a nice cup of tea... what else?
Posted on June 24, 2011 at 9:13 PM. Category: Days Out.
Friday June 10, 2011
New Technology
I have a new toy: an electronic reader. The title says "New Technology" but almost before I can put pen to paper (fingers to keyboard, stylus to screen, etc) it is not longer new, nor unique in its function. This is hardly a surprise as I bought it "used" on eBay, although it is virtually new.
I chose to get the smaller version of the Sony eReader. for a number of reasons, some of which are no longer relevant. One of them is unchanging, which is, that it is light in weight and fits well into my bag, while at the same time feeling quite like holding a little book when reading. I first saw it when out with Helen (she was buying a Netbook), and was smitten, but reviews did not rate it as the best; a closer look however seemed to show that many reviewers did rate it as "the best" and their main objection was the price. My eBay purchase, of course, overcame that objection.
I think the eBay seller had bought some other device with a reading app making a specific reader device redundant. However, despite my now owning a Sony tablet - with Sony eReader and Kindle apps installed - I still find I have a very strong need for the eReader, which is just like putting a tiny light-weight book in my bag when travelling. It's very useful having the reader apps on my tablet, but I would not use the tablet as a replacement for the specialist device.
Posted on June 10, 2011 at 8:24 AM. Category: Art and Culture.
Tuesday May 31, 2011
Books in May
Nemesis and Alexandria Linsey Davis [read by Christian Rodska]
Lots of fun, and delightfully read by my hands-down favourite narrator.
In Alexandria, the Falco family go on a jaunt to Egypt to provide Davis with a chance to poke fun at libraries and academia. It's an enjoyable book, but - although the author often uses this technique to provide new interest in the way of a foreign backdrop for her novels, I always feel that Falco is never truly on top form except on home territory in Rome.
Nemesis sees him back in Rome although there is an extensive swampy excursion. Here the novelty is provided perhaps by the crime story rather than the surroundings, where the concept of an ancient Roman serial killer is explored.


Kissing Christmas Goodbye M C Beaton
Surprisingly little to do with Christmas (it puts in an appearance towards the end). Agatha spends her time planning for the great event, but meanwhile gest involved with a rather unpleasant family business - o - and there's a murder. Or perhaps not.
Agatha dreams of that perfect Christmas - yet another concept I can equate to - and yet despite the preparations and the lifestyle books, it can never quite be perfect. The reason? that (however perfect one is oneself..) those around you are not the perfect stuff of daydreams. And despite her obsessive imaginings, by the time her great love James turns up to kiss her under the mistletoe, Agatha discovers that he does not stir her emotions to complete that picture of perfection.
And you know what? She discovers that she's having a great time anyway.

If there is a link between these novels, it is that they both have major/peripheral characters where I find it hard to put the flesh on the bones. In the Falco series it's Anacrites. He is presented as Falco's sworn enemy, though somehow that enmity lacks conviction for me. On occasion we have almost been given an insight into a deeper character and then it's whipped away and replaced by Falco's continued assertions about Anacrites low character.
With Agatha, it's James Lacey, and maybe this one is somehow more understandable as we most often see James through Agatha's obsessed eyes. Mrs Bloxham provides an apparently objective view, though of course she is very biased against him in her concern for Agatha's welfare.
Perhaps as these are both enjoyable light-hearted mystery series and I am simply trying to read too much into them!
Posted on May 31, 2011 at 10:58 AM. Category: Books of the Month.
Thursday May 19, 2011
My big brother
Today I had to say goodbye to my big brother. I thought he would always be there, but ... how foolish is that. He always loved foreign places and travelling, and seems to have spent his life doing just that. I hope and trust that after this last journey he will find himself somewhere just as wonderful and full of excitement.
Posted on May 19, 2011 at 3:50 PM. Category: Days Out.
Monday May 16, 2011
Isabella and the pot of basil

The story of Isabella, has been told by Boccaccio, Keats, and Hunt, in tale, poem and picture respectively. The narrative poem by John Keats was adapted from the story in Boccaccio's Decameron. It tells of a young woman whose family intend to marry her to "some high noble and his olive trees", but who falls for Lorenzo, one of her brothers' employees. When the brothers learn of this they murder Lorenzo and bury his body, fobbing Isabella off with some implausible yarn about his going away suddenly. However, his ghost informs her of the truth in a dream. She exhumes the body and buries the head in a pot of basil which she tends obsessively, while pining away.
The story was popular with Pre-Raphaelite painters, who illustrated several episodes from it - and also with Croydon College, who produced a short film of the story as part of their Digital Film Production degree course. It was shown at the BFI this afternoon and I took a short break from my office to go along and watch.
Posted on May 16, 2011 at 8:49 PM. Category: Art and Culture.
Saturday May 14, 2011
Bicycles made for two.
We got bikes! (one each that is).
I'm afraid they are a matching pair, and despite the fact that the girlie versions of all the matching bikes are in girlie colours, I am still very pleased with mine. I was ably assisted by our local bike shop, (B&L Stevens), who helped explain to me that all my life I have been under a complete misapprehension as to how you should size a bicycle, and then, having convinced me with a test drive, they adjusted the saddle to optimum height. (I blame the National Cycling Proficiency Test circa 1965).
Anyway - moving on - George is purchasing a swish new bike rack for the car - so - have bikes, will travel.
Posted on May 14, 2011 at 3:48 PM. Category: Days Out.
Saturday April 30, 2011
Books in April
The Girl of his Dreams Donna Leon [read by Gordon Griffin]
Another excellent Commissario Brunetti story. The backdrop is a social comment - as usual - this time involving the Romany community around Venice. The contrast is easily drawn between the children sent into the city to pilfer, and the "idle" rich in their far more oppulent surroundings. Differing viewpoints are elicited through the mouths of Brunetti, his colleagues, and family members - some more naive than others.


Forfeit Dick Francis [read by Tony Britton]
Interesting listening to this, as I believe it was the very first Dick Francis novel I ever experienced. From memory, it was serialised on Radio 4 around 1977 in their regular afternoon slot at about 4:30 - frustratingly cannot remember the title of the programme. I don't think it was narrated by Tony Britton. I was addicted to the radio then (while knitting of course - I have precise memory of the sweater - a gift for my Mother from a pattern in Stitchcraft!). They followed it with a reading of Flying Finish. Utterly thrilling, and for all that - still an excellent book, even discounting the knitting nostalgia, with his wife Mary's influence apparently clear.


Posted on April 30, 2011 at 9:56 AM. Category: Books of the Month.
Wednesday April 27, 2011
La Pharmacie d'Autrefois
The chemist in St Pois has a lovely display of "old stuff".
Posted on April 27, 2011 at 9:41 AM. Category: France.
Friday April 22, 2011
Rhubarb
I did not know rhubarb could do this. It's hard to see but it has shot up a flower spike and is now about 6 feet tall. I read now that you should (as I suspected) cut this off if you plan to crop it. As we have not eaten any of it yet - waiting for the poor neglected thing to get established - I hope it makes it feel good.
Posted on April 22, 2011 at 9:36 AM. Category: France.
Saturday April 16, 2011
Dyeing Day at the Guild
Today we learnt how to hand paint fibres and yarns under the guidance of Jan Blight. We started painting individually with supplied samples, as well a our own fibres. Then we moved finally to making a space dyed skein; this demonstrated, by experiment, exactly how long the sections of colour need to be in order to produce a reasonable sized stripe in the subsequent knitting. Each member of the team went home with a few turns of the resulting skein
Loooong...
Here are the results of our labours hanging up to dry. I think the most interesting lesson for me was the realisation that the type of fibre and the way it is spun influences how it takes the colour. My yarn was highly spun worsted superwash sock yarn and the colours I got were bright and clear. Other people achieved lovely soft muted shades with their fibres.
Posted on April 16, 2011 at 9:12 PM. Category: Spinning, Dying, Weaving.
Sunday April 10, 2011
Sheep to shawl
OK - I admit - not a shawl.
Some time ago, I was tempted by Lloyd and Marie to pick up a bundle of fleece which they had hand-clipped from the small flock (which came free with their rented house!). Heavy hints - or direct instructions - were given to produce something " a hat or scarf" as it would be much appreciated.
The fleece - although not in a complete fleece shape, but rather an untidy mixed up mess on the barn floor - was exceedingly soft in places, but unfortunately I had "help" picking it up so I got a very mixed bag. It washed to a lovely white colour, and spun up well. I was pleased to be able to make 2 hats and a scarf. The latter I did not think much of - it just used the left overs, but the hats based on my apparently popular fisherman's rib hats were pretty good.
But as is the way of things, I'm not certain that the gifts were in fact much appreciated - I think I am viewed as just a bit of an elderly eccentric and this is just what I "do". My view of myself of course is an artistic artisan in the prime of life. Like Miss jean Brodie, I had hoped my prime would last the rest of my life.
Posted on April 10, 2011 at 9:06 AM. Category: Spinning, Dying, Weaving.
Saturday April 9, 2011
Wisley
An outing to Wisley to view the spring flowers, gain allotment inspiration, and tour the hot-house.
All the Wisley subjects are so wonderfully photogenic.
Posted on April 9, 2011 at 5:44 PM. Category: The Garden.
Friday April 8, 2011
War Horse
Last night we went to see War Horse at the New London theatre. It was as fantastic as everyone says - though it is a childrens book with very adult content, and the audience was full of sobbing little girls (and some big girls as well...).
Prior to the show, at Tony's suggestion, we ate an excellent meal at Sophies Bar and Grill in Covent garden.
Posted on April 8, 2011 at 9:25 AM. Category: Art and Culture.
Monday April 4, 2011
Natural Dyes
Getting in the mood for our workshop later this month, I tried home dying some Portland fleece. These are not all natural dyes, but the grey green is - from nettles. I was quite pleased as the colour I got - while some might say it is not very inspiring - is exactly the colour my dye book shows: a grey green. I followed the instructions, adding a pinch of iron, and managed to get green rather than yellow.
The other colours are OK but not what I was looking for. I tried mixing the French reactive dyes (red and blue) to make purple but got a very dark red colour, (top); the pink mauve at the bottom is a second dip in this same bath; and the blue mauve in the centre is a Dylon all-purpose dye. I think I badly mistreated the fibre in the process, and it is hard, matted, and singed. However, I have managed to selectively card it to make some usable batts.
Posted on April 4, 2011 at 6:29 PM. Category: Spinning, Dying, Weaving.
Thursday March 31, 2011
Books in March
Bedtime listening. Yawn.
Fresh from the Country by Miss Read [read by Gwen Watford]
I really enjoyed the gently humorous homely tales in "Over the Gate". However this book is not written in the same mould at all. It's an account of a newly-qualified female teacher's experiences in the early 1960s, and I found it rather tedious with little substance. I also disliked the representation of the "perfect" and patronising head teacher who was clearly the potential role model for the heroine; one can only hope that the very tiny intimations of romance might swiftly blossom into the traditional marriage proposal and acceptance, thereby rescuing her from such a fate for good (!).
One of the problems may be that I cannot relate to the story in the same way that perhaps those in the teaching profession could. Nonetheless, I think some of her other stories are much more pleasing and fun.


Depths by Henning Mankell [read by Sean Barrett]
This is a very gloomy book - all icy wilderness and barrenness bleakness, set during the First World War. It was hard for me to empathise with this hero, and as it's told from his point of view, (and he is clearly psychotic), it's hard to get to grips with how others view him. He is deeply disturbed throughout, and entangles himself in a web of deceit, leading to multiple murders, and fairly inevitably, as his duplicity is unravelled, his own demise.
(It reminded me a little of Zola's "Thérèse Raquin", and to confirm me as a Phillistine, I did not like that much either.)
And yes - I am one of those idiots who thought this would be a Wallander novel.

Posted on March 31, 2011 at 9:56 AM. Category: Books of the Month.
Sunday March 27, 2011
More birthday delights
Helen dropped by on her way home from a trip to Italy, so I was able to present her with the woolly gifts. Unfortunately the cushion pads didn't turn up in time, (in case you were wondering), so she'll be collecting them on another visit.
Posted on March 27, 2011 at 8:57 AM. Category: Knitting.
Saturday March 26, 2011
Cheese Scones
I am always trying to make cheese scones - I love them. But mine always seem flat and mean looking. This recipe proved most successful to date, involving: an egg, handling the dough as little as possible, and rolling out the dough quite thickly and cutting out larger scones (the latter most obvious I suppose). I think using buttermilk instead of milk can help activate the rising agent in the flour.
---
Cheese Scones
Ingredients
6 ozs self raising flour
1-1½ oz butter
pinch of salt
pinch of English mustard powder (or less if you like)
a good pinch of cayenne
3½ ozs grated Cheddar cheese
1 egg
2-3 tbsps milk (as needed)
Method
Pre-heat the oven to gas mark 7, 425°F (220°C)..
Sift the flour into a bowl along with the mustard powder, salt, and cayenne pepper; mix together.
Rub in the butter with finger tips until well combined. Mix in most of the grated cheese leaving the remainder (about a tbsp) to use later.
Beat the eggs with 2 tbsp milk and add to the dry ingredients. Mix together to form a soft dough, adding a little more milk as required if the mixture seems dry. Try to avoid working the mixture too much.
Gently roll out the dough on a well-floured surface, as evenly as possible to a thickness of ¾ - 1 inch. Pat the dough into a square shape as you roll and cut into 9 square (ish) scones (3 x 3) with a knife.
Place evenly spaced on a baking sheet, allowing a little room for rising. Brush the tops with a little more milk, and sprinkle with grated cheese.
Bake for 12-15 minutes (or a little longer if necessary) until the cheese has started to bubble and the scones are browned. Cool on a wire rack.
Serve warm or cold with or without butter but the scones are best eaten the day they are cooked. [You can freeze them, but reheat in an oven after defrosting].
Posted on March 26, 2011 at 5:45 PM. Category: Kitchen and food.
Sunday March 13, 2011
Birthday at the Swan
Notable quote: "I'm sorry we don't do bread pudding any more - customers complained that it was very bready". .....er...hello?
Posted on March 13, 2011 at 5:45 PM. Category: Days Out.
Saturday March 5, 2011
The Friends - in Chichester
This year it was Chichester, which was sufficiently close for me to make it a day trip. We may have had a few informal pre-dinner drinks (below) - followed by the traditional curry (above).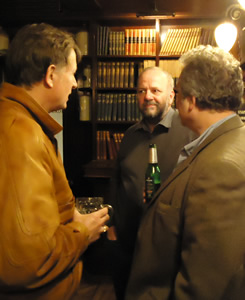 It was a lovely afternoon, so prior to meeting everyone, I took a walk around the walls - which I don't remember doing very much (if at all) when I lived here.
There was great excitement in East Street where there had clearly been a fire - apparently affecting Fat Face and the accommodation above.
I finished off my sight-seeing by visiting the cathedral and the Bishops gardens. I tried to photograph the Chagall window but with limited success. (Hard to get the correct angle and a stable position in which to focus).
Posted on March 5, 2011 at 11:43 PM. Category: Friends.
Monday February 28, 2011
Books in February
Silks by Dick Francis and Felix Francis [read by Tony Britton]
I always felt I had a problem with Tony Britton reading Dick Francis novels, as they usually feature relatively young men (20s-30s) - and Tony Britton, though a great reader, has a very mature upper middle class voice. That's what I thought. But I had no problem with this one. Maybe it's because the hero is a barrister (Tony sounds like one of whatever age - no problem) - or maybe this is just a stronger novel than ones I have read recently. Anyway - a fine read - and nicely encompassing a bit of horseyness too....


Singing the Sadness [read by Christian Rodska] and
The Roar of the Butterflies [read by Rupert Farley]
by Reginald Hill
A very different detective created by Reginald Hill. Jo Sixsmith is an ex machine operator turned private detective living in Luton, though his adventures take him elsewhere.

It is almost an old-fashioned style of book, with very ordinary old-fashioned style people but yet set in our very contemporary world. Full of charm and humour, but for all that does not sacrifice the a very real sense of danger and the thrill of the whodunnit.


Love, Lies and Liquor by M C Beaton [read by Penelope Keith]
An Agatha Raisin novel, in which experience triumphs over hope.
O no - my mistake - got that the wrong way round.
Agatha thinks she will rekindle the romantic flame by going on holiday with ex-husband James - poor James' idea is a nostalgic trip to a coastal English resort (but seemingly in the dead of winter!), which, funnily enough, lives up to the expectations of neither party.
It does seem like she might really be cured of James this time...


Posted on February 28, 2011 at 9:55 AM. Category: Books of the Month.
Sunday February 20, 2011
Family Lunch
This time meeting my sister and having an "almost" New Year lunch with my Uncle David (as opposed to my cousin David) at the George and Dragon in Dragons Green.
Posted on February 20, 2011 at 2:17 PM. Category: Days Out.
Saturday February 19, 2011
Passementerie
At the guild meeting today we had a workshop run by Anna Crutchley to make a mixed fibre tassel . It was a very full day and most of us took "homework" to finish off at the end of the day.
This is my tassel - finished off at home, but you can see I have not brought myself to cut the ends of the strands yet (you need very sharp scissors).
Posted on February 19, 2011 at 1:17 PM. Category: Crafts.
Friday February 11, 2011
Hearts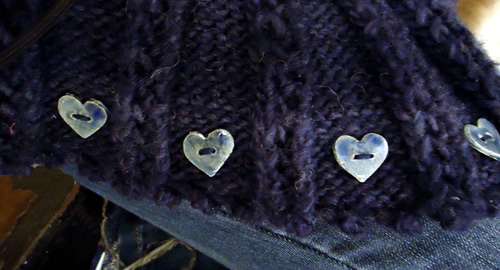 The Louisa Harding cardigan, Puzzle, that I knitted some time ago is supposed to have heart shaped buttons around the hem as a decoration. I had been looking for some time to find buttons that were suitable and within budget (I needed 36 of them). Suitability is hard to define but the cardigan is folksy in yarn texture and arty styling. So I cannot tell you how delighted I am that my friend Felicity went to the trouble of making me some pottery buttons, all laboriously cut out and coloured by hand. She was actually apologetic (!) that they are not all identical and that the colouring is not consistent - but those very features are what makes them so very perfect.
Thank you so much.
Posted on February 11, 2011 at 4:00 PM. Category: Knitting.
Monday January 31, 2011
Books in January
These are the lovely books I received as gifts - a lovely start to the New Year.
The Knitter's Year by Debbie Bliss
As is often the case with this type of book, I look at the projects and think "why - these are simple little things - I could have made this up myself".... but then you didn't did you? For a book like this, (knitting projects all year), they need to be quick fun things, - which they are - and this book is beautifully styled and produced, providing the motivation and desire to knit the "little projects" and also then make some up yourself!


Around the World in Knitted Socks by Stephanie Van Der Linden
You'd buy this book for the cover alone wouldn't you? It's all so colourful and lovely, I wanted to start them all right away. I felt that Rowan felted tweed would provide the look I was after but the 4ply weight is discontinued (and the patterns would be hard to adapt due ot the patterning); plus I think the felted tweed might not be robust enough for socks. So - I guess I'll have to try that new territory and use the recommended yarns...


Nordic Knits by Martin Storey
This is the sort of book that non-knit-lovers (as well as knitters) would like projects from. Perfect gifts for those not keen on hand-knit clothing - though you need to check out their liking for folksey! I think it's packed with pretty tasteful stuff and immediately knitted the cushions on the cover for Alison to decorate in her new "cabin" (house to you and I).
Posted on January 31, 2011 at 4:01 PM. Category: Books of the Month.
Saturday January 29, 2011
The Mousetrap
George organised the most wonderful birthday treat for me as a surprise. We went to see the "Mousetrap" - I was absolutely delighted. The show is older even than I am - 2012 will be its diamond jubilee (and not mine!) - and I have never seen it before. The plot is a sort of amalgamation of Agatha Christie favourite themes including blizzards and locked rooms, so it made it possible to make a stab at who the murderer was, but the implausible coincidences and relationships between the characters made it all the more interesting and charming. I felt like I wanted to dress in costume - not a mouse costume... - but would have looked an idiot so luckily suppressed the urge.
Following the theme: we had "stored" our apple crop (about 4 Bramleys) in the attic - and I found that the mice regarded them as winter fodder. They did not eat them all at once you understand, just came back for another bite from time to time. We don't have "house" mice but pretty little brown wood mice who prefer to live outside except in the coldest weather when they come in - and eat anything they can find. I managed to exclude them from the downstairs area and kitchen by preventing entry (anything in the lobby is fair game for them), but the attic is impossible to make mouse-proof.
I'm afraid I had to "deal" with them. And remove the apples.
Posted on January 29, 2011 at 4:02 PM. Category: Art and Culture.
Friday January 28, 2011
Clapotis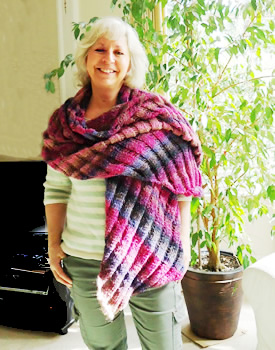 My fantastic gift from Alison. I love it. I love the soft yarn, the colours, the shape.... I love it.
Posted on January 28, 2011 at 10:29 AM. Category: Red Letter Days.
Thursday January 27, 2011
Toby Craftery
A new knitting group has started up on Thursdays in Redhill (at the Toby Carvery). I am keen to join in. However, the meetings are every 2 weeks - and with other commitments I seem to keep missing the dates.
It is great to see other people's projects, which are often things I am interested in but not planning to knit myself. Sort of vicarious knitting...
Posted on January 27, 2011 at 4:03 PM. Category: Knitting.