Archive Entries for
January 2011
« December 2010 | Main | February 2011 »
Monday January 31, 2011
Books in January
These are the lovely books I received as gifts - a lovely start to the New Year.
The Knitter's Year by Debbie Bliss
As is often the case with this type of book, I look at the projects and think "why - these are simple little things - I could have made this up myself".... but then you didn't did you? For a book like this, (knitting projects all year), they need to be quick fun things, - which they are - and this book is beautifully styled and produced, providing the motivation and desire to knit the "little projects" and also then make some up yourself!


Around the World in Knitted Socks by Stephanie Van Der Linden
You'd buy this book for the cover alone wouldn't you? It's all so colourful and lovely, I wanted to start them all right away. I felt that Rowan felted tweed would provide the look I was after but the 4ply weight is discontinued (and the patterns would be hard to adapt due ot the patterning); plus I think the felted tweed might not be robust enough for socks. So - I guess I'll have to try that new territory and use the recommended yarns...


Nordic Knits by Martin Storey
This is the sort of book that non-knit-lovers (as well as knitters) would like projects from. Perfect gifts for those not keen on hand-knit clothing - though you need to check out their liking for folksey! I think it's packed with pretty tasteful stuff and immediately knitted the cushions on the cover for Alison to decorate in her new "cabin" (house to you and I).
Posted on January 31, 2011 at 4:01 PM. Category: Books of the Month.
Saturday January 29, 2011
The Mousetrap
George organised the most wonderful birthday treat for me as a surprise. We went to see the "Mousetrap" - I was absolutely delighted. The show is older even than I am - 2012 will be its diamond jubilee (and not mine!) - and I have never seen it before. The plot is a sort of amalgamation of Agatha Christie favourite themes including blizzards and locked rooms, so it made it possible to make a stab at who the murderer was, but the implausible coincidences and relationships between the characters made it all the more interesting and charming. I felt like I wanted to dress in costume - not a mouse costume... - but would have looked an idiot so luckily suppressed the urge.
Following the theme: we had "stored" our apple crop (about 4 Bramleys) in the attic - and I found that the mice regarded them as winter fodder. They did not eat them all at once you understand, just came back for another bite from time to time. We don't have "house" mice but pretty little brown wood mice who prefer to live outside except in the coldest weather when they come in - and eat anything they can find. I managed to exclude them from the downstairs area and kitchen by preventing entry (anything in the lobby is fair game for them), but the attic is impossible to make mouse-proof.
I'm afraid I had to "deal" with them. And remove the apples.
Posted on January 29, 2011 at 4:02 PM. Category: Art and Culture.
Friday January 28, 2011
Clapotis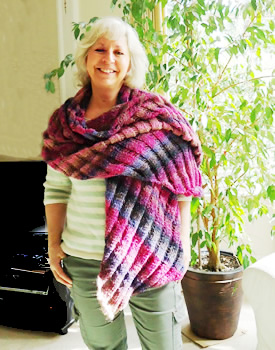 My fantastic gift from Alison. I love it. I love the soft yarn, the colours, the shape.... I love it.
Posted on January 28, 2011 at 10:29 AM. Category: Red Letter Days.
Thursday January 27, 2011
Toby Craftery
A new knitting group has started up on Thursdays in Redhill (at the Toby Carvery). I am keen to join in. However, the meetings are every 2 weeks - and with other commitments I seem to keep missing the dates.
It is great to see other people's projects, which are often things I am interested in but not planning to knit myself. Sort of vicarious knitting...
Posted on January 27, 2011 at 4:03 PM. Category: Knitting.