Archive Entries for
February 2011
« January 2011 | Main | March 2011 »
Monday February 28, 2011
Books in February
Silks by Dick Francis and Felix Francis [read by Tony Britton]
I always felt I had a problem with Tony Britton reading Dick Francis novels, as they usually feature relatively young men (20s-30s) - and Tony Britton, though a great reader, has a very mature upper middle class voice. That's what I thought. But I had no problem with this one. Maybe it's because the hero is a barrister (Tony sounds like one of whatever age - no problem) - or maybe this is just a stronger novel than ones I have read recently. Anyway - a fine read - and nicely encompassing a bit of horseyness too....


Singing the Sadness [read by Christian Rodska] and
The Roar of the Butterflies [read by Rupert Farley]
by Reginald Hill
A very different detective created by Reginald Hill. Jo Sixsmith is an ex machine operator turned private detective living in Luton, though his adventures take him elsewhere.

It is almost an old-fashioned style of book, with very ordinary old-fashioned style people but yet set in our very contemporary world. Full of charm and humour, but for all that does not sacrifice the a very real sense of danger and the thrill of the whodunnit.


Love, Lies and Liquor by M C Beaton [read by Penelope Keith]
An Agatha Raisin novel, in which experience triumphs over hope.
O no - my mistake - got that the wrong way round.
Agatha thinks she will rekindle the romantic flame by going on holiday with ex-husband James - poor James' idea is a nostalgic trip to a coastal English resort (but seemingly in the dead of winter!), which, funnily enough, lives up to the expectations of neither party.
It does seem like she might really be cured of James this time...


Posted on February 28, 2011 at 9:55 AM. Category: Books of the Month.
Sunday February 20, 2011
Family Lunch
This time meeting my sister and having an "almost" New Year lunch with my Uncle David (as opposed to my cousin David) at the George and Dragon in Dragons Green.
Posted on February 20, 2011 at 2:17 PM. Category: Days Out.
Saturday February 19, 2011
Passementerie
At the guild meeting today we had a workshop run by Anna Crutchley to make a mixed fibre tassel . It was a very full day and most of us took "homework" to finish off at the end of the day.
This is my tassel - finished off at home, but you can see I have not brought myself to cut the ends of the strands yet (you need very sharp scissors).
Posted on February 19, 2011 at 1:17 PM. Category: Crafts.
Friday February 11, 2011
Hearts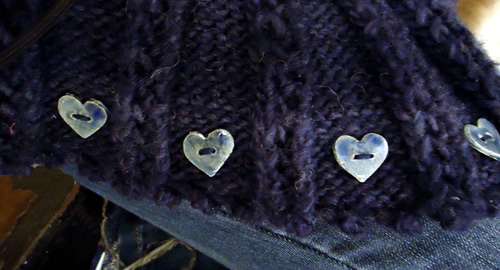 The Louisa Harding cardigan, Puzzle, that I knitted some time ago is supposed to have heart shaped buttons around the hem as a decoration. I had been looking for some time to find buttons that were suitable and within budget (I needed 36 of them). Suitability is hard to define but the cardigan is folksy in yarn texture and arty styling. So I cannot tell you how delighted I am that my friend Felicity went to the trouble of making me some pottery buttons, all laboriously cut out and coloured by hand. She was actually apologetic (!) that they are not all identical and that the colouring is not consistent - but those very features are what makes them so very perfect.
Thank you so much.
Posted on February 11, 2011 at 4:00 PM. Category: Knitting and Crochet.