« Books in February | Main | Birthday at the Swan »
Saturday March 5, 2011
The Friends - in Chichester
This year it was Chichester, which was sufficiently close for me to make it a day trip. We may have had a few informal pre-dinner drinks (below) - followed by the traditional curry (above).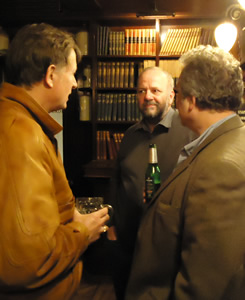 It was a lovely afternoon, so prior to meeting everyone, I took a walk around the walls - which I don't remember doing very much (if at all) when I lived here.
There was great excitement in East Street where there had clearly been a fire - apparently affecting Fat Face and the accommodation above.
I finished off my sight-seeing by visiting the cathedral and the Bishops gardens. I tried to photograph the Chagall window but with limited success. (Hard to get the correct angle and a stable position in which to focus).
Posted by Christina at 11:43 PM. Category: Friends
Comments