Category Entries for
Art and Culture
« Previous entry
|
Main
|
Next entry »
Saturday June 30, 2018
Books in June
Posted on June 30, 2018 at 12:58 PM
« Previous entry
|
Main
|
Next entry »
Wednesday June 13, 2018
De Morgan, Fashion, and Quiz
Today my sister and I had a Big Day Out in London.
We kicked off with what my sister was really interested in - seeing the De Morgan tiles exhibition, Sublime Symmetry at the Guildhall's art gallery in London. They were wonderful - just wanted to take some home of course - and exhibited alongside interesting information and artifacts from his life and work. While at the Guildhall we were also able to get access the Hall itself, and have a tour of the crypt.
We wandered out to lunch via Postman's Park - which has a Memorial to Heroic Self Sacrifice founded by Watts (he of the Watts Gallery where my sister volunteers) and with dedication plaques designed by De Morgan.
We then drifted on to the V&A to (drink lot of tea and) see Fashioned from Nature - making good use of my membership while I can.... The exhibition was about the use of organic objects (from dead birds to beetle wings) in fashion from early times, through to a more "green" way of thinking that influences (some) designers today.
Finally we went on to the theatre.
Quiz is a fun and popular show based on the "coughing Major" trial (where the Quiz in question is Who Wants to be a Millionaire), and we enjoyed it along with everyone else. The audience vote twice during the show to give a "verdict" - and we were duly manipulated to alter our votes in the way intended by the author. I was interested to read Chris Tarrant's newspaper articles about it in the Guardian - his point of view is quite clearly put.
Posted on June 13, 2018 at 7:39 PM
« Previous entry
|
Main
|
Next entry »
Thursday June 7, 2018
Trioperas
All I can say is... this was not at all what I was expecting.
And if I were to say the Wushi Lion Bull creature that featured in Carmen along with a keystone cops chase scene on trampolines were quite amusing - then I would have to tell you about the rest of it.
And the rest of it was pretty damned poor - not even bad enough to be funny. In truth I wanted my money back. The face value of my stalls seat was £59 which is staggering considering a comparison with the top price £64 stalls ticket for a seat to see Network at the National.
The hype for this "show" (where the intervals are - in this case fortunately - longer than the actual acts) beggars belief: "A spectacular, high adrenaline, unforgettable journey of love, vengeance, tears and laughter."
Or possibly just tears of suppressed fury and hysteria at wasting my time and money.
Posted on June 7, 2018 at 5:27 PM
« Previous entry
|
Main
|
Next entry »
Thursday May 31, 2018
Books in May
Posted on May 31, 2018 at 8:48 AM
« Previous entry
|
Main
|
Next entry »
Sunday May 20, 2018
Roman London
Today we went to the Museum of London for a short guided tour of the Roman walls. We got ourselves in the mood by wandering around the excellent free exhibits while waiting to join our party. As was explained to us - the view above is not really very Roman but much later. The actual Roman parts are only the first few feet of the visible walls.
However this gloomy interior below was what we had really come to see: a locked area of the car park with the remains of a gate and probable guard post area.
The angles for my photos were limited owing to the low lighting conditions. [However, the cool interior was a welcome relief from the remarkably hot weather we are experiencing here at the moment].
Posted on May 20, 2018 at 11:25 PM
« Previous entry
|
Main
|
Next entry »
Saturday May 19, 2018
Monet and Architecture
I got "club" tickets for this on spec with the idea of taking my sister, since both "Monet" and "Architecture" are definitely her thing. But of course in the end she could not make the date and Rob took the place.
The exhibition was structured around Monet's (long) life with paintings collected together chronologically according to where he lived or visited at the time - and some showing several of identical subjects painted (in rotation apparently) at different times of day as the sun moved round - none of your Van Gogh: 3 paintings in an afternoon stuff. I found all that as interesting as the paintings themselves since I realise I did not previously know much about him. However - always wonderful to see Monet's work - a privilege.
Posted on May 19, 2018 at 11:18 PM
« Previous entry
|
Main
|
Next entry »
Friday May 11, 2018
The Future Starts ... at the V&A
We went to the preview evening for The Future Starts Here exhibition - and unfortunately some of the exhibits had not actually "started here" - the house robot had absolutely HAD IT UP TO HERE with sorting the laundry (haven't we all) - but that probably did not affect the overall experience so much. It surprised me that it was really quite "political" if that's the right word - with items questioning if democracy was really working for this century, pointing out the truly appalling consequences of rising worldwide temperatures (for whatever reason), and catering for the increasing number of single people living and dining out alone ("We are now all connected, but are we still lonely?"). I tried out (sat in) a prototype driverless car/taxi, and was particularly taken with a tree project designed to help keep public spaces and trees healthy by having the public report in by email if they see issues with the trees; what happened was a wholly unintended performance art project, with people writing to specific trees (and getting replies), or penning odes to their favourite trees.
Really not sure what I took away from it all though - it seemed quite glum. It was intended to show "now", to avoid having to look back in future years on inevitably foolish predictions, but also to show that any particular future is not inevitable - we can make choices. Some found it "refreshingly hopeful" but it seemed to make it clearer to me that we aren't getting to grips with making any helpful choices. Now I feel much as I did after watching the documentary series All Watched Over by Machines of Loving Grace which showed (among many other things) that our attempts to influence our environment* have all too often ended in making things worse.
* when I was at school we were told about an idea put into place to stop the high rate of water evaporation from reservoirs in hot climates by putting a layer of another less volatile liquid on top. This meant that the water underneath the top layer heated up - not a problem in itself - until in the end it reached a temperature such that the rate of evaporation was equal to what they had started with. I can't find any reference to this pre-1970s project on the web (I've probably misremembered it) - but there are many references to more recent scientific research still trying to solve the same problem in Australia and California today.
Posted on May 11, 2018 at 11:16 PM
« Previous entry
|
Main
|
Next entry »
Thursday May 3, 2018
Union Chapel
Another outing with Rob to the Union Chapel to see a bright young thing. In fact I was not taken with the music although she is clearly very talented and has a beautiful voice (and was very struck by having packed out the chapel).
I was very taken with the free roses though, and struggled home on the train with a bunch - they seem to have stood up to the trauma very well indeed.
Posted on May 3, 2018 at 11:13 PM
« Previous entry
|
Main
|
Next entry »
Monday April 30, 2018
Books in April
Shetland Series by Ann Cleeves
I decided it was time to read the Shetland books - especially as the last one is due out this year. I really loved the TV adaptation (having not read the books) and the only minor quibble I have now is that Doug Henshall* does not really fit the description of the Spanish heritage of Perez - but that is all. (O - and I thought Sandy was a chubby sort of guy - but I made that up I think).
As I thought that Fran had died prematurely of natural causes, Blue Lightning came as a bit of a shock. Other than that - brilliant.

* Also brilliant in his role in Network - although maybe a bit young (looking at least) for the role of Max Schumacher?


The Last Secret Of The Temple by Paul Sussman
I could not get hold of an audio book for this first book by Sussman so it took me a little longer to get round to reading it myself. Here we see how the two policemen on each side of the fence get together to solve their first crime. As I said - his thriller writing improved over the 3 books - not being a writer I can't really say how or why. However, you can see that the opportunity for these two to be long term partners in combating crime were going to be limited - and the author ensured that was indeed the case in the third book, before his own untimely demise. Well worth the read.

Posted on April 30, 2018 at 5:53 PM
« Previous entry
|
Main
|
Next entry »
Tuesday April 24, 2018
Say you don't mind...
Little did I imagine in 1972 that I would be doing this in Grayshott Village some half a century later..... as I'm guessing Colin didn't either....
Great evening!
Posted on April 24, 2018 at 11:14 PM
« Previous entry
|
Main
|
Next entry »
Saturday April 21, 2018
Absolute Hell
I am quite interested in revivals from this period, so I took the opportunity of getting some tickets for a preview evening. Controversial in 1951 - but that was a lifetime ago (mine in fact) and I loved it. Beautifully staged and acted, showing both interior (on two levels) and exterior action all within the one brilliant set.
I did find it quite difficult to hear from my seat in the slips; since it's set in a club in Soho and there's a lot spirited party atmosphere, I found that following the sparky dialogue proved tricky, especially at the beginning. I'm afraid I think this is my hearing rather than the play though.
Posted on April 21, 2018 at 9:21 AM
« Previous entry
|
Main
|
Next entry »
Friday April 20, 2018
Three Billboards Outside Ebbing
Another pensioners afternoon out at our local village hall.
This is an excellent film worth all the notices. Considering the grim subject matter, the film surprised me with its moderately positive ending - and a lot of (albeit black) humour.
Posted on April 20, 2018 at 11:27 AM
« Previous entry
|
Main
|
Next entry »
Thursday April 12, 2018
The Grinning Man

By

Source

(WP:NFCC#4), Fair use, Link
I had pretty low expectations for this - and how wrong I was. It was absolutely wonderful - great music and cast - and turns out it's a cult hit. It's a tragicomic musical based on Victor Hugo's novel L'Homme Qui Ri; premiered at the Bristol Old Vic before transferring to the Trafalgar Studios, (a venue I'm becoming quite fond of), where it's into an extended run.
Posted on April 12, 2018 at 9:22 AM
« Previous entry
|
Main
|
Next entry »
Saturday March 31, 2018
Books in March
Posted on March 31, 2018 at 9:07 AM
« Previous entry
|
Main
|
Next entry »
Saturday March 24, 2018
Polesden Lacey
Alison and I met up at Polesden Lacey for a "nice day out" - it was a bit wet in fact but that in no way dampened our enjoyment of baked potatoes with tuna mayonnaise and coleslaw, (trip down memory lane from when we first met) followed by cream teas (always a highlight of a National Trust tea room). Not quite as pictured but just as refined....
Posted on March 24, 2018 at 5:54 PM
« Previous entry
|
Main
|
Next entry »
Friday March 23, 2018
Darkest Hour
I wanted to see this film and George wasn't keen - but he spotted that it was showing in a local village hall thanks to Curzon Country Cinema. We must have lowered the average age by some degree - but we are practising for retirement - and how nice to walk to a local cinema (with a real projectionist!) just like in "the old days".
Posted on March 23, 2018 at 11:28 AM
« Previous entry
|
Main
|
Next entry »
Monday March 19, 2018
Impressionists in London
We all went to Impressionists in London, French Artists in Exile (1870-1904), and I think my sister was slightly put out that it wasn't more "impressionistic" in the way we know and love. [Scenes of regattas fringed with bunting as painted by Alfred Sisley and James Tissot in "The Ball on Shipboard" c.1874 are also displayed, demonstrating how British social codes and traditions captured the imagination of the Impressionists at the time] But I really enjoyed the works and the explanations of the apparently slightly risque implications in some of them.
Posted on March 19, 2018 at 11:23 PM
« Previous entry
|
Main
|
Next entry »
Wednesday February 28, 2018
Books in February
Bearded Tit: a love story with feathers by Rory McGrath [read by Rory McGrath
Rob gave me this book for Christmas and I thought "I wonder what Rory has been up to lately" and made the mistake of looking, and finding that there was all kinds of scurrilous detail on the subject available on the internet. This put me off reading it - not by any means because I was disgusted with him but because it made me so deeply sad - especially since (at least part of) the book is about finding his "true love" and of course loves young (old) dream does not always last.
However, Rob is quite definite that "it's about birds" which is also true - and it's clever and funny and great hearing it read by the author. He needs to write more.


Sleeping In The Ground by Peter Robinson [read by Mark Meadows]
This is the 24th (and most current) book in the Inspector Banks series. It was available from the library so I took advantage of the opportunity, although I am trying to read them in order (I'm up to number 10). I've read that you should read them in order, as there are plot spoilers about previous books but I've not noticed this, but as usual, it was a good story well written and I enjoyed it.
What I did not enjoy was the library software (Ulverscroft) provided on iPad which I used to listen to it. The tracks are simply not played automatically in order, so I had to keep guessing from the wild change in plot line that we had leapt to the wrong place after each chapter. I can find no information or complaints about this online so still wondering if it is "user error". I have to say though that another book I borrowed had a whole chunk missing - so I had to go back to the hard copy book to catch up with the missing plot!


A Lesson in Secrets and Elegy for Eddie by Jacqueline Winspear
[read by Julie Teal]
So I have found another mystery series and a new heroine - a whole catalogue of books to mine. I'm not reading these in order but the time line is not hard to follow. I can see that Maisie Dobbs is a bit elitist - or perhaps more exactly improbably privileged - but it serves the basic premise of the books and enables her freedom to be a female detective between the wars. I like (well written) books about this period - which I suppose must be called "historical novels" now, even though I feel they were almost my life and times. As I observed before - the wars seemed within touching distance during my childhood.


Posted on February 28, 2018 at 7:22 PM
« Previous entry
|
Main
|
Next entry »
Tuesday February 6, 2018
Network
I somehow failed to notice this production - I guess I knew the film from my youth and never watched it (despite its being "acclaimed" - someone experiencing a nervous breakdown on camera never held much appeal). However, Brian Cranstone is another matter - known to and loved by me for his priceless performances in Malcolm in the Middle rather than the more recent and much hyped role in Breaking Bad.
So without much optimism I joined the Friday Rush queues for tickets, and was amazed (really lucky) to actually procure some - for a matinee and which I think must have been top price returns. And what a truly great production it was. Even George was impressed.
Posted on February 6, 2018 at 10:50 PM
« Previous entry
|
Main
|
Next entry »
Wednesday January 31, 2018
Books in January
Learning to Talk by Hilary Mantel [Read by Patrick Moy, Anna Bentinck, and Jane Collingwood]
A collection of autobiographically inspired short stories. Poignant and evocative tales of life in the 1950s and 60s.

King Billy is aGentleman
Curved is the Line of Beauty
Learning to Talk
Third Floor Rising
The Clean Slate



Behind the Scenes at the Museum by Kate Atkinson [read by Diana Quick]
Another wonderful chronicle of an extended family. It covers not only the main character's childhood era (1950s) but also the previous generations across two world wars.
I was originally given her book of short stories, and due to the cover (!) thought she was a chick lit writer. Then I was introduced to her Jackson Brodie novels (and TV series) - and thought she was a crime writer.
Now - I have thankfully stopped trying to pigeon-hole her and just see her as the excellent writer she undoubtedly is.


The Labyrinth of Osiris and The Lost Army of Cambyses by Paul Sussman
[read by Gordon Griffin]
Quite by chance I listened to The Labyrinth of Osiris and was completely hooked. I thought I had found a great new author - only to discover the poor chap was the victim of an untimely death - so 3 books is it (actually there are a couple more but not in this "series").
I have read them in exactly reverse order - and I think his style (as in: a writer of thrillers - Sussman was a journalist of some standing) improved over the 3 books.
The books are variously described with comparisons to Dan Brown - which is frankly an insult but I guess gives you a flavour of the content. They are police procedurals set in present day Egypt and Israel but with (in truth unrealistic but made real) new archaeological finds based on references in ancient writings. Sussman has combined his love for archaeology with his day job and produced some great stories.
Curses that there are no more.

Posted on January 31, 2018 at 4:11 PM
« Previous entry
|
Main
|
Next entry »
Sunday January 28, 2018
Dulwich
Alison and I had a day out at the Dulwich Picture Gallery to catch the final day of the Tove Jansson exhibition.
I saw a great documentary about TJ on BBC4 some time ago and it was wonderful the see the actual detailed artwork and working drawings for the sketches. And also of course I read all the books as a small child - which must have been only a short time after they were available in English translations. I read all that were in our local library which was probably only 4 or 5, but apparently there are 9.
Overall it was excellent - and the only minor disappointment was that all the beautiful tiny drawings which we imagined would transfer well to postcards were not available - all posters and prints sold out, unsurprisingly.
They have a really good cafe at the gallery (Dulwich is a very right-on place) where we had both elevenses and (later) a light lunch (despite being initially rather startled by the strength of the black tea).
The excitement of the day was rounded off by going to see The Last Jedi at Kingston Odeon. Nostalgia all round.
Posted on January 28, 2018 at 8:16 PM
« Previous entry
|
Main
|
Next entry »
Saturday January 13, 2018
Pinocchio
This was a spontaneous booking at a very low price which tempted me - I wanted to see it for the inventive direction and puppetry - I had not checked but it is in fact a musical and did (to my delight) include the familiar songs I had hoped for - specifically "An Actors Life for Me" - and Mr Fox was also terrific. The seats were right at the front of the stalls - temporary seating I'm guessing - presumably thought to be not ideal with the way the production is staged (giant puppets) and hence they are offered at such bargain prices. However I absolutely love being close to the stage and enjoyed the whole thing very much.
Posted on January 13, 2018 at 9:13 AM
« Previous entry
|
Main
|
Next entry »
Saturday January 6, 2018
Cinderella
Always worth seeing the imaginative Matthew Bourne shows - this one had many plus points for originality, being set in WW2 and with not only a wicked step-mother and 2 ugly sisters but also 2 ugly brothers (one with a shoe fetish).
The only thing I was not so keen on was the fairy godfather. I liked the concept but his silver outfit/hair etc reminded me (being that old) too much of the ancient TV series UFO, and although he was a terrific dancer, I was not keen on the choreographic style he was given. In fact I found him rather sinister, but I am not sure how much that in itself was a detractor - maybe the opposite. I did like the implication at the end that he helped other down trodden maidens and not just Cinderella.
The truth is I was spoiled with Swan Lake all those years ago, and more recently with Edward Scissorhands and then the fantastic Carman. He set the bar very high.
Posted on January 6, 2018 at 9:15 AM
« Previous entry
|
Main
|
Next entry »
Sunday December 31, 2017
Books in December
Don't Point That Thing At Me,
After You With The Pistol, and,
Something Nasty In The Woodshed. by Kyril Bonfiglioli
These is the Mordecai trilogy and the only novels in this series published in the author's lifetime. [A fourth The Great Mortdecai Moustache Mystery - unfinished - was completed by Craig Brown and published posthumously].
I had never heard of this author despite the fact that there was a film based on the books released in 2015 - and it should have been a hit (starring Johnny Depp, Gwyneth Paltrow, and Ewan McGregor) but somehow passed me by.
The (anti) hero is Charlie Mortdecai who is like an amoral Bertie Wooster with his sharp and loyal manservant to boot. The books are realy hilarious but I must say I did somehow tire of the (high quality, beautifully constructed, but relentless) humour after the second book. I think in agreement with another reviewer, the best advice is to not read all 3 (or 4) on the trot.


Posted on December 31, 2017 at 7:39 PM
« Previous entry
|
Main
|
Next entry »
Thursday November 30, 2017
Books in November
Y is for Yesterday by Sue Grafton

The story flips between 1979, and "now" (1989). A copy of a missing (lewd) tape made by a bunch of teenagers turns up with a ransom demand. The parents of one of the kids - now all grown up and just out of prison (don't ask) - call Kinsey Millhone for help - and she is drawn into their family drama.
The usual exciting mix of mystery, drama and danger.



The 39 Steps
A man is murdered in Richard Hannay's London flat, and he goes on the run (dressed as a milkman...) pursued by the police - and a gang of German spies. Hannay must solve the mystery of the steps if he's to save the British naval fleet from certain destruction...
I have seen a number of dramatised versions of this story and they all seem to follow the line of the 1959 film - presumably because it has a nicely rounded plot with a good dose of romantic interest. I was amused that this version was exactly that plot - almost to the degree that, as far as my memory goes, they could have been using an abbreviated version of the same script.
The John Buchan original book from 1915 is a different matter - no female interest and full of jingoism and anti German sentiment - very much of its time of course. The book is also very clearly episodic, having been written as a serial for a magazine - and this is retained even in the much later productions with the hero having a number of unrelated "adventures" while eluding his pursuers. Apparently it was voted one of Britain's "best loved books" but I do wonder how many people have actually read the original text (and I admit it is at least 40 years since I did so).
This dramatisation from 2001 stars David Robb as Hannay, Tom Baker as Bullivant, Struan Rodger as Hawk, Tracy Wiles as Charlotte, Phillip Joseph as Johnners, Thomas Arnold as Jopley, Gordon Reid as Chairman, and Stuart McQuarrie as Sir Harry.

Posted on November 30, 2017 at 11:41 PM
« Previous entry
|
Main
|
Next entry »
Melrose Quartet
Tonight we saw the Melrose Quartet at Kings Place - apparently for the launch of their 'Dominion' album, which Rob duly purchased.
The band are: Nancy Kerr (voice, fiddle), James Fagan (voice, bouzouki, guitar), Jess Arrowsmith (voice, fiddle) and Richard Arrowsmith (voice, melodeons).
And they were fantastic of course.
Posted on November 30, 2017 at 10:57 PM
« Previous entry
|
Main
|
Next entry »
Thursday November 23, 2017
Rambert - A Linha Curva
Another visit to Sadlers Wells with ballet Rambert showing off their spectacular abilities in modern dance.
A Linha Curva was probably my favourite of the pieces - "the spirit of Brazilian carnival" recreated by choreographer Itzik Galili, with 28 dancers, four samba percussionists and wonderful lighting. According to the dancers, the latter cued the dancing as there was no lighting operator, and the dance included ad lib exuberant chatter from the dancers.
The second piece was Symbiosis, a showcase for the Rambert dancers' skills applied to a new score by Ilan Eshkeri.
And finally, a kind of darkly humorous piece "Goat". The work is inspired by the music and spirit of Nina Simone, with a selection of songs performed live on stage by jazz singer Nia Lynn. I read the significance of the "goat" thing in the programme but that probably didn't help me much with the piece overall. However even if not all the meaning was apparent to me, it was a very emotional experience.
The sets and lighting were fascinating throughout.
Posted on November 23, 2017 at 11:56 PM
« Previous entry
|
Main
|
Next entry »
Tuesday November 21, 2017
Labour of Love
This was a terrific play, and appealed to me on many levels. The plot was interesting (although maybe "just a love story") but it was set against the backdrop of the heyday of New Labour - the life and times of an MP newly elected in the early 90s through to being about ot lose his seat in the recent election. We moved back and forward through the decades, the "times" being set by various multimedia techniques - which for me struck more of an emotional chord than simply setting the scene.
The play had a very sharp and witty script, with seriously good casting - not only Tamsin Grieg and Martin Freeman but also Rachel Stirling. I cannot emphasise enough how well the actors demonstrated their abilities in highly skilled timing. Not for the first time though, we did have a slight problem catching all the words of the said witty script. Since we know and admire the actors for their TV work, we did wonder if they were less used to projecting on stage maybe - or if it was just our declining hearing (which is sadly a given).
Posted on November 21, 2017 at 8:40 AM
« Previous entry
|
Main
|
Next entry »
Friday November 10, 2017
Darbar Festival
A triple bill of vibrant new talents at Sadlers Wells as part of the Darbar Festival. Opening with Mythili Prakash, an international star of Bharatanatyam, followed by the deep unfolding ragas of Debasmita Bhattacharya, on the sarod joined on the tabla by Gurdain Rayatt. Finally, dynamic and soulful kathak perfomer Dheerandra Tiwari, inspired by the Advaita philosophy teachings about how to reach a state of spiritual bliss, revealed to gods.
Bliss attained.
Posted on November 10, 2017 at 11:40 PM
« Previous entry
|
Main
|
Next entry »
Sunday November 5, 2017
Monochrome
We went to the Monochrome exhibition at the National Gallery...... and when we came out were inspired to take a load of monochrome photos.
...... and on the way home....
I was sufficiently inspired to get Rob's old Canon T90 fixed (by a veritable professional with an apparently international reputation, living not far away from me).
Rob was inspired to create some photos for a B&W project... and for fun
But Trafalgar Square on such a lovely day looked pretty wonderful in colour.
Posted on November 5, 2017 at 6:46 PM
« Previous entry
|
Main
|
Next entry »
Thursday November 2, 2017
For Love or Money
Rob booked a whole series of plays at the Rose this season - and this was one I would have given a miss from the description. What a mistake that would have been! Northern Broadside produced a marvelous adaptation of Lesage's savage eighteenth-century comedy Turcaret - just wonderfully staged, full of life and exuberance, and bordering on commedia dell'arte in form and technique.
Posted on November 2, 2017 at 7:54 AM
« Previous entry
|
Main
|
Next entry »
Tuesday October 31, 2017
Books in October
Posted on October 31, 2017 at 11:21 PM
« Previous entry
|
Main
|
Next entry »
Thursday October 12, 2017
The Real Thing
The poster makes this look like some Tennessee Williams play with hot steamy Southern nights filled with passion and longing. The play is rather far from that - and the way I see it is a simplistic view of an intellectual who thought he was above all that love stuff - describing and writing about love with wit and cynicism. During the play we see him made to care.
A nice tale with a moral. However the actual play... words and so on... are of course all wonderful Stoppard - full of wit and cynicism (in a Good Way). The speeches tumble out so fast* that my slow brain needed to be at its sharpest to keep up; in future maybe I need to read the script in advance as one does with Shakespeare!
* Rob was not enjoying it much by the interval and when I asked why said it was the "delivery" which I think was the same problem - but I have also read people complain that the large stage at the Rose give issues with audibility.
Posted on October 12, 2017 at 11:01 AM
« Previous entry
|
Main
|
Next entry »
Saturday September 30, 2017
Books in September
Posted on September 30, 2017 at 8:59 AM
« Previous entry
|
Main
|
Next entry »
Thursday September 28, 2017
Strictly Murder
Difficult to say much about this play without being overly critical - and all the other regional reviews for this tour seem to have been extremely positive. So focusing on the positive: the acting was strong, and (like many "thriller" plays) there was a lot of "business" which they dealt with very well. It had a good plot, set in the past, which as the author (Brian Clemens) said, was necessary for the plot line to work. So it made for a good evening out but not a stunningly fantastic evening out.
Booked only because it had "murder" in the title, I suppose my expectations should have matched my lack of research. Still not sure why this title though.
Posted on September 28, 2017 at 11:01 AM
« Previous entry
|
Main
|
Next entry »
Saturday September 23, 2017
Le Grand Mort
I booked this show with completely neutral expectations as we were up in town for the day (lunch with school friends). And I thought it was totally brilliant. However not for the homophobic, or those with an aversion to the naked male form - nor for Daily Mail readers as the paper predictably gave it a searing review, (being ridiculously rude about Julian Clary, who carries much of the show with great skill in my opinion).
However to my surprise some of the other reviews were less than flattering which must be very disappointing for the cast, even though a lot of the negativity seems to be directed at the script.
Whatever - I thought it was brilliant - and Clary received substantial praise from other esteemed actors - so there we are. I hope we can look forward to his moving forward with his acting career well outside of panto in the future.
Posted on September 23, 2017 at 10:59 AM
« Previous entry
|
Main
|
Next entry »
Wednesday September 6, 2017
Proms: Revolutionary Music
I took a notion to got to the Proms so Rob booked us seats in a box - a Grand Evening all round.
Igor Stravinsky - Funeral Song (12 mins)
Song of the Volga Boatmen (2 mins)
Sergei Prokofiev - Violin Concerto No. 1 in D major(22 mins)
Benjamin Britten - Russian Funeral(7 mins)
Dmitri Shostakovich - Symphony No 11 in G minor 'The Year 1905'(65 mins)
Alina Ibragimova joins Vladimir Jurowski and the London Philharmonic Orchestra in a Russian themed programme. The Proms pays tribute to the centenary of the Russian Revolution with Prokofiev's lyrical First Violin Concerto, composed amid the growing turmoil of 1917. Shostakovich's Symphony No. 11 harks back to another crisis, the failed revolution of 1905; its brooding cinematic landscapes are punctuated by bright flecks of instrumental colour. The concert opens with Stravinsky's youthful Funeral Song, lost for over a century and given its first modern performance only last year.
Posted on September 6, 2017 at 11:28 PM
« Previous entry
|
Main
|
Next entry »
Wednesday August 23, 2017
Books in August
French Leave by P G Wodehouse
George passed this book on to me - a very old edition hardback with no date. I spent the first few chapters wondering when Wooster was going to appear.
Anyway despite the lack of Bertie, it was hilarious - if you like Wodehouse (presumably not if you don't).
George was taken by an umberella exchange business model suggested in the book - which apparently was recently tried out by a Chinese start-up Sharing E Umbrella - with Wodehouse-like consequences!


Sidney Chambers and the Shadow of Death by James Runcie
The first book of short stories in the Grantchester mysteries written in 2012 , set in 1953/4 - and swiftly adapted for the small screen in the shape of "Grantchester".
I feel Runcie's clergyman is not quite as portrayed by James Norton - he is a little more theological and a a lot less worldly - as you might expect since James is the son of Robert Runcie on whom the character is based. A rather gentle read - despite the crimes. I did not find Sidney wholly sympathetic - he seems a bit wet and undecided about everything in general - not least his love life.

Strange Tide by Christopher Fowler [read by Tim Goodman]
It took me a long time to realise this but ... reports of Arthur's demise were exaggerated and there are after all some new books. As a "loyal obsessive" I am delighted but - please don't do this again Christopher.
One of the things that delights me about this plot reversal is the sheer aplomb with which it is carried off. The explanation - and the cure - of Arthur's condition are totally in keeping with the style of the books and their combination of the scientific and the supernatural - and it even refers back to some previous events we already know about from other books. Also as with most good comedy, it is supported by the "straight man" (or men) (or women) whose reaction to Bryant's cure from apparent dementia is much as you might think in real life - except that he would not have been allowed back to work - but then how many 80-year-olds are there working in the police? (o - ok Dixon of Dock Green ... got me there).
So well done Mr Fowler - or - hang on... did you plan it all along?!

Posted on August 23, 2017 at 7:37 AM
« Previous entry
|
Main
|
Next entry »
Thursday August 17, 2017
Balenciaga: Shaping Fashion
I went to this exhibition at the V&A (with my new friend Elaine - from Canada). The only bad thing was that we did not really leave ourselves enough time to see the other exhibits (jewellery) that I think Elaine would have been more interested in. But there is so much to see...! And she had only the one chance to go .. well.. for this trip anyway.
I'm not really very knowledgeable about fashion and it was very interesting to get to understand the shapes he was known for and how he subsequently influenced later designers. I took away the "make your own" leaflet, but can't see my following it through somehow!
Posted on August 17, 2017 at 11:08 AM
« Previous entry
|
Main
|
Next entry »
Monday July 31, 2017
Books in July
Waxwings by Jonathan Raban
My sister lent me this book and I also found it interesting, although the underlying themes she understood from it were somewhat different to my view; however there was a lot there to ponder on. I did find it slightly depressing - but for all the wrong reasons! It wasn't the desperate nature of the lives of the individuals that upset me, but rather, once again, merely the description of architectural vandalism.
Waxwings themselves (birds) are never mentioned until the last page of the book. The author says: "...it seemed perfect as an analogy for what people were doing with Seattle during the dot-com movement: these birds, as it were, migrating from gold rush to gold rush, getting high, falling out of the tree, waving their feet around, getting up, moving on."


Empire of Sand by Robert Ryan [read by Clive Mantle]
Yet another really interesting Robert Ryan adventure story. It's all about T E Lawrence "before". I always felt that, however wonderful the 1962 film with Peter O'Toole, (and it was wonderful), it made it seem as though Lawrence ended up leading a fighting force of Arabs on to an amazing victory by sheer chance. This book - to whatever degree it might be fiction - provides excellent insight into why and how he went on to such legendary exploits. It also provided me with a lot more understanding of the politics of the time in the more easily digestible form of a Boys Own adventure story.

Posted on July 31, 2017 at 10:07 PM
« Previous entry
|
Main
|
Next entry »
Sunday July 23, 2017
Catz
Here I am again in Cambridge having signed up for Anna's weaving course (again) - this time with my own agenda for starting a project on my loom - under careful supervision!
After having had the idea last year, I decided I would like to stay in one of the Cambridge colleges - my alter ego kicking in: "a student who accidentally got a job". Cambridge is pretty unfriendly to visitors with cars, but despite that (and with some reservations) I decided to stay right in the city. Tempted by Sidney Sussex, but in the end I went for St Catherines as the accommodation on offer for my dates was on site, and not in a modern student block. My concerns about parking and driving were not unwarranted, (I committed only 2 violations that I'm aware of though the signs seem to make the rules a complete mystery!), but overall parking was a bit easier than I imagined as I was able to leave quite early in the morning and return after 6:30pm.
Catz was great and I would recommend it to anyone. I had a shared bathroom, (which worked out fine), and the room was spacious and secluded with a pleasant view of the garden courtyard; the food was excellent - breakfast was included but an evening meal was also available if required.
Posted on July 23, 2017 at 12:48 PM
« Previous entry
|
Main
|
Next entry »
Saturday July 1, 2017
Wind in the Willows
After the opening chorus I began to think this was a huge mistake. I booked the tickets through a nostalgia for the Wind in the Willows production at the NT in the 1990s and of course it did not bear comparison. However that was my own stupidity as this quickly won me over, being something of a kids pantomime - with the usual clever jokes on two levels for both kids and adults. Rob commented at the interval that it was "utterly charming" - and he was very smitten by the costumes (as was I) since they were not so much dressed as animals but more wearing artistic representations of their characters.
Posted on July 1, 2017 at 10:28 PM
« Previous entry
|
Main
|
Next entry »
Their Mortal Remains
Rob and I spent the day in London. He was keen to see the Pink Floyd exhibition - so we were at the V&A for its grand opening of the new entrance in Exhibition Road (and we duly used it). The exhibition itself demonstrated a fantastic use of multimedia - well the subject rather lends itself to it - and I think it's actually worth spending more time on it than we did (which we could as I joined as a member while we were there). Rob however was strangely less impressed; I think it's perhaps because he has been such a fan through all that time of Pink Floyd's existence, he was somehow expecting "more" - when in fact he probably has seen, heard, and done it all already.
Rather excitingly (!) on the way to our next appointment at the London Palladium, we were able to join in with a protest march. It quite took me back.... and I think the same could be said of a number of the other participants - I felt quite at home with them all.
you get the idea...
Posted on July 1, 2017 at 10:15 PM
« Previous entry
|
Main
|
Next entry »
Friday June 30, 2017
Books in June
First Frost and Fatal Frost by James Henry [read by David Jason]
James Henry has written four of these prequels, and I have listened to these two - read by David Jason (who else?).
They seem to follow the pattern of the originals with a number of story threads happening concurrently - which the TV adaptation separated into different episodes, (and in my opinion the quality of the series was considerably the better for it). However although I thought the TV series gave a very faithful representation of the characters, it seems the original author felt it did not depict the gritty realism that he strove for in his writing. I do think that these books are more like the TV series, with a lot of Frost-style humour and less of the gritty... etc - but overall are quite a good pastiche, if that's what the author was aiming for.





Speaking in Bones by Kathy Reichs [read by Katherine Browitz]
Enjoyable read - less of a focus on some moral or ecological "issue" of the day and more focus on mystery and suspense. It involves a cold case and all the usual suspects are in play to solve it.
I was a little perplexed - or even disbelieving - about the premise which is obviously setting up the next book (no spoilers here) but I guess the author needs more scope for the characters.


Die Last by Tony Parsons [read by Colin Mace]
I've enthusiastically been waiting for this latest Max Wolfe story, and it was as good as I had hoped. Again for my personal taste I was less taken with the plot and story - which was as horrid as ever - but now thoroughly enjoying the back story. I hope it continues in a positive way, but I feel Max is a character destined for tragedy and loss, so I can't think how he will cope if he turns out to be happy.

Posted on June 30, 2017 at 9:24 AM
« Previous entry
|
Main
|
Next entry »
Sunday June 25, 2017
The way home - Moseley Old Hall
By the time I got to Wolverhampton it was early afternoon (not a cue for a song, sadly, although I'm sure it would have been a great one) and had just come on to rain. My destination was Moseley Old Hall, an Elizabethan farmhouse described as "atmospheric" - which it certainly was.
I think it has rather lovely grounds and gardens but the weather was a bit grim for that kind of thing so I just snapped a couple of photos while waiting to start my tour of the house. This Knot Garden was constructed it in 1962 using a 17th-century design.
The main deal here is priest holes etc and the fact that Charles II hid in the house after his defeat at the Battle of Worcester in 1651. Indeed we started the tour entering the house through the same door used by him on his arrival, and later described in his memories of his escape dictated to Samuel Pepys. Although the tour is very geared towards kids, (as "50 things to do before you're 11 ¾ "), it was seriously one of the most exciting tours I have ever had at an NT property, narrated most passionately by one of the guides.
Rather charmingly Charles seemed to have remembered (and substantially rewarded) all those that helped him escape in this period once he was restored to the throne in 1660. Not necessarily a trait associated with monarchs.
I managed a cream tea (ok just a tea) but I could not linger, as there was quite a way still to go. I paused to buy a few plants from the shop - I like to do this at NT properties when they are on offer - including a myrtle, a plant I never remember having seen before. Jennie tells me it is tender, which might be why, but it seems subsequently to have done quite well in its new pot.
Posted on June 25, 2017 at 11:09 PM
« Previous entry
|
Main
|
Next entry »
The way home - Keld
After 2 full days at Woolfest I was able to set off very early in the morning and take in 2 National Trust properties instead of one. The first was Keld Chapel and relatively close at hand (Shap - 40 miles away).
Getting there was interesting - I followed the satnav using the postcode provided and ended up in a little close of houses in Shap (modern updates on stone cottages). I felt sure the chapel would be nestled in somewhere but I could not find it and my car was starting to be stared at ("you don't live here do you?"); anyway instead of sensibly asking someone (too embarrassed), I found that the NT website has google maps instructions, which took me right there. My original position may well have been close as the crow flies but was miles away by road. And what a road it was. Single track with high stone walls either side so totally trusting to luck not to meet anyone coming the other way.
Having got there though - the village was lovely (you can see mini in the picture parked just down the road - where it was wider!). Entry to the chapel was by means of a key hanging on the wall of a local cottage:
And once inside - it was so beautifully cool and peaceful. The interior is rustic, and the crumbling structure had left a thin deposit of fragments on the pews. This is not a sign of neglect, just what happens in old rustic buildings that have been put to varying uses over the centuries.
Here is a little bit of the history taken from other sites:
The date of construction of Keld Chapel is unknown; it may have been a medieval chantry chapel of the nearby Shap Premonstratensian Abbey or it may have been a simple chapel of ease with no connection to the abbey. The first documentary evidence referring to Keld Chapel records a christening here in 1672. Towards the end of the 17th century the chapel ceased to be used for religious purposes and was converted into a house. In 1897 the building was repaired and during the 20th century it was passed to the National Trust. You can read a very interesting academic paper which really concludes that the only evidence it was ever a chapel at all is in the persistence of the name.
There was a lot of interesting local information on a noticeboard inside about the history of the chapel, and attempts to have it pulled down, (letters to Parliament and so on). Given that it was saved, these are very amusing. When it had ceased to be inhabited in the 1800s, Lord Lonsdale wanted the road to be widened enough to take a hay wagons through, and dismissed the claims that the building had any historic significance as a chapel. It's quite ironic looking at the village now. The road through it "goes nowhere" (more on that in a moment) and the requirement for road widening seems to have evaporated.
Being somewhat loathe to go back down the single track road the way I had come (and did I mention the bicycle race?) I decided to explore the road out of the village the other way. The satnav had it as a possibility but there are many notices saying that the road is unsafe (crevices and weak bridge). I was suspicious that it was the large company that owns the land trying to stop people using the road but in the end I was too nervous to go on very far (even when an SUV passed me coming from the opposite direction).
Yesterday I nipped into Keswick in the morning on a mission to visit the Herdy shop, and get more petrol. I decided to go over the hills at the mercy of the satnav - and it was all going splendidly - beautiful weather and scenery - until I came to a sign out of the blue saying "road closed". As above - loathe to just retrace my steps, I struck off in another direction which led me on a very winding road through 2 gates (I did not know that was even possible on public roads!) and using up a lot of petrol with very little progress towards civilisation - and leaving me panicking the entire journey about being stranded in the middle of nowhere.
So these previous adventures were quite enough for me, and I set off back to the motorway as I had arrived.
Posted on June 25, 2017 at 11:06 PM
« Previous entry
|
Main
|
Next entry »
Tuesday June 6, 2017
Gone to a place where there's a lot of cheese
Posted on June 6, 2017 at 5:56 PM
« Previous entry
|
Main
|
Next entry »
Friday June 2, 2017
A heavy heart
Since the announcement about Sir Roger the "heavy heart" has been much used. For all that, I use it here as it exactly describes how I feel - not devastated or truly affected, as I did not know the man personally, but... well... sad.
By all accounts he was a lovely unaffected man and that is just what we would like to believe of our icons.
I always knew of his modelling career and as this is a "knitting" site I am marking it here. I am only sorry that he was made to feel uncomfortable about it in the 1960s; I cannot quite convey how deeply unfashionable knitting was in the 1960s - especially among the hip and groovy fraternity. But he lived with it - and now it takes on much less significance when compared with his subsequent achievements.
He was always sartorially elegant - in The Saint his wardrobe is credited as being Mr Moore's own, and in The Persuaders, Brett Sinclair's wardrobe designed by Roger Moore. This idea appeals to me - see this fun blog.
As a final note - what strikes me about these early photo shoots - with RM in his early twenties - is how much fun they seem to be having. I am not being naive here - I know that modelling is not as glamorous as the pictures - especially in that less technological era - it would have been hard work and you spent long hours stuck in implausible poses and inclement weather (windy by the looks of it!) trying to look comfortable and natural. But somehow they seem overall to be having a laugh and the joy of it shines through. A fitting memorial alongside the rest of the man who went on to become so very famous, and who dedicated himself in his later years to working so hard for good causes.
Posted on June 2, 2017 at 8:06 AM
« Previous entry
|
Main
|
Next entry »
Wednesday May 31, 2017
Books in May
Magpie Murders by Anthony Horowitz
As I will tell anyone who will listen, Anthony Horowitz can do no wrong in my eyes, but I think even on a more objective basis this is an excellent book.
It is a "clever" book, which may not appeal to some. And given its slight surreal quality, I was concerned that it might veer off to become totally surreal and have an unresolved ending. However, (if this is not a spoiler), take it from me that this is a genuine mystery thriller with all that implies - in case you are in any way like me, and that helps reassure you at all!


In a Dry Season by Peter Robinson
I loved this book.
It has a lot of those ingredients that would especially appeal to me. It is a "cold case" mystery as the body that appears when a reservoir dries out is many years old. So it has the fascination of the idea of the drowned village reappearing as well the reconstruction of a crime set during and after the war.
It is also the book in which Annie Cabbot makes her first appearance.


The Murder of Mary Russell [and The Marriage of Mary Russell ]
by Laurie R King
I have a lot of - maybe conflicting - opinions about this book.
It is mainly about Mrs Hudson rather than Mary Russell (or Holmes) and the way the author chose to develop this character is not at all pleasing to me. I can see why the author took this route - it is an excellent well-written story which is interesting and thought provoking. I just can't see (or don't want to see) Mrs Hudson like that. More importantly - where will/can she take the characters from there?
The Marriage of Mary Russell is a short story released as a "Kindle Single" - also with an audio version. It's quite fun.

Posted on May 31, 2017 at 10:46 PM
« Previous entry
|
Main
|
Next entry »
Thursday May 25, 2017
Wetlands and Ham House
We did a morning trip to the Wetlands in Barnes so Rob could yet again try and see the Kingfishers - but no dice. We did see a lot of other fine birds though, and had a chat with one of the volunteers who had a lot of interesting information to impart.
We then went on to visit Ham House.
Rob had been there dancing with the Morris men a week or two ago and was so impressed we decided to go and see the house properly. It was fascinating for me, as I have recently taken more interest in the Tudors and not bothered so much about the English Civil War and subsequent Restoration.
The house was originally built in 1610 and then much altered and improved by William Murray, who received it as a gift from Charles I, with whom he was a close friend and associate. However it was his daughter Elizabeth who is the most prominent in the overall story, as throughout the Parliamentarian years she kept good relations with Cromwell whilst also belonging to the Sealed Knot, and secretly supporting Charles II in France.
The house remained in the hands of the family for 300 years with the NT acquiring it in 1948, which is how it has remained so wonderfully preserved.
We took the tour of the Queen's apartments which again totally fascinated me as it appeared to have the original (400 year old or so) textiles, which were indescribably vivid as they were not so exposed to sunlight.
It seems amazing to me that I spent so many years working in Richmond and never visited before.
Posted on May 25, 2017 at 1:09 PM
« Previous entry
|
Main
|
Next entry »
Sunday April 30, 2017
Books in April
Garment of Shadows, Dreaming Spies by Laurie R King
It's a real pleasure to discover you are several books "behind" in a series, especially when it is one I enjoy as much as these.
In Garment of Shadows we pick up after the plot of Pirate King and still in Morocco. I mentioned that the latter was not my favourite, but this I liked a little better as it covered interesting historical events about which I knew nothing previously.
Dreaming Spies is quite different in that the events take place out of chronological sequence, and are set in Oxford and Japan. I think it is very wise for the author not to tie herself to a series of books in a chronological sequence; I noted with Steven Saylor that he rapidly ran out of a plausible lifetime for his main character - and has now reverted to writing about his characters earlier history - and Lindsey Davis has done (what I thought Saylor might do) and continued the chronology with the children of her original hero. Both of these ploys are only moderately successful (in my opinion - obviously).





Paul Temple and the Conrad Case by Francis Durbridge
Another case that takes Paul and Steve to a new exotic location, (Bavaria), to help find Betty Conrad. The main clue seems centre around a cocktail stick with which the plot is continually being... well... skewered. Despite that - excellent fun.
This is back to the original 1950s recordings starring Peter Coke and Majorie Westbury, who are not only highly skilled actors but assuredly the best Paul and Steve.

Posted on April 30, 2017 at 9:29 AM
« Previous entry
|
Main
|
Next entry »
Tuesday April 4, 2017
Rosenkranz and Guildenstern
It was a bit of a trauma getting here (realising I was booked a hotel in Stratford on business when I had actually got theatre tickets in London) but well worth the effort. As the reviewers all tell us - it's 50 years since it was first produced and stands up excellently - almost "despite" all the hype. A lot of the publicity seems to focus on Daniel Radcliffe as Rosenkranz (probably), but Joshua McGuire's Guildenstern (probably) is no second fiddle, and David Haig is terrific as the stagey "Player".
Now it's time to prepare myself to be up at the crack of dawn to drive back to Warwick.
Posted on April 4, 2017 at 11:25 PM
« Previous entry
|
Main
|
Next entry »
Friday March 31, 2017
Books in March
Dry Bones That Dream; Innocent Graves; Dead Right by Peter Robinson
[read by James Langton or Neil Pearson]
The next 3 in the series (7, 8, and 9), which I obtained as audio books. The narrator varies depending on the edition - and "Dead Right" is also published under the title "Blood at the Root".





Death at the Bar by Ngaio Marsh [read by Wanda McCaddon]
Now completely in the mood for Inspector Alleyn, I listened to this novel (book 9). It is one of the stories used for the television series The Inspector Alleyn Mysteries in the 1990s which starred Patrick Malahide in the title role, ably assisted by William Simons as Brer Fox.
Malahide is wonderful and has appeared in many roles too countless to mention - Simons however seems to have made his latter career as a series of stolid and dependable policemen - nonetheless wonderful for all that.


Posted on March 31, 2017 at 9:28 AM
« Previous entry
|
Main
|
Next entry »
Friday March 10, 2017
Coven
Another outing with Rob to St John's Church Bethnal Green. Two of the three acts feature on Rob's choice collection for 2016. They were excellent - the audience was .... eclectic.... I am now quoting from their flyer:
Coven is a collection of three of the British folk scene's finest, most formidable and forthright female acts, taking to the stage to celebrate International Women's Day on a tour of unforgettable concerts. The exquisitely harmonic songwriting duo and BBC 6 Music favourites O'Hooley & Tidow will be joined by the enchanting BBC Radio 2 Folk Award Finalists Lady Maisery and the irrepressible Leicester songwriter, activist and performer Grace Petrie. A rare opportunity to experience these thought provoking, heartfelt, entertaining and enthralling women performing individually and collectively on one stage.
Posted on March 10, 2017 at 3:20 PM
« Previous entry
|
Main
|
Next entry »
Tuesday February 28, 2017
Books in February
Past reason Hated and Wednesday's Child by Peter Robinson
[read by James Langton]
Mini-break over - the next two books in the series which I found as audio books to borrow from the library. A story of sexual jealousy (leading to murder), and a child's abduction (leading to murder).




Annika Stranded - Series 3
I have to say I love these stories, excellently - I would say narrated but in truth they are very much a part-acted one man show - by Nicola Walker. I think any woman can empathise with a very realistic portrayal of her working life balance and her resulting social life.

False Signals: A plane crash from 1972 seems to have a bearing on a murder inquiry.
Forty Words: In Bergen, Annika investigates a strange case involving a submarine.
Traffic: Annika wakes up after some serious partying to find herself in the boot of a car.
Vertigo: Annika witnesses someone being pushed from the top of a rock face.



The Inspector Alleyn Mysteries:
Jeremy Clyde (isn't he lovely?) stars as Chief Inspector Alleyn in these BBC Radio dramatisations of two of Ngaio Marsh's much-loved mysteries.
A Man Lay Dead
A Man Lay Dead A game of 'murders' at Sir Hubert Handesley's country house party becomes far too realistic for anyone's liking. First a guest arrives with a dangerously lethal dagger and then, when the gong sounds to announce the start of the game, the victim plays dead in a very convincing manner.
I recently watched the TV adaptation of this story starring Patrick Malahide - and (like many of Agatha Christie's plots), it's all credit to them that they managed the logistics to enact the sequence of events as described!
A Surfeit of Lampreys
Like all good aristocrats, the Lampreys are charming but penniless - so a visit from the wealthy head of their family is greatly anticipated. However, their Uncle Gabriel isn't persuaded to part with his money and a row ensues. When a body is found in the lift leading to the Lampreys' flat, Chief Detective Inspector Alleyn finds a family immersed in hidden secrets and intrigue.

A comment from another listener "Dated, implausible and formulaic".
A comment from me: "... and utterly charming."
Posted on February 28, 2017 at 9:28 AM
« Previous entry
|
Main
|
Next entry »
Wednesday February 22, 2017
The Miser
Once again off to the Richmond Theatre to see Gryff Rhys Jones in the Molière role - lots of fun.
Posted on February 22, 2017 at 11:02 PM
« Previous entry
|
Main
|
Next entry »
Sunday February 19, 2017
Unravel 2017
As we had the class on yesterday, I went to Unravel on today, and took Kate and Jill with me. Neither of them had been before so it was quite fun to be a (small) group. I was inspired by the sock designs from Coop Knits, and could not resist more fluff from John Arbon
Posted on February 19, 2017 at 6:06 PM
« Previous entry
|
Main
|
Next entry »
Friday February 10, 2017
Dydd Miwsig Cymru: 9Bach at Kings Place
A suitable way to celebrate Welsh Language Music Day - an evening's entertainment entirely in Welsh.... with lots of translations for us non-Welsh speakers though. Learnt a new word, which turns out to be the title of 9Bach's album: Anian.
Posted on February 10, 2017 at 11:50 PM
« Previous entry
|
Main
|
Next entry »
Wednesday February 1, 2017
Soane Museum
My sister suggested another 'birthday treat' and we visited Sir John Soane's House - now a museum. He was one of those interesting eccentrics who collected wonderful items - some exceedingly rare - such that after his death his property was retained, restored and expanded to make the museum.
It was most famous to me for housing the Rakes Progress - but it seems you have to be on a guided tour in order to be allowed to see it - and the timing or even existence of the tours seemed to be akin to the description of the eponymous Three Men (not yet in the boat) trying to find the right train out of Waterloo - so we did not... (see it), though the 4 paintings of the Humours of an Election were on display. Several items seemed to be absent from the collection at the time we visited - but then entry is free so one can hardly complain.
We then went for lunch in China Town, which was great, although sadly the restaurant we had planned to visit had disappeared from the area in the 20 years since we last went there (!).
Posted on February 1, 2017 at 10:58 AM
« Previous entry
|
Main
|
Next entry »
Tuesday January 31, 2017
Books in January
The China Thrillers by Peter May [read by Simon Vance]
There was a change of narrator for the next (and final) three books.
There are many comments on line from readers constantly asking Peter May to write more books about Margaret and Li Yan, and I can see why. Since he was not expecting to end the series after 6 books, the characters remain with a story still to be told.
He writes about how the books came about here, and in the comments he points out that these books were written over 10 years ago and summarises the situation:
All these years later I have no appetite for going back to China and updating myself on the changes that have taken place since the series concluded. I was witness to an intense period of change in which the old and new Chinas were still doing battle with each other. I think the new China has won that particular scrap, and much that made the old China fascinating has gone. Like the country itself, I have moved on.
For all that, a short story The Ghost Marriage written for a French magazine has recently been published in English, and follows the characters later on in their history.






Dr Finlay's Casebook by A J Cronin
A collection of the famous stories set in and around the fictional Scottish town of Levenford and village of Tannochbrae during the inter-war years. The stories are heart-warming, funny and touching, albeit obviously rather dated and non-PC.
Dr Finlay's Casebook is an omnibus including Adventures of a Black Bag and Dr Finlay of Tannochbrae.
One thing that I did notice was that some of the stories did not seem to be self-consistent, especially with respect to Finlay's love life. That may just be as it is (like Sherlock Holmes stories) or it may be that being collections of short stories they are not presented in the right chronological order.


Paul Temple and the Sullivan Mystery by Francis Durbridge
A thrilling case that takes Paul and Steve to exotic Egypt,
This is a "new" (2006) eight-part BBC recording of a lost archive Paul Temple mystery, starring Crawford Logan and Gerda Stevenson.

They inhabit a sophisticated, well-dressed world of chilled cocktails and fast cars, where the women are chic and the men still wear cravats. And where Sir Graham Forbes of Scotland Yard always needs Paul's help with a tricky case. [By Timothy!].

Posted on January 31, 2017 at 9:27 AM
« Previous entry
|
Main
|
Next entry »
Saturday January 28, 2017
Macrame
So this was a treat I booked for myself - an afternoon of craft learning macrame - which I have longed to try ever since 1976. It's actually much simpler than I thought - in so far as, like knitting, you only have to learn 2 stitches and you know the whole thing (in theory!).
The class was very friendly - run by the London Craft Club in a space provided at the Museum of London - and this was the result (a small thing but mine own.... YES it is supposed to look like that...):
This was the 1970s magazine article that inspired me all those years ago, but sadly I had very little imagination at that time so failed to just go ahead and "do it".
I finished my excellent day by going out with a team of 5 fellow quizzers to a fish and chip supper and charity quiz run by the Tadworth Children's Trust.
We did not win... :o(
Posted on January 28, 2017 at 10:55 AM
« Previous entry
|
Main
|
Next entry »
Saturday December 31, 2016
Books in December
Posted on December 31, 2016 at 9:27 AM
« Previous entry
|
Main
|
Next entry »
Friday December 16, 2016
Nice Fish
Tis the season.
This had mixed reviews but I think only because you have to be of the right mind set to enjoy it. That's not an elitist remark, but it's just like many forms of humour that are both loathed and also have huge cult following. I think the main complaint was that it was not "about anything" - which was (more than) fine if that's what you were expecting.
I enjoyed it hugely and the icy wasteland of a set was fantastic.
"Kookily compelling." Daily Telegraph
Posted on December 16, 2016 at 11:05 AM
« Previous entry
|
Main
|
Next entry »
Sunday December 11, 2016
Red Shoes
Another Sadlers Wells production - wonderful (of course) - but I have to admit in terms of "plot" it was not what I expected, being a representation of a film which I have never seen. I thought it was a traditional folk tale so when Rob kept saying "I wonder if they will have the train" I thought he must be a bit confused - but it turned out that the confusion was entirely mine.
Posted on December 11, 2016 at 11:05 AM
« Previous entry
|
Main
|
Next entry »
Saturday December 10, 2016
Seasonal fun
Morris Men in Kingston "annoying Santa" (!)
Posted on December 10, 2016 at 4:55 PM
« Previous entry
|
Main
|
Next entry »
Wednesday November 30, 2016
Books in November
Posted on November 30, 2016 at 4:23 PM
« Previous entry
|
Main
|
Next entry »
Wednesday November 16, 2016
Anais Mitchell at Kings Place
Another great evening at Kings Place.
Last time we saw Anaïs Mitchell at Cecil Sharp House she sang with Jefferson Hamer, but this time it was a much more folksy experience - just her and a guitar. I can't believe it was 3 years ago we saw her - but it surely was. Jefferson had told us that Anaïs was expecting a baby - and sure enough there was her little girl - a large as life 2 year old - sitting next to us on the balcony.
Anaïs herself was still reeling from the result of the presidential election and sang a very heartfelt "Why we build a wall" along with other older and new songs - including an innovative "make a request" interlude....
The "support act" was Jarlath Henderson - singer, multi-instrumentalist, composer, producer. He was great - my only suggestion might be that he could afford to add a few more (any?) cheerful numbers to his repertoire. However he was very impressive as he joked that his "band had abandoned" him so he had not given up the idea of touring but had multitracked all the other parts himself. This sounds like it could be a problem but he made it work really well.
Posted on November 16, 2016 at 10:23 AM
« Previous entry
|
Main
|
Next entry »
Monday October 31, 2016
Books in October
London's Glory by Christopher Fowler [read by Tim Goodman]
So having "ended" the Bryant and May series quite definitively, the author has done the only sensible thing and returned to adventures from a previous era with a book of "11 missing cases".
He has moved right into real "short story" writing for the detectives and the result is excellent. Small mysteries rather in the vein of Sherlock Holmes.In addition he provides an excellent "introduction" which is an essay about murder mysteries through the ages.
[I am relieved though that he has not followed Steven Saylor's path of introducing a youthful and lusty sexual dimension - luckily our heroes are still pretty ancient even in the 1940s. Not - I hasten to add - that I have any repressed objections to sex for the over 60s - just not sure I want it expressed in any graphic detail - the vision of Bryant and pillow talk would have been too boggling to contemplate.]
So - enjoy - Bryant and May..:

...and the Secret Santa
...in the Field
...on the Beat
...in the Soup
...and the Nameless Woman
...and the Seven Points
...on the Cards
...Ahoy!
...and the Blind Spot
...and the Bells of Westminster
...Mystery Tour



Sign of Fear by Robert Ryan
It seems the ending if the last book was the "real" ending and I just have to live with it. Far from a Holmes-like regeneration, we see an unlikely alliance between Watson and his nemesis - which the author has some skill to both pull off as plausible and also take his reader (me) with him. Watson might be able to pragmatically deal with the situation but the rest of us have some difficulty. Actually we want to see evil genii redeemed - a la Star Wars .... but that doesn't happen either!
An excellent adventure - and long may Watson be able to continue in this "modern era".


Brush Back by Sara Paretsky
This is the latest published VI novel - and apparently the 17th in the series. Although the plot is about a past injustice (or maybe not) it heavily centres on VI's cousin Boom Boom. This famous ball-playing cousin - and his death - is the subject of a much earlier novel, and it is always clear that VI has a bit of hero worship going on. Hence his name associated with wrong-doing leaves VI insecure and doubting herself. This provides all that is needed to keep her on track looking into a situation that gives her more grief than it's worth, and that she would probably prefer not to be dragged into - especially as it's all pro bono with a stack of personal abuse thrown in!

Posted on October 31, 2016 at 5:47 PM
« Previous entry
|
Main
|
Next entry »
Saturday October 8, 2016
Good Canary
I got these tickets as it was playing locally at the Rose in Kingston... and John Malkovich is a good director ... and I thought it looked interesting.
Turned out it was quite amazing and has been playing to rave reviews. A lot of the reviewers attribute this all to Malkovich - but I would say the set and staging were most innovative, the script itself was sharp, and the actors were astonishing - especially Freya Mavor who is brilliant - and variously described as a newcomer.
I have also seen more critical reviews saying the play "lacks shape" and makes a better film, but actually I thought the staging was brilliant, managing to capture indoors and out (as well inside and outside the psyche) by using projections and very little in the way of scenery and props.
Posted on October 8, 2016 at 11:48 PM
« Previous entry
|
Main
|
Next entry »
Friday September 30, 2016
Books in September
Clearly I did nothing in September other than reading.
[In fact was quite busy trying to squash in two visits to France which even made me miss Rob's birthday - although I am not sure he was too fussed about that...]
Herewith ... the books:
Posted on September 30, 2016 at 5:47 PM
« Previous entry
|
Main
|
Next entry »
Wednesday August 31, 2016
Books in August
Posted on August 31, 2016 at 6:43 AM
« Previous entry
|
Main
|
Next entry »
Friday August 19, 2016
Sonning
An interesting evening out - and were the Mill at Sonning a bit closer to home I might venture there a little more often. As it is it's quite a way to go.
The evening included a pre-theatre meal and we met up with some old colleagues and friends whom I had not seen for ages which was fun.
The theatrical performance was interesting - rather larger than life and in truth projected slightly too much for the space - which was fairly intimate. I liked it for the set and staging which were meant to be a tongue in cheek look at Agatha Christie in theatre. I really liked this review in the Telegraph which rather said it all; it is I suppose a moderately negative review but emphasises that the play is staged as being "from a simpler time" - and the comment that it features "the least convincing death you'll see onstage this year" is not as damning as it sounds since I am absolutely certain it was meant to have everyone rolling in the aisles otherwise it could all easily have happened off-stage.
I suspect I have read the book but cannot remember it. What I do remember is the fairly excellent TV dramatisation which included Poirot (as written in the book), while Christie's stage play version excluded him. This stage version is apparently closer to the book than the TV version where the murderer is a very sympathetic character and the entire situation created by the victim around all the characters has great poignancy and almost the qualities of a theatrical "tragedy" about it.
Posted on August 19, 2016 at 6:02 PM
« Previous entry
|
Main
|
Next entry »
Saturday August 13, 2016
Deep Blue Sea
I was dubious about seeing this play - I bought tickets as it is the National and with a great cast and reviews it seemed a good thing to do. However I thought that although it might be great art it would be too sad for me to really enjoy.
What I was forgetting was that this is Rattigan who achieved great popularity back in the day for a very good reason. The play was very accessible and stunningly acted. The characters had you with them through all the distress and poignancy (and even real humour) to what was a very uplifting ending without sacrificing any of the realism of the plot.
So really fantastic performances from all and I am so glad that I did not talk myself out of it.
Posted on August 13, 2016 at 5:50 PM
« Previous entry
|
Main
|
Next entry »
Sunday July 31, 2016
Books in July
Posted on July 31, 2016 at 11:57 PM
« Previous entry
|
Main
|
Next entry »
iMax
We went to see Startrek Beyond in 3D. First visit to the iMax. Excellent.
Posted on July 31, 2016 at 10:30 PM
« Previous entry
|
Main
|
Next entry »
Saturday July 30, 2016
Houghton House
...and Fibre East
On the way back from Cambridge, I diverted to Flitwick to go to Fibre East, which was quite as pleasing as I had been led to believe.
Some of the Guild were also there (day trip) and I had lunch with Kate and Georgia.
I'm afraid I did succumb to an "anonymous" fleece from the sheep rescue centre. [I started processing it immediately but it's a long job - fine and with a lovely sheen but also a lot of lanolin!]
I noticed an enticing brown sign in the vicinity and was further diverted to visit Houghton House. I knew nothing about the house and so was quite surprised to find it to be a deserted ruin.
Originally commissioned by Mary Herbert, Dowager Countess of Pembroke in 1615 on land granted to her by James I (r.1603-25), it underwent many changes by its various owners until 1794 when it was ordered to be dismantled by the 5th Duke of Bedford. The ruins survived as a garden feature in the grounds of nearby Ampthill Park, and it is now administered as an ancient monument by English Heritage.
Truly a wonderful chance find.
Posted on July 30, 2016 at 3:20 PM
« Previous entry
|
Main
|
Next entry »
WOMAD
More fun pictures experienced vicariously as usual courtesy of Rob.
This year he even found the wonderful knitting lady - and the weather was kind for a change.
Posted on July 30, 2016 at 7:06 AM
« Previous entry
|
Main
|
Next entry »
Wednesday July 13, 2016
Lepage at the Barbican
This has to be one of the best things I have seen for a very long time. I might say possibly "ever" but how can one compare all pieces of theatre? I was expecting that it might be overly arty, but - unlike the recent dance piece I saw - it was very accessible with a relatively simple theme (a broken heart) - just beautifully and innovatively staged. Unfortunately it was only on for a week at the Barbican and this seems to have been the last venue in the tour.
The actual title of the piece is Needles and Opium but I didn't want to get any unsavoury characters excited by using it as a title. Originally inspired by the life of Jean Cocteau, the restaged version introduced Miles Davis. This piece in the Guardian tells you more about Lepage and his work.
Posted on July 13, 2016 at 9:34 AM
« Previous entry
|
Main
|
Next entry »
Wednesday July 6, 2016
Barbarians
Had a rather hectic evening out at Sadlers Wells with my sister - who had spent most of the day battling with traffic. We both found it a rather extraordinary evening of dance.
Barbarians is a trilogy by Hofesh Shechter: three wildly different takes on intimacy, passion and the banality of love - apparently - not wholly clear but that did not really matter.
Revealing his choreography at its most elegant and intimate, the barbarians in love opens the evening. Six white-clad figures move as one to the strains of an ecclesiastic baroque score. This world is soon exploded when innocence is lost, and its trance-like dup-step grooves transition into the final piece, a darkly emotional duet.
Posted on July 6, 2016 at 11:36 PM
« Previous entry
|
Main
|
Next entry »
Thursday June 30, 2016
Books in June
Posted on June 30, 2016 at 4:33 PM
« Previous entry
|
Main
|
Next entry »
Tuesday May 31, 2016
Books in May
Posted on May 31, 2016 at 12:58 PM
« Previous entry
|
Main
|
Next entry »
Saturday May 28, 2016
The Threepenny Opera
I realised that I had never actually seen this production before - although Rob seems to have seen it and staged it a number of times in the past. Excellent of course as you expect from this cast at the National.
Read the review in the FT here, and then - since this is the start of the run for a change - get your tickets here.
As we often seem to - we spent the afternoon at the British Museum "Sunken Cities". The main message of the exhibition was the "remarkable relationship between the major ancient civilisations of Egypt and Greece" which was excellently illustrated. The sunken cities were Thonis-Heracleion and Canopus [and in case you were wondering Thonis was the Egyptian name and Heracleion the Greek name for the same city - so good they named it twice].
I found it fascinating though it's not been universally acclaimed, suggesting there is "not much there"; however it kept us well occupied for 2 hours and even left us pretty tired (not as young as used to be etc etc even though Rob keeps pretty fit with his dancing!). There was the usual perfect BM use of multi media, showing film of the items in situ under water as they were found. The larger exhibits were impressively, well, BIG - but there were also a lot of detailed smaller items - perhaps the negative reviewers missed them...?!
So that gives you an idea of the scale - and yes! he (with his sister-wife) was there... fully reassembled, upright, and largely complete.
Posted on May 28, 2016 at 4:30 PM
« Previous entry
|
Main
|
Next entry »
Saturday April 30, 2016
Books in April
Blood Sympathy, Born Guilty, Killing the Lawyers by Reginald Hill
Reginald Hill wrote only 5 of these Joe Sixsmith novels in the 1990s - which is a shame as they are delightful - but I guess they are products of their time, so I am not sure he would have ever come back to the character.
Amusingly, and clearly written pre-1997, Gary Glitter is very much in evidence as a symbol of popular culture in the background of this story, which cannot but stand out as bizarre to current ears, and in a very different way than the original humorous intention. Much of the action takes place in the pub (The Glit) which is a shrine to the Glitter Band, (and all the harmless fun it once represented). At one point Joe ponders that his own version of God "likes Gary Glitter as much as Haydn" which may be true if we are speaking musically, (and for all I know may be true altogether since I know nothing about Haydn's personal life - but I read that he was a 'devout man of good character').
I read the final two books of this series in 2011, and these are the first three.




Rat Race by Dick Francis
I'm amazed to find yet another vintage Francis (Dick) that I have not previously read. The plot and writing were in the old tradition and so it was interesting and thrilling as usual.
However, the part that really interested and impressed me was actually in the foreword, where the author explains that his wife Mary "in doing the research for the book" became so interested in flying that she took lessons, gained her license, and was commissioned to write a learners text book on the subject (!) "still in use today". And if that were not enough - the pair of them started an air taxi business (as described in the book) which they built up and then finally sold on. All I can say is some people are born hard working entrepreneurs.


A Decent Interval
Again I'm going to go on and on about what high quality adaptations by Jeremy Front these are - even down to the really clever and natural way that each episode gives us the "previously ......" information about the plot.
You have to catch them - next time round - or on iPlayer.


Galbraith and the King of Diamonds
So in contrast, here was a series (many episodes) that was not only seriously dated (maybe almost in a Good Way) but also almost seriously bad (in a Bad Way). I've never been fond of Bernard Hepton (he should have tried his hand at comedy) and here he played Galbriath and thus was compelled to affect a (constantly slipping) Scottish accent. This play for radio is by Robert Barr - most well-known for z Cars and Softly Softly on TV - but actually a prolific writer for radio. There is a second play featuring Galbraith "The Midas Touch" - which after this I look forward to with.... interest...


The Spying Game
Four very worthwhile plays on the subject of espionage:
The Living Daylights by Ian Fleming. James Bond battles to rescue a trapped British agent, (and in which I learn that the film of the same name dismisses the entire plot of short story in the first few minutes.)
Max Is Calling by Gayle Lynds.
An idealistic CIA recruit is pitched against a cynical veteran.
The Red Carnation by Baroness Orczy.
A former Russian spy's loyalties are tested over an assassination plot.
A Demon in My Head by Jean-Hugues Oppel.
The struggles of a troubled spy suffering from crippling migraines.


Rumpole on Trial
So these manifestations of Rumpole took me quite by surprise, and I did quite enjoy them. However - Rumpole for the modern world? - except that Rumpole is not of the modern world. I cannot imagine him as anything but a product of his time.
Overall they reminded me of the remake of Reggie Perrin - nothing wrong with it - very funny - excellent actors - just somehow not right.


The Magus
New radio dramatisation of the novel by John Fowles. This was such a cult book and such a long time since I read it - and a pretty odd book. My college tutor in the 1970s (when the revised edition was published, which was the version I read) thought it was marvelous and likened the plot to 'peeling an onion'. Like everyone else, I found the book very interesting - though I never thought or really clicked that the story is set in 1954; I think the locations make it somewhat outside of time.
It seems it was the first book Fowles wrote, and not his best in his own estimation though we all seemed to love it.... though of course it is the weird plot that fascinates us rather than the execution of the writing.
This version on radio makes an excellent play with a worthy and starry cast in the shape of Tom Burke, Charles Dance, and Hayley Atwell. Somewhat surprisingly, the much earlier film with Michael Caine was generally considered a failure. However this made me consider that maybe it's better suited to a radio adaptation as the story is very much from the "I"'s point of view - and on radio one is more clearly inside "I"'s head with his sense of unreality.
The reviews all say that the ending of the book is indeterminate, and Fowles resisted writing any subsequent conclusion - but my understanding was that the revised edition made it very slightly more determinate (if you were desperate for a "happy" ending), and the translation of the final lines also indicates an optimistic ending. This play on the other hand seems to lean towards a pessimistic outcome for the lovers in my opinion, with Nick mourning his loss to no apparent response; it's not at odds with the written ending but being acted out indicates a certain finality. There are also references to the author telling different readers whatever they wanted to hear, and this is very much in keeping with his experimental manner of writing - ie offering different scenarios all in one book (the French Lieutenant's Woman where Fowles offers different plot turns, and at one point writes himself into the story. I noted a similar idea in Ian Mcewan's Atonement, although the 'real' outcome in that story was made crystal clear, even if it bypassed my sister....).
Read this review - it's so much better then my own!
Posted on April 30, 2016 at 3:17 PM
« Previous entry
|
Main
|
Next entry »
Friday April 29, 2016
Nell Gwynn
This is a great play - energetic and uplifting. ".....merry dances and a dog!". Indeed.
Sadly though the transfer is right at the end of its run - next up at the Apollo is "The Go-Between" - a musical version with Michael Crawford.
Posted on April 29, 2016 at 1:06 PM
« Previous entry
|
Main
|
Next entry »
Thursday March 31, 2016
Books in March
Posted on March 31, 2016 at 3:58 PM
« Previous entry
|
Main
|
Next entry »
Monday February 29, 2016
Books in February
Posted on February 29, 2016 at 7:18 PM
« Previous entry
|
Main
|
Next entry »
Saturday February 20, 2016
Unravel 2016
So time for Unravel again - the highlight of the day was seeing Susan Crawford talking about her Shetland Project - albeit via Skype as the poor woman has injured her back. It worked extremely well in fact and as always pretty fascinating.
I managed to pick up some token purchases, including some 4.5mm Karbonz interchangeable needles since the ones I got at Christmas are the shorter type (my mistake on Amazon wish list), and some additional wires (mine keep breaking). I also picked out a couple of patterns - one for the Jane Crowfoot Persian Tile Blanket which I much admired when she came to the Guild last year. I found it hard to find much I really wanted - which is a Good Thing. But then I did buy some dyed merino blended fibre in spice colours to maybe ultimately have a go at Martin Storeys latest KAL (in the distant future once I have spun it...!).
Later on I went to my sister's for tea before heading home. Flint (collie) is recovering from an emergency eye operation and is really peaky - seems he will end up pretty blind after all this - poor dog. So Lyn was a bit fed up on his behalf - but she did politely admire the spice coloured fluff.
Once again utterly mystified by the parking arrangements at Waggoners Yard. Last year I downloaded the Waverley phone app to pay for parking and due to what can fairly be described as a "user error" ended up getting a ticket. This year - app to hand - I found that the automatic parking reference number had been removed - so I used the same one as last year - which it recognised - then said I could not use it.... On further investigation it seems Waverley have "withdrawn the service". And I thought I was being so down with the kids.... Come to think of it there's no chance of that - I go to a show and spend half the blog entry discussing the parking arrangements - there is no hope for me...
Posted on February 20, 2016 at 7:49 PM
« Previous entry
|
Main
|
Next entry »
Thursday February 11, 2016
Single Spies
It's my Dad's birthday - or would have been - so I thought this would be a fun day out - but overall it was a bit less fun than I hoped.
I have seen these plays before, both on TV and on the stage, and to be honest I wasn't very keen on this version. I didn't like the portrayal of Coral Brown or Guy Burgess - which has nothing to do with the skill of the actors. It all seemed a bit brash whereas I thought the characters should be a bit more thoughtful and awkward, and leave you with that deep sense of poignancy and loss.
I was also a bit cheesed off as we went all the way to Chichester only to find that it is touring to Richmond which would have been more convenient - plus the restaurant at Chichester theatre is undergoing a major refit so everything was "orf" for some time to come - and not a single reference on the printed tickets, which actually went as far as recommending eating at the (closed) restaurant.
Finally - the laugh being on us - admittedly we did go to a matinee, but the ENTIRE audience was elderly. I really have never been to a theatre before that was utterly packed wall to wall with the over 60s - if not over 70s. At one point Rob said something to imply there was no-one else like us in the audience whereupon I have to point out that we were in fact firmly in that demographic, clutching our "seniors" tickets as we spoke.
Posted on February 11, 2016 at 7:48 PM
« Previous entry
|
Main
|
Next entry »
Sunday January 31, 2016
Books in January
The Critic, Blacklight Blue, Freeze Frame, and, Blowback by Peter May
So I chomped my way through the Enzo series - having had them in the queue for a while now. I was amused that he had lined up all his entourage with him in the second book - and then he third - so I thought I saw how it was all going. But in fact he threw off the formulaic shackles for the next two, which I think from a writing point of view was clearly a good move, (though personally I missed "the gang").
Now awaiting the 6th and apparently final book - which apparently covers both of the two final stories that are the premise for the series..




Flesh Wounds by Christopher Brookmyre [read by Sarah Barron]
I dowloaded this from the library and then realised it was a sequel to Where the Bodies are Buried. This was "Good", barring the fact it's the third in a trilogy and I have not read the second one. That did not spoil the enjoyment though, and despite the fact that I read a few reviews which complain about the lack of realism in some of Brookmyre's work, I like the combination of humour and thriller, which in truth would be hard to achieve without some suspension of disbelief. [I also strongly agree with a review complimenting the author on his having several parallel plot threads that are properly woven together at the conclusion without any unduly forced contrivance].


The Provincial Lady Goes Further
I have heard of E M Delafield's Provincial Lady - but that's about as far as it goes. Excellent reading by Claire Skinner of the sequel to the original novel (I missed the first one which appeared over Christmas). Given the slow gentle humour, I think maybe an abridged version is not perfect for these books, but delightful nonetheless.
I had a quick look at the works and life of the author and found that I have also read Thank Heaven Fasting, as reissued by Virago - very impressive in that I remember it very well - but not at all light hearted....


Sparkling Cyanide
This is a charmingly dated story but has been produced in different settings over the years including by Agatha Christie's own hand in "Yellow Iris" - which is a Poirot short story pre-dating this novel. A notable 2003 update for TV gave us Pauline Collins and Oliver Ford Davies mysteriously playing some sort of elderly secret agents, and making George Barton (Kenneth Cranham) a football manager - complete rubbish but I admire the effort.
I digress. This seemed to stick to the original story featuring Colonel Race (Sean Baker) - which makes slightly more sense of the story line when kept in period.


Hercule Poirot's Christmas
Two Poirots for the price of one. Astonished to see the famous detective played by none other than Peter Sallis! [Accent did tend towards Wallis from time to time].
Also Edward De Souza as Superintendent Sugden, Manning Wilson as Colonel Johnson, Cyril Luckham as Simeon Lee, Rachel Gurney as Lydia Lee, (good old) Nicky Henson as Harry Lee, Deborah Makepeace as Pilar Estravados, and (dear old) Deryck Guyler as Tressilian, the butler.
From the book first published in 1938 and dramatised by Michael Bakewell in 1986.
Murder in Mews(1955)
A production from the Light programme in 1955 - thought to be lost but redisovered last year. Stars Richard Williams as Hercule Poirot, Ian Whittaker as Freddie Hogg, Jack Melford as Chief Inspector Japp, Ronald Sidney as Detective-Sergeant Jameson, Duncan McLntyre as Doctor Brett, Monica Grey as Jane Plenderleith and Ella Milne as Mrs Hogg.
[ Dramatised by Anthony Aspinall from a short-story first published in Woman's Journal in 1936, which later appeared in a book collection in 1937]

Posted on January 31, 2016 at 10:09 AM
« Previous entry
|
Main
|
Next entry »
Saturday January 30, 2016
The Age of Aquarius
I never realised how much I was a child of the seventies (ok - "young adult") until the recent fashion surge towards ... I'm not sure towards what actually .... I don't really remember embracing the seventies fashion at the time, but whatever is going on now is clearly having it's effect on me.
[OK - I am not deluded into thinking that the above photo shows me in the most flattering garment I have ever worn - but I do love it!]
At first I noticed that almost all my old magazines of the period have apparently relevant patterns in them - I never had so many potential candidates for "Pattern of the Month", especially not so many that are actually wearable right now. Of course the styling is a bit laughable, but ridiculing our former fashion mistakes seems to be ..... fashionable. (I have to come clean here and say I don't altogether approve; I read an apposite quote once about not trying to appear wise by mocking our younger selves, and it struck a chord as I think I did it all the time.)
Next, I realised that not only did I have a lot of candidates for POM but I wanted to knit them all myself! This is a daunting prospect for one such as I with so much knitting in progress already - but nonetheless I metaphorically girded my loins and set forth with my needles (and yarn) on a voyage of New Age (or possibly Old Age) discovery.
The result is that I have adapted a good example of a pattern that looks pretty dubious because of its styling but is really just a simple wrap shape for a "blanket coat" (noting that old people like blankets ... so ... perfect for me in every way).
Below ("read more") are the notes on what I did and I have posted the full original pattern as the January 2016 entry on POM.
Pattern Notes for the Coatigan
The original pattern is for a "thickish" double knitting yarn - possibly an American worsted weight - knitted as stripes all in garter stitch. It's a tweedy marl yarn and produces a good effect just as written. The sizing is for men, but goes down to a 38 inch chest - so for a big cosy blanket effect should be ok for many women.
I wanted to copy the kind of coatigan I have seen commercially available at the moment - both in colour and texture, which would be black/grey tweeds. In fact, were I a weaver I might have been tempted to try and weave the garment, as it is mainly made up of rectangular segments. However I am not - so back to reality.
I wanted to use yarn I already had, and it needed to be something I had a lot of. Thus back to my old favourite: Sirdar Peru, which is a discontinued yarn. I have a lot of the colour "Tailor" - a grey/black - but decided it was not tweedy enough, so I worked a tweedy stitch, combining it with the cream colour Llama. (Note here that if you decide to knit - your sister for example - a chunky sweater for Christmas in lovely creamy Sirdar Peru in Llama - it is a "graduated" yarn and in Llama this means it looks like it is a cream sweater where someone has accidentally spilled tea on it during the knitting process. It is not quite so noticeable or unappealing in the other colour options....).
The stitch I used was "almost" garter stitch. Every row is purl, and you slip some stitches on some of the rows, which creates the pattern. Do not be tempted to decide after you have knitted several inches that: "I've had enough of this purl stuff and why aren't I just doing it knitwise in any case as it's just the same?" - because, while it is just the same, the tension is massively different, and you will knit 20 inches of the back only to discover that your knitting made a step change and lost 2 whole inches in width. (Ask me how I know). If you set out from the start by knitting all knitwise you will need to compensate by checking your tension against the size you intend to knit.
So - enough preamble - here are the pattern rows - worked over an odd number of stitches.
1st row (right side facing): Purl in main colour. Leave main colour hanging.
2nd row: Join in contrast colour, purl 1, with wool at front, * slip 1, purl 1; repeat from * to end.
3rd row: Continuing with contrast colour only, purl 1, put wool to back of work, * slip 1, bring wool forward, purl 1; repeat from * to end, and leave contrast colour hanging.
4th row: Pick up main colour again and purl across all stitches
5th row: Purl across all stitches in main colour.
6th row: Pick up contrast colour again, purl 2, with wool at front, * slip 1, purl 1 ; repeat from * to last stitch, purl 1.
7th row: Continuing with contrast colour as before, purl 2, put wool to back of work, * slip 1, bring wool forward, purl 1; repeat from * to last stitch, purl 1.
8th row: Purl in main colour.
These 8 rows form pattern. You can choose the light colour for the main and dark as contrast or vice versa. My version has the dark colour as the main colour. You can also produce a nice effect by reversing the colours after every 8 row repeat, or by knitting several sets of the 4 rows and then reversing. I experimented by starting with the main colour dark, and knitting one set of 8 rows and then the first row again in dark, I then knitted 2 rows purl in light, and the next 8 rows (2- 8 then the 1st again) reversing the colours with my main colour being light... and so on .. bounding each set in 2 extra rows of purl garter stitch. You could change every set of 4 pattern rows by inserting 2 extra rows between rows 5 and 6 for narrower stripes.
This really is a very adaptable stitch - and very easy to execute.
Having got back on track and choosing to stick with the purl version as written, the fabric it produced is lovely. A sort of cosy double thickness where I actually love the wrong side of the knitting easily as much as the right side. It's firm while also squashy, so it keeps its boxy shape - but not too much. Sirdar Peru is not pure wool (60% wool/alpaca) but it is lovely and soft and... blankety.
Which brings me to probably the most important point about the sizing. Sirdar Peru is not a double knit or a worsted weight yarn, but a chunky. It is a thinnish chunky, even though the standard tension of 14 stitches to 10cm or 4 inches puts it firmly in the chunky range if you use the right needles. I used 5mm needles and made a swatch using my pattern stitch, and came up with just about the actual tension stated in the Blanket Coat pattern - 18 stitches by 32 rows to 4 inches. In fact the number of rows was not quite right but easily fixed by knitting it to whatever length you want for the coat - which in my case I wanted to be a bit smaller than the man's length given in the pattern in any case. So I ploughed right ahead and made my pieces using the smallest 38 inch size (I am generally a size 12 with a 36-38 inch chest) an adding 4 extra stitches to the 2 front pieces.
Having tried it on, it certainly fitted well - but more like a conventional cardigan than a capacious coatigan, so I moved to plan B. I inserted vertical stripes of the pattern at the sides and the front borders increasing the size to about 40 inches - I had always thought this might be a nice decorative feature and it became a useful strategy. The sleeves were easy to fit either straight as intended or with a tiny part of the side seam to attach to the underarm insert.
Voilà.
The original pattern has patch pockets - I chose to add conventional "insert" pockets sewn down on the inside.
A short note on picking up stitches for the front band and the sleeves:
Using this pattern stitch, I picked up 2 stitches for every 4 rows to make the side panels and the front bands. [By comparison with stocking stitch where you might pick up 2 stitches for every 3 rows].
I also did this when knitting the sleeves - I picked up about 92 stitches equally spaced around the shoulder seam, and knitted the sleeves downwards so I could choose how long to make them. I did adapt the pattern here slightly to reduced the sheer volume of the sleeves, which was a bit overwhelming in chunky weight with this stitch.
I began by knitting 8 pattern rows then I decreased one stitch at each every 16th row (2 patterns) 10 times, leaving 72 stitches. I knitted to the length I wanted the sleeve, then I reversed the knitting (by knitting extra plain purl rows in the main colour) before setting off with the pattern again - this allows the cuff to turn back without the wrong side of the knitting being on show.
Posted on January 30, 2016 at 2:48 PM
« Previous entry
|
Main
|
Next entry »
Friday January 29, 2016
Under the Bridge
Rob got tickets to see Cheikh Lô "Under the Bridge". He was great.
It's a lovely venue (and a fantastic musician) yet surprisingly the tickets were not all sold out. However there were plenty of people there to give a good atmosphere while also allowing breathing to take place.
Various websites seem to be all over the place in suggesting who the support act might be - wishfully writing "Robert Randolph", (which would have been good, though unlikely).
However it was Randoph Matthews - a "vocal entertainer" - and he surely was.
Posted on January 29, 2016 at 11:11 PM
« Previous entry
|
Main
|
Next entry »
Thursday December 31, 2015
Books in December
Hide and Seek by Ian Rankin
Another early Rebus novel - the second in the series. Excellent of course, and I will just leave you with the blurb:
"In a crumbling housing development, a junkie lies dead of an overdose, surrounded by signs of Satanic worship. John Rebus could call the death an accident--but won't."
The dead man's last words seem to have been "Hide! Hide!" - thus as a nice touch the book is spattered with Jekyll and Hyde references.


We Are All completely Beside Ourselves by Karen Joy Fowler
I am very keen to write about and strongly recommend this book without giving away any of the plot. It's easy enough to find out what it's about if you want to, but the author has written it in a specific way so that you see things distinctly from one point of view before taking in the situation in a more objective way.
I felt it was about family relationships and although in some respects this family shows all the normal parent/child tensions and conflicts, they are doubtless deeply screwed up. No-one seems to be easily to blame for this even though there's a lot of blame flying around.
The Guardian review calls it a "moral comedy" and cites the Larkin poem about Mums and Dads. It is charming and heart breaking, and written in the first person, the narrator is both endearing and humorous - else it would be too bitter to read.
All I can say is that it explores a subject that I have always been very interested in - and written about here in the past - but it has made me see it in a completely new light, and maybe I should not have been quite so blithely enthusiastic about scientific research with only human curiosity as its driver.


Death in the Fifth Position
A murder mystery by Gore Vidal - how could I resist? Even when written under a pseudonym of Edgar Box.
This was "Book at Bedtime" and read by Jamie Parker, and abridged and produced by Jill Waters.
You can find the original book here.


Matchbox Theatre
Highly recommended by Robert (and now me) - a Martin Jarvis production of Michael Frayn's short comically philosophical dialogues and monologues, exploring how we attempt to communicate with one another.
It's in four parts with an all-star cast: Joanna Lumley, Roger Allam, Charles Edwards, Sophie Winkleman, Lisa Dillon, Alex Jennings, Martin Jarvis himself, - and David Attenborough spoofing a wildlife commentary in person for a change.


The Truth Is a Cave in the Black Mountains
Alison told me she was currently reading a Neil Gaiman book, so I was interested to listen to an abridged reading of this novelette.
Inspired by a Hebridean myth, it's a tale of revenge for a terrible crime, although at first it seems to be a morality fable about greed for a pot of gold in a cave on the Misty Isle.
Bill Patterson is the absolute perfect reader for this, with his soft Scottish accent making the story all the more chilling.
[ Abridged and produced by Karen Rose.]

Posted on December 31, 2015 at 11:10 AM
« Previous entry
|
Main
|
Next entry »
Friday December 11, 2015
Unthanks
A delightful treat seeing the Unthanks at the Union Chapel, (preceded by a fish supper in Sea Fish). Perfect.
Posted on December 11, 2015 at 11:25 PM
« Previous entry
|
Main
|
Next entry »
Sunday December 6, 2015
Sleeping Beauties
Another day out with Robert to see Matthew Bourne's Christmas offering at Sadler's Wells.
This time we combined it with an interesting visit to the Tate's vaults (by appointment) - which are nowhere near any of the galleries. It was reminiscent of Rankin's Open Doors and we felt we did not see enough paintings... (!) but actually it was pretty interesting in the discussion of how they treat and keep the art works. In fact I found the sculptures much more interesting than superficially they seemed - they were just huge crates with scribbled artist names on the outside of the boxes ("Rodin", "Hirst" etc - the latter with a "hazardous materials" label..), and for some reason seemed even more interesting for all that, imagining the contents....
The ballet was wonderful - the dancers are fabulous, and they had the added cuteness factor with a delightful piece of puppetry.
Posted on December 6, 2015 at 10:24 PM
« Previous entry
|
Main
|
Next entry »
Monday November 30, 2015
Books in November
Deadly Election by Lindsay Davis
By the time I read Enemies at Home, Helen had already got her hands on this, the latest book, (a signed copy!) while at the annual Bloody Scotland International Crime Writing Festival.
I think I liked this book a little better than the previous ones, but there is a certain style - also evident in the Falco books that I do not like. It's a sort of street-wise cynicism and way of thinking which I do not find convincing or appealing.


Bones Never Lie by Kathy Reichs
I'd forgotten how we left Tempe and Ryan in the previous book, but glad to see them back on track; in fact their soap opera life rather than the actual plot line is of great interest to me. That's a bit unkind as some of the plots I find fascinating (like Cross Bones which I would have been riveted by even without the thrills and spills involving Tempe). This is story takes them all over the place geographically and was ... fine ... but I did not feel thrilled by the action and was not caught up in the sense of the danger with the renaissance of an old nemesis.


Hiss and Hers by MC Beaton
Again I turned to other reviewers to check against my own thoughts; it seems we all think this is a tired franchise. I don't mind formulaic plot lines but there is nothing truly new here. Some readers commented as I had always thought that these books are really novellas ie short, so I was not tempted to abandon the read. However I think one key point for me was: new readers (had not read previous books in the series) commented that none of the characters seem very likeable - and I do not think that was true initially - maybe Beaton finds them less endearing herself now and that comes through. The other key point - now that Agatha's huge personality is no longer so novel in itself - it becomes much more apparent that all the characters lack depth, and you feel they are interesting enough to be treated a little better in the writing.


The Burning Man by Christopher Fowler [read by Tim Goodman]
As I read this, I was not keen on the way that Arthur seemed to be increasingly "unwell". It then began to dawn that he was not likely to be magically recovering - and then found out that this is written as the last in the series...! A bitter blow as I feel there are lots of aspects to explore with these characters and in sharp contrast to the series above, the characters not only have great depth (all of them not just B&M) but also the author intentionally does a lot with the back story to make each book appear fresh. Fowler's blog entry as he has just finishing the writing the book is very clear - he leaves the door open for more (just a sliver) but basically as a commercial writer this series does not offer him much - a lot of effort for a few though loyal obsessives like me...
He says in the blog from 2014 that he is very pleased with the writing and I would agree with him - it is an excellent swan song for the detectives - though very sad for all the rest of us....


Cast In Order of Disappearance
As I am so fond of Francis Matthews (still grieving) I was interested to hear him as Charles Paris in this play of Simon Brett's work. It's from 1984 and played totally straight. Matthews comes over (in all things) as a "thoroughly decent chap" so does not fully bring to life the rather dubious qualities of the hero.... however, a good play nonetheless.


An Amateur Corpse
Having listened to the above I am now wholly convinced of how brilliant Bill Nighy is as Charles Paris. He has is utterly convincing as the weak willed, and clearly attractive hero.
Of course, he is helped along more than a little by the dramatisation courtesy of Jeremy Front. He brings a whole new and modern dimension to the character with great wit and (presumably added) contemporary jokes.


How to Survive the Roman Empire by Pliny and Me
Radio dramatisation by Hattie Naylor, inspired by the famous letters of Pliny the Younger; Kieran Hodgson as Pliny, and Nigel Barrett provides the narrative in the persona of Venta the slave.
It is a humorous offering but conveys how deeply threatening it was to live in Rome under the emperor Domitian - especially when he sends you a gift.....
This is written in a very contemporary manner but worth noting that the actual letters of Pliny themselves are also very readable.


The Psychedelic Spy
This is a weird and wonderful offering written by Andrew Rissik in 1990 but set very convincingly in 1968. Interesting to hear Joanna Lumley and Charles Gray - with James Aubrey as the hero, Lisa Rowe-Beddoe as his girlfriend, and Gerald Harper as Sir Richard Snark (his evil boss - clue's in the name). Clearly influenced by early James Bond and the era of psychedelic drugs.


Lucky Jim
Lovely to hear this all over again read by Martin Jarvis.
Part of R4 Extra marking the 20th anniversary of the death of Kingsley Amis. Lucky Jim was his first novel written in 1954 while he was himself a junior lecturer at Swansea, and provides a classic satire of university life.

Posted on November 30, 2015 at 10:47 AM
« Previous entry
|
Main
|
Next entry »
Saturday October 31, 2015
Books in October
Refusal by Felix Francis
It's good reading more about Sid - and he has moved on - from being single and from being a PI. And even better there are hints about where he may go in the future.
I think Felix is doing a good enough job with the franchise and I enjoyed the book. But. Always a but.
He writes the thriller parts well - they are pacey and exciting - and he does well to stick with themes around the race track. However his writing about all things emotional (sex/love type "emotional") is simply awful - suddenly becomes like Mills and Boon. He'd really do better to not talk about it at all in any direct way...and ... just a little tip.... don't ever talk about your hero's "manhood" - unless you actually mean his manhood of course, and even then it's suspect.
In fact - having his heroes in nice steady relationships is probably the start of the problem. Dick (or Mary's) books managed to convey real aspects of love, longing and sex, but were always laced with a bitter-sweet poignancy. And that poignancy came from the actual (and often weird) domestic life set up for the hero, not from the excellent way with words - the prose could have written itself. I suppose this does come from Mills and Boon (or great books like Brideshead!) - there is nothing that tugs more on he heart strings than people in love who cannot be together, especially if self inflicted for the "moral" good.


Tooth and Nail by Ian Rankin
There are quite a few of the early Rebus books I have not read - and with this one I did not even register the title as being familiar. It is "Rankin does serial killers" - and like everything else - he does them well.
I did find it hard to relate to a guy from Glasgow not being understood in London - I mean literally understood, as in, his speech. But Rankin says he based this on his own experiences in London in the 1970s - and despite my finding it hard to believe - the 70s were a very long time ago.


The Burning Room by Michael Connelly
Despite the title, this wasn't really about "the burning room" - there are several strands to the story of which that was one.
We are introduced to new characters <tick>, and left wondering if Bosch is bowing out <cross>, which I imagine won't be too popular with his reading public, even though he really is of an age when he must retire from the police force.
Connelley's next book (The Crossing - and already available) is predictably part of the Mickey Haller series, but it seems it brings all his recent characters together - wise move I think.


Miracle Cure by Harlen Coban [read by Eric Meyers]
For some reason it took me a very long time to finish this book. One thing is that I was pretty clear from the start "who dunnit" - and not only who but also why, and thus most of the layout of the plot, which then became dull as it unfolded.
I had little empathy with the characters, and, through no fault of the author, I was especially turned off by a baseball connection. The key Good Guys had a positively sickening romantic attachment.... etc etc.
Maybe I'm just and old grump.


The Scarlet Pimpernel
An excellent reading by Damien Lewis of an abridged version of the novel by Baroness Orczy.
In listening to this I was surprised how faithfully it was followed by the 1934 film with Percy played by Leslie Howard (known to me mostly from Gone with the Wind, although at the time he was the well-established "star" and Clark Gable was the unknown <but we don't give a damn>).



Sovereign
Radio dramatisation of the C J Sansom novel with Justin Salinger as Matthew Shardlake, joined by Bryan Dick, Melody Grove and Geoffrey Whitehead.
This adaptation by Colin MacDonald is excellent - and apparently he adapted two other Shardlake novels as well, though I seem to have missed out on them.



Bitter Medicine
A great radio dramatisation of the Sara Paretsky novel with Sharon Gless as VI.
Although I am very fond of Kathleen Turner - I always felt she was a bit underrated - this 1990s version with Gless was far superior to the 2003 version with Turner.
I never saw Turner's screen version of VI (and it was not popular I believe) but the radio version was completely awful. Terrible accent (which was probably a very authentic Chicago - I would not know) and fast talking "witty" dialogue which was not very amusing and too wise-ass to be credible (to me).
But I should not talk all about the shortcomings of some other version but rather focus on high praise for this one.


Miss Marple's Final Cases
Three new Miss Marple's with June Whitfield. Based on the short stories:

Tape Measure Murder
The Case of the Perfect Maid
Sanctuary

These (the plays at any rate) show us Miss Marple in old age recovering from flu - and feeling a bit down. Her sentiments definitely struck a chord!
And then I listened to a Murder at the Vicarage from 1993 - a plot I know only too well but very good nonetheless.


Design for Murder - A Noel Coward Mystery
So... Noel Coward as a sleuth.
Certainly a very entertaining concept from Marcy Kahan, and an opportunity for everyone to do their best impressions of not only Coward but also in general the 1930s affectations of theatrical luvvies.
Stars Malcolm Sinclair as Noel Coward, with Eleanor Bron and Tam Williams as his devoted staff.
Lots of fun.


She
Interesting to hear a serious portrayal of the book starring Tim McInnery.
One of my early memories is going to the cinema, on my own as I remember it, to see Ursula Andress as She (actually in Lancing when astonishingly we had our own cinema in the village*). Described elsewhere as "a travesty of Rider Haggard's epic adventure novel", it was a lavish Hammer Horror - but nonetheless rated certificate "U" in 1965.

* In fact at one time we had 2 cinemas in our little village, the other building being still very clearly an unused cinema when I was young. It was an ever-present subject of poignant nostalgia for my Mother who lost her first husband in a car accident the very day after seeing The Best Years of Our Lives there.


The Legend of Robin Hood
Great English hero Robin Hood's adventures take him from May Day revels in Sherwood to crusading battles in the Holy Land - and back again to a life and death struggle with the Sheriff of Nottingham.
A very interesting play by John Fletcher (no not that one) which draws on the original Robin Hood ballads and stories and knits them together to make a pleasing drama. From 1992 this stars John Nettles as Robin, Norman Rodway as the Sheriff of Nottingham, Michael Tudor Barnes as Friar Tuck, Gerry Hinks as Little John and Tamsin Grieg as Alice.
Posted on October 31, 2015 at 8:28 PM
« Previous entry
|
Main
|
Next entry »
Thursday October 15, 2015
Jane Eyre
I thought there was nothing new I could be told about Jane Eyre - the story itself is a bit of an unrealistic dream fairy tale - but along the way it portrays most of life's trials in terms of class discrimination, poverty, emancipation (lack thereof), love, betrayal, determination, morality..... need I go on? So this production was most welcome surprise - and though very long, utterly gripping throughout.
By the same director as Treasure Island and with the same (or rather completely different of course!) novel approach. The best descriptive word I read for this was "dynamic" - if you take the "excellent" "original" "imaginative" etc as read. My favourite scenes were the depictions of the journeys by coach, which gave a real sense of the excitement for Jane going out into the world as well as a feel for how very far away she travelled. The other favourite with the whole audience as well as me was "the dog"; he really was wholly .... dog.
Posted on October 15, 2015 at 11:23 PM
« Previous entry
|
Main
|
Next entry »
Wednesday September 30, 2015
Books in September
Enemies at Home by Lindsay Davis
Discussed at length with friend Helen and - no - these books are definitely not as appealing as the ones about her Dad. But... don't let that put you off - still good mysteries by anyone's standards.
Helen suggests "Falco was just an exceptionally nice bloke". However, after this book, where Tiberius progresses as the love interest in Flavia's life... I am inclined to think that Davis' heart is more in writing men than women. Helen has not read this book yet - but is in possession of the third one (Deadly Election), since she picked up a signed copy while at "Bloody Scotland" where she listened to the author talking about her new protagonist. [And I now have a copy from the library].


Break Down by Sara Paretsky
Working back through the novels I missed out.
One of the threads in this novel illustrates the the problems of dealing with a friend who has mental health problems. I think it brings out a lot of key issues - we know and already like VI, we have sympathy with her and so we can feel and believe how really distressing it is for her to have to watch a highly intelligent peer and role model totally destroy their lives through manic depression. We also see how you can be a "good person" and yet still need to turn away from helping - possibly because you cannot really see how to help, or because there is an underlying fear of being swallowed up in the downward spiral of another's life.
And aside from all that - an excellent thriller.


The Slaughter Man by Tony Parsons
I read this second crime story by Tony Parsons as a book-book rather than waiting for an audio version. It is in a similar vein to the first (as expected), which might be described as gritty realism - or gratuitous violence; I am never sure when reading stories about serial killers. I guess it does put one in the gory-horror-voyeur category of reader, and it's pretty useless to try and fool yourself otherwise.
However it is a good thriller, emphasising the very real dangers that face our police force every day, however low key a situation may appear initially, (though the reader did find herself mentally shouting "wait for backup, wait for backup" several times during the story). The plot was a tense and classic whodunnit while the domestic life of our hero continues to stir the emotions in the way intended.


Flesh and Blood by Patricia Cornwell [read by Lorelei King]
Hot off the press (as it were).
Was this better than the recent books? I think marginally "yes". There is slightly more emphasis on the crime and less on the endless drivel about Scarpetta's luxurious properties and home life - with her fantastic abilities in home cooking and obsession with fresh ingredients. Still a lot of paranoia though - and this is even self-referenced by the character, along with an allusion to her mellowing.


The Bleeding Heart by Christopher Fowler [read by Tim Goodman]
I continue to love these books no matter how convoluted the plots become.
Arthur Bryant is still the most colourful character - many of his statements seem so poignantly true to me, (I'm still trying to get to grips with the idea of being "old" - some of his observations made me laugh out loud). However we do not rely on only Arthur to carry the novel; other characters provide a lot of interest and complexity as well as the fun plot.


Crooked House
I read this Agatha Christie book as a teenager and have heard little about it ever since - but always remembered the plot very well. This is a radio adaptation in 4 episodes from 2008 with a cast to die for: Rory Kinnear, Anna Maxwell Martin, Anna Chancellor, Phil Davis, Judy Parfitt.
Wikipedia tells me it is one of only five* Christie novels to have not received a screen adaptation but one was "planned" in 2012.
* One of the other five is Death Comes as the End - which was the first Agatha Christie I ever read (on a beach in Spain aged 11) and I was totally hooked, even though it is absolutely like nothing else she wrote. I would love to see that story dramatised with a major spend on the setting (Ancient Egypt).


Five Red Herrings
Another 1978 radio play with Ian Carmichael again as Lord Peter Wimsey.
I have to say - old age etc - I found this very difficult to follow with its 6 suspects, 6 names, and nothing to distinguish any of them (!). Luckily, as this was broadcast in 8 (eight!) episodes which I listened to back-to-back, our hero was endlessly revisiting the plot and the suspects - and then finally telling us which one was "it". [No I can't remember...].


Whip Hand
Like Many others I am sure, Sid Halley was among the first Dick Francis characters I came to know.
So I was very happy to find (on iPlayer) the radio dramatisation of this second novel about Sid with Mick Ford starring as the ex-jockey turned detective.


A Severed Head
I read a lot of Iris Murdoch when I first went to college and I have to say I don't think I would have really understood much of it at the time, being neither of the social strata she wrote about nor with the experience to be in any way socially aware. This radio play was described as "based on the satirical, sometimes farcical" novel - ideas which had totally bypassed me when I read it - so I welcomed the opportunity to follow it through again.
Martin Lynch-Gibbon just wants to unquestioningly carry on in the same groove of his privileged life - including youthful mistress as well as wife - only to find himself pitched into some kind of surrealist universe when his wife announces she intends to marry her psychiatrist. Martin is constantly being exhorted with everyone else to behave in a "civilised manner" - when in fact it all the ridiculous psycho babble and partner swapping could not be more uncivilised. Stars Julian Rhind-Tutt as the long-suffering Martin, and Victoria Hamilton as his wife, Antonia.

Posted on September 30, 2015 at 2:20 PM
« Previous entry
|
Main
|
Next entry »
Thursday September 24, 2015
Photograph 51
A birthday treat for Robert to see this much talked about play. Sadly he is a bit under the weather so we limited it to the evening and not the usual day out .
However the production was excellent with not a single weakness in the actors - the story was told collaboratively from each character's viewpoint.
As Kings was my old college I found it particularly interesting - the set being the old building labs where science was housed almost up to my starting my degree - I arrived to work in the brand new science block on the Strand (which they are now trying to "redevelop" - or "pull down" as we like to say), but the old labs on Surrey Street were being rebuilt to become the Macadam building while I was an undergraduate.
The subject matter of the play - which I had not quite understood previously (to my shame) - was x-ray crystallography which the college must have been well known for in the early 20th century - C P Snow based his novel The Search around the subject studied at Kings.
Posted on September 24, 2015 at 10:20 PM
« Previous entry
|
Main
|
Next entry »
Friday September 18, 2015
Three Days in the Country
An excellent evening out after work in London to see this adaptation of Turgenev's original (apparently) 4 hour production.
Mark Gatiss was particularly excellent but to be fair to the rest of the cast - he had a role that was somewhat more light hearted than the general tone of the play - so perhaps it was likely to stand out when given to a man of his talent.
Beforehand we ate at the food market outside the the Festival Hall - pulled pork with fennel (and other magic ingredients so the vendor told us) - delicious.
Posted on September 18, 2015 at 11:55 PM
« Previous entry
|
Main
|
Next entry »
Tuesday September 1, 2015
1984
Without exaggeration this was one of the most incredible pieces of theatre - almost - that I have ever seen. [I did see an NT version of the Crucible once where I wanted to jump on stage and slap everyone until they saw reason].
It was.... truly "awful" in the exact sense of the word. I do not know how the staff deal with sitting through such harrowing material night after night.
I felt sorry for the cast at the end as they provided such a compelling performance it was hard to feel one could applaud at all - everyone in a sort of stunned silence.
(Though we got it together and cheered by the second curtain).
It was also a very interesting telling of the story - for both those of my age who know the book/story backwards and those who do not - with excellent use of multimedia and theatrical technique. Really I have never seen anything quite like it. [Again the NT version of Virginia Woolf's The Waves used all these techniques and more but was an experimental piece of theatre as was the text].
After a calm early evening at the Shelock Holmes pub (eating a wonderful Benedict Cumberbatch burger... wonderful food that is though I am sure Benedict himself is also wonderful) and many jokes about doing it to Julia and other hackneyed lines.... this level of experience and performance came as a total surprise for us.
Marvelous and yet dreadful as it brought the book so bitterly to life.
Thank you Big Brother.
Thank you.
Posted on September 1, 2015 at 11:26 PM
« Previous entry
|
Main
|
Next entry »
Monday August 31, 2015
Books in August
Critical Mass by Sara Paretsky
Once again - a very long time since I read this author - I was under the illusion that she had not written anything for a long time (like the gap in Amy Tan's work) but it's just my not keeping up. Based on the dates, it seems I have 4 to read since "Fire Sale" which I must have read in 2005.
So - back to this novel - I really liked the story. My memory of her previous novels is that they revolved around types of business fraud or insurance - possibly realistically what PIs get involved in - and then there's the twist which make a book into an adventure thriller. However this story had two themes of much more interest to me: one was historical (WWII) and the other was was Physics- its a novel about Science* ("...and then there's the twist which make it into an adventure thriller..." etc). I loved it.
I'm now all set for to read backwards through the ones I missed.
* I read that although the author is qualified in her own discipline of political science, her husband of 40 odd years is an academic professor of Physics.


Heartstone and Lamentation by C J Sansom
I found I had two books to read in the Shardlake series - and they were both great.
Heartstone was very interesting - and all about the Mary Rose, which of course I went to visit for my birthday this year - and Sansom seems to have been as much blown away by the experience as I was. As a historian it must be amazing to have such a spyglass into the life of folk from that period across all social strata. Plus - only a fraction of the artefacts have been fully examined currently, let alone put on display.
Lamentation, however, was my favourite of the two. I did guess the fundamental plot device in Heartstone, although not actually the "why". In Lamentation, I felt the plot was stronger. So now Henry's reign has ended but Shardlake carries on - given the fortunes of the main characters in this book, maybe Sansom is shaping up for a future generation of detective in a new era - who knows?


Posted on August 31, 2015 at 8:59 AM
« Previous entry
|
Main
|
Next entry »
Friday July 31, 2015
Books in July
Posted on July 31, 2015 at 8:46 AM
« Previous entry
|
Main
|
Next entry »
Saturday July 18, 2015
Clash of cultures
Interesting combination of activities today. We started with an afternoon a lecture at the British Museum followed by the actual exhibition on indigenous Australian art. It left me quite inspired to try some of the designs either woven or patchwork.
I have had it in mind to make a simple weaving frame (too much reading in Golden Hands Crafts) which is designed for tapestry weaving. I had intended to use it for making a piece of fabric but I was only against the idea of a tapestry as it was not a form of art that interested me. I am now rethinking this as I am inspired with designs I would like to make. Here is a wonderful depiction of Magpie Geese.
They also had pituri bags which looks perfect for a crochet project - in fact they looked like they were crocheted though I am fairly convinced without research that the technique is a kind of woven knotting as used in the basket weaving. Also - in terms of their function as a bag - I could not see any openings!
After a lengthy tea break in the member's room we spent about an hour looking at the Napoleon "prints and propaganda" exhibition and then went on to eat near Sadlers Wells before seeing Matthew Bourne's Car Man - which was utterly brilliant and fantastic as we have come to take for granted. Wonderful uplifting music from Bizet and amazing dancing.
I was actually a bit late meeting Rob [one might say "as usual"!] because I met a Pearly Queen on the underground and had to take pictures....
... then a man stepped backwards on to me as I was getting on the tube, causing me to step back while the doors closed, and swear violently - all of which "the man" seemed to find very amusing... observing me still on the platform from his position on the train....
... and did I mention the dog? ... it ate my homework...
Posted on July 18, 2015 at 7:25 AM
« Previous entry
|
Main
|
Next entry »
Tuesday June 30, 2015
Books in June
Posted on June 30, 2015 at 6:52 PM
« Previous entry
|
Main
|
Next entry »
Friday June 19, 2015
Fotheringay
Fotheringay formed around 1970 essentially through Sandy Denny, (who then moved on after only about a year). After Sandy's premature death - as they put it - it "never occurred" to them to try and continue or reform.
Earlier this year a four-disc collection, Nothing More was released - a comprehensive compilation of the group's recordings - and the three surviving members of the original band - Jerry Donahue, Gerry Conway and Pat Donaldson have reunited for six tour dates in the UK. They were joined by Kathryn Roberts, Sally Barker, and PJ Wright
And we went to see them in London - under the bridge.
And they were thoroughly excellent.
Rob has just (today) got himself an iPhone - first selfie.....
I know, I know.... but the audience we were among demonstrated that we are not quite the cutting edge young things we once were....
Posted on June 19, 2015 at 10:54 AM
« Previous entry
|
Main
|
Next entry »
Saturday May 30, 2015
Books in May
Posted on May 30, 2015 at 7:03 PM
« Previous entry
|
Main
|
Next entry »
Wednesday May 6, 2015
Workshows remembered.
"This exhibition displays some of the practical work achieved by students of the courses over the 30 years that it has been my privilege to teach in this college." - Rob Muller
This evening I joined Rob for the grand opening of his very own exhibition at Croydon College. He has been building up and preparing for this event for over year, collating hundreds of photographs of his students' work, (plus other memorabilia), collected throughout his teaching career.
As you might expect, a large number of former students from all eras joined him, creating a wonderful atmosphere, as many of them were meeting up with each other for the first time since their days at the college. They also wandered around the new (and old) college classrooms reminiscing about their time there.
Since the exhibition, many former students have got in touch with Rob on Facebook - and if you want to look at a rather better set of photos - Rob is posting Workshow pictures on his facebook page - a photo a day.
Here's the full text of Rob's words for the exhibition hand-out:
I joined the staff in the Theatre Department at Croydon College in April 1985, just in time to help mount the Spring Term exhibition of second-year students' work that had come to be called Workshow. Individual students had chosen costumes, portions of a setting, or large props from their designs, completed in the previous term to be realised to full scale. Lighting students designed the lighting for each piece in the hall and the production team undertook the responsibility of technically presenting the exhibition to the public for a week in March. I was staggered at the scale and ambition of this exercise - and these students were only half way through their three-year sandwich HND course.
In the summer term, these same second-year students became a production team collaborating with a performance company to mount a new contemporary ballet at the Secombe Centre Theatre in Sutton. They designed and constructed setting, costumes and lighting. My role as lighting and production tutor was to support these realised productions.
Over the next two years, while I undertook an in-house Cert Ed, I was heavily involved in rewriting the course for BTEC validation. This successful course ran until the mid 90's, firmly establishing Croydon College's reputation for producing theatre design students with very strong practical skills.
In the late 80's, the department gained a lecture room, which was converted into a second venue named "The Peter Jackman Studio Theatre" (in commemoration of a talented lighting student, who helped design the space).
Workshows were finally phased out in the mid to late 90's as the course was revalidated as BA and Foundation Degree courses and the emphasis shifted to end-of-year degree shows.
In the early 2000's, a parallel digital film degree course was established and, after completing an MA in Computer Arts, I started teaching camera and editing on this course as well as lighting and production on the Theatre courses. In 2010, sadly, the Theatre course was discontinued and all the department's resources were concentrated on the current film-making courses.
This exhibition displays some of the practical work achieved by students of the courses over the 30 years that it has been my privilege to teach in this college.
Posted on May 6, 2015 at 10:27 PM
« Previous entry
|
Main
|
Next entry »
Thursday April 30, 2015
Books in April
The Innocent by Harlan Coben
I've had this book for a long time - probably on "permanent" loan from Helen - and as I read it I felt some parts were very familiar, but I am certain I never read it to its conclusion in the past.
Anyway - another exciting thriller and makes me want to read more - but I cannot get enthusiastic about his Myron Bolitar series books simply because the hero is a former basket ball player (!). I really should just bite the bullet and read one to overcome my prejudices.
Or alternatively he has many other stand-alone novels I could pick from.....



Bertie Plays the Blues by Alexander McCall Smith
This is not the first in this "44 Scotland Street" series, but made perfect sense without the other 6.
Bertie is a charming (gifted) little boy of 7 who decides to put himself up for adoption on eBay. [An intellectual version of running away I think, but it remnded me of my Mother (in a less enlightened era perhaps) continually upbraiding my sister by telling her she was lucky to have parents and not be brought up in a "HOME" - and my sister privately thinking that a "HOME" without parents sounded rather nice (not knowing any better one way or the other I hasten to add)]



A Deep Hole by Ian Rankin [read by Paul Thornley]

A short story beautifully told.
A road digger (Repair Effecter for the council's Highways Department) is compelled to offer a favour to a local loan shark, who in turn is offering favours to others in the waste disposal business - a business where holes can come in very handy.

Baldi
In this radio series David Threlfall plays Paolo Baldi, a Franciscan priest on sabbatical, lecturing on semiotics at a university in contemporary Dublin. After helping the police as a translator for an Italian witness, he turns sleuth. I listened to a couple of Radio episodes - The Million Dollar Question and A Very Neglected Fish.
And actually David Threlfall is uppermost in my mind as I so impressed by the recent TV drama: Code of a Killer* - I am lost for superlatives at how excellent it was. I remember the real life case being solved, and it seemed to me that the production was very true to the facts - as confirmed by Dr Jeffreys and Detective David Baker (now retired). Yet how tense and interesting it was - no foolish "sexing up" of the plot required - and none added.
[Not to mention the excellent dramatic portrayal of Noah shown over the Easter schedules.]
* <small digression> Maybe it's just because I am a Chemist at heart - I was very disappointed that Magdalen College did not manage to win the Universtiy Challenge final having got there with their two Chemistry students.... Paxman did suggest they did not have "broad enough" subjects and that the questions did not favour them - but Gonville and Caius are more than worthy winners - an astonishing contest this year. <end small digression>


The Mystery of a Butcher's Shop
Listening to this radio play makes me think that Diana Rigg perhaps gave TV Mrs Bradley an air of gentility and sartorial elegance (not to mention a chauffeur) not present in the original books.
In these radio plays, vibrant character actor Mary Wimbush (known to me as Aunt Dahlia from The Laurie/Fry Bertie Wooster series) voices said lady - giving her a "hearty and disquieting laugh that unsettles suspects and listeners alike". [No really - it was rather weird]


Paul Temple and the Alex Affair
Yet again the criminal mastermind who seems to sign a set of mysterious murders with his name...
This one is crammed full of suspicious characters and red herrings, though unusually I did guess the identity of the nasty blackmailer before we were formally introduced.
Broadcast in 1968 this was to be the last in the series starring Peter Coke and Marjorie Westbury, displaying their exceptional skills behind the radio mike. [But by Timothy! there seem to be lots more of these "Affairs" and "Mysteries" for me yet to enjoy...]

Posted on April 30, 2015 at 9:43 PM
« Previous entry
|
Main
|
Next entry »
Tuesday March 31, 2015
Books in March
Bird in the House by Bronwen Griffiths
This is basically a sad little story about coming to terms with loss - but in fact I would say - about loss.
For me - not the sort of book I usually read at all (favouring retro escapist amateur detective novels). However, I did not feel tempted to abandon it - and the backdrop subject matter - Libya's (continuing) struggles for freedom - was all new to me and thus very interesting, despite the fact that to my discredit I take no more than a superficial interest in foreign politics.
The book keeps its feet firmly in the realms of reality with no happy endings - at least no happy endings wrapped up with a bow for the reader. The characters "move on" and one is left with the strong indication that there might be more positive outcomes for both the characters and for Libya.


After Midnight by Robert Ryan [read by Steven Pacey]

This exactly my sort of book, chosen because I so liked the "Dr Watson" books by the same author, although more an adventure thriller than a detective novel.
Set in the sixties and drawing on wartime experiences of the aviator hero, it provided a perfect accompaniment to painting the bathroom in France. (Probably how I came to spill the paint tray...).

House of Silk by Anthony Horowitz [read by Derek Jacobi]

I had already read the book, and Rob gave me the audio book for Christmas (along with the newest book-book Moriarty).
So this month I had the pleasure of listening to Sir Derek reading it to me - mainly in the car. A very suitable reader as this is supposed to be written as Watson's final narrative. [His Scottish accent leaves something to be desired, though luckily it was only called upon for one character!]

Posted on March 31, 2015 at 7:38 AM
« Previous entry
|
Main
|
Next entry »
Sunday March 22, 2015
Kempton Steam Museum
Rob's Morris side danced at the museum. This entry is a bit of a cheat as I wasn't actually there (!) there but the pictures are so excellent I wanted to include them here. Seems like it's well worth a visit.
The waterworks at Kempton opened in 1897 and the pair of triple-expansion steam engines were at the cutting edge of water pumping technology when they were installed in 1927-28; they supplied 39 million gallons of water to North London. One of these Worthington-Simpson Triples has been restored to working order and the other is maintained as a static display for guided tours.
Posted on March 22, 2015 at 11:50 PM
« Previous entry
|
Main
|
Next entry »
Thursday March 12, 2015
Mummies - eight lives
We went for a day out to catch the exhibition "Eight mummies, eight lives". I'm not sure Rob was that keen but I (like the rest of the populus apparently) am always fascinated by mummies. Anyway - after a good lunch to make up for the fiasco involved after thinking I had lost my purse (always a good start to the day...) - I think he may have been converted.
The eponymous 8 mummies, dating from about 3500 BC to AD 700, and coming from a range of sites, were not simply displayed, but through the use of a CT scanner a lot of additional information was visible without having to damage (or one might say desecrate) them. There were excellent computer graphics showing "virtual" unwrapping, revealing sacred objects within the wrappings - and they were able to produce 3-D computer "print outs" of the objects - all of which added so much to the experience.
One thing that was true of more than one of the mummies is that they seemed to have been prepared seemingly in a hurry and used "off the peg" cartonnage cases - one being intended for a woman and used for a child of about 7 and another being crudely extended to accommodate a man's (probably unusual 5' 7") height.
The chap above is a later Roman mummy, unusual because he was wrapped as a living person, with arms and legs wrapped separately, and his face painted on the linen. There are several mummies like this in other museums in Europe and they all seem to have appeared from Egypt in the 1820s; however, sadly, although it seems likely they were found together, it's not known exactly where or if indeed that is the case.
Afterwards, we roamed the permanent exhibits, where I found the Ram sphinx of King Taharqo (1069 BC):
The supreme god Amun, here represented as a ram, protects a figure of King Taharqo, The ruler's forehead bears two cobras instead of one, an assertion of sovereignty over both his native Kush and Egypt, which the Kushites had conquered. Taharqo built and enlarged temples for Amun across his enormous realm. This and other ram sphinxes lined a processional avenue leading up to the temple of Amun at Kawa.
I was also interested by this famous bronze cat, given by Major John Gayer-Anderson in 1939. Detailed examination with x-rays shows past damage and structural repairs, as well as indicating how it was originally cast.
Posted on March 12, 2015 at 9:28 PM
« Previous entry
|
Main
|
Next entry »
Sunday March 8, 2015
Knitting and Stitching at Olympia
Jennie and I went to the show at Olympia. I think she was quite impressed with it in comparison to the shows at Sandown, as it is a lot bigger and there was a lot more choice of fabric. I bought a couple of pieces of fabric to line bags, and towards the end of the day, I discovered some budget yarn on offer so needless to say came home with a bumper sack full of acrylic fibre.
Posted on March 8, 2015 at 11:30 AM
« Previous entry
|
Main
|
Next entry »
Saturday February 28, 2015
Books in February
Cat out of Hell by Lynne Truss
A very funny book indeed - really- laughed out loud.
Particuarly relevant to anyone who at any time in their lives was a fan of Denis Wheatley's novels about black magic.* Also anyone who ever owned a cat, enjoys our foibles in every day speech ("have you had any thoughts?"), or anyone who likes dogs and Sherlock Holmes (am now determined to get dog and call it Watson).
* I read Wheatley's novels slavishly when I was about 12 - and then Robert and I read them aloud to each other (laughing a lot). I remember a journey to Scotland where Robert was reading to me as I drove, and found the text so tedious that he felt obliged to adapt it to include real-time incidents occurring on the road.


Moriarty by Anthony Horowitz
Another great book - I think, adding to the Holmes stories. Needless to say this is an imaginative novel, not just following with another hitherto unpublished story from Watson, but a new narrator in the form of a Pinkerton's agent.
I particularly love the opening chapter pulling apart the inconsistencies in the story describing Holmes demise at the Reichenbach Falls. [And - no - he is not simply showing off. The implication is that there is more to it all than we are ever told in the story - though I hasten to add this is not a plot spoiler and we do not explore what it might be that we are never told - not in this novel anyway].



The Russia House by John Le Carré [read by Michael Jayston]

It took me a long time listening to this off and on while engaged on various projects. Carré's novels are very involved and are probably worth more attention than I give them. In fact I wonder if they are not so well-suited to being read aloud - the act of reading probably would involve me more with the text.
There is a good deal of exploring the psychology of the various players, and I did not find many of them very sympathetic - either a lack of imagination on my part or just a lack of experience in the environment described.

Posted on February 28, 2015 at 2:35 PM
« Previous entry
|
Main
|
Next entry »
Saturday February 21, 2015
Unravel 2015
I went to Unravel and acquired a satisfactory amount of swag - not too much but enough... (no fibre.....!). As usual I was mesmerized at Eliza Conway's nostalgia items on sale (I may have bought one or two), and was interested to see Joyce Meader had her own stall - I see myself in her position in years to come, selling my vintage yarns and patterns as kits.... Unfortunately I missed her talk "Three Decades of explosive knitwear" scheduled for Sunday. I did however, take in the talk "Knitting with colour, inspiration and techniques" with Alison Ellen. I was almost inspired to buy her book but think I may add it to my wish list for next Christmas instead.
Later on I met my sister for a Thai meal at the Golden Fleece in Elstead - a favourite haunt - conveniently located half way between our homes.
Posted on February 21, 2015 at 7:29 PM
« Previous entry
|
Main
|
Next entry »
Monday February 16, 2015
Treasure Island
I've had these tickets for about 6 months, and after the wonderful experience of Swallows and Amazons a couple of years ago, really looking forward to it.
And of course it was excellent - needless to say utterly different from S&A. It was not a musical though there was some music [15 men on a dead man's chest, Yo Ho Ho... etc] and the Olivier multi-level stage was to the fore with the changing scenes, from Inn to Ship to Island.
Arthur Darvill continues a slightly more complicated portrayal of Long John Silver, the like of which I first saw from Eddie Izzard, and which is more in keeping with the book (in that Silver "gets away"). And of course Patsy Ferran as "Jim" is fantastic - "dazzles" says the Guardian.
The only slight hiccup during this wonderful evening out was with the state of the train service. After the show we were delayed by an hour getting back to Ewell West as a train had broken down and blocked the line. In fact I am surprised we got there at all but by some circular route to Epsom and then travelling back to London, we did.
Why, you ask, (well I expect you don't but nonetheless...), why, were you travelling to Ewell West when you live miles away and have a perfectly good station there. And the answer is that with the reconstruction of London Bridge our local line is bluntly not functioning. Since December the 22nd I have travelled into London for work about half a dozen times at random times of day - and every single time the train I planned to catch has been delayed or cancelled. Sometimes both. Even at best there are 3 changes to get into Waterloo. So one option is to drive to Ewell and fork out for the parking - as there is (haha) a more reliable and quicker service from there.
I am glad that the work on London Bridge will make it all fit for another century and "better for passengers" - but as it not due to finish until 2018 it is by no means certain that I will be one of the said people benefiting.
Posted on February 16, 2015 at 5:40 PM
« Previous entry
|
Main
|
Next entry »
Saturday January 31, 2015
Books in January
Chalk Circle Man by Fred Vargas
George read a review of this author's book The Ghost Riders of Ordebec and, since he had not come across her before, bought me the first in the series for Christmas.
I found it a very good plot with a really quirky theme (the chalk circles) without relying on bizarre serial killing type methods of death to provide the interest. Commissaire Adamsberg, I found less sympathetic and hard to understand - I think there is something about translated text - you can translate the words and the meaning but the culture described remains foreign.



Entry Island by Pete May
Another nominee for the Crime Awards, which I was keen to read after discovering the excellent Lewis Trilogy. I particularly like the historical storyline and contemporary detective plot that his novels seem to combine.
The synopses and blurb about this book seem to imply it has some superatural overtones - and although I would have accepted this, I was pleased that the book offered rational explanations for the events and memories.

Posted on January 31, 2015 at 6:49 PM
« Previous entry
|
Main
|
Next entry »
Friday January 30, 2015
The Man Who Never Lived And Will Never Die
Rob, Tony and I went to the Sherlock Holmes exhibition at the Museum of London. I expected to have a fun afternoon there but it was particularly impressive - I think one of the best (or only) truly multimedia exhibitions I have ever seen. Everything they chose to display was fascinating in its own right - and being a fictitious character they were able to roam across many aspects of Victorian life: the emerging concept of a detective (in real life and fiction); theatrical, film and TV manifestations of the characters; Victorian London as depicted in art, as well as Sidney Paggett's original drawings; recreations of Holmes' journeys across London - then, and as it is today; "technology" display cabinets on subjects ranging from chemistry to the changing role of women in taking up typists jobs outside the house.
There were quizes and code cracking - which Tony managed to complete without even blinking (though Rob and I helped collect the clues!) - plus nice staff members to help if you got stuck.
Here's a great picture of the outside of the museum which happens to show Anthony Horowitz, whom I regard with great fondness owing to his creation of Foyles War and his imaginative Holmes books. [I am guessing this is a publicity tour for his book "Moriarity", which was a Christmas gift and is sitting waiting for me at home.]
After this we went across town for a pint in the Sherlock Holmes pub at Charing Cross, followed by a meal at The Delaunay, where Cathy joined us for dinner.
A thorough satisfactory and memorable day out.
[I am already anticipating the "Crime Museum Uncovered" at the museum from October]
Posted on January 30, 2015 at 6:23 PM
« Previous entry
|
Main
|
Next entry »
Thursday January 29, 2015
ISIHAC and the Mary Rose
To celebrate my birthday, we went to Portsmouth to see "I'm Sorry I Haven't a Clue" - the roadshow. If you know what that is then you will know how it was - if you don't know what it is, then I am not able to explain. All I can say is that we received a free lesson in using the kazoo (also free).
We ate at The Wine Vaults, conveniently opposite the Kings Theatre at Southsea, and then went on to stay at the Royal Maritime Club near the dockyard - our venue for the next day.
Encouraged by a heart-felt speech from Sandi Toksvig during QI, we went to visit the Mary Rose museum, and it proved to be as astonishing as promised. I remember being amazed visiting the Vasa* years ago when I was in Sweden, which made me expect to like this exhibition as well.
I think the Mary Rose has much more in the way of salvaged content - including (100s of ) longbows** packed in cases, and apparently not waterlogged. Most of the other artefacts have to be dried out and specially treated for preservation before being examined or put on display - and there are thousands of items still to be dealt with. Personal remains have been found for many of the crew - only about 25 of the hundreds on board are known to have survived. They have reconstructed some of the faces of the departed, both in 3D and drawings, and are able to surmise who they were based on where they were found and the personal belongings found with them. There is even the skeleton of some poor old terrier stuck on board with his master.
In the days after our visit I saw a TV program about the raising of the Mary Rose - low expectations as I expected it to be about the engineering feat of bringing it to the surface, which I remember quite well seeing as it happened. However, it was really interesting - all about the preservation efforts and combined footage from other programs over the years as the scientific research progressed. It provided an excellent codicil to our visit.
In the afternoon we took a trip up the Spinnaker tower where I had an obligatory cream tea in the cafe, and we were able to observe not only the view but the most astonishing changes in the weather pattern over a period of only about 40 minutes. It makes you see the dangers of sailing a small boat off our coasts when things can change so rapidly.
* The Vasa sank in similar circumstances to the Mary Rose at a similar point in history. [I actually thought that like the Vasa, the Mary Rose sank on her maiden voyage but in fact she had been in service for 34 years and it was the first engagement after a refit.]. Reading the Vasa's website I remain curious as to why they do not seem to have had quite so many issues raising it from the sea bed and preserving it going forward.
** The information on the longbows was the most surprising to me:
"There had been no large scale evidence of what a medieval longbow looked like, how it was made and how it shot, until the Mary Rose find. Similarly there was no large scale catalogue of Medieval archery equipment such as arrows, pouches, bracers, belts, buckles, or personal items. At a stroke this vast inventory has become available for all to see. It is a most stunning collection."
Posted on January 29, 2015 at 6:21 PM
« Previous entry
|
Main
|
Next entry »
Friday January 23, 2015
Dirty Rotten Scoundrels
I snatched at the chance of tickets for this musical version of the well-known film, and was not disappointed. Robert Lindsay gives a masterclass in... almost anything theatrical you'd care to mention, and was just utterly brilliant. There have been some cast changes since the run started with Alex Gaumond and Bonnie Langford joining the crew - but actually that has some positive points - I think Samantha Bond is excellent but she is not well known for her song and dance routines.
Posted on January 23, 2015 at 5:22 PM
« Previous entry
|
Main
|
Next entry »
Wednesday December 31, 2014
Books in December
Died in the Wool by Ngaio Marsh [read by James Saxon]
I don't know how long I've been listening to this on and off - add to which I have a suspicion I listened to it before, some long time ago. The reason it took me so long to complete it was that I was listening to it on a timer before going to sleep - and all that happened was I lasted about 2 minutes, so had to keep rerunning the same chapter over and over...!
That's not a judgement on the book though - it's quite a good plot; the characters are dated and brittle but I find that attractive.


Dust by Patricia Cornwell [read by Lorelei King]
This by contrast was quite difficult to read. In fact I cannot really remember who actually dunnit. There seems to be a lot of conspiracy and paranoia coming out - and I look at reader comments (they can write better than I!) here and find the are all expressing exactly what I feel.
I really don't like to be unpleasant to an author but like all these folk I have read the whole series and - like them - I "want to like them" but:
...really gotten obsessive...full of internal monologues...needs an editor and a plot...like wading through mud...could have been a lot shorter if she took out all the psychology of how everyone else felt... lost it's freshness and I find I don't care for the characters any more...just plain not very good...
Which all leads me to this comment:
"excellent book if she had left out all the self indulgent waffle about food and restaurants and dogs and places she has been to in the past. I have also grown to really dislike her characters"
...and makes me think that maybe Cornwell needs to find some new characters to inspire her - there really is nothing left to explore with these ones.
[Like I find writing my blog - I do the same stuff every year (!) - but I am not a world reknowned author - that's my excuse.]



A Christmas Crumble by M C Beaton
Well I could say the same kind of stuff as above about this short story - however they are written to a formula but still excellent fun. I guess Agatha Raisin seems very real - I can relate to her childish emotions in late middle-age - so unlike the grown-up Kay Scarpetta.
I think I can align Agatha to Enid Blyton's Noddy (I expect MC Beaton would be appalled) - Noddy is aimed at 3 year olds - it explores the world in a safe environment with Noddy doing "the wrong thing" and getting into trouble. Agatha is just the same - but aimed at the over 50s.

Posted on December 31, 2014 at 1:10 AM
« Previous entry
|
Main
|
Next entry »
Thursday December 18, 2014
Carnival Band
I went to see Maddy Prior and the Carnival Band at the Cadogan Hall - accompanied by a dutiful Robert because.... my sister (and her friend Jenny) were part of the "people's choir" that they include in their Christmas shows.
This was the best surreptitious photo I could get of her - well ... I know it was her.
She is the person-shaped blob behind the professional and his mike on the left.
Posted on December 18, 2014 at 11:36 AM
« Previous entry
|
Main
|
Next entry »
Wednesday December 10, 2014
Edward Scissorhands
Matthew Bourne's dance production of Edward Scissorhands restaged at Sadlers Wells. Based, of course, on the touching and now classic film by Tim Burton and featuring the music of Danny Elfman and Terry Davies. I went with Robert (we've seen a lot of Dance in our time), and I was expecting it to be "Good" but I underestimated how delightfully enjoyable it would be. Perfectly lovely family/Christmassy thing.
I had to steal this publicity photo to show the great costume designed by one of Rob's long-time ex-students. Edward danced almost all the way through with those hands, and used them to great effect (dramatic effect - probably not for actually cutting).
Posted on December 10, 2014 at 11:35 AM
« Previous entry
|
Main
|
Next entry »
Sunday November 30, 2014
Books in November
The Ides of April by Lindsey Davis
Here we find that Falco's adopted daughter has taken on the mantle of Public Inquirer and also taken up residence at the old homestead in Fountain Court on the Aventine. It is all plausibly well written and I enjoy the idea - and the fact that Linsey Davis is adding more scope to the Falco series.... but o there was something special about Falco and his daughter is simply not quite so special. I think for the same reason they have never quite been able to successfully capture his character on screen either - just not found the right man.


Saints of the Shadow Bible by Ian Rankin [read by James Macpherson]

Delighted to be able to go straight into the next Rebus novel and see him alongside Malcolm Fox - I would say "working with" but they weren' 100% on the same side. Malcolm is definitely shaping up for a career move back ot CID.
[I listened while painting the ceiling of my newly resuscitated studio/office.]


Posted on November 30, 2014 at 12:19 PM
« Previous entry
|
Main
|
Next entry »
Wednesday November 26, 2014
The Hypochondriac
Tony Robinson in the Molière role and lots of fun. However was disturbed to note that the humorous device of "Molière" collapsing at the end of the play was not a little amusement but a re-enactment of what actually happened in the 1600s - it was Molière's last play.
Posted on November 26, 2014 at 8:45 AM
« Previous entry
|
Main
|
Next entry »
Thursday November 13, 2014
Neville's Island
I found this play at the Duke of York really funny and entertaining with a fantastic cast - and I know a lot of my theatrical outings are not West End Productions but I am more than a bit surprised that the critics seem to have been less than bowled over. The Telegraph was especially puzzling - having given a rave review to the version at Chichester saying it should transfer to the West End, their review was scathing; (I even wonder if the reviewer was actually present since one character did not, as stated, have a nervous breakdown "after the death of his wife").
So - ignore all that - go and see this great cast (and amazing set).
Posted on November 13, 2014 at 8:18 AM
« Previous entry
|
Main
|
Next entry »
Monday November 3, 2014
Ming
We went to another members evening at the British Museum. Both the German and Ming exhibitions were open but we chose the latter and then attended a lecture. There were also workshops and I was quite keen on attending the one on calligraphy but could not fit that in with the lecture as well.
I learned that Ming is not the most precious china - in fact almost the opposite as it can be regarded as the world's first truly global brand. However, it is the most well known, and mystery stories - where Agatha Christie's "The Blue Vase" springs to mind - did much to popularise the idea of its high value. [And despite the exhibition showing many other exquisite pieces of rare beauty - the blue and white is still my favourite].
I'm afraid I cannot retain the facts and figures in the lecture I have come away with the shape of it in my mind, and the "50 years that changed China". While we were busy at Agincourt, they were building the Forbidden City.
Posted on November 3, 2014 at 11:24 PM
« Previous entry
|
Main
|
Next entry »
Friday October 31, 2014
Books in October
Cross Bones by Kathy Reichs [read by Barbara Rosenblat ]
I certainly enjoy these books though some more than others - sometimes they focus a bit too much on Tempe as a champion for some campaigning issue or historical injustice.

However, this book hit lots of my own personal buttons and I absolutely loved it. Broadly it covered archaeological evidence found in the Middle East at the time of Christ, (matters not how much was fiction as no assertions were made) and it was a pretty good thriller to boot.
And before you ask, no, I am not a closet fan of Dan Brown.


The Seventh Trumpet by Peter Tremayne [read by Caroline Lennon]
I was glad to stumble over another Sister Fidelma story - I have read only one other and that was simply years ago.
I am sufficiently ignorant that I didn't really take on board that they were set in Ireland - I thought "Celtic Britain" - and it may be that I read the first one which is not in Ireland - I cannot remember.
This one is AD 670 - a murder of course - and a good mystery. But more than that I loved the reader. I am not always fond of heavy regional accents in narrators - even lilting Irish ones - but this was lovely and only added to my enjoyment of the text.

Posted on October 31, 2014 at 12:18 PM
« Previous entry
|
Main
|
Next entry »
Thursday October 2, 2014
Dangerous Corner
I am very keen on Priestley and I like the idea of this one which has the device of two possibilities for a plot. I read a review of a production from 2000 where they were critical of it being updated to the hedonistic 1980s resulting in the audience tittering at the dramatic revelations. Well - apparently keeping it as a period piece did not help either - tittering abounded. The leading actors were great, but some others were quite weak which did not help.
Rob accompanied me and reminisced over the stage direction technique (difficult to light...) as the play was directed by Michael Attenborough with whom he worked in the 1980s.
Posted on October 2, 2014 at 11:30 PM
« Previous entry
|
Main
|
Next entry »
Tuesday September 30, 2014
Books in September
The Gods of Guilt by Michael Connelly
I didn't enjoy this Mickey Haller novel as much as the previous one - not sure why. I think maybe the story didn't interest me so much; not a straight forward evil person kills someone, but more of a government agency conspiracy theory idea.
Also - maybe mostly - there was a lot about his private life - and it's not going that well. The last book ended on a high with a prospective high profile career move in the offing - this book opens with all that shattered and his family blaming him. The same device was used between Lincoln Lawyer and Brass Verdict. But maybe more importantly, all the pontifiating about his family is basically not very profound or interesting. The Bosch books seemed to go through this roller coaster cycle of ending one book on a positive note with respect to a new relationship and then that all having fallen through in the next book which would be in the loner detective vein - and ending on a glum gritty note - only to start the cycle again in the next story with a new female interest. [Actually I quite liked the "romantic" storyline as a background to The Drop where a new lady that seems promising reveals her feet of clay - all in the realm of normal hangups - during the progress of the book. It seemed to me to be more representative of relationships in later life - and also it was definitely the backdrop to the story not the main event - and the woman herself had a peripheral role in the action.]


The Dead Can Wait by Robert Ryan
So impressed with Dead Man's Land I bounded straight on to the second novel which proved as excellent as the first. The plot was good and the action made historically feasible.
It also went some way to improving the depiction of Holmes (over the previous book), who appeared more in this story - though definitely as Watson's friend rather than the other way around.
I find it interesting that Doyle struggled with the character as he was such a dominant force in his writing. Yet the two modern novelists I know of using Holmes in this way, as an addition to the cast rather than it's main force, seem to have tamed him rather well, managing to keep the focus with their chosen heroes without being diverted. Nor is Holmes used as a "rabbit out of the hat" mechanism in resolving the mysteries - just reassuringly present.


Rules, Regs and Rotten Eggs by H R F Keating [read by Sheila Mitchell]
Another fairly dull or perhaps dated sort of story with a heroine I cannot empathise with. She seems to be a moderately high ranking detective and yet is portrayed as finding the Guardian Crossword too difficult. I don't want to be elitist but I would have thought cryptic crosswords would not be so hard for someone whose profession is.. well.. detection - even if she chooses not to bother with them. Still - Morse she is not - though come to think of it, she likes the odd glass of wine.
I am so apparently critical of these novels by Keating that you have to ask why I continue with them. The answer is they are not too challenging to concentrate on while doing other activities - driving or other physical activities. I don't say this to be insulting - they are good old fashioned detective novels, with all that implies, and maybe a bit slow so it matters less if you miss the odd sentence here and there.....

Posted on September 30, 2014 at 2:58 PM
« Previous entry
|
Main
|
Next entry »
Thursday September 25, 2014
Yan Tan Tethera - Spin Cycle
All summer (apparently) there has been an exhibition and season of events inspired by textiles and folk, centred around Cecil Sharp House in Camden. We caught the last of these "Spin Cycle", which was a multimedia show including a selection of textile and sampling machines, beatboxers, textile artists, Gaelic and English traditional songs: "weaving a unique sonic world to celebrate all things textile".
Around the venue were various related projects including a set of murals (adorning the bar) by Stewart Easton depicting the story of the Tailor and the Crow. There are a lot of versions of this story and they seem to be rather glum and convoluted - there were some versions of the old verse framed in the stairwell. Here is a more cheerful version available as an eBook from Project Gutenberg.
The stairwell was also dressed with a cobweb of lace - it was actually really a performing arts installation I think - more interesting to view in the construction than the result. Unfortnately I can find only an audio track (sung during the weaving) available on the web.
Posted on September 25, 2014 at 2:19 PM
« Previous entry
|
Main
|
Next entry »
Wednesday September 17, 2014
Hay Fever
Felicity Kendal, Noel Coward..... what can one say?
Coward remembered in 1964 that the notices (in 1925) "were amiable and well-disposed although far from effusive. It was noted, as indeed it has been today, that the play had no plot and that there were few if any 'witty' lines."
Posted on September 17, 2014 at 9:20 AM
« Previous entry
|
Main
|
Next entry »
Sunday August 31, 2014
Books in August
Ten-Second Staircase by Christopher Fowler [read by Tim Goodman]
Working my way steadily backwards through the series, I finally get to the "famous highwayman case". I think I twigged the "answer" fairly quickly with this one, though no less enjoyable for that. The author has stuck to the apparently mysterious and impossible as fodder for the plots.... but some work better than others - though I am always suspecting that my view of the books I read can be affected by my own mood as much as the book itself.


Dead Man's Land by Robert Ryan
Following on from that thought - the first few months of the year found me a bit depressed and reading the first few pages of this book made me feel I could not deal with such a realistic portrayal of WW1. So although George gave me this book for Christmas, it has taken me until now to pick it up. However, it is a very good book indeed - perhaps my initial reaction to it says how really good it is.
George made an excellent choice, as this book brings together a lot of what are (apparently) my interests - the hero is an elderly Dr John Watson continuing his career as a medic on the front line. Like other books which work well using these Conan Doyle characters, it is not a Holmesian pastiche - the author stays true to the people he portrays while offering a different perspective - but somehow it is always clear when an author's affection for the original materials comes through and I do not find any false notes here to spoil my pleasure in the book.


Bloodline by Felix Francis
I had a quick look at other reviewers opinions on this book (ordinary folk like me). They were mixed but whether they were enthusiastic or disappointed, there were some general points coming through with which I agree - I was just having trouble pinpointing them on my own... First and most important - this is better than the previous books and I would recommend it - and despite any negative points below it is well up to the Francis tradition.
Second, the formulaic "interesting job" of the hero is a TV racing commentator, and this aspect is really interesting and well integrated into the story.
But then - third - the characters: one person said he "lacks the empathy apparent in the writing of his father" (though I would question whether it was his father or his mother that really influenced this), but whether because of this or not, the characters did not come across as very likeable; I don't know how you fix this as a writer but it needs fixing.
And finally, which I think might be an extension of point 3, the relationships and probably specifically sex is not well described - you don't really feel the emotion, and if you are going to have these themes then they certainly need to be convincing. Dick Francis books did not always have a conventional boy/girl romantic relationship as the core of the emotional interest - in one case it was the protective relationship of the hero with his brother that tugged the heartstrings, and in others, the hero is in an impossible domestic situation that he has decided for moral reason to just accept. Writing about these somewhat off-beat relationships is not at all easy to do while making the reader both believe in them as well as really feel them - but anyway I hope Felix gets to grips with it as he continues to write.

Posted on August 31, 2014 at 3:56 PM
« Previous entry
|
Main
|
Next entry »
Wednesday August 27, 2014
Matisse - The Cut-Outs
Managed to catch this wonderful exhibition before it closed. I think most things that can be said have been said by others - one being how roughly the work is done, and that the shapes are covered in pin holes where they were moved many times before a final decision on position. But there were some new things for me - one relating to the roughness of the work - it seems much of the art was designs for other media, for example, ceramics, weavings (rugs), textiles (chasubles), and stained glass windows. So the exhibition pieces not only stated when he created the work but also when the piece was executed and in what medium - many of course cannot be displayed in a gallery as they are architectural.
It left Rob greatly inspired to go home and start on cut-outs as a decorative theme for his house.
Posted on August 27, 2014 at 2:15 PM
« Previous entry
|
Main
|
Next entry »
Thursday July 31, 2014
Books in July
The Black Box by Michael Connelly [read by Michael McConnohie]
Harry Bosch presses on with his cold cases and finds one that involves a murder he picked up much earlier in his career, during the riots of 1992. The body of a female journalist was found in an alley and at that time Harry was forced to hand over the case to the Riot Crimes Task Force, knowing that it would never be solved.

The Lewis Man and The Chessmen by Peter May
I can't believe I waited so long to read the rest of this trilogy when I was so impressed with the first one. Yet it was April 2013 when I read The Black House - and immediately downloaded the second in the series - but did not read it. Anyway having got the taste for them again, I read both in quick succession.
It was hard to see how he could make sequels (and continue to set them on the islands) after the first story but the crafting of the stories is great - and like the first book they contain interesting historical detail combined with the elements of a detective thriller. Really excellent books - shame that's it for these characters.


Corporate Bodies
Bill Nighy as Charles Paris gets a lucrative opportunity to work on a corporate media piece - and finds a body... as well as getting his own share of the action in the shape of a general "roughing up" through to attempts on his life.
The characters and dialogue are very well written, and the experienced cast are very at ease with their roles in these humerous versions of the Charles Paris books..

Posted on July 31, 2014 at 10:08 AM
« Previous entry
|
Main
|
Next entry »
Monday June 30, 2014
Books in June
Standing in Another Man's Grave by Ian Rankin
I failed to read the "final" Rebus novel - partly intentionally, as it was widely advertised and I was concerned about what might make it "final" in the light of the <cite>Remorseful Day</cite>. (Why popular detectives have to have dramatic ends and cannot simply retire. I do not know - well I do know - their authors have had enough of them).
Anyway - Rankin is up for more - and so are we.
This was a good and interesting plot - nicely weaving in an appearance from Malcolm Fox (the "Complaints").
I have to say I am no nearer understanding the character of Rebus - even after all this time.


The Drop by Michael Connelly [Read by Len Cariou]
The Drop of the title is a reference to Harry's final retirement date in police vernacular. The cold-case plot (as there are really 2 plots) is particularly interesting as it results from a blind hit in re-examining some old DNA evidence using the latest technology - this leads to an impossible and possibly contaminated result pointing at a suspect who is far too young to have committed the crime. In addition - due to his reputation for high integrity - Harry is pulled into a political nightmare of a case checking out a suspected suicide (or is it?).


Inspector Ghote's First Case by H R F Keating [Read by Sam Dastor]
I started to listen to this on iPlayer but failed to keep up, so I borrowed the book from the library. It is utterly charming but I am slightly concerned that it is not very politically correct. I was driven to look into the author whom I only know of through this series, thinking he must be a relic of the British in India - but not a bit of it. He is the right kind of age (maybe) but in the same vein as Alexander McCall-Smith, Keating did not visit India until ten years after he started writing about it. I have no idea how it would seem to someone of Indian ethnicity, but it does seem to me it is written with affection and intelligence and hopefully is not seen as patronising or offensive.
This is one of the last Inspector Ghote books (published in 2008) but revisits his early career.


Into theValley of Death by H R Keating writing as Evelyn Hervey [Read by Sheila Mitchell]
So I indiscriminately grabbed any talking books I could find to while away the journey to Woolfest. For me, this type of Victorian lady detective written by contemporary authors does not really hold much appeal (I say "this type" but clearly some types do appeal ...). Anyway it lived up to my every expectation and fortunately did not require too much attention while driving.
I note that Keating wrote it under a pseudonym - to enhance the "type" I think.


False Scent by Ngaio Marsh [Read by James Saxon]
This Inspector Alleyn was delightfully dated with wonderful and improbably drawn, and rather arch characters.
In keeping with all that, the appropriate person "dunnit", and they all lived happily ever after. (Except the murderer of course).
It all centres around a prima donna, a bottle of scent and some paraquat (geddit?).


Busmans Honeymoon
Ian Carmichael stars as Lord Peter Wimsey with Sarah Badel as Harriet Vane.
So - they tied the knot, and appear to make a comfortable couple. This recording features other great British stars with Peter Jones as Bunter, and Rosemary Leach (unmistakable) as "Miss Twitterton" - where the name says it all. Equally unmistakable is Peter Vaughan as the police inspector - who can forget the sinister Harry Grout in Porridge?


Paul Temple and the Vandyke Affair
Another delightful piece from 1959, starring Peter Coke and Marjorie Westbury.
One wonders at these criminal masterminds who feel bound to telephone all the players involved in their mysterious plotting, leaving their (false) names as a tantalising lead for the police and amateur detectives alike.
Can't remember who dunnit but charming nonetheless. [As I have said before, I love the depicted relationship between Paul and his wife - and I love the fact that she seems to have a proper job of her own - even if it is suitably ladylike.]


Beggars Banquet

Readings of a collection of short stories by Ian Rankin.



Face the Music read by James Macpherson
Herbert in Motion read by James Bryce
The Hanged Man read by James Bryce



The Recall Man
A set of 7 episodes by David Napthine, which sprang from a stand-alone afternoon play. Jeremy Swift takes the title role in these first 4 episodes.



Doctor Joe Aston Investigates
Making Waves
Over the Border
Stepping Out



Posted on June 30, 2014 at 7:12 PM
« Previous entry
|
Main
|
Next entry »
Saturday May 31, 2014
Books in May
Posted on May 31, 2014 at 11:10 PM
« Previous entry
|
Main
|
Next entry »
Wednesday April 30, 2014
Books in April
Posted on April 30, 2014 at 11:01 PM
« Previous entry
|
Main
|
Next entry »
Monday March 31, 2014
Books in March
Bryant and May and the Memory of Blood, the Victoria Vanishes, and the Invisible Code
by Christopher Fowler
Determined to catch up with all the other Bryant and May outings. Excellent.
[Was less keen on the Memory of Blood - I didn't like the subect matter nor the technique used in unravelling the plot. However the latest, Invisible Code, was excellent and well worth its Crime Thriller award nomination.]




StageStruck by Peter Lovesey [read by Steve Hodson]
I would term Peter Lovesey as a good old fashioned crime writer - in the very best of ways. Don't mistake my meaning and think I mean nostalgic or twee; his books are very much in the here and now. But he seems to possess a solidity and high quality craftsmanship that one used to associate with a "Jolly Good Book". This one provided a welcome interlude and escape on my journeys to work during a period where nothing else seemed at all solid or reliable.


A Perfect Spy - with James Fox, Brenda Bruce, and Harriet Walter.
BBC full-cast radio drama of John le Carre's bestselling novel with James Fox as Magnus Pym. Apparently this recording (from 1993 I believe) was thought to be lost but then recently rediscovered - which is great, as it has a truly excellent cast including Harriet Walter as Magnus' wife and Julian Rhind-Tutt as the young Magnus. The character Jack Brotherhood is the unmistakable voice of the excellent James Grout who sadly died in 2012.

Posted on March 31, 2014 at 11:58 AM
« Previous entry
|
Main
|
Next entry »
Friday February 28, 2014
Books in February
Posted on February 28, 2014 at 11:57 AM
« Previous entry
|
Main
|
Next entry »
Friday January 31, 2014
Books in January
Revelation by C J Sansom
I took this with me to France - these Shardlake books are sufficiently exciting that I easily complete one in the week, and am always confident of a thoroughly good read.
This was no exception, providing lots of interesting period detail, and (particularly appreciated), notes at the end as to what is research and what is extrapolation. Here we have an element of the usual political intrigue but the nub of the plot overlaid on the Tudor background centres on a serial killer - a foreign concept in those times. This historical evidence for such crimes is thin - but one has to conjecture that it is because most of them would never have been caught - or if they were it was more along the lines of "he's a bit weird - he must have done it".


The Seven Wonders by Steven Saylor
This is a collection of short stories from Gordianus' early life. It is set around a "coming of age" trip to see the seven wonders. I liked it, but I note that there are some criticisms by others. It is true that if you treat each story separately, some of them are better than others, but as an overall themed volume, I was quite satisfied. This is not the first anthology of Gordianus short stories, and I can see why authors find a place for them when they write "puzzle" mysteries, and they have ideas that are simply not sufficient for a full novel - for example the first Sherlock Holmes mystery is actually a story within a story in order to manage a full scale novel, and he fairs much better in short story culture. However, I think short story writing is a skill of itself and maybe "quite satisfied" is not really sufficient praise for Steve Saylor, when his earlier Gordianus novels are "quite excellent". It seems clear that in many of his tales he is quite inspired by historical events and the recent offerings have been lacking; I hope he finds more and better inspiration in the future - either within Roman history, or with a new hero who can cover other historial periods.


So... this is going to be a bit patronising.
I recently listened to a vintage Paul Temple Mystery ("PT and the Lawrence Affair") from 1954, starring Peter Coke and Marjorie Westbury. I was expecting to like it with that delightful whiff of nostalgia, as well as having fun at the expense of the dramatic offerings of the day (you know: limited technical support and no CGI). However - not a bit of it. I had forgotten that this was an era when radio programmes were the height of mainstream drama, and I cannot begin to describe how good it was and how high a quality they achieved. I was especially impressed by the relationship as written between Paul Temple and his wife - which was somehow weirdly modern as well as strictly within 1950s non PC limits. I'd strongly recommend it if you get the chance to hear it again. [I would say - they can't do anything about the basic plot though - you have to live with that].


I listened to another of the Lord Peter Wimsey BBC dramatisations "Have His Carcass". I like the stories which involve Harriet Vane, and watched the TV adaptations with Edward Petherbridge and Harriet Walter, but I don't think I have actually read this one. It's interesting seeing or hearing different versions, as I think I was under the impression that at he end of this tale they got the culprit bang to rights and so on - but this rendition leaves it a little more open - which I am guessing probably follows the book more accurately.

Posted on January 31, 2014 at 2:42 PM
« Previous entry
|
Main
|
Next entry »
Tuesday December 31, 2013
Books in December
Posted on December 31, 2013 at 4:54 PM
« Previous entry
|
Main
|
Next entry »
Saturday November 30, 2013
Books in November
A Question of Belief and Beastly Things [read by David Colacci]
by Donna Leon
As usual excellent themes binding the stories together in each book - and as usual there are two layers of the crimes - one layer poignantly sad, sympathetically illustrating all human weakness, and the other demonstrating the despicably evil depths of human nature.
Annoyingly true to life, in the Question of Belief, the morally guilty party disappears without facing justice, (and it's debatable what laws he actually broke in person).
In Beastly Things the we are led to believe the murderer will face the law in due course. However, the strong sub plot (if it can even be called that - shall we say the background to the murder story) may influence you never to eat meat again. Alison told me she was forced to skip passages in the reading - I listened to the narrative in the car, and was not able to skip any of it....


The Impossible Dead by Ian Rankin [read by Peter Forbes]
Initially our hero is leading his Internal Affairs team to follow up on suggestions of wider corruption in another police force after one of their number if convicted. However, Malcolm is drawn into re-investigating a 25 year old cold case, which seems to involve a cover-up at the highest levels within the force. A nicely interwoven tale of the type we can rely on from this author.
Malcolm Fox is still in "the complaints" but since it's a fixed assignment role, we find him considering his abilities to take up a post in CID once again. Clearly (I hope) this is shaping up for future books with wider potential for the story lines.


V is for Vengeance by Sue Grafton [Read by Liza Ross]
This book seems to be a slight departure in the author's writing style - or maybe it's evolving. Much of the story is from the perspective of characters other than our heroine. The author has certainly done this before but maybe not to this extent. I really enjoy the fresh approach in a book series, where the author can maybe avoid getting trapped in a sequential narrative.
Unusually, some of the organised crime "baddies" seem to achieve an apparent happy ending (you have to assess for yourselves how "bad" they actually are - though pretty bad is my assessment, even though my sympathies were with them) - whereas the author seems to have a truly zero-tolerance attitude to shop-lifting. The latter I suppose is to point out to ones such as I that shop-lifting is not a "soft" victimless crime but simply stealing, and someone has to pay for it.

Posted on November 30, 2013 at 12:58 PM
« Previous entry
|
Main
|
Next entry »
Saturday November 16, 2013
A Christmas Garland
... albeit a bit early this year - we had a little party for our final Guild meeting of the year.
In the morning we had a (select) group session making miniature knitted Christmas trees and tree decorations. In the afternoon, we were lucky enough to secure Eliza McClelland for a Christmas entertainment which was very lively and put us into a suitably unseasonal mood - along with the mince pies and stollen supplied by members.
Eliza is known to us at the Guild as a textile artist rather than through her acting and talks. Below is an exert from YouTube illustrating her skills with beautiful bead work.
Posted on November 16, 2013 at 6:39 PM
« Previous entry
|
Main
|
Next entry »
Thursday October 31, 2013
Books in October
Posted on October 31, 2013 at 10:24 PM
« Previous entry
|
Main
|
Next entry »
Thursday October 17, 2013
Perfect Nonsense
We went to see this at Richmond theatre attracted by the strong cast in the shape of Stephen Mangan and Matthew MacFadyen. It took me a while (about 10 minutes) to warm to them but they were so charming it was inevitable and made for a more than excellent jolly evening. We were pretty familiar with the plot - mainly from the TV series with Hugh Laurie and Stephen Fry, and I have also read the books - involving Madeline Bassett, Gussie Fink-Nottle, Roderick Spode, cow creamers, nuptuals, Black Shorts, and policemen. However, the theatrical device is that Bertie is recounting the story as a stage play with the redoubtable Jeeves extemporising scenery, costumes, and characters as required - aided and abetted by Aunt Dahlia's butler Seppings, played by Mark Hadfield. As described by Charles Spencer in the Telegraph, (more eloquently than I because he is a professional writer....), Stephen Mangan provides just the right mixture of bonhomie, idiocy and panic, and the whole production perfectly evokes the dotty, sunlit innocence of Wodehouse's work
You can see it now in the West End at the Duke of York theatre.
Posted on October 17, 2013 at 11:42 AM
« Previous entry
|
Main
|
Next entry »
Monday September 30, 2013
Books in September
Clutch of Constables by Ngaio Marsh [read by James Saxon]
I have temporarily abandonned Montalbano as in-car entertainment - and gone back to the delightfully dated Inspector Alleyn.
This is a locked room mystery with Troy taking the active role on a boating excursion in what we would now call "Constable Country", where she is apparently co-incidentally - at many levels - sharing the craft with an internationally famous criminal ("The Jampot" - need I say more).
Alleyn takes the role of narrator, using the story as a classroom teaching example to new recruits as part of their training.


Even Money by Dick and Felix Francis [read by Tony Britton]
A lot of Felix in this book I suspect - but written before Dick passed away. I enjoyed it a lot - it's about a trackside bookie and I found the background pretty interesting.
It led me to see if Felix was continuing to write - and he is. I read only the synopsis of reviews of his first novel and they mentioned his lack of first-hand racing experience - which is a blow really. Dick ventured into other fields but I always felt his racing plots were the best - in fact some of the non-racing themed books were distinctly ropy. So I hope Felix progresses with his writing without being too bogged down with negative comparisons to his Father, though from what I can see he has a very loyal fan base.


A Spot of Bother by Mark Haddon
This is a very funny book which had me clutching my sides laughing out loud - but pretty black humour really. The title is a pun - with the spot being both literal, (and I can empathise strongly with the emotional concern that a trivial medical condition is actually life threatening!) as well as idiomatic. It does not shy away from serious issues, though, while highlighting all the surprising and unconventional human characteristics that lead to the all-round "bother" in the title.

Posted on September 30, 2013 at 8:17 AM
« Previous entry
|
Main
|
Next entry »
Tuesday September 24, 2013
Lowry and the Painting of Modern Life
To celebrate Rob's birthday I took the day off and we went to the Lowry exhibition at Tate Britain. There is some good restoration going on there at the moment which led to our choosing to have a quick snack at the nearby Morpeth Arms before starting our tour.
The exhibition illustrates his painting "ordinary people" and a lot of industrial scenes from the period. They also chose to exhibit a few works by other painters to illustrate influences and comparisons of the same era. The one thing I noticed was that his earlier work seemed to show much more detailed depictions of the people in the busy crowded scenes, which morphed into the classic stick men as time went on - and yet weirdly the liveliness of the scenes seemed increased with the diminishing detail of the people. In addition as well as the bustling scenes I associate with Lowry, there were many pictures devoid of people, showing desolate and abandoned landscapes, a little reminiscent of WWI scenes of devastation. Take a virtual tour here.
My favourite was a less industrial beach scene, of which I purchased a reproduction as part of a calendar for 2014.
In the evening we had the birthday meal (conventional steaks) at the Arch Duke - here's Rob smugly showing off his pudding. (Also note my pudding in the foreground!).
Rob is now officially of retirement age so I mocked up this possibly pretentious little artwork of my own, representing pipe and slippers. However it is meant to be ironic - at a number of levels of course - not the least of which is that this really is a tiny 3 inch (working) pipe captured in a box frame.
On our way over Vauxhall Bridge in the morning we noticed a passing "Duck" tour and waited to snap them as they entered the water on the other side of the river. It reminded me of the tour I did in Seattle.
We were lucky to see this as a couple of days after they had an accident during a tour (no real injuries sustained thank goodness) and had to suspend the service for a time.
Posted on September 24, 2013 at 8:18 AM
« Previous entry
|
Main
|
Next entry »
Tuesday September 17, 2013
ROH "Live"
Some time ago now, we took up the offer of tickets to see the NT Live (encore) screening of Frankenstein at King's College in the anatomy theatre - preceded by a talk on Gothic Horror and science in the 19th century. With interval drinks and an intimate audience, it was a thoroughly civilized evening.
Hence today we went to see another such screening from the Royal Opera House - which I did not realise beforehand, was actually a live feed from Covent Garden. And it was really great.
I'm not totally ignorant of opera, but the natural pleb in me is revealed by the following: I was pleased that there were only 3 acts of about 40 minutes each - most digestible; I loved the fact that they were able to show us little extras and pre-recorded interviews with the singers (you can see them here) before the start of each act; I much appreciated the versatility of the screening in that they could supply sub titles.
Not to forget to mention - the set was terrific - seeing it in the theatre must have been fantastic.
So - a great evening all round - and maybe there will be an "encore" screenings of these opera house productions as well..
Posted on September 17, 2013 at 11:21 PM
« Previous entry
|
Main
|
Next entry »
Thursday September 12, 2013
A Curious Incident
Easily as good as everyone said it was despite being several cast changes down the line. They told the story, much as the book, from Christopher's point of view, and he was just as appealing in the flesh as he was on the page. It did occur to me later though that there were some unavoidable emotional differences that a stage play had to deal with. In the book, everything from Christopher's viewpoint is very much detached - as if you are seeing things through an emotional barrier. Even though you "know" what's going on in a way that Christopher does not, you are protected from the emotions to some degree. Seeing the other people in Christopher's world in the flesh, however, means you have to deal with them as characters in their own right, and it I think it must have been hard to make them very sympathetic; at the same time you see how very difficult it must have been for them to deal with Christopher because you can see him through their eyes too. Even the "incident" of the dog is at the very least unpleasant - and you have to come to terms with its truly graphic reality in the opening scene.
There were many fun moments, including an amusing idea where certain seats were designated "prime number seats". Not entirely sure how they counted the seats - certainly not using the seat number in any way - anyhow, I was in one of these and I duly played the game, added up the letters of my name using the code as described and found it was indeed a prime number (199) so got my prize.
Hurrah.
Posted on September 12, 2013 at 11:59 PM
« Previous entry
|
Main
|
Next entry »
Pompeii
We left it rather later than planned to catch the Pompeii exhibition at the BM and only just made it before the end date. The whole experience was great, focusing on day to day life and small objects and possessions which tell us about the real human side of the people that lived there. I have visited Pompeii and found it really amazing - but what amazes you at the site is the sheer scale of the town, buildings and streets, all still there and in tact. However, it's easy to overlook all the wonderful but smaller archaeological finds. While bringing some of the larger and impressive objects to exhibit (entire frescoes of a garden room for example), the focus is really on the objects of every day living (such as petrified/carbonised loaves of bread), and a whole active picture of working life, tavernas, gambling, and generally having fun.
I found the description of the demographic of the community quite interesting - there were a higher proportion of middle class citizens such as freed slaves, and you get an impression of a tolerant cosmopolitan and less formal society than say Rome itself (whether a correct assumption or not). I see it as Brighton compared with London, or San Francisco compared with New York. Perhaps because of the more down to earth nature of the inhabitants, (trying desperately not to reveal myself as a pretentious class-ridden snob here!), it has to be said that a lot of the every day objects do seem to be rather ... bawdy. Trinkets, artworks, and souvenirs, on a par I feel with the Manneken Pis, so much beloved of the English-folk abroad, and little working models of which adorned the drawing rooms of my aunts and uncles when I was a child.
We, restrained, nicely-brought-up British folk, at the exhibition kept finding ourselves smiling in amused embarrassment as we found ourselves closely examining household items of lamps, statues, or cake stands that turned out to be intimate portraits of priapi ("Good Heavens" "Well I never...")**.
** I note that the Daily Mail summarises this as "how depraved they were" whereas the Independent states they were "very unembarrassed about sex".
Here's a somewhat safer little portrait of a woman with a spindle - alongside which they had actual remains of spindles - not, thankfully, in any unconventional novelty forms.
They had also brought across some of the fossilised remains of the people of Pompeii, which were displayed in soft lighting with a suitably reverent air. Having made the people come to life as so very human, this seemed doubly poignant. They included the highly memorable Muleteer in his sad little pose found (near a mule) by one of the gates to the City. Goodness knows who or what his profession really was but he is the one you always remember from your trip to Pompeii.
I am never sure whether we regard these stone ghosts with true sympathy or whether it appeals to the Victorian Gothic Horror side to our characters - but whichever it is, these figures are fascinating. There have always been some few hundred (I think) such figures preserved, where the voids left in the ash were filled with plaster, however a recent technique using resin has created a woman with the most fantastic detailing down to the very folds of her clothing. This technique is very expensive which perhaps limits its full potential, but is obviously the future of this form of preservation and research.
Posted on September 12, 2013 at 11:58 PM
« Previous entry
|
Main
|
Next entry »
Saturday August 31, 2013
Books in August
Posted on August 31, 2013 at 2:48 PM
« Previous entry
|
Main
|
Next entry »
Wednesday July 31, 2013
Books in July
The Patience of the Spider and August Heat by Andrea Camilleri
[translated by Stephen Sartarelli and read by Daniel Philpott]
Another two Montalbano mysteries as "easy listening" in the car. In fact they are so good that it got to the point that I was almost inventing car journeys just so I could listen to more of them. Both very poignant tales - the mysteries are satisfactorily revealed but owing to the nature of the stories (murders) the outcomes could never be described as satisfactory. In August Heat I truly felt for Salvo - he (like me) is of a certain age and not quite able to come to terms with getting older - hardly believing he could be attractive to a beautiful young woman - and yet at the same time - believing. He is still firmly tied to Livia (though she is "away" and blaming him for all kinds of things outside of his control) so there is just lots of guilt and real bitter sadness when realisation strikes.


Port Mortuary and Red Mist by Patricia Cornwell
The plots of these books is strongly linked - almost a continuation of one another. I was not keen on Port Mortuary to start with - too much military and cloak and dagger - but it developed into the usual good story and exciting climax. I liked Red Mist a little better - it was more personal to "Kay" - and the "bad guy" was more your traditional run-of-the-mill lunatic and motivations did not involve some military conspiracy theory plot.


The Martin Beck Killings: The Locked Room by Maj Sjöwall & Per Wahlöö [Translated by Paul Britten and dramatised for Radio 4 by Katie Hims]
Radio 4 has produced the entire Martin Beck series of 10 detective novels by Swedish husband and wife team Maj Sjöwall and Per Wahlöö in the Saturday afternoon drama slot - and with an enviable cast of excellent British actors.
The books about Martin Beck and his colleagues in the National Police Homicide Department in Stockholm were written between 1965-1975, (when Per died), and are police procedural novels.
Unfortunately, I've only managed to catch one of them so far but I think I would quite like to read the books - as usual, it is a challenge to fit a full novel into a 1 hour play.

Posted on July 31, 2013 at 1:24 PM
« Previous entry
|
Main
|
Next entry »
Thursday July 11, 2013
Paul Weller at Kew
We were lucky enough to get tickets for this evening at Kew the Music.
A very civilised evening with our picnic and camping chairs....
Posted on July 11, 2013 at 11:59 AM
« Previous entry
|
Main
|
Next entry »
Sunday June 30, 2013
Books in June
Posted on June 30, 2013 at 1:23 PM
« Previous entry
|
Main
|
Next entry »
Saturday June 29, 2013
Shugborough Estate
Despite buying a two-day ticket for Woolfest (they deserve it - it's not an expensive event) I did not feel the need to return today; I was ready to go at 9 and would have had to wait an hour for it to open. So I headed straight off home.
As usual, I looked for a National Trust property to look at on the way back and hit on Shugborough - the (former) family seat of the Earls of Lichfield.
There was one miscalculation in that they were hosting a food festival - so it was very busy getting on to the property - but once in I had a lovely time (though I did not have time to visit the festival).
As well as the rest of the house which has been open to the public ever since it was donated to the NT in 1960, they have recently opened Patrick Lichfield's private apartments, as he died in 2005, and they were interesting - but I did not feel very at ease - for me he is almost a peer (no pun intended), dying at only 66 years of age - the swinging 60s are still quite tangible and it seemed like an invasion of privacy, poking around his bedroom. (Emotions that I do not feel looking at the apartments of long-dead Kings.).
I did enjoy his study though - it was more like I had been invited in and was sufficiently "lived in" and comfortable that it seemed that he might join me at any moment. [In fact maybe that was the issue with the bedrooms and so on - it seemed like he might join me at any moment and ask me what the devil I was doing there - thus wholly inappropriate!]
The gardens were great too - due to the way it was gifted to the NT and then leased to Staffordshire County Council, it has remained a working estate (again I passed on some of the additional attractions of the farm/rare breeds and so on due to time as well as because they were all additional charges beyond my NT membership - but it's clear you could spend a very varied day out here).
Posted on June 29, 2013 at 3:15 PM
« Previous entry
|
Main
|
Next entry »
Friday May 31, 2013
Books in May
Posted on May 31, 2013 at 9:18 AM
« Previous entry
|
Main
|
Next entry »
Saturday May 18, 2013
Shibori!
So... "shibori" sounded very exotic until I read wikipedia which told me it was the age old Hippy standby "tie dye" (although I think to be fair that's only a part of it). As a child of the 70s, it seemed very familiar in concept - but so much more interesting in practice. I think at the time I was too young to really have a go myself - just saw the T-shirts!
Above you see the class "show and tell".
We had a splendid day with Jennifer teaching us; the only limitation being that one day was not long enough to explore everything.
Having impulsively invested in a whopping great piece of silk organza (never seen any in pure silk before but could not resist) I was delighted at the result - which was using the fabric folded and then wrapped.
Felicity went to town with the stitched panel, and made a bee. She also had some beautifully executed circles, and made a "doughnut" scarf. I think my favourite was the "larch" stitch pattern which I plan to experiment with further at home.
Posted on May 18, 2013 at 4:46 PM
« Previous entry
|
Main
|
Next entry »
Wednesday May 15, 2013
People
This is Alan Bennett's new play about.... what .... I am wondering.
That may sound like a bad start - but it was a great play, with so much in it that I find it hard to distil it down to a single grand point. Indeed, Robert certainly had an interpretation, centring on politics of the 1980s, and thus obviously pit closures. Myself, I think it's easy to see it as a generic criticism of the National Trust organization - but I can't think it's that, or even that Bennett dislikes it with such a passion that he was driven to write an entire play about it. I think more that it's a about a sense of loss of the past - what was every day life becomes no longer ordinary and thus no longer to be taken for granted. And though it's not so much that you should not try to preserve it, but that you cannot really preserve it, because it is no longer ordinary. As with relativity - you observe it closely, and it changes - becomes a "Pretend England"
This short film People: A Pretend England is well worth the 8 minutes - and Bennett himself describes his feelings about the play.
This image below makes the play look rather manic - which it is not - but Rob loved Linda Bassett's slippers, so I am including it for that...
Posted on May 15, 2013 at 11:24 PM
Comments
Very interesting. I recently read James Lees Milne's autobiography in which he was involved with the early days of the National Trust during and after WWII. Although I have no sympathy for the aristocracy the burden of maintaining these great houses was intolerable: high taxes, often no heirs, high maintenance bills. It was a fascinating read!

Posted by: Alison on May 20, 2013 11:18 PM

« Previous entry | Main | Next entry »
Sunday May 12, 2013
MayDaysArtsTrail 2013
We spent the day on Hayling Island - we had a great lunch at the Olive Leaf pub and restaurant, and made a brief foray out on to the beach - but it was a bit too bracing to stay long - or even "at all"!
The main reason we were there was to see Lou's open house. She had a lot of her "students" work on show this year - including a memorial room dedicated to Sheila's work - from which you can gather that Sheila is no longer with us. Since I still find it rather hard to believe, let alone accept, I can't really say much more than to let her work speak for itself.
Posted on May 12, 2013 at 5:53 PM

« Previous entry | Main | Next entry »
Tuesday April 30, 2013
Books in April
I know! Six books.... [Well, I was on holiday, and they were exciting....]

Posted on April 30, 2013 at 9:32 AM

« Previous entry | Main | Next entry »
Saturday April 27, 2013
3D split-ply
Above my efforts at making a bowl shape - unfinished needless to say! I really do like this form of braiding, but I can't see myself ever being able to make up my own patterns, and instructions are not quite as simple to find as those for, say, knitting....
I did go as far as purchasing my own gripfyd this time.

Maybe ... an octopus... sea anemone...

Posted on April 27, 2013 at 12:00 PM

« Previous entry | Main | Next entry »
Sunday April 14, 2013
Dallas
This is vicarious travel.
George went to Dallas (conference).
He went sight-seeing, and took this photo, texting me as he stood there.

Spooky.

Posted on April 14, 2013 at 11:54 AM

« Previous entry | Main | Next entry »
Sunday March 31, 2013
Books in March
Posted on March 31, 2013 at 3:04 PM

« Previous entry | Main | Next entry »
Saturday March 9, 2013
Designing in colour
Today was our Guild AGM and our speaker for the afternoon was Bobbie Kociejowski who is a fabulous weaver - above is some of her work - but today she talked to us about colour theory. As I understand more about colour, or perhaps more about combinations of colours, the more astonishing I find it - whether it's through a blending and dyeing practical workshop or Rob explaining to me about lighting design. It's because I just tend to take the colours around me for granted without really appreciating how extraordinary the concept is.
When, for example, Geordi La Forge - a fictional blind character from Startrek - explains how his (futuristic) visor is able to accurately interpret wavelengths of light and enable him to have "some kind of vision", it makes it sound like he has a more complex version of a stick to somehow feel his way around - when in fact he is really only describing how our eyes actually work.
At the end of the afternoon, we drew the raffle - we had so many contributions this year that I think everyone got a prize - mine being a wonderful wallflower - a wonderful deep red colour - very apt!
Posted on March 9, 2013 at 9:03 PM

« Previous entry | Main | Next entry »
Tuesday March 5, 2013
Anais Mitchell at Cecil Sharp House
Rob got tickets for this event where Anaïs Mitchell was appearing with collaborator Jefferson Hamer. They have released a (short) CD* of a few of the ballads collected by Francis James Child in the late 19th century, and played the set here, along with some other tracks from Hadestown, and Young Man in America. Anaïs described the venue as the "perfect spiritual home" for the performance.
The song in the clip above has to be a favourite, though, as they joked, their first 3 numbers featured various "Willie"s - not the same character - which they referred to to as a Willogy. This one has a lovely sense of intimacy plus a happy ending.

They performed with their guitars amplified, but for their "encore", stepped off the stage "unplugged" with just voice and acoustic. Though I can't say if it would have been disappointing for those farther back in the audience, I thought it was just lovely. Their voices, harmonies and guitar were all perfectly balanced, and I would have been happy to hear all the numbers like that.

* At the end of the evening, they were selling the not only the CD but, interestingly, they have had some vinyl impressions made of the music..... I have never heard that before - must be a new nerdy interest group.

Posted on March 5, 2013 at 10:32 AM

« Previous entry | Main | Next entry »
Thursday February 28, 2013
Books in February
The Nine Tailors by Dorothy L. Sayers [Radio Play]
Another BBC radio play starring Ian Carmichael as Lord Peter Wimsey, from the novel of 1934, which is apparently the 9th Wimsey novel. I'm having trouble dating the recording date of this radio play, but it was also made as a TV adaptation in 1974 (which I remember seeing) with similar if not the same cast.
The plot is a bit better than the shenanigans at the Belladonna Club - but I think the criticisms of Wimsey and his world, in that they lack of realism, don't have much relevance when reviewing the stories now.
The explanation of the title is as follows: there is a tradition of announcing a death with a church bell in some English parishes. Broadcasting the age and sex of the deceased would be enough to identify them in a small village. So the death was announced by "telling" (single blows with the bell down) to indicate the sex, and then striking off the years. Three blows meant a child, twice three a woman and thrice three a man. After a pause the years were counted out at approximately half minute intervals. The word teller in some dialects becomes tailor, hence the saying "Nine tailors maketh a man", which is much recited in this play.
The bell used in this novel for the announcement is the largest (tenor) bell which is dedicated to St Paul. Hence "teller Paul" which is corrupted to "tailor Paul" in dialect. Apparently the author is acknowledging the assistance of Paul Taylor of Taylor's bell foundry in Loughborough, who provided detailed information to her on all aspects of ringing.


The Glass Room by Ann Cleeves [read by Charlie Hardwick]
I've been looking forward to catching up with the latest Vera Stanhope novel, and I'm pleased to say this was quite as good as the preceding ones. I suppose these are almost police procedural novels, except that Vera does not seem to follow the procedures too well - which makes for the interest of course. Her behaviour does not leave the bounds of realism though; she manipulates situations intelligently and does not openly flout the rules - as you would expect from a policewoman of her rank. We only know of her wayward nature (and maybe passions) through her thoughts rather than her actions. In this novel, she manages to remain in charge of the case, despite being pretty thoroughly connected with the prime suspect, and being inexplicably present at the crime scene before the police were actually called.

I do find quite a lot to empathise with in Vera, even though I don't imagine we are at all similar in character; Vera's eccentricities are quite definitely due to her childhood with her unpleasant Father, probably both via his genes as well as his bringing her up. She is painted as physically unattractive, which is not in itself sufficient to account for the lack of a man or children in her life, both of which she vaguely mourns from time to time, while those around her would be amazed to think she even noticed the opposite sex at all. A common attitude to the older professional woman, whether unattractive or not, is that they are either ignored or objects of humour. In fact, my sister once observed in the 1970s that women in business were regarded either as bimbos (if you were attractive) or battleaxes (if you were not), and I privately wonder if underlying attitudes have really changed very much since then. In hearing Vera's thoughts, we learn that she has basic desires which are not very different from a lot of other people. She is not perfect, and in her lonelier moments, (maybe every evening!), she does turn to drink, but she seems fairly at one with herself even though she feels there are some things lacking. At the same time, Vera has her eyes wide open to the fact that she would not cope well with being part of a conventional family, and through her Sergeant, Joe, we have a picture of a very robust family life drawn as a contrast.

In re-reading the above I am also struck by the fact that this description could equally apply to the Jane Tennison character in Prime Suspect (1991), portrayed by Helen Mirren as a highly attractive professional police woman. Externally, she could not appear to be more different from Vera, and yet she is similar in her doubts and insecurities revealed in her private life.
Posted on February 28, 2013 at 9:38 AM

« Previous entry | Main | Next entry »
Saturday February 23, 2013
Unravel 2013
He's a splendid chap isn't he? Just standing around in the stairwell at Unravel, where I spent the afternoon (not just in the stairwell - though it was tempting).
It was an uncharacteristically busy day for me today. I attended the Guild meeting in the morning, and then went on to Farnham Maltings in the afternoon, as I'd agreed to meet my internet friend Sara in the afternoon.
We spent some time together mooching - visiting the knitting machine Guild's stand and discussing vintage equipment (which all participants in the conversation seemed to have). I bought some vintage crochet hooks (I don't have enough), some sock yarn from Fiberspates (I don't have enough), and some buttons (I don't have enough). The buttons were pretty interesting - Lisa (Stealthbunny) makes them uses "found" items and I bought some beauties made from polished stones containing ammonites.
After that I spent the evening with Lyn and Terry - we went out to eat at the Roadmaker Inn in Bordon which has a Gurkha restaurant - yum.
And just to finish off - George is in France currently and reported that there's a lot of mole activity.... Here are our old friends the moles at Unravel.
Posted on February 23, 2013 at 2:22 PM

« Previous entry | Main | Next entry »
Thursday January 31, 2013
Books in January
At the Villa Rose by A E W Mason
This is the second of the "free" vintage - presumably out of copyright - detective novels I downloaded from the internet.
I was really keen on this story - both for the period detail, as well as the mystery plot aspect.
It did seem to me it would make a good screen adaptation as it is written in a very picturesque way, with a charming landscape as a backdrop and with characters that could expand beyond the writing. and indeed I find it has been adapted three times for the screen: first in a 1920 silent version starring Manora Thew, and then in further versions in 1930 starring Austin Trevor, and in 1940 when the title role was played by Kenneth Kent. All of these have eluded me!



The Newgate Jig by Ann Featherstone [read by Gareth Armstrong]
Yet again I can't praise Ann Featherstone enough, and from reading the reviews I am not alone in my view on this novel. I'm afraid its another poignantly sad little story and yet I find her way of telling a tale so captivating. It's true that the core of the story is set around acts of deeply unpleasant violence, which I am sure convincingly had its place in Victorian society as much as it does today. However, in the everyday life of our hero, Bob Chapman, one of life's innocents, ("For you should know that I am not an adventurous man. I like a life that is calm and well-ordered."), she describes a world in which for the greater part, people are generally good to one another - and even the slightly less sympathetic peripheral characters are only acting out of interests of preserving their own world, not any underlying ill will. Don't get me wrong - she does not draw a winsome rose-tinted view of jolly Victorian life - the harsh reality of urban life is all too evident. Alongside this stable picture of Bob and his solid friendships, and maybe because of it, she manages to convey a deep sense of sinister unease and real threat to Bob's world from the "Nasty Man" and his network - a threat which essentially stems from only bad luck and a misunderstanding.
The story ends sadly but not tragically (as does Walking in Pimlico* I would say) - again much in keeping with real life. Although in hindsight, and without giving the game away too much, it is perhaps true that the events really did have a most tragic affect on Bob's life.
* I did enjoy Ann's sidelong reference to Corney Sage (and Lucy) from the previous novel who make a fleeting appearance in passing as they perform in the run down Constellation music hall - with the comment that he was "too good for this gaff". Apparently - in 2011 at least - she plans a third novel focussing on another of the characters from the Pavilion Theatre that appear in this book. I am looking forward to it already.

Posted on January 31, 2013 at 9:37 AM

« Previous entry | Main | Next entry »
Thursday January 24, 2013
A Bigger Splash
The critics seem to have been quite ... critical... of this exhibition, and if I say I found it quite interesting, it sounds like damning with faint praise - but (you'll have to take my word for it) I'm not.
The thing for me is that it was all about people working at the extremes or boundaries of art during my own lifetime. Even if I had been intellectually capable of it, or interested enough, I don't think it was very easy to judge what they were doing - for artistic merit or anything else for that matter - at the time they were doing it.
So how interesting for me to look at it again now.
A lot of the performance art of the 1970s was a bit "rude" so you have trouble either getting away from that and saying "I am grown up enough not to be shocked by this rude stuff and is it art nonetheless?" or alternatively regarding the "rudeness" as part of the point of it; a reaction against convention and shock value as an artistic statement or wittiness in itself. And if it is the latter - then none of it's very shocking any more*.
I have no answer to this - I still don't know if I am looking at Yves Klein's living brushes (nude models rolling around in paint) with the narrow view of a sheltered middle class 12 year old or with the hindsight of a sophisticated woman in her 50s - but....
it was all dead interesting.
* I recently watch "I Cladius" from 1976 which included a scene of naked (presumably slave) women dancing for Augustus, which was like the naked dancing in "Hair" (1968), with everyone pretending that it was all "natural" and we were all in touch with our bodies, but in fact it looked just the opposite. These days incidental nudity on TV is simply that: incidental.
The exhibition was really about performance art "looking at the relationship between performance and painting" - so the eponymous artwork (1967) was exhibited with a short clip of the almost-but-not-really documentary film about Hockney by Jack Hazen from 1971 - the film seems to have shaped the reality rather than the other way around.
It included some of Hans Namuth and Paul Falkenburg's film of Jackson Pollock painting - although as I understand it, he did not really like being filmed at work. He found it was limiting in that he was performing for the camera rather than focussing on the art. And it is interesting that the exhibition seems to demonstrate this - the art seems to live either in the performance or in the artwork thus produced - not in both equally.
I think it's fair to say that - apart from Yayoi Kusama and her dots - I had not heard of any of the other artists before, despite their obvious fame among the cognoscenti. And to be fair she only registered with me as, in her 80s now, she came over for her exhibition at the Tate last year - and again - how interesting to see film of her in the 1960s, at her Body Festivals, painting dots on naked people...
Other items in the same vein included: Niki de Saint Phalle - filmed and photographed firing (a gun) at balls of paint captured in plaster casts, that explode on the canvas ("shooting pictures"... get it?) - a lovely idea and great performance art if you were there, but the actual artwork thus produced... you can't help feeling could have been achieved better by other methods. I know, I know....;
Günter Brus with a film of his walking around in Vienna painted white, with a black line down the centre of his body (unusually it seems wearing clothes), and then his inevitable arrest by the local police. (It was Austria, and it was 1965);
And various artists demonstrating the art of make-up - either stage like make-up creating a look: a series of photos showing gradual ageing (Urs Luthi), and aseries of female sterotypes (Cindy Sherman), or as a performance in the actual application of the make-up (Lynn Hershman). Fascinatingly not to say "weirdly", the latter created the alternative self, named Roberta Breitmore, with a "performance" lasting from 1974 to 1978, which she categorised a "time-based sculptural work" - a description I like.
---
The reason we chose to go to the Tate Modern was to fully explore the pleasures of Robert's membership (plus guest!) and as a preliminary outing for my imminent birthday. We continued our tour by dropping in at the British Museum for tea, and then went on to see One Man, Two Guvnors as I felt Rob had missed out; it is still excellent of course, but the cast has changed a few times and you're still left wishing you'd seen the original.

Posted on January 24, 2013 at 12:35 PM

« Previous entry | Main | Next entry »
Monday December 31, 2012
Books in December
The Complaints by Ian Rankin [read by Peter Forbes]
Hopefully this is the start of a new "series" with a new hero Malcolm Fox. Our hero works in the Complaints and Conduct Department; nonetheless we are soon involved in a murder investigation, and quite a traditional chalk and cheese buddy scenario bordering on Mills and Boon (at first they don't get on but then discover a mutual respect, joining forces against adversity).
It's great - read it. The only thing I can muster up against it is the hero's name "Malcolm" - and that's just me - it's a nice traditional Scottish name.
I understood that Rankin had written the final Rebus book and rather like the final Morse and Wallander, I was not inclined to read it. I can go along with an author's or actor's desire to definitively put an end to a character once he has decided to finish with them, even though rather definitive ends (Holmes) have resulted in future reincarnations once the author was strapped for cash! Anyway, I imagined that Rebus, like the others, had met an unpleasant end - so I was very pleased to learn not only that he had simply retired, but that Rankin has now brought him back (and not because he is strapped for cash). Thus I now have 2 Rebus books to catch up on.



That (or the) Affair Next Door by Anna Katherine Green
I downloaded two "free" vintage - presumably out of copyright - books from the internet. This one interested me for two reasons. Firstly I thought it was quite a good story and plot; I think I am quite patronising or dismissive of old detective fiction - unless it is "iconic" of course - so simple snobbery lowered my expectations. However, Green is credited with inventing the amateur spinster sleuth, (Miss Marple apparently being inspired by Miss Amelia Butterworth), and she is also said to be the first to write about the use of an icicle as murder weapon - so she probably is "iconic" and it is I who am simply ignorant.
Secondly: the author is American and was more or less contemporary with (preceded in fact) Conan Doyle - this novel was written in 1897 - and the language and style are very similar to that used by Elizabeth Peters in her "Amelia Peabody" novels. The latter are set in the 1880s but written in the 1970s, and although they are tongue in cheek parodies, I never liked them very much as I thought the writing style was unrealistic ie what a modern author thinks old fashioned writing is like. However, it seems I am completely wrong..... so there.

Posted on December 31, 2012 at 1:42 PM

« Previous entry | Main | Next entry »
Saturday November 24, 2012
55 Christmas Balls (well, four of them anyway)
I made some Christmas decorations from the well-known Arne and Carlos book. I planned to use some oddments of red and white Guernsey wool, but it proved to be much too thick. I had in mind something about the size of a golf ball, but my first attempts produced something more like a baby hat. So - undaunted - I unplied the yarn on the spinning wheel and replied to a 3 ply and a 2 ply. Hence the balls' rather homespun look as opposed to the crisp examples in the book! (I have to say I like the homespun look - which is lucky).
I started the balls a long time ago and was finally incented to complete them so we could use them as a basis for a Christmas activity at the Guild's last meeting of the year. Here we all are, knitting away:
Several people brought the last of the sock-blank socks for us to admire:
In the evening I went to a Jo Brand charity evening at the Rose. She is very funny and we had a great time. I took some photos, but due to the low lighting (I don't ever use flash) the quality is not good enough to show.

Posted on November 24, 2012 at 10:33 AM

« Previous entry | Main | Next entry »
Wednesday November 21, 2012
Woking Library
The Surrey Library Newsletter told me some time ago that Mark Billingham was due to appear for an evening at the Woking branch so I duly got tickets and Rob and I trekked out there to see him "in conversation" with another author.
As I have mentioned before in the context of his reading his own work for audio books, Mark is originally a performer and so provided a very entertaining evening. It seemed clear to me before the event that his billing with another somewhat lesser-known author was in order to give more exposure to the latter. However Stav Sherez is a very interesting chap and the excerpts he read sounded excellent so certainly another set of books get put on the crime list for me. His roots are as a journalist and as I have said before, there must be something I like about a journalistic style in crime fiction. I think I like the rich yet sparing prose of the journalist. However Stav is a bit more poetic than most - possibly as he was a journalist for a music paper - and I would strongly recommend following him on twitter (@stavsherez) since his poetry, music interests, and general attitude to life, make his contributions interesting and well-suited to the medium.

Stav's crime novels are: The Devil's Playground (2004), The Black Monastery (2009), and now A Dark Redemption (2012) which is the start of a series pairing of detectives "Carrigan and Miller".

Mark's next book is a Tom Thorne novel The Dying Hours and will be published on May 23rd 2013. This is deemed to be Thorne's twelfth outing and dealing with the ramifications of a major career change; apparently, readers of Rush of Blood will already know what that is. [Although the last Thorne novel was Good as Dead (2011), he has appeared peripherally in the two stand-alone novels In the Dark (2008) and Rush of Blood (2012).]

Posted on November 21, 2012 at 11:31 PM

« Previous entry | Main | Next entry »
Thursday November 15, 2012
The Lock In
An interesting and unexpected evening out. The Lock In Dance Show appeared for one night at the Rose in Kingston, and due to their commitment for street dance art forms, Rob's Morris side were invited to perform in the foyer before the event. Rob's side were joined at the event by New Esperance - a women's morris dancing team based in London.
So...... we all got tickets - and - what a great night it was! ... but ... I cannot believe how little pre-publicity it got - and for a single night show that is pretty awful and inevitably it meant that many seats were left empty - and not at all what the event deserved.
Here are the dancers and musicians receiving their well-deserved appreciation from the audience:
...and here - an impromptu performance in the foyer bar "after hours":
I have to say that the event did not sound so very promising when described to me by the uninitiated as "a folk dancing lock in" - I was already planning my escape. However, they were THE Lock In, and best if you read about them on their own website as otherwise you risk another misleading description by me.

Posted on November 15, 2012 at 11:30 PM

« Previous entry | Main | Next entry »
Wednesday October 31, 2012
Books in October
The God of the Hive by Laurie R King [read by Jenny Sterlin]
So... part two of the narrative.
I have not been on the edge of my seat waiting to read the rest of the story, (or I would have devoured it sooner), as there was some kind of hiatus at the end of the last book, and I was happy to maintain the anticipation of this one.
Further, I quite approve of the author splitting the tale in this way. It would have been too much for one book, and there is sufficient interest in exploring the plot and characters not to push it all into a shorter volume.
The all-action plot continues back to London and it's exciting conclusion. I do like the way this author has the characters think through their reasoning and conclusions - particularly important in a Holmes story. It emphasises the implied high intelligence of the characters as well as placing all their actions as a result of deductions rather than, say, Poirot's rabbits out of a hat, (which I also enjoy but in a different way!).


The Light Fantastic Terry Pratchett [read by Nigel Planar]
Somehow I missed out on Pratchett's early books, and due to the availability (or lack of) in our lending library's eBook scheme, I am beginning with the second in the sequence. It is lots of fun - of course - and one day I will get round to the Colour of Magic.
My pleasure was enhanced by my "new" (reallocated) company car which allows the attachment of external mp3 players to the stero system - or even more simply: a memory stick with a playlist. I did struggle for a while until I discovered the playlist thing; played it all perfectly but in random order - not good for a talking book.....

Posted on October 31, 2012 at 11:08 PM

« Previous entry | Main | Next entry »
Monday October 15, 2012
Night at the Museum
Just before dashing off to America, I joined Robert for an invited evening of performance art at the British Museum, which had opened "out of hours".
Being able to wander seemingly alone in the softly-lit museum was quite an eerie and wonderful experience in itself. We were able to check out the newly opened "members area", which is great - worth membership in its own right - I'm now thinking of just "hanging out" at the museum with my book... It seems to offer refreshments as well as a comfortable seating area and I am wondering how crowded it will get in the longer term; I have no idea how many members they have or are aiming at but clearly they are marketing membership quite heavily and feel this is the way forward with a good potential revenue stream.

As to the performance pieces, commissioned specially by the British Museum and the RSC to respond to the collection: I am out of superlatives so I can only say they were "really good". You could walk around and admire the exhibits of Shakespeare "Staging the World" while at the same time, watching each of the performances.

Upon entry we met Nigel Mound a new and enthusiastic safety officer "here to keep you safe and sound!" - brought to life by Blind Summit, (Mark Down and Nick Barnes).
Once inside there were 3 more scenes played out (multiple times) in various rooms, so you could catch each one as it started while you walked through:
"Out of Character - Othello No More" by Lemn Sissay - where an actor in his dressing room after the show reflects on how he lives with today's racism comparing with his role as Othello.
"Thin Air", by David Leddy, performed by Angela Darcy and Neil McCormick - where two con artists head to a museum in an attempt to sell a forgery, and are now on the run from the "shy locksmith" who backed the scam. The piece is full of clever puns and references to Shakespeare and thoroughly engaging.
However the piece that really surprised me was This Same England presented by Pentabus Theatre and performed by Lorraine Stanley. It seems a simple concept:a young woman soldier gets ready, interacting with the audience as she puts on her kit, and packs her bag with her survival rations. She performs in front of the exhibit with a rolling projection of Henry V's St. Crispin's Day speech, and times the performance to work with the film. All I can say is the simplicity was deceptive and I found myself thinking of her long after the event was over. When she leaves the performance area with "right - see you when I get back", I could have burst into tears on the spot.

Posted on October 15, 2012 at 11:04 PM

« Previous entry | Main | Next entry »
Thursday October 4, 2012
Matilda
A fantastic musical - as promised. I would strongly recommend it at any level for both joy in a fun musical, and amazingly tight staging. The players, while remaining convincing and natural, were able to portray the wonderful Quentin Blake illustrations for the book with costuming and body language; they made almost mobile tableaus (I know - a contradiction - yet in a way quite true to the original drawings which are static on the page and at the same time so full of movement).

Do get tickets if you can.

Posted on October 4, 2012 at 11:24 PM

« Previous entry | Main | Next entry »
Sunday September 30, 2012
Books in September
Posted on September 30, 2012 at 8:28 PM

« Previous entry | Main | Next entry »
Thursday September 20, 2012
The Mystery of Charles Dickens
We were unexpectedly offered preview tickets for this one-man show. Simon Callow was his own lovable self, and produced a wonderful evenings entertainment. He is now adept at portraying Dickens through his characters, having recreated a version of the author's famous lecture tours at the Edinburgh Fringe in 2008.
This is a different take on the subject seeking to illustrate Dickens' life through his work, where Dickens used his own boyhood experiences bringing them vividly to life in his writing. Peter Ackroyd is responsible for the script, and who could be better suited to draw out such a scholarly comparison in such a tangible and entertaining form.

All this was much appreciated by the audience - standing ovations, and cheers for "more" all round. A wonderful evening from one of our favourite actors.

The Mystery of Charles Dickens runs for a limited season at the Playhouse Theatre until November.

Also look out for Callow's A Christmas Carol at the Arts Theatre from 29th November until 6th January 2013.

Posted on September 20, 2012 at 1:17 PM

« Previous entry | Main | Next entry »
Tuesday September 18, 2012
A Chorus of Disapproval
For old time's sake, I got some more tickets for another Ayckbourn revival - this time one that neither Rob nor I know well, though I did see some of the film version with Jeremy Irons.

It was quite fun - adapted for the period in which it was written I think (1984). However, somehow it missed out a little** - not sure what. Rob said that it can be hard to get Ayckbourn right, and the play has only just opened so it may improve. Certainly Rob Bryden is excellent as usual, but the play has two leads - Bryden is the "character" acting lead, "Dafydd Ap Llewellyn", and to his credit plays him perfectly understated. [Scenes of the technical rehearsal with the lighting had Rob clutching his sides with laughter].
Nigel Harman is "Guy" but somehow failed to bring that little extra something to the role, (although having said that - Guy reminds me of an Evelyn Waugh hero in that he is an innocent and passive victim of circumstance). Overall the cast is stuffed with excellent actors and directed by Trevor Nunn, so it ought to be good. I await a further report from Tony who has tickets for October.

A Chorus of Disapproval runs at the Harold Pinter Theatre until next January.

** I note the Guardian review from Michael Billington who seems to agree with me, (I didn't read it first - honest - but he expresses it better than I do, being a professional and all that...).

Posted on September 18, 2012 at 12:23 PM

« Previous entry | Main | Next entry »
Friday August 31, 2012
Books in August
Posted on August 31, 2012 at 8:16 AM

« Previous entry | Main | Next entry »
Thursday August 16, 2012
One Man Two Guvnors
Well it was just as hilarious as we had been led to believe.
We snatched a picnic meal in Trafalgar Square before the show. I saw the latest "plinth" offering for the first time (though it has been installed there since February). It's called Powerless Structures and is a 4.1m high bronze sculpture of a boy on a rocking horse. I really like it. The media view is "you either love it or hate it" - but what's not to like?
The design by two Scandinavian artists is intended to be provocative and playful, representing the idea of "daring to be fearless". As well as that, it's an obvious play on the usual formal statue theme of generals on horseback - the plinth itself was intended to host a bronze equestrian statue of William IV by Sir Charles Barry, which was never installed. Now the plinth is home to temporary art installations - this one will be there for 18 months.

[While in Trafalgar Square, I noticed we now have "Heritage Police" - an interesting concept - their main role being to continually say to the visitors "get off the Heritage" ("please").]

Posted on August 16, 2012 at 11:29 PM

« Previous entry | Main | Next entry »
Tuesday July 31, 2012
Books in July
Black Ice by Michael Connelly
The first Harry Bosch novel I read was The Concrete Blonde, which was his third outing - and I was hooked. This one is his second, and I think I must have missed it in my haste to devour all the others. It was interesting reading an early Connelly book after all the later ones; interesting to note his changes of style - though I could not put my finger on what the changes are as I'm by no means capable of such an analysis. I guess it's a little less polished, but I'm not implying that this is a negative thing at all, just a little different. I like the way Harry started out like this - a conventional policeman in fiction - a loner and misfit - and also I admire the fact that you can see the character has not changed over the years; he has managed to continue with his police career, so has by defnition mellowed and been very canny in his dealings with his bosses, but fundamentally just the same.


U is for Undertow by Sue Grafton [Read by Liza Ross]
The author works her way doggedly towards Z and her retirement - or so I assume. Despite the elapsed time of her literary journey through the 1980s, the stories remain varied and interesting; there is often some sort of theme but this never takes over the dialogue and thus I think it serves any "cause" better than a soapbox approach in the writing.
"V" is already available, and I'm still very much looking forward to continuing the series.


Grave Secrets by Kathy Reichs [read by Katherine Borowitz]
This was the author's second book I think. It was quite interesting, but with all her books I have read now, I am seeing a pretty well the direct opposite to my comments above. Reichs always does seem to have a theme and, although that part is fine, I find the heroine's continual pontificating on the issue in question to be more than a little irritating.
I have read reviews complaining on the formulaic nature of the stories, and also about the co-incidences that bring the strands of the plot together. I have few complaints about those points: a thriller has to have some sort of denoument with the heroine in danger, and as for the coincidences - it's a fictional story....

Posted on July 31, 2012 at 12:04 PM

« Previous entry | Main | Next entry »
Sunday July 29, 2012
Bourne Quilters
This weekend saw Sheila frantically busy with the Bourne Quilters biennial exhibition. It was a fabulous event with a huge variety of wonderful entries - many of them were themed projects and yet each individual entry was entirely original and so utterly different from one another. I took a huge number of pictures but am limiting myself to those that caught my eye as inspirations to make something.
This Mackintosh inspired panel is very appealing. It captures the design, but is at the same time made very simply, by choosing the right fabric, and using applied ribbon. I particularly like the use of actual quilting on the white background; again, it looks deceptively simple - a pattern of straight lines - but I think in practice, keeping those lines dead straight shows the skill of the quilter - anything slightly off would show up very badly as this is the only decoration on a plain fabric
I always associate quilting with Christmas somehow, so the "Christmas Room" had great appeal. This place setting is quite delightful, and yet created from simple (yet precise!) shapes using lovely fabrics.
The fashion for random bunting continues. I like this, as you can easily use up odd triangles of suitable festive fabric and the lettering is a gold fabric that is fused (not sewn). In this case "Happy Christmas" but applicable for any occasion.
Posted on July 29, 2012 at 6:11 PM

« Previous entry | Main | Next entry »
Tuesday July 3, 2012
Encore!
We took up the offer of tickets to see the NT Live (encore) screening of Frankenstein at King's College in the anatomy theatre - preceded by a talk on Gothic Horror and science in the 19th century. With interval drinks and an intimate audience, it was a thoroughly civilized evening.
However - all that says very little.
What a truly amazing production this was. The two actors, took the roles of creator and monster on alternate nights during the run - we saw Benedict Cumberbatch as the monster, and it would be really interesting to see reverse option with Jonny Lee Miller. (Yes, that's how good it was, I would see it all over again).
Helen had seen it locally up in Scotland as part of the summer screenings and recommended it to me - but I never imagined what an extraordinary interpretation it would be - and how wonderful it would have been to see live - in fact possible too overawing given how it came over on the screen.

Posted on July 3, 2012 at 11:13 PM

« Previous entry | Main | Next entry »
Saturday June 30, 2012
Books in June
Posted on June 30, 2012 at 8:55 AM

« Previous entry | Main | Next entry »
Saturday June 23, 2012
Keswick
We spent the day in Keswick. I was keen to review the pencil museum but for some reason Helen was less so. We began by parking at the little theatre and getting our tickets for the evening performance of Dry Rot - a revival of the Whitehall farce of 1954.
After that we went for a short walk on footpath opposite the theatre, skirting the incumbent flock of sheep - which served only to ensure I had sopping wet feet throughout day 2 as well. After astute observation (!) it became clear to us that the water was very high and had submerged footpaths (to the right of the photo) and boathouses (to the left). The solitary little figure is Helen.
After pootling about shopping, we returned to the hotel to relax and warm up before heading out to the theatre again. Helen was a bit tight lipped about the play ("dated") - but for myself it pretty well lived up to my every expectation.
Posted on June 23, 2012 at 11:06 PM

« Previous entry | Main | Next entry »
Wednesday June 20, 2012
Glasgow Culture Vultures
Today we are in Glasgow to see an outdoor production of The Tempest in the Botanic Gardens. Here is the excited audience before the play begins; excited with the thrill of worrying whether or not we will all be drenched. [It has been raining solidly in various parts of the country for some days now, although my stay in Slockavullin drove me to don my shorts at one point.] However, despite the much publicised downpour predicted for the evening, it stayed fine throughout, and was a great performance.
Our hotel was marvellously convenient, and I had to take this picture of the room - resplendent with chandelier, and chaise longue (as well as the twin beds) - and you can just see that Helen has just made 2 mugs of tea. It was all charming and not to mention very good value - but don't even think about trying to check in after hours.... you have been warned...
Posted on June 20, 2012 at 11:35 PM

« Previous entry | Main | Next entry »
Saturday June 16, 2012
Fusing Fabric
We were lucky enough to have Margaret Beal ("Burning Issues") along to our guild for a workshop to learn her techniques in fabric manipulation. Essentially you use a very fine-tipped soldering iron to burn synthetic fabrics in a controlled manner. Margaret explained to us how she had first come to the idea - which was as a quicker way to remove excess fabric in cut-work embroidery when she was a student - and developed it into this unique art form.
Posted on June 16, 2012 at 10:45 AM

« Previous entry | Main | Next entry »
Thursday May 31, 2012
Books in May
TV Detectives Omnibus edited by Peter Haining
This is an omnibus of original short stories by the well-known creators of detectives who have subsequently made it on to the TV screens. The book I have is the 1992 Orion edition, so it's a snapshot of TV detectives to that date. For me it's a very interesting book including not only the (then) more recent TV detective adaptations like Jeremy Brett's Sherlock Holmes and more recent detectives such as Morse, but also refers to the more historical original stories about Charlie Chan, Perry Mason, Ellery Queen, Sam Spade, Philip Marlowe, and so on. each story is carefully chosen with a few - often fascinating - facts about the character and author at the start of each section. For example - who knew? - Miss Marple made it on to American TV in 1956 with Gracie Fields in the starring role (!) and Roger Moore playing the part of Patrick Simmonds.
Peter Haining has also done a similar Crimebusters Omnibus at a slightly later date including Taggart, Tennison, Spender, Columbo and Kojak.


The Ladies of Grace Adieu: and Other Stories by Susanna Clarke

An excellent introduction to the folklore and stories of Susanna Clarke, hopefully a good preparation for Jonathan Strange and Mr Norrell, which was recommended by Alison and is a mighty tome currently waiting to be read - but more of that next month.
This book of short stories is much easier to digest, and has great variety and interest in the way each story is presented. Despite being (in some cases well known) fairy stories, they are all weirdly disturbing, and appropriately classified by the library as "science fiction". It fits well with my recent reading of Puck of Pooks Hill.


A Fatal Inversion by Barbara Vine [read by William Gaminara]
This is Ruth Rendell of course, writing under her psychological thriller pseudonym. I'm afraid I am one of her readers that likes her "bread and butter" police novels with dear old Inspector Wexford, so I tend not to read Barbara Vine. However, the Guardian list of "1000 novels: crime" recommended it, which gave me the incentive. And of course it really is excellent, as you would expect, and despite the "crime" being fairly clear from the start, it did completely surprise me with its ending. At one point, one of the characters says "we've got away with it" which is (no doubt intended to be) deeply ironic, since, as the plot unfolds, it is pretty evident that none of them truly got away with "it" at all.

Posted on May 31, 2012 at 9:20 AM

« Previous entry | Main | Next entry »
Monday April 30, 2012
Books in April
House of Silk by Anthony Horowitz

I can't praise this book enough written in the true spirit of the Conan Doyle originals. Added to that we have delightful historical detail that Horowitz is so good at researching, and a few political points slipped in as Watson's minor digressions in the course of telling the tale. Almost as a bonus, the storyline is excellent, although is a little wistful and sad at the end, as Watson is writing this in old age and in somewhat poor health with Holmes already long departed.


Bones and Silence by Reginald Hill [read by Brian Glover]

This is another book with a sad little ending.
Of course, I suppose classic detective stories featuring murders are never going to be a bundle of laughs, but this was one of the sub plots which you hoped would be resolved positively. I don't really want to hint at the resolution of any parts of the plot, but in my defence, this is an old novel, which I even saw on TV, so hopefully it's not really a spoiler.


Agatha Raisin and a Spoonful of Poison by M C Beaton
Finally tracked down this book, which made a pleasurable afternoon's read while knitting a plain sock from the "sock blank" experimental dyeing project.
So ... it's LSD in the jam at the local village fete. What larks! .. or it would have been if one of he elderly residents had not thought they could fly off the church tower, with predictable results.
"Harmless" prank? or cunning murder plan (albeit a rather scatter-gun approach..).
No sad endings here - all the jolly fun a murder mystery should be ....

Posted on April 30, 2012 at 6:17 PM

« Previous entry | Main | Next entry »
Saturday March 31, 2012
Books in March
Silent Voices by Ann Cleeves [read by Charlie Hardwick]
Vera appeared in the opening chapter of this novel, and so I was hooked from the start. She is the most interesting character and, in the earlier books, I was always willing her to appear as soon as possible. Ann Cleves does not simply churn these novels out at a great rate, and so there is not a huge canon for the TV series to take up. Thus I am sure that the next series will have new plots written for TV. This is always dangerous; in my estimation they absolutely ruined the Dalziel and Pascoe novels by doing this - they deviated dramatically from the characters own stories and reduced it from a work of near genius to a run of the mill cops and robbers drama. However, lets look on the bright side: often, a great novel is too big an enterprise to reduce to a couple of hours (eg the Rebus novels - which have never been successfully dramatised, even after they chose a suitable leading actor - purely due to their short duration*) - and Morse seemed to survive well even with the "written for TV" episodes.
* I had just read Ian Rankin's "Fleshmarket Close" when I watched the TV drama. Although it retained the title, as far as I remember the "action" referring to the place was presumably considered extraneous to the main plot and therefore cut out - consequently I remember no reference during the episode to its title.



Hidden Depths by Ann Cleeves [read by Anne Dover]
So smitten with Vera that I went straight on to another novel. This one was the first to be shown in the TV dramatisation, and the 3rd chronologically. It involved a very memorable "MO" (not horrific I hasten to add - just sad - as any murder would be), so I remembered the story but not so much who "dunnit" - luckily.
I'm looking forward to the 5th (latest) Vera book which came out in February this year.


The Vault by Ruth Rendell [Read by Nigel Anthony]
This is a library download, which I chose as part of my reawakened interest in Ruth Rendell, only to discover that it is the latest Wexford mystery set after the Inspector's retirement. I had heard more than one reference to this book - mildly scathing comments about the premise of allowing the hero to continue working with police business after retirement. However, I found this entirely forgiveable - certainly as reasonable as, for example, allowing Dixon of Dock Green to never rise through the ranks and to continue to be played by an actor in his 80s, and certainly more appealing than having him die rather than retire. After all - how realistic is crime fiction and murder myteries at all? I think Oxford had more murders in one episode of Morse than they ever had in reality in the course of an entire year.
As to the plot - it's as well that I find myself such a source of amusement. While reading, I began to find the story a little familiar - similar to what is possibly the only non-Wexford Ruth Rendell thriller that I have read - no idea of the title - researched on web to find that it is "A Sight for Sore Eyes" (I title I have no memory of at all) and that in some places The Vault is actually described as a sequel. Anyway - I enjoy writers revisiting old plots or characters from a different perspective (eg Ian Rankin's "Blood Sport" - and most of Michael Connelly's novels), and this one did not disappoint.

Posted on March 31, 2012 at 10:59 AM

« Previous entry | Main | Next entry »
Friday March 23, 2012
Henry VIII and Hampton Court
Some colleagues came over from the US and at the end of the week, we went out to be tourists for the day at Hampton Court (always popular with Americans). Here is Lee, obligingly pretending to be a tourist for me in the Great Hall.
We began our tour with the kitchens which were very interesting given the audio guide narration by the experimental food archaeologists. These ovens - a variation on a modern barbecue - are considered by them to be a more versatile and superior method of cooking than those used today.
You can see Lee listening with rapt attention while warming himself by the spit roasting fireplace (it was chilly out of the sunshine).
From here we progressed to an exhibition of Henry's early days on the throne, and then on to his apartments. This is a view of the frieze in the Great Hall, showing the motifs of the Tudor Rose, the French Fleur-de-Lis, and Henry's Coat of Arms, which incorporated the English lions with the fleurs-de-lis - emphasising the English claim to the French throne. This claim illustrated in the arms from the 1300s was only finally relinquished, and thus dropped from the Coat of Arms, in 1801 during the reign of George III, (some good few centuries after we seriously held any territories in France I think!).
We were actually lucky enough to run into His Majesty, Henry, in the courtyard, where we found him exhorting his (younger) subjects not to forget their weekly archery practice on the village green. There were a lot of period actors around - amusing and educational for the school parties (and us!) - plus opportunities to dress up if you chose to do so.
The weather has been wonderful, and I was so pleased it continued thus - last time my friend Lee was here, I subjected him to a challenging tour of the Thames Embankment in a really bitter wind, and by the time we got to the Millennium Bridge he was begging to find a cafe to get warm.
Despite the glorious sunshine, and an amusing excursion through the maze, ("Christina, what is the point of a maze...?"), I failed to take any photos outside, but was a bit obsessed with the ceilings.
Here is the amazing hammer-beam roof in the Great Hall....
...and here a couple of views of the beautiful gold-leafed ceiling in the Great Watching Chamber (or Guard Room, where people would wait for an audience with the King. The ceiling incorporates the badges and coats of arms of Henry and Jane Seymour (third and favourite wife who died 2 weeks after giving birth to the longed-for male heir).
The intricate ribs and pendants are of oak. In the centres of the compartments are oaken wreaths bound by ribbons, enclosing arms and Tudor badges, including the white Yorkish rose within the Lancastrian red rose, Henry VIII's hawthorn bush, Jane Seymour's phoenix rising from the flames, and her castle with rose bush and phoenix, fleur-de-lis, the arms of France and England quarterly, all in their proper colours and gilt. These ornaments are carried out in a form of gesso, apparently a kind of papier mache, pressed into moulds.
The only thing I felt we missed seeing was the Real Tennis Court, which was closed for the day.

Posted on March 23, 2012 at 6:15 PM

« Previous entry | Main | Next entry »
Wednesday February 29, 2012
Books in February
Posted on February 29, 2012 at 9:53 AM

« Previous entry | Main | Next entry »
Friday February 24, 2012
Design and production
We managed to get in to see The Tomb of the Unknown Craftsman at the British Museum with only a couple of days to spare. I had read about it, and it really was a thoughtful and interesting collection. I am very glad we made it.
The manner of our gaining entry when all tickets for the day were sold, was to join the museum as a member. I think this is very good value for money - you only have to go to about 2 exhibitions a year to make it worthwhile - and it allows you instant access to the exhibits. [It also gave us a 10% discount on our Cream Tea in the restaurant!].
The main reason for our afternoon in London was to take a look at A Snapshot Behind the Scenes of Sarah Greenwood's Sherlock Holmes which is at the University of the Arts in London until March 9th. A fascinating recreation of her design studio (or in fact a very small "set" version of it) for anyone to look at, but especially interesting for Rob's students.
Sarah Greenwood in her own words.

Other notable events of the day were my pursuing some poor would-be air traveller all over London Bridge Station trying to let him know he had dropped his boarding card - finally catching up with him as he was on the train with all doors firmly closed. We then had the mutual delight of finding that I was able to slide the documents through the rubber trim of the doors! What larks, eh?

On the same theme, the day ended with my making a mad dash half way down the A3 to deliver George's passport to him, which absence he discovered when trying to board the ferry for a weekend of peace and freedom in France. Although he did make it back to Porstmouth in time (I hate to think how) his weekend in France is turning out less of a peaceful rural retreat than he had hoped; the car has developed a serious problem, and is currently still at the port in France awaiting repair!

Posted on February 24, 2012 at 11:36 PM

« Previous entry | Main | Next entry »
Wednesday February 8, 2012
Sign of Leo
...all things are liquid...
[photo by Tony Makepeace]

We braved the extreme cold weather (predicted tonight) and went to a private viewing of the work of Jim Stitch at the Hampton Hill Playhouse. It was an informal gathering in friendly and comfortable surroundings.
Rob was smitten and bought the work "Union"; I preferred "Town and Country" of the paintings, but my favourites were the pair: "Cast Iron Red" and "Granite Blue" - these are 3-D sculpture pictures. I think the overall favourite was the sculpture "All things are liquid 1 - Chain", which can be seen as a series of photos here

Posted on February 8, 2012 at 11:37 PM

« Previous entry | Main | Next entry »
Tuesday January 31, 2012
Books in January
Posted on January 31, 2012 at 9:16 PM

« Previous entry | Main | Next entry »
Sunday July 31, 2011
Books in July
There have been more audio books than usual this month as I work my way round painting the kitchen to show at least some progress in time for Alison's impending visit. (She claims it's not important.... but we know better...)
Wolf Hall Hilary Mantel
This won the Man Booker 2009 - when I thought the Sarah Waters The Little Stranger should have won - but that was before I read this. I borrowed it as an eBook from the library - all new experiences - and the choice is currently limited. However, what a great choice it turned out to be. A fantastic novel - almost not a novel of course. Had I not been so engrossed in the text I would have wondered where the title came from, but this became abundantly clear in the closing pages.
Co-incidentally I have been since exposed to several other cultural experiences about the same historical period through TV, film, and coutry house exhibitions, and it is really fascinating.


Bones to Ashes and Devil Bones Kathy Reichs [read by Lorelei King]
More library loans, which make good listening for long car journeys, or painting walls! Tony is a great Reichs enthusiast. However, Rob surprised me by saying he did not enjoy the book he read, finding it tedious in forensic detail - I wonder if they are better as spoken word.


The Private Patient P D James [read by Michael Jayston]
This is completely in the standard mould, confined in the setting of a private hospital for plastic surgery. The characters are a shade wooden and dated, but I think I have always felt that about James books. I think I am more of a "plot" person with less interest in the psychological depths of the characters - and the characters are not very warm or likeable. However, as far as I can tell James writing is as good as ever, and the actual plot (under all the psychology) is quite strong.
PD James has recently been awarded the Theakstons Old Peculier Outstanding Contribution to crime fiction - only the second author to recieve it.


Bloodline Mark Billingham [read by the Paul Thornley]
Eighth in the series proved as interesting as ever. I am pleased to say that although he sticks with the serial killer theme, the books rely far more on the likeable character of Tom Thorne, than weird and wonderful ways people can be murdered. The writing encompasses Thorne's life and work to equal degree, without becoming boring about either. I find the characters very real, which is quite something when reading about murders which by sheer weight of numbers have to be pretty far from reality.


Lord Peter Views the Body Dorothy L. Sayers [read by Ian Carmichael]
An enormously entertaining short story collection:


"The Fantastic Horror of the Cat in the Bag"
"The Unprincipled Affair of the Practical Joker"
"The Vindictive Story of the Footsteps That Ran"
"The Bibulous Business of a Matter of Taste"
"The Piscatorial Farce of the Stolen Stomach"
"The Unsolved Puzzle of the Man with No Face"
"The Adventurous Exploit of the Cave of Ali Baba"
"The Abominable History of the Man with Copper Fingers"
"The Undignified Melodrama of the Bone of Contention"

It seems the audio version omits some of the original stories which contained visual clues: "The Entertaining Episode of the Article in Question" ; "The Fascinating Problem of Uncle Meleager's Will" ; "The Learned Adventure of the Dragon's Head".

Posted on July 31, 2011 at 8:37 AM

« Previous entry | Main | Next entry »
Thursday June 30, 2011
Books in June
Death du Jour Kathy Reichs [read by Bonnie Hurren]
I guess I just like Kathy Reichs books; occasionally I find that they have some "cause" associated with them which I am a little ashamed to say I can find a bit tedious, but overall still good.
This is only her second novel, and I really like the added historical notes and the interweaving of the plot. In the opening scenes (a sub-plot), Tempe is trying to exhume the bones of a nun within a known environment where all the graves are supposedly clearly documented and yet are not where they should be. This kind of "recent history" error really interests me - in the end a very elderly member of the order is able to confirm the actual location, but it is only the living memory that is useful in this instance. With that character the information would have been lost. So many instances of family connections and identification of photos are lost because you suddenly wake up ne morning and realise there's no-one left around to ask.


When Will There Be Good News? Kate Atkinson
I read this book just as they were screenig the TV adaptations, so I watched the TV episode afterwards, and I have to say I thought they made quite a good job of it. Of course, there is much more in a book so much of the detail is left out, and they had to make some plot changes since they appear to have set all the TV series in Scotland which is not the case for the books.
Anyway, as far as the books is concerned - excellent - can't wait to read the next one (which I observed lurking on Helen's bookshelf while I was staying there).


The Scarpetta Factor Patricia Cornwell [read by Lorelei King]
Another excellent book about Kay Scarpetta which continues to "humanize" the otherwise overly detached pathologist. I still find it hard to empathise wholly with her reactions to situations but I don't find her quite so irritating a character as I used to. I guess in that respect she is replaced by her niece, Lucy.
There is one thing in the book that really struck a chord, and made me laugh. Scarpetta is let's say "about the same age" as me, and in the course of the plot she has a Blackberry foisted upon her (by Lucy), which she finds so frustrating that she removes her secure 8 digit password altogether - what bliss, and sadly not an option for me! Of course it leads to lots of interesting plot intrigues - whereas for me I doubt anyone would care except our company data security auditors.

Posted on June 30, 2011 at 2:52 PM

« Previous entry | Main | Next entry »
Friday June 10, 2011
New Technology
I have a new toy: an electronic reader. The title says "New Technology" but almost before I can put pen to paper (fingers to keyboard, stylus to screen, etc) it is not longer new, nor unique in its function. This is hardly a surprise as I bought it "used" on eBay, although it is virtually new.
I chose to get the smaller version of the Sony eReader. for a number of reasons, some of which are no longer relevant. One of them is unchanging, which is, that it is light in weight and fits well into my bag, while at the same time feeling quite like holding a little book when reading. I first saw it when out with Helen (she was buying a Netbook), and was smitten, but reviews did not rate it as the best; a closer look however seemed to show that many reviewers did rate it as "the best" and their main objection was the price. My eBay purchase, of course, overcame that objection.

I think the eBay seller had bought some other device with a reading app making a specific reader device redundant. However, despite my now owning a Sony tablet - with Sony eReader and Kindle apps installed - I still find I have a very strong need for the eReader, which is just like putting a tiny light-weight book in my bag when travelling. It's very useful having the reader apps on my tablet, but I would not use the tablet as a replacement for the specialist device.

Posted on June 10, 2011 at 8:24 AM

« Previous entry | Main | Next entry »
Tuesday May 31, 2011
Books in May
Nemesis and Alexandria Linsey Davis [read by Christian Rodska]
Lots of fun, and delightfully read by my hands-down favourite narrator.
In Alexandria, the Falco family go on a jaunt to Egypt to provide Davis with a chance to poke fun at libraries and academia. It's an enjoyable book, but - although the author often uses this technique to provide new interest in the way of a foreign backdrop for her novels, I always feel that Falco is never truly on top form except on home territory in Rome.
Nemesis sees him back in Rome although there is an extensive swampy excursion. Here the novelty is provided perhaps by the crime story rather than the surroundings, where the concept of an ancient Roman serial killer is explored.


Kissing Christmas Goodbye M C Beaton
Surprisingly little to do with Christmas (it puts in an appearance towards the end). Agatha spends her time planning for the great event, but meanwhile gest involved with a rather unpleasant family business - o - and there's a murder. Or perhaps not.
Agatha dreams of that perfect Christmas - yet another concept I can equate to - and yet despite the preparations and the lifestyle books, it can never quite be perfect. The reason? that (however perfect one is oneself..) those around you are not the perfect stuff of daydreams. And despite her obsessive imaginings, by the time her great love James turns up to kiss her under the mistletoe, Agatha discovers that he does not stir her emotions to complete that picture of perfection.
And you know what? She discovers that she's having a great time anyway.

If there is a link between these novels, it is that they both have major/peripheral characters where I find it hard to put the flesh on the bones. In the Falco series it's Anacrites. He is presented as Falco's sworn enemy, though somehow that enmity lacks conviction for me. On occasion we have almost been given an insight into a deeper character and then it's whipped away and replaced by Falco's continued assertions about Anacrites low character.
With Agatha, it's James Lacey, and maybe this one is somehow more understandable as we most often see James through Agatha's obsessed eyes. Mrs Bloxham provides an apparently objective view, though of course she is very biased against him in her concern for Agatha's welfare.
Perhaps as these are both enjoyable light-hearted mystery series and I am simply trying to read too much into them!

Posted on May 31, 2011 at 10:58 AM

« Previous entry | Main | Next entry »
Monday May 16, 2011
Isabella and the pot of basil

The story of Isabella, has been told by Boccaccio, Keats, and Hunt, in tale, poem and picture respectively. The narrative poem by John Keats was adapted from the story in Boccaccio's Decameron. It tells of a young woman whose family intend to marry her to "some high noble and his olive trees", but who falls for Lorenzo, one of her brothers' employees. When the brothers learn of this they murder Lorenzo and bury his body, fobbing Isabella off with some implausible yarn about his going away suddenly. However, his ghost informs her of the truth in a dream. She exhumes the body and buries the head in a pot of basil which she tends obsessively, while pining away.

The story was popular with Pre-Raphaelite painters, who illustrated several episodes from it - and also with Croydon College, who produced a short film of the story as part of their Digital Film Production degree course. It was shown at the BFI this afternoon and I took a short break from my office to go along and watch.




Posted on May 16, 2011 at 8:49 PM

« Previous entry | Main | Next entry »
Saturday April 30, 2011
Books in April
The Girl of his Dreams Donna Leon [read by Gordon Griffin]
Another excellent Commissario Brunetti story. The backdrop is a social comment - as usual - this time involving the Romany community around Venice. The contrast is easily drawn between the children sent into the city to pilfer, and the "idle" rich in their far more oppulent surroundings. Differing viewpoints are elicited through the mouths of Brunetti, his colleagues, and family members - some more naive than others.


Forfeit Dick Francis [read by Tony Britton]
Interesting listening to this, as I believe it was the very first Dick Francis novel I ever experienced. From memory, it was serialised on Radio 4 around 1977 in their regular afternoon slot at about 4:30 - frustratingly cannot remember the title of the programme. I don't think it was narrated by Tony Britton. I was addicted to the radio then (while knitting of course - I have precise memory of the sweater - a gift for my Mother from a pattern in Stitchcraft!). They followed it with a reading of Flying Finish. Utterly thrilling, and for all that - still an excellent book, even discounting the knitting nostalgia, with his wife Mary's influence apparently clear.


Posted on April 30, 2011 at 9:56 AM

« Previous entry | Main | Next entry »
Friday April 8, 2011
War Horse
Last night we went to see War Horse at the New London theatre. It was as fantastic as everyone says - though it is a childrens book with very adult content, and the audience was full of sobbing little girls (and some big girls as well...).

Prior to the show, at Tony's suggestion, we ate an excellent meal at Sophies Bar and Grill in Covent garden.

Posted on April 8, 2011 at 9:25 AM

« Previous entry | Main | Next entry »
Thursday March 31, 2011
Books in March
Bedtime listening. Yawn.
Fresh from the Country by Miss Read [read by Gwen Watford]
I really enjoyed the gently humorous homely tales in "Over the Gate". However this book is not written in the same mould at all. It's an account of a newly-qualified female teacher's experiences in the early 1960s, and I found it rather tedious with little substance. I also disliked the representation of the "perfect" and patronising head teacher who was clearly the potential role model for the heroine; one can only hope that the very tiny intimations of romance might swiftly blossom into the traditional marriage proposal and acceptance, thereby rescuing her from such a fate for good (!).
One of the problems may be that I cannot relate to the story in the same way that perhaps those in the teaching profession could. Nonetheless, I think some of her other stories are much more pleasing and fun.


Depths by Henning Mankell [read by Sean Barrett]
This is a very gloomy book - all icy wilderness and barrenness bleakness, set during the First World War. It was hard for me to empathise with this hero, and as it's told from his point of view, (and he is clearly psychotic), it's hard to get to grips with how others view him. He is deeply disturbed throughout, and entangles himself in a web of deceit, leading to multiple murders, and fairly inevitably, as his duplicity is unravelled, his own demise.
(It reminded me a little of Zola's "Thérèse Raquin", and to confirm me as a Phillistine, I did not like that much either.)
And yes - I am one of those idiots who thought this would be a Wallander novel.

Posted on March 31, 2011 at 9:56 AM

« Previous entry | Main | Next entry »
Monday February 28, 2011
Books in February
Silks by Dick Francis and Felix Francis [read by Tony Britton]
I always felt I had a problem with Tony Britton reading Dick Francis novels, as they usually feature relatively young men (20s-30s) - and Tony Britton, though a great reader, has a very mature upper middle class voice. That's what I thought. But I had no problem with this one. Maybe it's because the hero is a barrister (Tony sounds like one of whatever age - no problem) - or maybe this is just a stronger novel than ones I have read recently. Anyway - a fine read - and nicely encompassing a bit of horseyness too....


Singing the Sadness [read by Christian Rodska] and
The Roar of the Butterflies [read by Rupert Farley]
by Reginald Hill
A very different detective created by Reginald Hill. Jo Sixsmith is an ex machine operator turned private detective living in Luton, though his adventures take him elsewhere.

It is almost an old-fashioned style of book, with very ordinary old-fashioned style people but yet set in our very contemporary world. Full of charm and humour, but for all that does not sacrifice the a very real sense of danger and the thrill of the whodunnit.


Love, Lies and Liquor by M C Beaton [read by Penelope Keith]
An Agatha Raisin novel, in which experience triumphs over hope.
O no - my mistake - got that the wrong way round.
Agatha thinks she will rekindle the romantic flame by going on holiday with ex-husband James - poor James' idea is a nostalgic trip to a coastal English resort (but seemingly in the dead of winter!), which, funnily enough, lives up to the expectations of neither party.
It does seem like she might really be cured of James this time...


Posted on February 28, 2011 at 9:55 AM

« Previous entry | Main | Next entry »
Monday January 31, 2011
Books in January
These are the lovely books I received as gifts - a lovely start to the New Year.
The Knitter's Year by Debbie Bliss
As is often the case with this type of book, I look at the projects and think "why - these are simple little things - I could have made this up myself".... but then you didn't did you? For a book like this, (knitting projects all year), they need to be quick fun things, - which they are - and this book is beautifully styled and produced, providing the motivation and desire to knit the "little projects" and also then make some up yourself!


Around the World in Knitted Socks by Stephanie Van Der Linden
You'd buy this book for the cover alone wouldn't you? It's all so colourful and lovely, I wanted to start them all right away. I felt that Rowan felted tweed would provide the look I was after but the 4ply weight is discontinued (and the patterns would be hard to adapt due ot the patterning); plus I think the felted tweed might not be robust enough for socks. So - I guess I'll have to try that new territory and use the recommended yarns...


Nordic Knits by Martin Storey
This is the sort of book that non-knit-lovers (as well as knitters) would like projects from. Perfect gifts for those not keen on hand-knit clothing - though you need to check out their liking for folksey! I think it's packed with pretty tasteful stuff and immediately knitted the cushions on the cover for Alison to decorate in her new "cabin" (house to you and I).
Posted on January 31, 2011 at 4:01 PM

« Previous entry | Main | Next entry »
Saturday January 29, 2011
The Mousetrap
George organised the most wonderful birthday treat for me as a surprise. We went to see the "Mousetrap" - I was absolutely delighted. The show is older even than I am - 2012 will be its diamond jubilee (and not mine!) - and I have never seen it before. The plot is a sort of amalgamation of Agatha Christie favourite themes including blizzards and locked rooms, so it made it possible to make a stab at who the murderer was, but the implausible coincidences and relationships between the characters made it all the more interesting and charming. I felt like I wanted to dress in costume - not a mouse costume... - but would have looked an idiot so luckily suppressed the urge.

Following the theme: we had "stored" our apple crop (about 4 Bramleys) in the attic - and I found that the mice regarded them as winter fodder. They did not eat them all at once you understand, just came back for another bite from time to time. We don't have "house" mice but pretty little brown wood mice who prefer to live outside except in the coldest weather when they come in - and eat anything they can find. I managed to exclude them from the downstairs area and kitchen by preventing entry (anything in the lobby is fair game for them), but the attic is impossible to make mouse-proof.
I'm afraid I had to "deal" with them. And remove the apples.

Posted on January 29, 2011 at 4:02 PM

« Previous entry | Main | Next entry »
Saturday December 11, 2010
Books in December
The Girl who Played with Fire and The Girl who Kicked the Hornets Nest by Stieg Larsson, (translated by Reg Keeland) [read by Saul Reichlin]


I spent this month listening to conclusion of Stieg Larsson's Millennium trilogy. As it was so long since I read the first book I started by listening to the audiobook version of the Girl with the Dragon Tattoo before starting on the other two.

I found the second book a fairly good thriller, but by the time we got to the third - which was really just an extension of the plot of the second, it all sounded rather like the first book all over again.

The hero ends up by finding the perfect woman (physical and intellectual) as well as the journalistic scoop of a lifetime - again - and of which we are led to believe is his third such scoop. Reading page after page of what really amount to the fantasies of an aging journalist became rather tedious in the third book.* However, the books are well-deserved best-sellers and it is a shame there are not going to be any more like them.

* As usual, I looked at other reviewers ideas and was surprised that they did not speak with one voice. Some were critical of the writing and the plot, while others praised it - though I felt perhaps on the grounds of "approving" of the underlying strong moral stance.

Posted on December 11, 2010 at 4:06 PM

« Previous entry | Main | Next entry »
Tuesday November 30, 2010
Books in November
The Triumph of Caesar Steven Saylor [read by Peter Wickham]
I was a bit surprised (and pleased) that Saylor has written a further Roma Sub Rosa novel. I thought we had seen the last of Gordianus in Egypt in The Judgement of Caesar. As the earlier novels progressed rapidly through history, I always felt that Saylor planned to continue the sagas perhaps by focusing on other members of Gordianus' family, but this never fully developed. I think Gordianus proved to be more interesting than any of the others. However, our hero is certainly getting on a bit now, and the style of the novel seems affected by that fact, (which is interesting in that the author himself is not so very ancient). This is a way of saying that I did find the pace a bit slow and the basic plot a little weak, but as usual the historical detail is very interesting in itself, and clearly where Saylor's interest and expertise lie.
I think that may be the overriding reason that we have not moved to later periods in history with G's sons or daughter. And - presumably to keep a plausible lifespan for Gordianus, while avoiding a chronological dead-end for the series - the next novel is said to be a "prequel that will take the young Gordianus to the Seven Wonders of the World".
I look forward to it.


Scarpetta by Patricia Cornwell [read by Lorelei King]
So - I plod on reading the Scarpetta series - always a good read (if you like crime thrillers - not so good if you don't). You can see from other notes on these books, I have some reservations about the portrayal of the heroine. However, in this book I seemed to discern a change. Kay seems to have become much more human, and I had a greater sense of warmth from all the characters - as if a study in black and white had suddenly been tinged with colour. I think the analogy works well as the black and white depiction stands on its own artistic merit as well as colour adding interest.
Looking back on the series and Cornwell's other novels I think she has quite simply adopted different writing styles and that alters how I feel when reading. The most notable is writing in the third person and yet in the present tense. You (I) would imagine that writing in the present tense would add to the tension and immediacy of the action, but the use of the third person makes for a sense of icy detachment, as if you are watching the characters and the plot unfold through a pane of glass.
In this book we return to third person past tense ("normal"!) and the characters suddenly seem more alive. So I'm looking forward to her next couple of books which seem (from excerpts I have read) to continue with this style.

Posted on November 30, 2010 at 9:24 AM

« Previous entry | Main | Next entry »
Sunday October 31, 2010
Books in October
Popco Scarlett Thomas
This was an enjoyable book - well written, fun to read. There is a "but" coming as I had some reservations about completely enthusing about it. It has a number of layers to it and retains interest throughout but I think the author showed more inspiration in writing some of the passages than others.
The opening was excellent and engaging as the heroine commenced her overnight train journey, to join a "team building" exercise run by her huge international company at their own country-house training centre. I found this all well-observed and funny - I could easily empathise as it is all very familiar territory to me (not that my own dear multi-national company ever offers quite such lavish affairs). The coffee-table style explanations of mathematics were interesting enough though not new to me, and Popco's global marketing strategies were very interesting, if somewhat sinister. However, I found the back story and the ending less satisfying - as if the book had been written and then it was simply necessary to tie up loose ends.
Overall though - do read it. To quote Kim Newman in the Independent in 2004: "..it's hard to resist a book which comes complete with a crossword puzzle, a list of prime numbers, a frequency chart for the occurrence of letters in English (bound to come in useful) and a recipe for "Let Them Eat Cake" cake.


Euclid's Window by Leonard Mlodinow
Reading Popco made me want to read this book again. Before I recommend it, be aware that it definitely is about maths. You don't need to be a mathematician to read or understand it but you do need an interest in that direction. I find it interesting and fun.

"An optimist would say that although the probability of winning the lottery is 14 million to one, you can't win if you don't buy a ticket.
However a mathematician would say that the probability of winning is the same whether you buy a ticket or not."

Posted on October 31, 2010 at 9:33 AM

« Previous entry | Main | Next entry »
Thursday October 28, 2010
Diaghilev and the Ballet Russe
A late birthday outing for Robert to the V&A.
We are both interested in this topic; in the 1980s we were lucky enough to see the Ballet Rambert's Rite of Spring, (reconstructed from dance notations and photos of Nijinsky's original ballet). Delightfully, we found they were also performing the Ghost Dances, accompanied by Incantation themselves - a memorable evening. [About which I can find no reference on the web - it being pre-1992!].
Robert's interest is professional as well, since this was an exhibition not only of photos and memorabilia but theatrical costumes and - probably most excitingly - painted back cloths, (which are surprisingly stunning due to their awesome size as well as history). The centrepiece (apparently) of the exhibition is a cloth for Le Train Bleu by Picasso - with contemporary photos of its being painted with Picasso and others. Not many of these cloths survive due to their vast size, and I would think for many cloths in general, debatable merit - so it is fantastic to see them displayed.
Do look at this blog entry from the V&A with a short video of its being hung by the staff - and this one showing the Firebird cloth being rolled up at the end. In fact I would recommend viewing all these blog entries covering the exhibition period!
I was a little underwhelmed by the costumes, only because they are simply that - theatrical costumes - the sort of thing that Rob's students produce. There were of relatively simple construction and were not at their best on close inspection. I think also the designs were in influenced not only by traditional folk costumes, but also by the paired down lines of (what became) the 1920s fashions, which I do not find so appealing.
However, to see such an historical collection of design drawings, costumes, together with "backstage" photos of the people and designs coming together - simply wonderful.
I was very interested to see the Coco Chanel costume designs (used in the V&A publicity materials) for Le Train Bleu as they included knitted swimwear - fabulous.
I am not certain if photography was permitted or not, but I took this to try and show the colour of the lovely knitted swimsuit. As ever, there was very low lighting throughout the exhibition presumably in order to preserve the fabrics, thus, of course, definitely no flash, so you'll have to regard it as an "art" photo due to the excessive camera shake.
Posted on October 28, 2010 at 11:48 PM
Comments
You know - I think I saw that same Ballet Rambert production! To think that we have never discovered that over 25 years of our friendship!

Posted by: Alison on March 25, 2011 3:12 PM

« Previous entry | Main | Next entry »
Thursday September 30, 2010
Books in September
The Suspicions of Mr Whicher: or the Murder at Road Hill House Kate Summerscale
I can highly recommend this book as a fascinating read. Some other reviewers say that there was far too much detail based on the author's research and complain that it's not much of a mystery novel; my conclusion is that they were misled by the cover blurb which does the book an injustice if it implies it's in the detective fiction genre. I would class myself as a fairly lightweight reader who enjoys murder mysteries - and yet I was really gripped by this book, in the same way that I loved The Victorian House (Judith Flanders).
I really appreciated the frequent references, and also the absence of material where there is no historical information available. The picture of the early detective force in the 1850s seems to show their reliance on keen observation identifying somewhat naive criminals, and arrests of the form "come along quietly now lad" followed by immediate confession. Not to underrate their skill, but it makes an interesting contrast to today's methods of detection, where increased skill in producing hard evidence seems to have led to increasingly sophisticated criminals. It is very interesting to understand through writings of the day, how much social class influenced the role of the police - they had an odd status, having the power of the law behind them but no power at all in social standing - their need to pry into everything to uncover the truth was not considered right or decent. [In fact, I even noticed something similar in a contemporary TV episode of Midsomer Murders where on being asked whether the suspect had "stayed overnight" with the witness she replied stonily "how is that possibly any of your business?" - even though the question had a clear purpose.]
I find it hard to see how this book could be taken for a conventional murder mystery as such - the actual murder is really so horrid (as real-life murders always are) that it does not make for a good fiction story. It was the sensational news of the day akin to Ian Brady or Ian Huntley, and seems to have spawned the original police detective story. A number of authors of the day produced fictional stories, using the (then) police methods, but none reproducing anything like the actual Road Hill House murder.
The author cited The Moonstone frequently, showing how it very much followed the pattern of clues in the true story and how the detective (Cuff) was an amalgamation of Whicher and some of his fellow detectives at the time - so I thought I had better read it again to compare...


The Moonstone Wilkie Collins [Read by Peter Jeffrey]
I say "read it again" but actually I am not sure I ever made it through the whole book before even though I have owned the book for a number of years. This time I listened to a spoken-word version - and it was great. The tale is told in sections by a number of different narrators; the story has a conversational style which changes according to the "writer" and therefore is well-suited to the spoken word, especially as Peter Jeffrey seems exceptionally adept in giving the characters voice. So I found it very digestible; in addition, there is a lot of tongue-in-cheek humour in the book, and I must say even though I think I take an interest in Victorian history, I was surprised by how much the humorous content felt quite contemporary. The story was originally written for serialisation in a magazine, so it is episodic in nature and somewhat "spun out" - and this also worked well as an audiobook.
Given that the story is about a theft and not a murder, it is astonishingly similar to the Road Hill House crime, and is very obviously inspired by it. It follows the form: crime in a "posh" house, (erroneous) suspicion falling on a young lady, the key clue of the "missing nightgown" (stained with paint rather than blood), the character and fall from grace of Detective Cuff... and so on. Unlike the real world of course, it concludes with a satisfyingly happy ending.
[Sadly, no happy ending would ever have been possible for the real murder story.]

Posted on September 30, 2010 at 10:11 AM
Comments
I really liked Mr Whitcher, read on your recommendation. I also suggest The Woman in White - I believe you still have my copy.

hahahahaha

Posted by: Alison on October 21, 2010 4:20 PM

« Previous entry | Main | Next entry »
Wednesday September 8, 2010
House of Ghosts
A new Morse play starring Colin Baker. So far so good. But....
Let me focus on the positive - I liked the set very much - it covered for a stage set for Hamlet, a church, a country house, a police station ... and was generally very evocative of the idea of "Morse" and Oxford. I was (and I am not being ironic or sarcastic) glad to see the actors were clearly enjoying their tour. It made the audience join in the fun and also produced excellent acting - some dramatic scenes were played with particular skill and conviction.
I did find that there were some very heavy handed references in the script to the setting in the 1980s - unnecessary in my opinion - I know some people did not live through the era but I am sure they could have kept up!
But the fundamental flaw was that the main cast were basically to old. This is not an ageist statement but the entire plot hinged around the premise that the main characters were at college together "25 years ago" and I think either you have to cast accordingly, or write around it in the script. The writer did actually pen some of the Morse episodes, which meant that some of the linguistic foibles of the TV characters really jarred when repeated by different actors on stage ( I am thinking of Chief Superintendent Strange) - and in the same context there was really no particular reason to make Lewis a Geordie in this play - I think he was (as his name implies) Welsh in the original books.


Rob and I loved the truly high quality TV adaptations - and this was lots of fun - well worth an evening out.

Posted on September 8, 2010 at 11:30 PM

« Previous entry | Main | Next entry »
Tuesday August 31, 2010
Books in August
This month saw the publication of a brand new magazine for spinners here in the UK called the Yarnmaker. I have been anticipating it for a while and it is truly excellent - quite a slim first issue but packed with content - and all about the things which interest me most (so my love for it may be a rather personal preference). I have immediately signed up with a subscription and fervently hope that they can keep up the high standard they have set.

Also this month, Rowan published their magazine for autumn/winter 2010 (No 48) somewhat earlier than usual. However the controversy about this year's free gift for members cast a bit of a shadow. I was absolutely delighted by the idea of their giving away an eco-friendly tote bag, and having received it now, I have to say it pretty well lived up to my expectation. However, there was a mass of complaints about it on Ravelry and other fora. Many people wanted yarn and not yet more tote bags, some did not want a bag "advertising a company", but mostly they complained about the quality - and I think Rowan's supplier did rather let them down over the latter. For myself - I have a lot of yarn, and the free gifts never gave me enough yarn to make anything I really wanted so my previous year's free gifts are all sitting around untouched. But even though I actually liked my bag, I was also sent an additional free book "to compensate me" - Winter Kids.
Anyway - the magazine itself is great - the Russian Doll section is especially lovely although I doubt I will ever knit any of its complex Fair Isle patterning (been there, done that, still working on it...); I had no time for the Timeless section - hated the presentation and pretty much hated the styles.

Posted on August 31, 2010 at 9:09 AM

« Previous entry | Main | Next entry »
Thursday August 26, 2010
Railway Children at Waterloo
Ridiculous I know but I have been looking forward to this all summer. Feeling that I am a child of the railway myself, (though not like the ones in the story), plus the memories of my Father linked with Waterloo station, this was a nostalgic outing not to be missed.
Anyway - it was wonderful - lived up to every expectation. I liked the fact that they staged it rather like Dennis Potter's Blue Remembered Hills (a particular favourite of mine) in that the "children" were the adults they "are now", as it were, playing themselves as children. This opens up possibilities for the play - not the least of which is that you have the skill of adult actors in the roles - and led to a portrayal of the story with all the passion and romance but without the sentimentality.
And - there was a real steam engine and everything! - I cried almost all the way through - I'm crying now.... (Luckily Rob does not embarrass easily).
Charmingly - for the media publicity when the production opened - Bernard Cribbins came along for a photoshoot at Waterloo. (What a professional that man is!). And in this production Marshall Lancaster makes an excellent Mr Perks.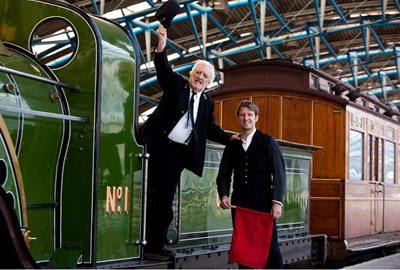 Tickets available through to the New Year. Go on....

Posted on August 26, 2010 at 11:39 PM

« Previous entry | Main | Next entry »
Wednesday August 25, 2010
Dragon Tattoo
I was very cross when I saw the trailer for the second of this movie trilogy advertised to be released on the 25th - as it underlined the fact that I had missed the opportunity to see the first one! However, one of the art cinemas was showing The Girl with the Dragon Tattoo all this week in preparation for opening The Girl Who Played with Fire on Friday. So I was able to grab some last minute tickets and George and I went over to Walton this evening (that is "on Thames" rather than "on the Hill" - sadly the village a mile away has no cinema - art or otherwise). This was the Swedish film subtitled - my Swedish has improved immensely through watching Wallander but .....
I thought it was an excellent adaptation of the book. When it was released there were a lot of shocked complaints about the graphic sex and violence in the film - but really I do not really see why since it merely represented what was clearly described in the book - I cannot imagine an expurgated version, and as such am truly looking forward to seeing what kind of film the planned Hollywood remake will be. As we left the cinema George gave a hollow laugh and said drily that he had heard a review of the second film on Front Row, which said it was "very dark - even darker than the first" - on which basis he did not think he wanted to see the second one.


Posted on August 25, 2010 at 12:37 AM

« Previous entry | Main | Next entry »
Saturday July 31, 2010
Books in July
Dissolution C J Sansom
This is another book gift which it took me a while to get round to reading - it seems it's Sansom's first book of a series (up to about 5 now I think) featuring Matthew Shardlake a hunchback lawyer in the Tudor times. I am not a really a fan of historical "detectives" as such, with whodunnits being an invention of the Victorian era as I see it; some contrivances completely lack credibility - and are then poorly written. But a good story (well executed) is always a good story and I thought this one was excellent. One aspect I particularly enjoyed for myself is that it imparts a lot of information on this period of Tudor history about which I knew relatively little. I do like to learn new things in such a digestible form.
Many other reviewers have used the description "gripping" and I leave you with some words from James Naughtie, writing in the Sunday Times: "As good a new thriller as I have come across for years. The London of the 1530s smells real, the politics and the religious machinations are delicious and Sansom's voice rings true. His troubled hero Shardlake, doing Thomas Cromwell's dread work in the burning monasteries, is a kind of Tudor Morse and a character to treasure. Great stuff."
[There was some rumour of the BBC commissioning a series starring Kenneth Branagh but that seems to have evaporated. Someone suggested Tony Robinson for Shardlake - an excellent choice but sad to say a bit too old for the role now, as the character is pretty young - I would suggest maybe Burn Gorman.]


Charlotte Gray by Sebastian Faulks [Read by Jamie Glover]
I will begin by saying the book is excellent and well worth reading. Again, I learnt a lot about (rather more recent) history. Although I am familiar with the facts of the chronological progress of WWII, I never before had pointed out to me - or bothered to look into - what the occupation of France really meant, with the willful collaboration of the Vichy government after 1940, and the so-called "free zone" of France.
I was very interested in seeing the film starring Cate Blanchett when I saw the trailers in 2001; most of the reviews suggest it lacks passion, but despite that I am keen to catch it some time on DVD.
I understand that Faulks did a lot of research using contemporary accounts as the source for his fiction - this makes compelling and heart-breaking reading. I did find - though this is not necessarily a criticism - that the story was in two parts - the traumatic sub-plots sourced on real events, and the love story involving Charlotte. For all the detail about Charlotte's passion for her airman, I did not really feel for her; she is a restrained and someone cold little soul and I can see why they had trouble bringing her to the screen.
I do notice that the film has a different ending from the book. I think Faulks wanted to make a broader point about keeping faith, but I thought Charlotte's relationship with the Frenchman was more real than what I was perceiving as a fantasy about the airman. I was a little surprised by the reconciliation that ended the book - and also that it had a "happy" ending, (at least to Charlotte's romance - though you can't help feeling that it was rather small beer in comparison with the other events described).

Posted on July 31, 2010 at 8:49 AM

« Previous entry | Main | Next entry »
Friday July 30, 2010
The Man from Stratford
I had a full day today - with a man coming to destroy two wasps nests in my house (maybe I should not say that as it seems popular to encourage the wasp these days - but it was getting hard to pass in and out of the front door, or open the bedroom window!) - and the men from Wickes delivered our kitchen units for the Bakehouse in France.
In the evening we went to see Simon Callow in a one man show about the life of Shakespeare. I love SC but felt he was slightly uncomfortable with the material and as I understood he wanted to tour prior to Edinburgh I thought maybe he was still adjusting - but he has done quite a few venues already.
I wonder if his issue was the same as my own - which was that Richmond Theatre had a simply dreadful arrangement as an aid to the deaf. It is Stagetext which provides open captioning converting the spoken word into visible text - which is continually beaming out at you in bright lights at the side of the stage. I am sure it can be a boon to the hard of hearing but I cannot see how the marketing material can say:"providing a more enjoyable experience for current audiences whether they have a hearing loss or not". It is no exaggeration to say that it utterly ruined the performance for me. My eye was constantly drawn away from the action of the play to watch a lettered board - I could not ignore it.
Future venues for the tour include Riverside Studios London, New Theatre Cardiff, Theatre Royal Glasgow, and the Churchill at Bromley.
Posted on July 30, 2010 at 8:33 AM
Comments
Hi! Stopping by to catch up a bit after being off all the blogs for most of the summer. KnitNation and WoolFest look like they must have been fun. And here we are almost in wool festival season again. Phew, how time flies!

Posted by: Cathy in Va. on September 14, 2010 2:41 AM

« Previous entry | Main | Next entry »
Wednesday July 14, 2010
Sissinghurst and Tudeley
After only about 25 years, my friend Jocelyn came over to see me from Australia - she has been over before but we have always missed each other. It was great to see her again, and we went on a couple of days out.
We visited Sissinghurst - I've always wanted to see the famous garden (now owned by the National Trust) - and it was as lovely as I expected. Unfortunately I have had camera issues for a while now and failed to get any personal photos of Joc or the garden. Anyway - I decided to post this photo of 3 generations of the family (men) take around 1967.
The next 3 generations posed in the same way about 20 odd years later - for fun I imagine - and the two photos were exhibited side by side. This kind of idea always has great appeal for me (as in my crude attempts to copy the original model poses in POM) - so I was hoping to post the same here but am unable to find a copy of the later photo on the web.
As we were (relatively) close - in Kent at any rate - I finally took that detour to Tudeley to see the Chagall windows in All Saints Church. I did not warn Joc of where we were going as I was not sure what to expect - but it was utterly beautiful in its tranquil setting with not another soul about; a very impressive end to the day.
Posted on July 14, 2010 at 8:29 PM

« Previous entry | Main | Next entry »
Wednesday June 30, 2010
Books in June
The Shanghai Union of Industrial Mystics Nury Vittachi

This is a "Feng Shui detective novel" - part of a series - a remarkably original gift from my step-daughter. It is a light-hearted humorous book - albeit rather black humour. Personally, I feel sorry for the elephant - yes, I am afraid to tell you that innocent elephants were indeed harmed in the making of this book....


Sparkling Cyanide Agatha Christie [Read by Robin Bailey]
I enjoy listening to Robin Bailey reading Agatha Christie novels. His voice is like a comfortable chair - like listening to one of my old uncles reading to me (not that they ever did - this is an imaginary uncle).
I first read this novel when I was a teenager in a single afternoon - but remember little of the plot, as so often happens when you read a book quickly. Listening to it now, I quickly realised that this is a revamp of the short story "Yellow Iris" (1937) which featured Poirot. This novel (1945) does not feature her famous detective - though it does feature his good friend "Colonel Race". However, it is told from the point of view of an innocent heroine, Iris, (as opposed to Iris being the victim in the short story) and the victim is her sister Rosemary "for remembrance" whose character is somewhat altered and expanded. [The person wot dunnit has also changed!].
Iris does not see quite everything as we the readers do, and it is a (slightly) psychological thriller similar in feel to Margery Allingham's "Black Plumes". Will she escape the fate of her sister? Is she in love with the murderer?
I recently watched a very modernised TV adaptation (2003) starring Pauline Collins and Oliver Ford Davies - where they appear to be playing some kind of "Tommy and Tuppence" characters in a pretty unconvincing scenario (to be fair - probably no more unconvincing than those two fictional characters and their plots always were!)


Taken at the Flood Agatha Christie [Read by Hugh Fraser]
It was good to listen to the original text - and good to hear Hugh Fraser reading it. I have seen/heard several adaptations including the radio play - which seemed to stick pretty closely to the novel - and the TV adaptation as part of the David Suchet Poirot series - which did not.
I did not much like the deviations in the TV adaptation - I think they were done mainly to fit with resetting the plot into the 1930s. As a consequence the fundamental foundation of the story line becomes a pre-planned "gas" explosion rather than an unplanned air raid. This not only does not fit half as well with the characters and their occupations (the heroine has been away serving her country and the emphasis is on how the war disrupted all their lives) but it also rather spoils the title reference.
"There is a tide in the affairs of men. Which, taken at the flood, leads on to fortune; Omitted, all the voyage of their life Is bound in shallows and in miseries. On such a full sea are we now afloat, And we must take the current when it serves, Or lose our ventures."
It is a quote about grasping an opportunity as it arises - now or never. It is not about anything preplanned.
I am not universally opposed to plot changes to suit adaptations of AC's work. Some are very original and she herself rewrote her own plots (as above in Yellow Iris for one example). I much enjoy the recent reworking of the Miss Marple stories where she is shoe-horned into other people's adventures in a completely seamless way. After all, Joan Hickson said all there was to say about the original character as written, and these newer stories are exploring ways to add something. But... the Poirot alterations have not been so good; David Suchet has yet to complete his definitive TV adaptations of the canon - so it's not the time to fiddle about with the plots to such a degree. Sadly, "Cards on the Table" was a particularly unworthy of his stated aims for the series - and, now it's done he will have no opportunity to "correct" it.

Posted on June 30, 2010 at 8:58 AM

« Previous entry | Main | Next entry »
Monday May 31, 2010
Books in May
I have been catching up on a lot of podcasts this month - very ancient "Front Row" highlights from Radio 4. However, the copious quantities of knitting have led to the consumption of a couple of "old favourites" - reading to match my vintage knitting I think.
Over the Gate by Miss Read [read by Gwen Watford]
While idling through one of Lucy Mangan's regular articles in the Guardian earlier this year, I was caught by her reference to the "Miss Read" stories. I was aware of Miss Read from my teenage years, but spurned her books as cosy and trivial (once I had discovered they were not about crime). However - I find myself drawn to Lucy and her opinions - and she seems very keen on these books - so I figured it must be "OK" to read them...
As she puts it they tell "the (very small) adventures of fine English folk in a variety of fine English villages" and admittedly she has more of an excuse to read them than I do - in her case being a "palate-cleanser between meatier courses" whereas in my case I suspect they are undoubtedly the main course - in fact the only course.
They are of course charming (you have to use that word) and I enjoyed this reading by Gwen Watford giving the perfect voice to the school mistress.


Queen Lucia by E F Benson [read by Geraldine McEwan]
E F Benson seems to have a cult following akin to that of G&S or the Goons. Despite my enthusiasm for Lucia - I was a bit surprised to discover this (when I visited Rye and found there was an E F Benson tourist walk). I suppose I first came upon the books through a non-purist route of seeing Geradine McEwan capture Lucia on the television - and after listening to the audiobooks, those TV adaptations seem to me to have achieved a perfect depiction.
I listened to several of the books in the 1980s read by McEwan and Prunella Scales (Miss Mapp on the TV), and I thought they were worth revisiting - and again I was surprised that although the audiobooks are available, the versions read by these two actresses are hard to obtain. Anyway - this was the first - and just as much fun as ever.

Posted on May 31, 2010 at 3:03 PM

« Previous entry | Main | Next entry »
Saturday May 1, 2010
The First of May
Hooray, Hooray, the First of May. You can cast your clouts today....
(well what were you expecting to do?!).
So for once I was up bright and early to greet the dawn with the Morris Men on Box Hill. There were 3 sides today - Off Spring Morris, Ragged Rooster, and Ewell St Mary.
What a gang they made.....
I was a bit cold - seemed mild enough to not wear a coat when I got out of the car, but to stay warm you had to be dancing!
It was all rounded off nicely, though, with a warming cup of tea and a cooked breakfast.
They know what's important in life those Morris (Wo)Men.
Posted on May 1, 2010 at 7:27 AM

« Previous entry | Main | Next entry »
Friday April 30, 2010
Books in April
The Little Stranger by Sara Waters
I saw a review of this book along with 5 other Booker Prize nominees in 2009; it did not win the prize but is also nominated for the Orange prize 2010. I loved it from the start as it drew me in to the description of post-war rural Britain and a declining country estate. However, it is a strange and rather sad tale about the "little stranger" which it took me a while to catch on to as I was so enjoying the story of the characters.
It reminded me of my favourite J B Priestley novel Bright Day which is set somewhat earlier before the war (both wars in fact), and also recounted as a reminiscence. It also has two layers - the first being a wonderful cosy description of the hero's life as he starts out working in what is actually Bradford - somewhat autobiographical I believe - and then the actual nub of the story and moving on to "present day" (1946) with the sting in the tail. Like many of Priestley's stories ( Inspector Calls, Dangerous Corner ) this is a kind of morality play - and this moral I particularly like. It points out how misleading it is to believe someone else's life to be "perfect" and perhaps wishing you were they.
Little Stranger is a very different story but has the same flavour, poignantly evoking an older culture - and where things are not quite as they seem on the surface. I highly recommend it.


Third Girl by Agatha Christie [read by John Woodvine]
Having seen the TV adaptation of this book with David Suchet, I went back to the source. This is from AC's 1960s period where you can feel her own sentiments about the modern age coming through - Poirot is a little perplexed and out of his depth - "modern girls" and their lifestyles are explained to him (and us!) by Mrs Oliver - he is told he is "too old!" ...and he feels it. There is a lot of time spent where we watch the little grey cells at work through the pages. Overall the TV adaptation did it justice - they are generally not able to reproduce the chemistry of the cast, and light-heartedness of the short story adaptations in the 1980s.
Having said that, I recently watched a TV adaptation of The Pale Horse (1997) - which I remember as a gripping book. Here AC seems totally at home among the new generation of bright young things - I always thought there was a great similarity in culture between the 1930s and the 1960s - both times of great change in art, lifestyles, and outlook. However, seeing the publishing date of 1961, I guess it more reflected the 1950s art world - certainly the TV adaptation was very true to the styling of the late 50s with the hero in leather jacket and black turtle neck (he was an artist...). Third Girl is squarely in 1966 - swinging London, mini-skirts, .... drugs (pretty central to the plot).

Posted on April 30, 2010 at 11:15 PM

« Previous entry | Main | Next entry »
Sunday April 25, 2010
Grace is the beauty of form.
I spent yesterday at the V&A taking in both the Quilts exhibition - ancient and modern - and "Grace Kelly: Style Icon", which showed how her wardrobe evolved from that of a stylish actress to royal princess.

In the latter, we were able to see her film costumes, dresses made for her trousseau and wedding, as well as the later French haute couture of the 1960s and '70s. In 1955 Grace Kelly first met Prince Ranier wearing a cotton dress made from a McCalls pattern of the day (albeit not hand-sewn by herself - she had modeled for McCalls spring catalogue for that year) but going forward as Princess she easily embraced the haute couture gowns by her favourite couturiers Dior, Balenciaga, Givenchy and Yves St Laurent.


I loved the outfits from the 1950s - envisioning myself on all of them (!). The dresses were inspirational and made me want to go home and start sewing immediately! The 1960s fashions were a little less appealing to me, based on simpler straighter lines - though the Mondrian dress is always striking (I think M&S even had recent version of this type of 1960s design).
Of course, they have their own beauty, which she was well able to carry off with her height and slender figure -

- and rather despite the bizarre 1960s rigid hair styles, bolstered by hair-piece additions, (which were a fairly normal feature even in less formal hair dressing at that time).
In the 1970s, the fashions moved favourably for an older Grace (in my opinion) but these are my least favourite - probably because this was the sartorially unsatisfactory era of my youth ("the decade that taste forgot"). The exhibits were more formal dresses: long, floaty, layered (visualise Abigail's Party); they showcased wonderful colours and fabrics.
As the exhibition pointed out, Grace's appeal for the masses in the 1950s was that she wore clothes that any girl could have worn - even to meet a Prince..... and I think I follow the masses here....

The quilt exhibition was quite different in atmosphere; the lighting was kept low to protect the items, making it seem mysterious and almost sacred. Many of the quilts on show featured applique and embroidery - picture quilts, symbolic, incorporating religious texts, or commemorating people or events. But I have to say, I preferred the traditional pieced and quilted exhibits - some of which were surprisingly ancient yet in excellent condition. The Bishops Court Quilt, shown below, dates from around 1690.
One coverlet was unfinished, and was on display so that the front and back could be viewed with the paper pieces used in the construction on show. The papers can provide important historical evidence for dating quilts - the one on show used old receipts and ledger papers.
The 65 quilts on show were mainly from the V&A's own collection but also included a number of new works by contemporary artists, which were on loan - some commissioned especially for the show. It could be argued that some of the newer works were not "quilts" at all - they more explored the term as an artistic concept. For me, quilts represent safety and comfort, and I did not take to being challenged by cutting edge art forms. I liked Sara Impey's "Punctuation" - a silk machine-quilt poem of fragmented phrases. However, my favourite of the modern works was Tracey Emin's bed (no - not the bed but "To Meet My Past" 2002) - neither the artist nor this work could really be said to represent safety and comfort, but I found it poignantly pleasing.
Quilts: 1700 - 2010 runs at the V&A until July 4th, and
Grace Kelly: Style Icon runs until September 26th.

Posted on April 25, 2010 at 8:26 AM

« Previous entry | Main | Next entry »
Monday April 12, 2010
Croydon Film Festival
Rob has had a film short listed for the Short Film Contest, so this evening we went to a screening of the 12 chosen films in the Croydon Clocktower. A tiny excerpt is featured in the title flash sequence on the website - Rob is 9th out of the 10 shown, (2 are not shown as they have potentially offensive content). The theme was "passion".
My favourites were "The Boyfriend Song" - which seemed very derivative of the Monkees (who are likely unknown to the musicians... ) but none the worse for that, and "The Perfect Cup" as the film makers seemed to be having such a laugh. Rob did not progress to the next stage of voting - which is a shame - but I think most of the ones I liked did not get through to the next stage - and 2 I really disliked got through. However, they are not being judged simply on the content.

Posted on April 12, 2010 at 1:51 PM

« Previous entry | Main | Next entry »
Wednesday March 31, 2010
Books in March
Walking in Pimlico by Ann Featherstone
I thought this book was absolutely wonderful. It is a psychological thriller - a great story, as well as well written. Another of Robert's choices for me, it also has a connection with arts and entertainment. The author is (or has been) a lecturer in performance history at Manchester University, and a researcher in drama department at Royal Holloway, University of London. She presents her dialogue (or at least some of it) in the argot of the Victorian music hall and - unlike my final book for this month - provides a fantastic depiction of the life, including the police force, of that time. I cannot comment on whether or not it is correct but it is is utterly convincing. She uses her research and knowledge apparently effortlessly within the plot, making for a fascinating read, while skilfully allowing the narrative flow and not be bogged down by extraneous detail.
To 'walk in Pimlico' is colloquially "to be handsomely dressed".


The Monster in the Box by Ruth Rendell [read by Nigel Anthony]
Inspector Wexford story in which he looks back to his life as a young policeman in order to solve his current case. One could view the outcome as successful or not - given that he is sure of the murderer from the outset but not only fails to prevent a further murder, but actually seems to instigate one. The book explores our attitudes to a multicultural Britain from a few different viewpoints, though I am not sure I felt any conclusion is reached.


The Railway Viaduct by Edward Marston [read by Sam Dastor]
This is not the best book I have ever read. A rather strange depiction of policing in general as well as Victorian Britain, and criminal motivation.
Good enough to amuse me while driving and while spinning (....not at the same time), since the plot is not hard to follow and is delivered at a pedestrian pace.

Posted on March 31, 2010 at 1:06 AM

« Previous entry | Main | Next entry »
Saturday March 20, 2010
Jethro Tull
Lots of fun at the Fairfield Halls - much of it observing the audience. I had hoped the photo would contain more bobbing bald heads and pony tails - but I think the climb to our seats made for a younger demographic...
Our seats were "at the very back" - the furthest up and back you could possibly go - in fact I was not aware that Fairfield Halls went up quite that far... the Gods were full of wheezing middle-aged people - as we sat down the couple next to us said "o - well-done!".

Some single-leg work (as below in Basel 2008) - well done indeed!.

Posted on March 20, 2010 at 10:35 AM

« Previous entry | Main | Next entry »
Sunday February 28, 2010
Books in February
All knitting books this month - not doing well with reading. I did make an attempt at Eat, Pray, Love - lent by my sister, though she was not very smitten by the book but, like me (and, I presume, all women), recognised some of the scenarios. I could not read more than a chapter or two as I was not very interested in the author or what happened to her. Read the Wikipedia entry where it quotes the New York Times critic descibing it as "narcissistic New Age reading" - which about sums it up for me.


Debbie Bliss magazine (issue 4) by Debbie Bliss
Another lovely magazine from Debbie Bliss. I have not felt so smitten by the designs in this issue - but maybe I am not so keen on casual summer knitwear in general. However, it is a whole "lifestyle" magazine with knitted soft furnishings, and even recipes - in the true Stitchcraft magazine tradition! I love the insights into Debbie's inspirations, and her book (and other) collections.


Rowan Magazine 47 edited by Marie Wallin
As you know I am committed to the Rowan canon and this is another excellent magazine from the brand. Again, I am rushing off to buy the wool - which may, be as above, that I am less smitten by summer styles, or it may be that I already have a lot of outstanding UFOs. I have only recently knitted one of the winter offerings - I find my style influences tend to be a couple of years behind the times - takes a while for me to get used to new trends! Of these designs I did like Brighton (from new designers I think) and Tourquay the theme here being the ice cream colours used assymetrically.



500 Handmade Dolls: Modern Explorations of the Human Form (500 Series) Lark Books

A weird and wonderful book of art dolls - a sort of Mervyn Peake world in 3-D miniature. Needless to say, this delightful book was found for me by Robert, who has a knack for turning up the unusual.

Posted on February 28, 2010 at 10:04 AM

« Previous entry | Main | Next entry »
Tuesday January 26, 2010
Project 365
Tony has started a new project for 2010 - Photo365 (clue's in the name) -
- and has featured some birthday mittens I made for Cathy.

Posted on January 26, 2010 at 6:24 PM

« Previous entry | Main | Next entry »
Friday January 22, 2010
Sacred Made Real
A birthday outing so as not to miss this National Gallery exhibition, (final day tomorrow), of Spanish painting and sculpture from 1600 - 1700.


It included Velázquez and Zurbarán masterpieces alongside life-sized carved sculptures made from painted wood - all designed for religious buildings. The sculptors went for hyper-realism, sometimes using glass eyes (as for dolls) and tears, as well as adding ivory teeth and human hair. The skill of the sculptors, I might mention, was such that the human hair was used for the eyelashes, not for the hair - they showed off their fantastic level of skill in their ability to carve the hair and amazing renditions of fabric, so fluid you cannot believe that it was made of wood. The separate skill of polychroming, was performed by specially trained painters, who often considered themselves more important than the sculptors as they "brought the pieces to life".
As was made clear in the exhibition, this form of art has been much overlooked, as the pieces generally do not leave the religious buildings in which they are housed - except to be paraded around the streets on religious high days and holidays, of course - so they are rarely seen outside Spain.

The sculpture above was Rob's favourite. Rob was very interested to glean everything he could about both the techniques of sculpting and painting the statues, to the lighting effects illustrated in the paintings; (he has recently been trying to get his video students to try different styles of shooting in order to understand how they achieve their effects and moods).
Above is a view of St Francis, who has lost whatever he was holding in his outstretched left hand - however, paintings were often made of these sculptures, and this exhibition shows the two art forms together. The contemporary painting in this case shows him holding a crowned skull, which symbolises wordly vanity - and this specific device is used in some of the other works. It led me to think of what double meanings there might be in Shakespeare's famous use of the skull in Hamlet, since that was of roughly the same period.
This view of the gallery with Mary Magdalene visible through the doorway, gives you some idea of the scale of the sculptures. I took a picture of an "interesting shadow" cast by a really wonderful exhibit which was, by contrast, really tiny; this was Saint Francis Standing in Meditation (most of them were "standing in meditation"...) which had never before left Toledo Cathedral.
I must also say: this whole exhibition was exceedingly gory and macabre, for example, John the Baptist's head with really nothing anatomically left to the imagination. That is one of the things that made the effect rather startling - lots of life-sized creations of Christian suffering. The sacred made real.
My favourite was not one of the sculptures, but Velázquez's Immaculate Conception. This is from a postcard of her - but I think the painting must have been cleaned since the pictures were taken, as it positively glowed under the excellent lighting of the exhibition.
Once outside I felt the need to picture the fountains in Trafalgar Square - the Madonna picture has some symbolism in it which I do not pretend to understand but presume it is purity and virginity: she stands on a moon, there is a kind of citadel in the background, and, in the foreground - a fountain.
Posted on January 22, 2010 at 6:26 PM

« Previous entry | Main | Next entry »
Thursday January 14, 2010
Hand of Good
Do you have those days when a few stray elements randomly coalesce?
This is one of those days for me.
Last March when I was in Worcester with my old school friends, George and I visited the City Museum where there was an Crafts Council touring exhibition called Deviants "Peer Into the Subversive World of Craft". I was fascinated by it (and I took some pictures but did not publish as I suspected the artists might not be too happy without permission). Of particular interest to me was an exhibit called "Hand of Good, Hand of God" by Freddie Robins - a kind of fractal knitted glove.

I would not have remembered any of this, but that today, I ran across Knit a Work of Art from a Free Pattern at the V&A site, which is Conrad - gloves by Freddie Robins. This immediately reminded me of the exhibition and spurred me to look up Freddie's site (wwww = wonderful world wide web) and confirm she was indeed the artist whose work I had seen in Worcester.
Even more pleasing is that these gloves are inspired by a poem in Struwwelpeter - a 19th century German book of cautionary tales for children (!). This book so fascinated me that I bought a modern fac simile of it when I was in Germany. This tale is of Konrad der Daumenlutscher whose thumbs were removed by the tailor's big scissors - a true horror including fantastic onomatopoeia in the wonderful German language ["jetzt geht es klipp und klapp, mit der Scher' die Daumen ab"], and graphic illustrations.

Coalescence - it's very satisfying when it happens.

Posted on January 14, 2010 at 9:41 AM

« Previous entry | Main | Next entry »
Thursday December 31, 2009
Books in December
Frantic activity all through December left little room for reading. However, I received some great books as gifts.
Make Do and Mend: Keeping Family and Home Afloat on War Rations (Official WWII Info Reproductions) foreword by Jill Norman
A wonderful book reflecting my interests in this aspect of history and culture. These are fac similes of the "Make Do and Mend" leaflets issued by the British government during World War II. Clothes rationing was implemented by issuing coupons which allowed minimal purchases of not only clothes but the raw materials to make your own clothes - so recycling of fabrics** and yarns was a necessity. The initial coupon allowances introduced in 1940 were gradually reduced throughout the war, and ironically, when the war was "won", (and America ceased to subsidise the British economy), even stricter rations were imposed.
There is some suggestion that many of the rules and guidelines could still be applied today - which is true. However, I think it's worth remembering that these makeovers had none of chic associated with the current fad for so-called recycling; everyone loathed it.
** I also own an original 1940s sewing pattern telling you how to cut out the two-tone blouse from "two of your husband's old shirts".


Spin Control: Techniques for Spinning the Yarns You Want by Amy King
I have been longing to read this book. I think I already "know" (the theory of) some of the fundamental information in it - with respect to woollen and worsted spin, and different methods of drafting - but there is so much more here. It gives excellent photos and explains clearly the actual effect of what what you are doing with respect to a finished knitted result - concepts I had never really considered.
Now I have already read it from cover to cover, I am not sure it will actually alter my ability to control what I spin. However, I know I will refer to it again and again to remind myself what to expect from the techniques I am using. And who knows? maybe - gradually - the control will come.


Knitted Socks East and West: 30 Designs Inspired by Japanese Stitch Patterns by Judy Sumner
An interesting book with some great patterns - lots of complex stitch work though, so not so much for patterned yarns. I think this is a lovely and original collection, though I would take issue with the author's assertion that the actual stitches are unknown, or never before conceived of in the West. It's not that she is "wrong" and I am sure that she did spend many interesting hours interpreting Japanese patterns - and making it so much easier for us. However, there are a lot of old "western" patterns with many interesting techniques and frankly bizarre stitches which do reflect the same "kinds of" (that is not identical) techniques described in this book. As to the complexity of the stitches - my past experience of being taught the "Japanese" way of doing short rows and wrapping stitches gave me the impression that the method seemed unnecessarily complex for very little benefit, and very little observed difference in the result.
But I do not wish to sound churlish - this is a lovely book and I look forward to knitting a number of the patterns from it in the next 12 months. [Maybe not so many of the type indicated on the cover photo ie those without toes or indeed in some cases no feet at all. Just to reassure you that many of the socks depicted are ..... well..... socks].

Posted on December 31, 2009 at 11:29 AM

« Previous entry | Main | Next entry »
Monday November 30, 2009
Books in November
This month I have been doing a lot of machine knitting - none of which worked out very well, and is due to be unraveled. However I worked to the accompaniment of a number of podcasts from the BBC, and a couple of light-weight talking books.
Agatha Raisin and the Haunted House and the Deadly Dance by M C Beaton
[Read by Penelope Keith]

Agatha finally opens her own detective agency, and realises that the opportunity for investigating murders on a professional basis is not what it's all about. In fact, it offers more in the line of finding lost cats. Despite this, she is soon embroiled in more "murders and mayhem" - and still trying to fight the signs of ageing whilst pursuing unworthy men.
Sigh.

Posted on November 30, 2009 at 10:31 AM

« Previous entry | Main | Next entry »
Friday November 20, 2009
Mrs Warren's Profession
The last of my tickets for the year is this interesting wordy drama from Bernard Shaw, at the Richmond theatre. I always like his plays but this one seemed to have an unnecessarily sad conclusion It seems Edwardian Woman could not have her cake and eat it too. Clearly, I am the audience that made him rewrite the ending to Pygmalion.

The play transfers to the West End in 2010

Posted on November 20, 2009 at 11:13 PM

« Previous entry | Main | Next entry »
Wednesday November 18, 2009
Inherit the Wind
Rob did not pass on a ticket for this Old Vic production starring Kevin Spacey and David Troughton, and directed by Trevor Nunn. The 1955 play is based on the true story of the Scopes Monkey Trial - the play, again, made famous by a film, in which a school teacher is prosecuted for teaching of Darwin's theories of evolution. The great lawyer Clarence Darrrow acted for the defence; a hugely popular Democrat politician, William Jennings Bryan was prosecutor. The trial became a worldwide sensation.

I enjoyed the performances of all the actors. David Troughton was surprisingly (only in that he is English) convincing as a populist American politician. Spacey produced his one of his favoured character roles, though I did feel that his playing to the audience in the final moments of the play was not warranted. During the trial scenes we, the audience were in the position of the jury, so both legal teams were "playing" to us. When it was all over, the character was alone on stage and his mimed summary should have been expressed more privately without the awareness of an audience.

I had no particular deep knowledge about this trial prior to seeing the play, but was interested to read in the programme that the real-life trial was a "put up job". Scopes "agreed" to admit he had been teaching evolution (which he may not have done in fact as he was a sports teacher) to enable the American Civil Liberties Union to defend a test case. I also did not realise that the defense did not succeed in this trial, and that the overall point on the teaching of evolution was not finally decided until 1968.


Posted on November 18, 2009 at 11:33 PM

« Previous entry | Main | Next entry »
Saturday November 7, 2009
Dial M for Murder
A month of theatre visits began with this innovative production of the 1952 play, made famous by the Hitchcock film of the same name. I thought it was really well done, and the actors were terrifyingly wonderful.

I was particularly smitten by the set, designed by Mike Britton. At first I was unsure - it was a brilliant blood red throughout (walls, floor, carpet), and the whole stage area rotated very slowly as the plot progressed. This sounds very distracting but in fact it took me some time to notice the movement, which says something for the strength of the acting as well as the staging adding to, rather than distracting from, the play. The overall effect was to emphasise the feeling that we were observing the characters as if they were in a goldfish bowl - the dark action played out with the villain and his plan known from the start. I thought it was excellent.

The final key action of the play is carried out off stage - in the previous production, only sound effects are heard, which can add to the tension. In this setting, the back wall of the apartment was a gauze cloth enabling us to see the hallway and directly observe the villain give himself away. My only comment on this is that producing it in this way makes the Scotland Yard detective's commentary on the action in the hallway redundant, and it could have been dropped. The curtain falls on brilliantly silent actors as the villain makes his final doomed entrance.

Robert refused the role of my companion in this outing, which was a shame, as I think he would have enjoyed it. However, he was permanently scarred by the memory of a production I "made him go to" in Worthing many years ago - I have wiped this episode from my memory, but it remains clear to him ("lots of stuff with the telephone" which he remembers as a shortcoming of the staging rather than a key element of the plot...).

Posted on November 7, 2009 at 9:12 AM

« Previous entry | Main | Next entry »
Saturday October 31, 2009
Books in October
Almost a repeat of my entry for May - the autumn books from Debbie Bliss and Louisa Harding are now available.
Debbie Bliss magazine (issue 3) by Debbie Bliss
A number of interesting articles, and, as usual, a great selection of winter patterns from Debbie. Take a look at them at the Laughing Hens site. I love the cabled slipper socks, the fair-isle hot water bottle cover, the tartan tea cosy... and ... and... It's like POM condensed into one magazine ...well maybe with better looking and more up to date styles! Anyway lots of projects to look forward to this winter - will any of them make it as Christmas Gifts I wonder?
I have put two cover images here, but it is only one magazine - the image on the left was the "preorder" marketing cover, and the one on the right was the one that was actually chosen when the magazine was published. I really preferred the preorder version (and when Laughing Hens sent me the magazine I thought I had received the wrong one somehow!) - but I can see the final choice may have more marketing impact. Not sure what this says about my fashion/style preferences - certainly not that I don't like red - but I have not rushed into knitting any of the items inside that red cover. Maybe I just have too many other things to finish right now.



Little Cake and Queen of Hearts by Louisa Harding
Now here, unpredictably, I have already rushed into buying wool to make a couple of these styles. I bought wool at Ally Pally to make a cardigan (Puzzle ), and a dress (Two), both from Queen of Hearts. One item from Little Cake (Featherbed has already "made it" as a Christmas Gift (yes, completed and ready to go).
I find the styling of the models most beguiling - even though I don't buy into looking like that myself (which is just as well - not just an age thing although that doesn't help!). I don't think I had the sense of style or the imagination to look like this even when I were younger. However, I love the idea of these quirky goth type models, and hope I can look stylish nonetheless. But first I have to knit them - right?

Posted on October 31, 2009 at 11:51 AM

« Previous entry | Main | Next entry »
Wednesday September 30, 2009
Books in September
T is for Trespass by Sue Grafton [Read by Liza Ross]
A frightening tale for all of us who are "getting on a bit" - though I am not in possession of any substantial material wealth in the shape of jewellery or real estate, so maybe I don't warrant the attention of con men (or women). Lets hope.
I see there is a version read by Lorelei King, who I think is an excellent reader and would very much like to hear her as the voice of Kinsey Millhone. I find Liza Ross a little whiny - partly this is her accent - but it has to be said that the character is a little whiny so I am not overly critical of her style!


Saving Fish from Drowning by Amy Tan
This is a strange novel in that it starts with the premise that the narrator is dead - in that context I suppose it has some ethereal features in common with the Penelopiad. Even though the plot is fantastic in the true sense of the word, it is utterly gripping in a very much down-to-earth sense; you are right there with the characters, fearing for their every stupid move. Right up to the last few pages I feared for the outcome for the unworthy western heroes, which seemed would inevitably to end in tragedy. And I suppose if I had proper consideration for all the characters rather than just the western ones - it really did end most tragically. As usual, a very poignant (and political) story, even if told with a slightly more fantastical air.


End Games by Michael Dibdin
This book is regarded as a return to form - it has a less glum feel about Zen's health and personal life. The plot however does bring us back to the usual deeply depressing view of a corrupt society - and the rather gruesome black humour.
I think Peter Guttridge's article from 2007 provides an excellent review of both this book, and Dibdin's writings. [The reference to tomatoes in the title of the article refers to Zen's apparent dislike of their constant use in Calabrian cuisine]. I note that the first book, the Sherlock Holmes pastiche, which I found so very remarkable, has been "constantly in print in the UK for 30 years".
It's hard to adjust to the idea that this really was the end of the game.

Posted on September 30, 2009 at 11:43 AM

« Previous entry | Main | Next entry »
Monday August 31, 2009
Books in August
My peaceful August boating holiday gave me plenty of time to catch up with my reading as well as listening to the spoken word.
The Brass Verdict by Michael Connelly
I think it's fair to say that I could not wait to get my hands on this book and enjoyed every minute of reading it. Our hero maintains some of what seems the Connelly tradition of being unable to retain any kind of settled relationships (and I mean that loosely - not with a capital "R") but maybe that's actually how life is, as well as adding drama to the book. He (hero) has been through a lot since we last met him and is having to reshape his life as the books starts out - and we leave him at the end of the book with a stated direction of reshaping his life yet again - but through choice this time.
His interaction with Bosch is quite interesting. I find it hard to see the character we know and love portrayed as he is in this book - but it's just because it is through anothers eyes. And Bosch has some relevant baggage that he's hefting around.....
This book is excellent in my opinion but .... although I hate to say it out loud.... not as good as the Lincoln Lawyer. I don't think it was simply due to my high expectation - I just think Lincoln Lawyer plot was so excellent that it's hard to match it - and I am not at all disappointed that Connelly did not quite do so.


The Penelopiad by Margaret Atwood
Helen recommended that I read this book - she felt it was just the sort of thing I would enjoy - and she was right. It was very refreshing and funny. For some reason I conjured the idea of Ray Winston as Odysseus - not necessarily given her physical description of him (in case he finds my comparison offensive!).
I have enjoyed a number of other Atwood novels - they are a joy to read in the sense of the written word - and they break your heart. I recommend Blind Assassin, Alias Grace, and her short stories.
Rob lent me Alias Grace, (which I like a lot), and I gave him Surfacing, which he found perplexing... I have yet to read it.


Five Quarters of the Orange by Joanne Harris [Read by Diana Bishop]
This was the novel I listened to while we were chugging along in our boat - and while I was knitting. It was brilliant and exceeded my expectation. I have seen the film version of Chocolat, and I have also read Blackberry Wine - which was perfect for me as the hero reminisced about his childhood in the same period as my own - and the book was set in two separate time periods with two stories running side by side, with a good dollop of romance thrown into the present day.
Five Quarters of the Orange was of exactly the same form, but with an elderly heroine looking back to a much earlier period - and still managing an, albeit mature, romance in the present day. She described the struggle during her adolescence in her relationship with her Mother and siblings - and I found it all very resonant despite not having been brought up in poverty on a small holding in occupied France during WW2. Added to this there was almost a murder mystery element - so I was charmed and enthralled.
The book was helped a lot by being simply beautifully read - totally convincing voice for the mature heroine, sounding both slightly wistful about the past and yet firmly settled in the present, and the inevitable phrases in French were excellently rendered - neither pretentious nor over-emphasised. Just perfectly judged.

Posted on August 31, 2009 at 12:45 PM

« Previous entry | Main | Next entry »
Friday July 31, 2009
Books in July
Jackson's Dilemma by Iris Murdoch [read by Juliet Mills]
It's a long time since I read any Iris Murdoch novels - probably not since I was a student at which time she was very much in vogue. I am not sure I understood them very well at that time - I was trying to expand my reading matter and everything was new to me. Even now, when I read AS Byatt, or Angela Carter, I find it hard to understand them - so maybe it was just that era.
This is her last novel and has engendered some harsh criticism which I think is unwarranted. I presume she had probably already begun to feel the effects of her disease, and there seems little point in saying what basically boils down to "it's not as good as her other novels". One critic complains that the people are not believable and date from a pre-war era - I think he is mistaken - the people are not 21st century, maybe not meant to be, but rather more from the 1960s I would say - one forgets how backward society still was at that time .... Literary criticisms when it was first published comment that "the writing is a mess" and sum it up as a "very odd book".
For myself I did find it hard to see the dilemma of the title. However it seems clear that the tone of the book relayed anxiety, and towards the end, Jackson sits alone and reveals a confused state of thinking which surely must have reflected some of the authors own confusion.
In addition, I'm afraid this novel was not improved by Juliet Mills as the reader.


Book Of The Dead by Patricia Cornwell [read by Lorelei King]
This was an interesting novel, as usual from Patricia Cornwell - gory but interesting. I do find the characters hard to empathise with - all of them actually - not just Scarpetta, who is such a cold fish, for all her Italian genes. They seem to behave in a wholly unbelievable way. A certain amount of irrational behaviour makes a book interesting, and is eminently believable. But all the characters seem constantly embroiled in battling with each other, and all seem victims of such weird hang-ups you can hardly see how they function in society - and that's not even the serial killers...
At he end of this volume Marino goes missing, and we have to wait for the next book for him to turn up again. Alive or dead I wonder?


Bare Bones by Kathy Reichs [Read by Barbara Rosenblat ]

I am firmly hooked on the Kathy Reich's forensic detective novels, which have a far more human heroine in Tempe Brennan than the comparable Kay Scarpetta. This is an earlier book in the sequence, than the other novels I have listened to.
These characters are believable and easier for me to understand - just classic detective novels, not psychological thrillers. Not so gory - more clinical - and not so weird.
So on that basis, is my approval good or bad for an author?!

Posted on July 31, 2009 at 8:25 AM

« Previous entry | Main | Next entry »
Wednesday July 15, 2009
Priscilla
For months (since I heard the review on Front Row) I have been looking forward to the musical version of Priscilla, Queen of the Desert - and it did not disappoint - me, that is - and Rob thought it was hilarious.
There was some criticism in the early reviews - that it lacked heart - and I do have to say that the "plot" did not come over quite as emotionally moving as in the film. However, it made up for it in humour and spectacle. The costumes were so outrageous - as each one appeared you could not imagine how they could ever outdo it, and yet they did so right through to the end of the show.
The film (which I loved) was all about the drama of the people and the scenery. It was hard to see how a musical could ever compete on those terms - so of course they changed it - into a musical - and I thought it was fantastic.

Priscilla is in London at the Palace Theatre, Shaftesbury Avenue.

Posted on July 15, 2009 at 9:27 AM

« Previous entry | Main | Next entry »
Saturday July 11, 2009
Gipsy Kings
Last night Rob and I went to Kew Gardens Summer Swing concert to see the Gipsy Kings. They performed everything expected of them (Bamboleo) as well as newer materials - and were on excellent form. I was pretty keen on the Cuban sound of Motimba who entertained us for the first hour as well. A fun evening out.
Posted on July 11, 2009 at 9:27 AM

« Previous entry | Main | Next entry »
Tuesday June 30, 2009
Books in June
Posted on June 30, 2009 at 9:50 AM

« Previous entry | Main | Next entry »
Friday June 26, 2009
Woolfest 2009
The second I entered the building (Mitchell's Lakeland Livestock Centre) and the faint but delightful smell of sheep hit my nostrils, I knew it was going to be a Good Day.
Indeed, it has been such a fantastic day I can hardly begin to describe it - but I shall anyway ...
I made my way first to the information desk and happily was able to book for the Natural Dying Lecture as well as the Tatie Pot dinner in the evening. I browsed the exhibition stands and immediately made my first purchase of a small bag of Spelsau fleece - I fancy it for the colour (grey) - Berit Kiilerich is doing a workshop on knitting directly from the fleece, but I plan to try spinning it.
I had a word with Nancy Bush, who seemed relatively thrilled to be here; I am not sure where she hails from but I think it was something to do with being here with the weather and "where it all comes from" - though the weather is atypically sunny here and everywhere is pretty hot at the moment.
I visited the large vendor's stands (P&M, Wingham, and Herring/Ashford) as there were one or two specific items on my list to buy while there. From there I worked my way towards the livestock stands, and the lovely old sheep, who were very brave and well-behaved considering all those human eyes staring at them. At this end of the building, there was an area devoted to the private sale of fleeces - I took the opportunity to look at as many different types of fleece as I could, and I did (in the end) buy a small black Hebridean lamb fleece (about 2lbs).
Just before lunch I went to the rare breeds parade in the auction ring. I really enjoyed this part. I found the information about rare breeds, the Rare Breeds Survival Trust, and the specific sheep, truly fascinating. Here are all the stars of the show that I went to meet later in person.
| | | | |
| --- | --- | --- | --- |
| Alpaca | Angora | Gotland | Gotland |
| Hebridean | Hebridean | Herdwick | Herdwick |
| Herdwick | Manx Loaghton | Ronaldsay | Rough Fell |
| Rough Fell | Shetland | Teeswater | Parade |
After lunch - more browsing to the constant faint sounds of traditional tunes from the Music area. Here you could sit down and (in my case) review your purchases. The later part of the afternoon was the lecture on Natural Dyeing given by Carol Leonard. I made lots of notes, and afterwards, I purchased the small booklet Natural Dyes - Fast or Fugitive by Gill Dalby, but as I suspected, when I got home I discovered that my earliest book on spinning from the 1980s is also by her and has similar information. I also bought a couple of natural dyes (Brazilwood and Alkanet), but mostly the lecture encouraged me to experiment and try out more natural substances - and as Carol said: "you can get some simply wonderful colours - if you like yellow...".
Then it was time for the final purchases before the Tatie Pot dinner and Spin-In. I was lucky to impose myself a lovely group of knitters from Coventry (by chance) who made me feel very welcome - whatever they thought! I had bought a pretty spindle - just for its looks (from Whorl Drop Spindles) - it's made from an exotic seed pod of some kind. So I spent the spin-in trying to spin some alpaca I had also just purchased. In my case, there was more dropping than spinning but Clare, Julie, and Jane were really encouraging, and I had great fun.
Finally, it all ended at 9 and I set off back to the hotel; it is very light in the evenings now, so I could fully appreciate the wonderful scenery of the winding back roads.
Finally - my pictorial album of the day:
| | | | | |
| --- | --- | --- | --- | --- |
| Queue | Freyalyn | Freyalyn | Nancy's stand | Long Draw |
| Parade Ring | Wingham | Fleece Sale | Fleece Sale | Herdwick |
| Herdwick Sheep | Herdwick | Swill Baskets | Music Area | Herdwick Rope |
| Herdwick Rope | Herdwick Rope | Bridalwear | Auction | Spin-In |
Posted on June 26, 2009 at 10:22 PM
Comments
It looks just wunnerful - I wish I had been there.

Posted by: Alison on July 1, 2009 7:29 PM

« Previous entry | Main | Next entry »
Thursday June 25, 2009
Sent to Coventry
I have had the most fantastic few days, and it has taken me a while to gather my thoughts and write about it all here. It all began when a colleague asked me to visit a customer in Coventry....
The morning meeting went well, and at lunchtime I felt I should take the opportunity of taking another look at Coventry Cathedral.
I first went there when I was a child - it seemed an important talking point in my childhood both at school and at church - and I now realise it was because it was pretty well brand new at the time (foundation stone laid in 1956 and consecrated in 1962). Because of Coventry's history, for that generation of adults, it must have been a beacon of splendour, representing the final re-emergence after the "dark days" of World War II. These "dark days" were still very evident all through my childhood - everything was affected by them even though I had no real understanding of what it all meant.
The original cathedral was notoriously bombed in the 1940s and always rumoured to have been "left to burn" despite the government supposedly having prior information of the raid. As a consequence, Churchill was never accepted as the hero of the hour by the people of the Midlands, who felt he was personally responsible for letting them down. It was a devastating blow to see the spendour of such a beautiful building reduced to rubble.
Today, the old cathedral remains as a ruin alongside the new building which "bridges" from it. If anything I find the ruin a tranquil and beautiful place which seems strangely even more reverent and holy for its minimalism - perhaps because of the contrast with the modern.
The new building was designed by Basil Spence; his design was chosen after a competition, and used fragments of the rubble reset to create something quite remarkable. Warped nails were used as the centre of the main altar cross, and countless splinters of glass were used to create wonderful abstract stained glass windows. There are a lot of poor photos of these on the web but I liked this one - it gives some idea of being there.
The new stained glass windows are set at an angle to the walls of the building, so that as you face the altar you cannot see them. This is a design point intended so that as you walk away from the altar (after communion), you are struck full on by the wonderful light and glory - and so on...
The tapestry behind the altar was designed by Graham Sutherland - a controversial artist at the time - Churchill's wife is rumoured to have burnt Sutherland's portrait of the great man which demonstrated a little too much realism, showing not the hero but an old chap in decline. I seem to have disproportionate amount of Sutherland trivia in my brain which must have been drummed into it while at primary school.

After the cathedral, I walked past the adjacent Holy Trinity church and decided against entering (feet hurt - long journey ahead). Turns out this was a mistake. From 2002-4 a major restoration was carried out to make a Doom Painting dating from around 1430 visible once again. Something for my next visit - in sensible shoes.

And after all this excitement - instead of travelling home in the afternoon I set off North....

Posted on June 25, 2009 at 4:20 PM

« Previous entry | Main | Next entry »
Tuesday June 23, 2009
Croydon College Festival of Creativity 2009
This evening saw the opening of Rob's students annual exhibition of their work.
As usual there were a lot of weird and wonderful ideas from the traditional costuming through props and puppetry. Below is an exhibit of some reject moulds and head explaining how the puppets for a live show were created.
This year seemed to have a greater showing of animations of one sort or another, (including one so peculiar that I did not really want to watch it - though I do think it was technically interesting, it included a lot of cultural symbolism that I was unable to understand - being not of that culture).
A more comprehensible rendering was a delightful piece called "Sewing Basket" created using stop animation by Sarah Slee. Below is the set on which it was viewed, plus a close up of the box itself.
My favourite costume was inspired by the music hall era.
Posted on June 23, 2009 at 11:19 PM

« Previous entry | Main | Next entry »
Friday June 5, 2009
Spider's Web
I have seen several productions of this play before* but luckily I never seem to retain much about the plot - although it incorporates a number of favourite AC devices, like the faked bridge game where the players set everything up but fail to notice that they are supposed to have played several rubbers with a card missing from the pack.
This version was excellently staged by the Agatha Christie Theatre Company who were responsible for And Then There Were None [from the book of a different name, based entirely on a (now) totally unacceptable nursery rhyme], and which we saw a couple of years ago in the West End. Melanie Gutteridge carries the show as the perfect and charming 1950s little woman Clarissa - a role apparently originally written with Margaret Lockwood in mind. The performances were convincing and made the dialogue light and humorous - quite unlike And Then There Were None which was suitably dark and menacing.

* I have also listened to a strangely-written talking book version of this play. "Strangely-written" since this was not originally ever a novel but always a script. The talking book more or less actually described the play and all its action within the single setting of the drawing room. Very odd.

Posted on June 5, 2009 at 11:39 PM

« Previous entry | Main | Next entry »
Wednesday June 3, 2009
Billy Again (again)
This should really be an entry early in May but it has only just come to my attention. Here are Offspring Morris at the Kingston May Merrie performing Constant Billy.
(I hope I have named the right dance - usually they sing a little when performing this but I detect no singing **).

A tidy and fairly pacey performance - probably due to slightly younger members these days!

** I am told that I have previously seen them perform Constant Billy as a long stick dance in the Adderbury tradition, which is often accompanied by songs. This is a different version that they have added to their repertoire - a short stick dance in the Headington tradition.

Posted on June 3, 2009 at 8:57 AM

« Previous entry | Main | Next entry »
Friday May 15, 2009
Winslow Boy at the Rose
I have seen several productions of the Winslow Boy over the years, and I think this one was the best. As Robert observed, it was a privilege to see Timothy West bring such convincing life and humour to the role of the Father, and he lead an excellent cast, including Adrian Lukis as Sir Robert Morton. Indeed Mr West had me convinced that he probably needed the role of an elderly man these days to take the weight off his feet - until the curtain, when he showed his normal sprightly self! I had read that Mr West finds it hard to remember lengthy roles these days, and I would say he stumbled during a couple of the speeches, but the character is so overwrought throughout that it seemed thoroughly in keeping with the part.

The costumes were fabulous - Catherine Winslow seemed a little more glamorous than I had hitherto seen her, but why should she not be? Her position in society, it is intimated, is due to her strong character and opinions, not her looks. The set design was interesting; a drawing room set in a box with a slightly off-kilter gold picture frame, which was used to deftly hide the lighting. Rob spent some time before curtain up trying to see how such a design could be lit successfully at all.

The Rattigan play is based on a true story which is fascinating in itself. One has to understand the importance of proving the boys innocence of the apparently trivial charge of schoolboy theft, in the context of the time - and also, which I did not pick up on though it was there in the text, the fact that the Father was a retired banker, making the charge of forgery even more heinous and damaging.

This production emphasises throughout the closing scenes, and in the final tableau, the imminence of World War I. It is made quite clear that the Boy, his brother, and the ex-fiancé of the sister will all be joining up - doubly poignant to us, as we know they are not likely to survive. Indeed this was the fate of the real "Boy", though his family circumstances are Rattigan's invention.

The production is at the Rose until 30th May, and then tours at Bath, Oxford, Milton Keynes, Bromley, Brighton.

Posted on May 15, 2009 at 9:21 AM

« Previous entry | Main | Next entry »
Friday May 1, 2009
May Day
It was a beautiful sunny morning - the sun rose over a misty hillside and Morris Men danced in the Dawn at 5am on Box Hill.
Here they are:
And I missed it....
I am very disappointed with myself, when I think of all horrible May Days I have trekked up to Box Hill to greet a drizzly grey dawn. Sigh.
Anyway - they had quite a crowd attending as usual. There were several Morris sides as well as Spring Grove (Thames Valley, Wild Hunt, etc) - including a bunch of ramblers who turn up every year apparently - but this year they had specially learnt one dance so they could perform it on the day - great isn't it? Just what Morris should be. People dancing.
Here Spring Grove / Off Spring are on St Georges Day (23rd April) at the beginning of the "season" (with a surprisingly grand turn out). Several jigs have been performed, and baldrics presented to newly qualified members.
Posted on May 1, 2009 at 5:46 PM
Comments
Great pic of Robert - is he the Morris official big cheese these days?

Posted by: Alison on May 4, 2009 7:22 PM

Posted by: Christina on May 4, 2009 10:37 PM

« Previous entry | Main | Next entry »
Thursday April 30, 2009
Books in April
Black Plumes by Margery Allingham [read by Francis Matthews]
I have fun listening to Margery Allingham's work, but it is very dated. In fact that's probably part of the fun. It is so very dated by the language and manners portrayed - the society it reveals in the more casual asides to the plot, one can hardly believe ever existed... and yet it did, and therein lies some of the interest.
This book is all about a wealthy upper class family who, when a murder happens in their midst, seem most concerned about being shunned by society, rather than by the shocking conclusion that one of them is going around murdering people. Quote of the book for me was: "....and the terse notes which arrived from him for every member of the family, stating fully, in the most abominable commercial English, that he would be glad if they would give him their attention for half an hour at 3 o'clock...". No need to tell you that "he" is not one of the Family, but merely one of their employees.
Written in 1940, Albert Campion is not featured, though there is a hero (David) in similar mould playing the romantic lead. However, this book is a little darker than the Campion series. The story is not told through David's eyes, but those of Frances, the youngest girl in the family. It's an interesting viewpoint as she is not solving the crime, she is just the victim of the events going on around her, and does not fully understand them. The plot itself is an interesting mystery.


A Cure for all Diseases by Reginald Hill
This is a very enjoyable book if you like Jane Austen as well as Reginald Hill. It is a kind of extension of the unfinished Austen novel "Sanditon" - of which, I confess, I had never heard prior to this book drawing it to my attention. Apparently, Hill often uses "one writer or one oeuvre as a central organizing element of a given novel".
It is a Dalziel and Pascoe novel, and set firmly on the contemporary Yorkshire coast (rather than 19th century Eastbourne). He has taken some names from the original, and it definitely has that Austen air in the humour and the claustrophobic society he describes - though possibly fewer murders in Austen.
He uses several characters and methods to tell his story. Alongside the usual narrative of the police investigation led by Pascoe and Wield, we have a convalescing Dalziel dictating his thoughts into a tape (as well as secretly taping others inadvertently and otherwise), and we have a character writing a series of letters to her sister abroad (which would be very Austen but for the fact they are emails).


Three Bags Full by Leonie Swann
I set out to find this book in my local libraries, as it was reviewed by Cathy, and sounded like the sort of book I would like. [A sheep detective story - neatly combining all my interests in one]. However, it's obviously a very popular book that many have liked as there are about 30 copies of it available in Surrey libraries (and that's a fair number).
The novel is set in "Glennkill" which is nice wordplay as Kill or Kil is common in Gaelic place names, meaning chapel or church. And chief among the amateur sheepy sleuths is "Miss Maple". However, picking these puns in isolation makes the book sound a bit crass - which it is not. It is full of charm as the sheep loyally think their woolly way through the mystery to its conclusion.
Its anthropomorphic view of sheep is probably comparable to the rabbits in Watership Down (but less scary). Fun and easy to read.

Posted on April 30, 2009 at 3:11 PM

« Previous entry | Main | Next entry »
Wednesday April 29, 2009
Old favourites
It's been a hectic season of art and culture this year. I signed up for a bunch of tickets available through our company, and George managed to acquire tickets to "see" a recording of the new series of I'm Sorry I haven't a Clue (the antidote to panel games) on Sunday night in London. With the death of Humphrey Littleton last year, there was some doubt as to whether there would be a new series at all, but it does have pretty solid supporters, who made it known that they could not do without 'Mornington Crescent', 'One Song to the Tune of Another', Name that Barcode', and so on - so on it goes. Of course, it wasn't the same without Humph, but Steven Fry did a very creditable job as host, and the guest, alongside Graham Garten, Barry Crier, and Tim Brooke-Taylor, was Victoria Wood, which was excellent as well. Just before the interval (they record 2 shows in an evening) Steven Fry recorded - and posted - an "audience boo" - some kind of techno-twittering joke that is beyond the middle aged from Surrey. However, if you like, you can hear it (me) here.
The shows will be broadcast on Radio 4 in June.

Yesterday, Rob and I went to see Defending the Caveman at the Rose in Kingston. I got the tickets to give Rob his first opportunity to see the Rose (inside at any rate). He was a little critical of the layout - thought it should not have restricted itself so much to the layout of what is known of the original Rose, and been a bit more adaptable, (and thought the lights were not very accessible.. ever the professional eye!).
Anyway, the show was lots of fun; a kind of humorous lecture, which in truth was a very digestible form of the book "Men are from Mars, Women are from Venus" - and unsurprisingly has a positive review from John Gray. We laughed a lot.

Posted on April 29, 2009 at 3:03 PM

« Previous entry | Main | Next entry »
Thursday April 9, 2009
Encounters in Richmond
I am just slipping in a retrospective blog entry which was by-passed due to my hurried departure to France (it's always hurried).
The day before we left I had theatre tickets for "Brief Encounter" and Rob came with me as George was hard-pressed to finish up at work in time for our holiday. We had moderate expectations, but how wrong we were - it was brilliant. And I am now so very particularly glad Rob came with me to see this.
It really was a "theatrical extravaganza". It involved a full plate of multi-media offerings that really worked, including the actors stepping into back-projected films, singing and dancing, and many delightful tricks, with charming references to the famous film. It was original and fresh - and in Rob's words "restores your faith in provincial theatre" - if that's not too patronising - it's not meant to be.
The production was witty, entertaining and quite jolly, as it actually followed the interaction of 3 couples, not just the main protagonists. The projections were used brilliantly - designed by Jon Driscoll* with Gemma Carrington. They created such drama that the scene where Laura returns from the brink of flinging herself into the path of "the express" actually moved me to tears.
* Unbeknownst to me, Jon Driscoll is one of Rob's ex-students who worked on an amusingly short version of Brief Encounter for one of his peer's "Sound to Light" exercises while at college.
The production opened originally in the Haymarket and is now on tour - see their website, and also a much better review than I can give here.

---
Tempest revisited
If that weren't enough - I also need to say that, I failed to give a proper mention to the last production at Richmond that I went to the week before.
It was the Tempest, and it was more slight nostalgia that caused Rob to be my companion again on this occasion. Once again, our expectations were moderately low - and we were almost late (though not so in the end) as the curtain went up 30 minutes earlier than usual for Richmond. Yet again, how fantastic was this production and how lucky for Rob to get to see it, given his world music and theatrical interests. It was an "African" version including dance, live music, puppetry and lot of "theatre". It starred Anthony Sher as Prospero, and here is Ariel (Atandwa Kani) trapped by the witch's magic, giving some small idea of the power of the puppetry and spectacle.
Again - see the review.
In my defence, all these low expectations are based on the previous few touring plays we went to at Richmond, which were, in my estimation, adequate but not extraordinary. [And the Hound of the Baskervilles, which was downright poor!] But when you find yourself seeing something so terrific, it makes up for the rest - and the pleasure is even more when it is so unexpected.

Posted on April 9, 2009 at 11:22 PM

« Previous entry | Main | Next entry »
Wednesday April 1, 2009
Stitch in Time
I have been waiting for some months to feature this book, as I wanted to keep it as a secret gift for Alison's birthday. The waiting has been hard - but is now finally over (Happy Birthday Alison). It is such a wonderful book but as usual my skill with words is not sufficient for me to describe how much I like it. It has obvious appeal to me, of course, but who could fail to be entranced by its beautiful production and styling?
The book was first printed in 1972, but in a very different form. I purchased the original in a 1980s reprinted edition. This did contain the basic same material, but with only a few colour prints showing some of the patterns reknitted in contemporary yarns. Subsequently - and lucky for us - the plates for this edition were lost which has led to the entire book being revamped with all the designs not only being reproduced as per the originals, but with the patterns redrafted to include modern instructions and yarn information. All the designs are knitted up and beautifully photographed. I particularly love that the knitters are also individually credited for their work in the book.

From my original book, I always liked this design for a Sun-Ray jumper from Woman and Home 1936.
As all the original patterns were published with black and white photos the imagination was fired by the descriptions in the text. The yarn colour names were intended to be evocative of actual colours ("Lipstick Red"), rather than the current trend for yarns and colours with names that inspire an emotion ("Rustic", "Tickle", "Calm"). This pattern came with the following Helpful Fashion Advice on colour co-ordination:
"If you'd like it in Blue - choose a pottery blue with yellow buttons. Wear a buttercup-yellow woollen skirt. A yellow belt, Blue and yellow bracelets."
"If you'd like it in Pink - choose a coral with white buttons. Wear a two-piece of heavy natural tussore*. A matching coral-pink hat trimmed with white petersham ribbon. White shoes and handbag. Wear coral-pink gloves of fine suede" (* Tussore is a coarse brownish silk produced from a tussore moth Antheraea paphia).
"If you'd like it in White - choose glass buttons for the yoke. Wear a white linen tweed skirt. A matching linen hat trimmed with dark green ribbon. White court shoes with green leather trimming. Dark green gloves. Carry a green and white handbag."(sic)
Here is an example of the pages from the new edition - restyled with modern instructions, and reknitted in contemporary yarn, with great colour photos - all printed alongside the original black and white pattern, quoting the source and the year.
Please feel free to offer your own fashion advice in the comments, starting "If you'd like it in Red...".
If your interests are anything like my own - do buy this book. Even if you feel you will never knit these designs, it is a lovely book to own, crammed with historical design interest from the period.
I note it is called: "Volume 1 - 1920-1949", so I am hoping the book is a success and we can look forward to a Volume 2. If this kind of book does interest you, then you may like to look at Jane Waller's Knitting Fashions of the 1940s: Styles, Patterns and History which, like Stitch in Time is also available from Amazon. (And "no - I don't have any shares in these publications"!).
Posted on April 1, 2009 at 9:50 AM
Comments
I can vouch for the fact that this is a lovely book. I also really liked this sun-ray sweater, as well as one from the 1920s which I was keen on until I realized it was mostly crochet. Thank you for my lovely birthday present.

Posted by: Alison on April 2, 2009 7:42 PM

What I really want are those "coral-pink gloves of fine suede" to wear with the pink one! Really, I wouldn't mind seeing more hats and gloves worn again -- more scope for expressing our sartorial creativity. :)

By the way, the Ribbed Cardigan you made from the Rowan men's book looks terrific. Nice job!

Posted by: yarnstruck on April 4, 2009 5:10 AM

Thanks on the ribbed cardigan - more important than how it looks to the objective eye is that he seems to be wearing it all the time - and it has stopped coming back for minor alterations. I think the yarn is a bit stretchy and subject to pilling - but that's because it's a lovely soft wool with some cashmere. Probably the perfect cardigan for George would be a superwash acrylic (my next next project..).

Posted by: Christina on April 4, 2009 9:46 AM

« Previous entry | Main | Next entry »
Saturday February 28, 2009
Books in February
Problem at Pollensa Bay and other stories by Agatha Christie [read by Jonathan Cecil]
This is a collection of stories published in the early 1990s but written in the 1920s and early 30s. They are very well read by Jonathan Cecil - a stalwart supporting actor in the UK - but a surprisingly (to me) versatile star at reading these books. I would say that usually he is rather type-cast as gormless Hooray Henries from an earlier era. There is also an audio book read by Hugh Fraser, who is excellent, and I am sure chosen for this task due to his role as Captain Hastings in the 1980s TV adaptations of Poirot.
The stories feature Hercule Poirot, but also some other lesser-known but recurring Christie characters.

Problem at Pollensa Bay - 1935 (Mr Parker Pyne)
The Second Gong - 1932 (Hercule Poirot, and adapted for TV as Dead Man's Mirror)
Yellow Iris - 1937 (Hercule Poirot, and and adapted for TV with great knitwear!)
The Harlequin Tea Set - 1936 (Mr Satterthwaite and Mr Harley Quin)
The Regatta Mystery - 1939 (Mr Parker Pyne - but revamped from the original 1936 version with Poirot)
The Love Detectives - 1926 (Mr Satterthwaite and Mr Harley Quin)
Next To A Dog - 1929
Magnolia Blossom - 1926

I enjoyed The Harlequin Tea Set as it followed a number of typical Christie themes, though I did think there was a bit of a hole in the plot, but perhaps I did not follow it properly. I was not sure why the victim had to be poisoned using a replacement cup of the wrong colour, (failing to notice due to his colour blindness) - why not simply slip the poison into his cup of the right colour? Still - what do I know? I am not the Queen of Crime.


Saturday by Ian McEwan[read by James Wilby]
This is a novel that shows how we live today - how some wealthy people live today, of course. But it is clear that even for this well-off brain surgeon, he started life in a small flat with 2 kids on limited income; and, though he and his wife have become successful (and wealthy) in their careers, they have their lovely central town house only through inheritance. Their children are grown to beautiful and talented young people, and the hero knows how lucky he is.
And the reader is constantly aware of how very much there is to lose.
Notable for the fact that the action takes place within 24 hours, some readers seem to think it's a day overly packed with activity. However, to me, it does not seem very out of the ordinary in terms of activities - though I'm not a brain surgeon of course, so that part of it would be extraordinary for me. Basically, he gets up, has breakfast with his son, goes out, sees the anti-war march, has a minor car accident, plays squash, visits his Mother in a care home, collects stuff to eat for dinner, briefly drops in to watch his son rehearse with a band, spends the evening with his family, gets called in to work to do an emergency operation.
That tells you everything and nothing.
It is paced quite slowly - especially noticeable as a talking book- the squash game, for example, is described point by point, and made me glad I had a few lessons when I was about 20 so I could better empathise with what was happening. However, throughout, there is a constant feeling of lurking menace, which made me permanently anxious for the plot to move on. I understand it was born out of the authors own sense of anxiety around potential global threats. The hero explores his general unease with moral dilemmas relating to the concept of war and terrorism - but this is suddenly sharply focussed by a very local threat, which leads to a very real moral dilemma.


Back to Bologna by Michael Dibdin
I am a real fan of this author and his hero, Italian police inspector Aurelio Zen, even though the books are often suffused with a sense of gloom, despite the humour. I picked up this book by chance, and realised that I have not actually read Dibdin's last couple of books, which is a pleasant surprise for me as there will be no more.
The book features amusing and topical characters, in the shape of a dead owner of a football team (killed with a Parmesan cheese knife), and a temperamental operatic TV chef. Poignantly, Zen himself is suffering after an operation, and also suffering from hypochondria - and also not doing well in his love life. However, to quote a reviewer, it "delivers both comic and serious insights into the realities of today's Italy".

Posted on February 28, 2009 at 8:59 PM

« Previous entry | Main | Next entry »
Saturday January 31, 2009
Books in January
Just one solitary book for this month. I have a pile of books to read but have been so caught up in my work and other hobbies that I have not read many real books. I actually had to make a trip to the library to renew my books this month, as I had had them loan for so long. This was my bedtime talking book all this month, along with a couple of the BBC radio plays.
The Sign of the Four by Arthur Conan Doyle [read by Derek Jacobi]
An old favourite (for me) and an interesting choice of reader. He does well enough in his narration as Watson but is occasionally stretched when giving voice to the ne'er-do-well "Jonathan Small". This story almost follows the Doyle formula for the Holmes novels, being a book within a book, and consequently, Small has a large part of the narrative while telling his life's tale of adventures abroad.


The Sittaford Mystery BBC Radio Play
The play stars Stephen Tompkinson, and also John Moffatt - though not in his usual role as Hercule Poirot, who does not appear in this novel. The detective is, instead, an "Inspector Narracott", (who was used again by AC in a 1954 radio play). It was interesting to compare this radio play to the altered version of the novel used in the recent TV adaptation "Marple" - where Miss Marple was simply added into the cast of characters - perfectly suitably I thought...

Posted on January 31, 2009 at 10:41 AM
Comments
You're not alone. I used to read a lot, all the time, but since the knitting started up again, it seems to take forever to get through a book!

Posted by: Cathy in Va. on February 13, 2009 2:36 AM

« Previous entry | Main | Next entry »
Monday January 19, 2009
A Good Hart
I could not let the death of Tony Hart pass without mentioning the life of such an extraordinary man. Unlike many other more youthful bloggers, I remember a young man, not a favourite grandfather. He did not inspire me to go to art school, and I am not known for my ability to express myself as a true artist, but he was simply part of childhood - and without him, would Nick Park have been quite so smitten with plasticine?

If you want 15 minutes more amusement watch the full interview "Tony Hart Meets Ricky Gervais" on You Tube, where Tony reveals his favourite painting is Leonardo da Vinci's The Virgin and Child with Saint Anne - but as Gervais points out "he couldn't have done it in pasta and rice, could he?".

Posted on January 19, 2009 at 9:14 AM

« Previous entry | Main | Next entry »
Wednesday December 31, 2008
Books in December
The Death of Dalziel by Reginald Hill
I love these books - and I used to love the TV series - until they started to deviate so substantially from the novels. I have no purist objection to additional stories written for TV (as in "Morse") but Ellie Pascoe and "Ivor" Novello were two of my favourite characters - played by really strong actresses - and they were just written out. I was sad, as they left the door open in the script at one point to get back on track with Ellie - but then closed it again. Ivor was replaced for a while by "Harris" Tweed - which was a bit daft as they could have simply changed the actress, if that were what drove it, though I don't think a changeling would have worked for Ellie.
In this book - and increasingly - Ellie and Peter's relationship is really important to the novels, so once they removed her from the picture they have been forced to change the plots more and more. The disconnect happened at around the time of Arms and the Woman - again one of my favourites, being a lot about Ellie - and I can see it would have been very hard to portray this book on screen, at least hard to portray it within the straight police mystery genre into which the TV series falls. It, and this book, Death of Dalziel, have a surrealist or sci-fi element which is both humourous and witty/intellectual, as well as excellent writing - but (unsurprisingly) absent from the TV interpretation.
I should also say I admire Ellie for representing a class of woman all too often absent in mainstream drama. [Although increasingly common in mainstream "life" I think]. Namely, a strong intelligent middle class woman portrayed in a supporting role. Some might imagine that she appeals to me as a Bolshy feminist lefty - well she might - or she might not - but that's not it. She has her own life, and I do not think the substance of that life matters; it just matters that she has one. And she chooses to live it with Peter Pascoe and their daughter.
PS - you don't really think he's dead, do you?


The Secret Hangman by Peter Lovesey
Peter Lovesey is what I would call a traditional English crime writer - as Agatha Christie probably was, prior to her somewhat surprising rise to megastar status. His settings are ordinary contemporary situations, not 1930s period piece locked-room mysteries, but happily with the expected (unrealistic) high body count. In the books I have read, (The Circle and The House Sitter), he writes about police detectives rather than amateurs, even if the police are not necessarily the main players.
Having said that, his first books in the 1970s were the "Sergeant Cribb" series, which is set in Victorian London. Cribb is probably his best known character due to the 1980s TV series starring Alan Dobie.


All Fun and Games until Somebody Loses an Eye by Christopher Brookmyre
[Read by Cathleen McCarron]
This book seems to have had mixed reviews. It seems that Brookmyre fans have had expectations stemming from what they subjectively felt he was expressing in his previous books, rather than maybe what he really was expressing. Some readers put off reading this book owing to the apparently negative reviews, and were then pleasantly surprised when they finally read the book.
It is definitely not a very realistic book - at many levels - it involves a fictional international Bond-style organisation from the outset, and progresses through a middle-aged woman's wish fulfilment. I was a bit neutral after the first chapter, but it swiftly drew me in, and as usual his witty writing and plot digressions were a lot of fun.

Posted on December 31, 2008 at 9:01 AM

« Previous entry | Main | Next entry »
Tuesday December 30, 2008
The Rose
Finally managed to go to the Rose theatre in Kingston, which officially opened in January of this year. We saw A Christmas Carol - and it was really excellent, with a small cast playing many parts, a narrator, and excellent use of carols to carry through the plot and scene changes. It was witty, entertaining, and altogether everything that the Hound of the Baskervilles at Richmond should have been, but was not.
I knew nothing about the theatre and its construction prior to going but was delighted that it is (almost) theatre in the round, and as well 3 levels of seating, there is a traditional "pit". It struck me that the design and the name might be in some way connected with the Rose in London - and indeed, of course it is...

Posted on December 30, 2008 at 12:18 AM

« Previous entry | Main | Next entry »
Sunday December 7, 2008
Sunday Matinee

In which we go to see the film Quantum of Solace - the new(ish) Bond film (where have you been?), and I eat a whole overpriced bag of toffee-coated popcorn.

As I understand it, the film had mixed reviews, but I found it everything a Bond film should be. Perhaps lacking a Sean Connery or two but you can't have everything - and we all knew about that before we bought the tickets. I found the Times Online Review expressed my positive feelings about the film. Daniel Craig portrays a Bond for our times.

George and I both noticed that the plot very much followed on from the previous film - as pointed out in the Times review. We felt it would have been fun to have maybe rewatched the DVD of Casino Royale before going to see this one. That's my only advice - and if you like Bond that's no hardship is it?


Posted on December 7, 2008 at 8:48 PM

« Previous entry | Main | Next entry »
Sunday November 30, 2008
Books in November
Monday Mourning and Break No Bones by Kathy Reichs [Read by Barbara Rosenblat ]
Two detective-aficionado friends have told me they are keen on these Temperance Brennan novels, while sharing my scorn and derision for the TV series based on the characters - so I thought I should read them. And they were right; the stories are interesting and well written.
The TV series is "Bones" - and when I say 'based on the characters', I use the term loosely, since the name of the leading character seems to be the only item in common with the books. However, it seems the TV character is intended more to be based on the author herself (who is an academic who writes detective mystery novels...).


The Confession of Brother Haluin by Ellis Peters [Read by Stephen Thorne]
Over the years I have really enjoyed the Brother Cadfael stories. I am not sure why - perhaps the historical context is interesting, but I do like the simplicity of the tales and the certainty of right and wrong that is portrayed in the stories; any inconsistency of what was considered right in the day, compared with what might be right 1000 years later, is overcome by making Brother Cadfael a little more of a liberal thinker than his peers. However, they are tales of human nature, and when it comes down to it, that has not changed very much.
I really enjoyed the television series with Sir Derek Jacobi, supported by a strong cast of excellent and experienced British actors. [I always thought, though, that Jacobi was miscast in this role. Don't get me wrong - he is excellent and his portrayal is excellent, but he does actually look credibly like an intellectual monk, whereas there is an implication in the text that Cadfael's physical appearance always betrays his background as an aging but tough ex-soldier.**].
This is one story that I did not know at all, so it was interesting to find it. However, almost from the moment of the "confession" in the first few chapters, I could see the entire plot laid out before me, and simply had to wait to hear it unfold. This did not spoil the pleasure of it, but it was a bit slow in the telling. Of course, in real life, and to the characters, the outcome would not have been expected in this way, but unlike them, I knew they were in a mystery story....
**Years ago, my friend Helen suggested Don Henderson (now no longer with us) for the role. In 1989 Henderson had a great part as a priest (opposite Leslie Grantham, his fictional brother) in "The Paradise Club" - but he has appeared in many mainstream productions in his career, even including StarWars, and towards the end of his life in Red Dwarf. Here is a lovely picture of him with another of my favourites, Michael Elphick from their cookery series "The Absolute Beginner's Guide to Cookery".

Posted on November 30, 2008 at 1:31 PM

« Previous entry | Main | Next entry »
Friday October 31, 2008
Books in October
The Lincoln Lawyer Michael Connelly [Read by Michael Brandon]
Having already read this book "on the page", I listened to it as a talking book; it was just as enjoyable second time around - and I could knit at the same time... Now I am suitably prepared for for Connelly's next book which features the same hero - and I must say I am looking forward to this. I feel warmly towards Michael Haller - I wonder if he shares more, or fewer, characteristics with the author than Harry Bosch?**

**Colin Dexter said that you cannot help writing a certain amount of your own views and tastes into your characters: "like me, he, [Morse], is diabetic, an atheist, and a lover of music and art". But also admitted that it was not true of all characteristics and I thought I heard in an interview that Dexter himself does not like beer - though I am sure I have seen film of Dexter (apparently) enjoying a pint.
It amuses me that, (judging by the publicity photos in the books), when physically describing Bosch, Connelly could be describing himself - and I notice this is also true of MC Beaton describing Agatha Raisin.


Agatha Raisin and the Day the Floods Came M C Beaton
Continuing my reading of the series in which Agatha gains a new (dishy) next door neighbour, and her aristocratic friend gains and loses a wife.
Small exchanges between Agatha and the vicar's wife never fail to amuse me:
Agatha: "... [middle-aged] men let themselves go."
Mrs Bloxby: "Not necessarily. Look at my husband. Alf's in good shape."
Agatha thought of the vicar - grey-haired, glasses, scholarly, slightly stooped - and reflected that love was indeed blind.


Death Message Mark Billingham [Read by Paul Thornley]
Here we find Thorne, in the latest novel in the series, settling down to some kind of domestic life - the only sort that 2 working detectives can share; however, there is even talk of fatherhood, so it must be serious.
As in the previous book, there is, I am relieved to say, much less of a perverted mind at work; you are made to go along with Thorne and have sympathy with the killer, and thus accept Thorne's rather strange choice of rough justice.
I note that Billingham's next work departs from the Thorne series - maybe getting too bogged down with the threat of all that domesticity on the horizon. Time for a change.

Posted on October 31, 2008 at 8:57 AM

« Previous entry | Main | Next entry »
Friday October 24, 2008
A Pretty Big Dog
Rob and I spent the evening at Richmond Theatre for a version of the Hound of the Baskervilles, with Peter Egan and Philip Franks. This cast, (and my love of Sherlock Holmes), meant I was thoroughly looking forward to it - but really it was.... not very good. I am left thinking I cannot put my finger on why, as the cast was strong and the staging interesting - Rob's brief synopsis was poor direction and tacky set. During the first Act, I noticed Rob was asleep - normally my reaction to this would be to crossly wake him up - but I thought 'no - it's just not worth it - he probably needs his sleep more than this ...'
It was not so bad that I wish I had not gone. There were some interesting aspects of the staging which used projection and gauze techniques to try and create the rather challenging backdrops, since the book's plot revolves around the moor and Grimpen Mire. But for all that, it was not good. I was left with the impression that the staging and tiny cast were adapted more for a fringe production than a mainstream theatrical tour. The projection of the turning pages of the novel were a delight - but only for the first few minutes - after which it became a rather tedious artifice.
I see that it had the same director as "The Woman in Black", which I saw in the West End some time ago - this was also a Victorian-style gothic horror story from the 1983 novel, by Susan Hill. The staging was similar - sharing the same type of challenging external scenes - but "better" I would say.
The Hound has a website for the Tour - which I would say is better than production (!) - and I feel I must offer here some previous reviews of this production:
''One of the cleverest piece of theatre you will ever see'' [British Theatre Guide]
''Excellent. Highly enjoyable'' [Daily Telegraph]
''Fiendishly clever'' [Spectator]
''Gripping theatricality'' [Sunday Express]
''The most stunning theatrical production of the year. Takes your breath away'' [The Stage]
Maybe they were just having an off night... but I am left to wonder if we saw the same play!

Posted on October 24, 2008 at 11:57 PM

« Previous entry | Main | Next entry »
Sunday October 19, 2008
Supreme
Lyn and I finally arranged our outing to the V&A to see the Supremes exhibition - we had been promising it to ourselves since May (before it opened) and just made it before it closed (today).
We enjoyed it as much as we expected - I learned a lot - and it struck me that even though I know what was happening in America at the time of the emergence of Motown, it is not possible to really understand how it was for them. It was similar environment in England, but not the same, and I was too young to understand. Indeed I vividly remember seeing my first black bus conductor during a trip to London when I was about 5 years old - I was utterly fascinated (he was very understanding, and chatted to me for a bit.).
In addition to what we saw, they had family events and sessions offering, for example, "Motown Moves" (which I think we would have loved) which examined "the iconic choreography of Motown moves - from hand gestures to simple dance moves, exploring how the 'look' of Motown evolved".

We saw how these young women evolved from the Primettes ... to the Supremes.
The stars of the show were, of course, the costumes. The ones shown above were by Michael Travis - a striking 1960s black and white pattern - all in sequins - spectacular for television. His designs were notably flamboyant and included the famous 'Butterfly' dresses, which were even more lovely to see close up. The "wings" were diaphanous patterned fabric, somewhat besequinned, but the shaped dresses were entirely covered with sequins, forming the same fabric pattern.
See the extended entry.
Most of the outfits of the period were lavish with beading and thousands of sequins (sewn by hand) and costing between one and two thousand dollars each in the 1960s ($13-26,000 at today's prices).
Posted on October 19, 2008 at 4:00 PM
Comments
They just look wonderful. I would have liked to see that show.

Posted by: Alison on October 20, 2008 5:08 PM

« Previous entry | Main | Next entry »
Tuesday September 30, 2008
Books in September
The Knitting Circle Anne Hood
I chose this book for its title of course, and I did enjoy it very much, although the nub of the tale is very sad indeed, made all the more so by the knowledge that it is the author's own experiences of grief that we are reading about. However, this is a feelgood novel about female friendships and the path to recovery from loss - mostly bereavement - and very well written, given the grim little histories that each of the characters reveals as we move along. The only thing I was less keen on is the idea that knitting is therapy and that a circle is some kind of support group for the mentally ill - of course, it is therapeutic and so on - I'd just be worried to have it thought that this is all it is - as if, now they are all feeling better, they can stop all this silly knitting stuff.
Ann Hood has her own website about her books, her biography, and with a blog.


Buried Mark Billingham [Read by Paul Thornley]
A disturbing but thrilling tale from Mark Billingham - his 6th book. Perhaps (thankfully) a little less overtly gruesome than previous efforts; I am thankful for this because even though he seems to be able to make the distasteful more palatable, I worry when I find myself interested in books about sick subjects.
It occurred to me that the hero of this series, Tom Thorne, and the whole setting of the books in London, is the antithesis of Inspector Morse. Thorne is vulgar, drinks lager, and works in the less appealing police premises in North London. Both Thorne and Morse share a general lack of success with women, but I understand that this is a necessary plot device for detective heroes - reference the spin-off Lewis no longer having cosy wife and family. Though perhaps Barnaby and Wexford demonstrate that this is not a universal truth.


Saturnalia Lindsey Davis [Read by Christian Rodska]
This is all about "Christmas" - with all the usual problems of lists of presents, co-ordination with relatives, and huge supplies of traditional food. The main difference is that instead of just having to cope with one or two days it lasts from December 17th through to the New Year - heaven forbid....
"Yo, Saturnalia!" - I'm looking forward to it already...

Posted on September 30, 2008 at 9:42 PM
Comments
Oh, no, he drinks lager -- worst of all! :)

Posted by: Cathy in Va. on October 3, 2008 1:12 AM

Now I have to defend my comments - even though you are smiling.
Morse: dreaming spires, real ale or a good claret, Times crossword, Opera and the classics.
Thorne: Hendon and the North Circular, lager, pub quiz trivia, country and western music.
Simply opposites.
[Though I have to say I'd rather date Morse - but on the other hand I do drink those little French lagers...].

One of my favourite episodes of Morse is Happy Families from 1992, which not only stars Gwen Taylor - who, I may have mentioned, is a great actress - but explores a theme that interests me greatly, namely the tabloid view that intellectual aspiration is not for 'ordinary' people, and that a passion for books and music is made to sound like a vice.

Posted by: Christina on October 3, 2008 10:02 AM

Someone who can enjoy both the fancy and the simple and hearty might be the most fun of all. Will stick with the real ale and claret, though! (And I do agree with you on not liking anti-intellectual attitude.)

Posted by: Cathy in Va. on October 8, 2008 2:25 AM

« Previous entry | Main | Next entry »
Friday September 26, 2008
A Chocolate Father Christmas
Just spent the evening at Richmond Theatre for Absurd Person Singular. It was a small exercise in nostalgia for Rob's special birthday, as we both remembered it well from the Watford Theatre production many years ago. All those familiar catch phrases, and yet we'd forgotten where they originally came from.
The play is set over 3 consecutive Christmas Eves, and is about a power shift, between 3 couples of different classes, and power shifts between the partners within the marriages themselves. It is the rise of the common man over the snobbish professional classes - and although the latter are pretty awful people, the 'common man' really presents a rather unpleasant face as well. It is a view of a society where a philosophy of every man for himself leads to success.
The key character is Sidney Hopcroft perfectly described by Michael Billington as "a demonic reptile who relishes his growing power over the people who once patronised him"; I can well imagine Richard Briers in the original London production, though sadly I did not see it at the time. Rob observed that the final act was particularly dark in this production.
This version was set "in period" - the period probably being when it was written (1972), but, humorous in itself, it took me a while to realise it!

What it did bring to mind was an amusing tale of a little theatrical backstage error during the 1980s Watford production of Night and Day. Rob (Chief Lighting and Sound) had re-used the tape from Absurd Person for Night and Day. The latter, being set in Africa, required relentless African drums at one point, where the leading actress has the tongue-in-cheek line "O - those drums, those damn drums!". This particular evening, they had failed to rewind the tape, which overran into the previous recording, and made the line utterly surreal, as the cast were faced with a crooning chorus of White Christmas. However, the good-natured Gwen Taylor covered it with great aplomb, though the audience must have thought it a little odd, or the humour rather esoteric.

Finally - I was much relieved to see living proof that the trendy Fair Isle waistcoat (and shirt etc) fitted Rob just fine - and -
he really did get that bus pass - used it to get to Richmond....


Posted on September 26, 2008 at 11:37 PM

« Previous entry | Main | Next entry »
Monday September 1, 2008
Billy Again
Yesterday I went into Kingston (on a shopping trip - more of that another time) and watched Rob out dancing with the Morris side.
It was not a great start to Kingston's carnival day - Saturday was fantastic - hot, sunny... and Sunday opened with crashing thunderstorms and pouring rain. However, by lunchtime the worst of the rain had cleared, and the three sides together had a great trip, starting out at Hampton Court and then taking the boat up the river to Kingston and congregating at the Bishop-out-of-Residence (yes, that is a weird name for a pub). This was my first glimpse of them as I walked across Kingston bridge.
The other sides were Thames Valley Morris - seen here dancing I know not what (my ignorance not their dancing):
The other side were Bloxon Morris - which I only just realised looking at their website are a women's side - and I don't have any photos of them. They dance in blue as do Thames Valley and for most of the time I did not realise there was a third side present. I should have realised by the number of Alan's jokes about buxom "o no I mean Bloxon" women.
Nor did I take any photos of the "OffSpring" Morris women. Just want to make it clear this was co-incidence and not at all a slight on women having the effrontery to dance Morris!
Here is a link to the Thames Valley Gallery of the day - and it includes the women.
Posted on September 1, 2008 at 5:34 PM
Comments
How completely and utterly English! Nice pic of Rob.

Posted by: Alison on September 6, 2008 6:30 PM

« Previous entry | Main | Next entry »
Sunday August 31, 2008
Books in August
The Good Husband of Zebra Drive Alexander McCall Smith
I was introduced to this set of novels by Robert, somewhat before they achieved quite such world-wide acclaim. I would like to say I was immediately charmed, but I did think them childish, as I began to read the first one. By the end of the book though, I was charmed like everyone else. Ordinary people coming to terms with their problems and overcoming difficulties. The characters value the richness of their lives, and although they do not necessarily have the choice to be richer in a material sense, they do not spend their time in longing for some life they don't have. A nice parable for our own lives told in a simple way. However, as I have said before, to regard his straight-forward writing style as simple is to seriously under-rate the skill of the author.

The Jupiter Myth Lindsey Davis [Read by Christian Rodska]
My friend Diane loaned me the very first Falco book (The Silver Pigs) in the late 1980s and I was hooked. Since then I have read the steady stream of Lindsey Davis' output ever since, usually borrowing the books from Diane, Helen, and the library (!). Lindsey has an excellent website covering her books and lots of other interesting material.
I read the Jupiter Myth quite a while ago, but to my delight I found the talking book in the library read by none other than the fantastic Christian Rodska** - what a perfect combination! I swear CR could make any book he reads fascinating - he has such an array of voices that he can adopt, and he produces them very subtly, making the books really come to life. However, the Falco books are full of lively characters for him to play with - a complete joy.
** Since "discovering" Christian Rodska as a narrator I have taken great delight in watching his (again very subtle) character performances in what seems like every single British TV series ever produced - all the TV detectives through to a recent appearance in Doc Martin I noticed.

Posted on August 31, 2008 at 3:31 PM

« Previous entry | Main | Next entry »
Thursday July 31, 2008
Books in July
Devil Water Anya Seton
Well - it was in my local library - which says something for the quality of the book, after all this time (please read my previous entry for June). So curiosity has made me read it at last, albeit 30 years too late. And what a riveting and rollicking 18th century tale it is.
Nicely for the American author, it is interwoven with action in Virginia - and none of this mere invention. Obviously a lot of the story includes the sort of liberties taken by any historical novelist, but this author is known for her research and you can be pretty certain that the factual information included is actually factual and not invented. Even some of the more unlikely intimate thoughts of the characters are found to be taken from their contemporary diaries and writings.
So all in all, I also would recommend it; a fascinating historical read, as well as a good history lesson. [And with a little more meat than my usual readings, plus the actual length of the book, has meant I have read little else this month.]
The Cat that went Bananas Lilian Jackson Braun
I noticed this series of books in the library and was so amused by the concept of cats and detection that I had to read one. These are mysteries featuring journalist James Qwilleran and his "lovable, clue-sensitive cats". I have to say it was pretty terrible, but there are a few mitigating factors: one is that there is a fairly gently humour being poked at small town East Coast life, which I think I don't understand properly; another is that this is the author's 27th "Cat Who..." mystery, and one reviewer implied that she is no longer at her best, [but I shan't be testing any others].
Strangely - the cat aspect of the book was more appealing than I had expected. They were not altogether twee, or endowed with powers beyond those of a normal cat. I did find it very entertaining that every person in the book had a cat or cats and they did express something of the owner's personalities, but with rather more than a simplistic superficial analysis.

Posted on July 31, 2008 at 10:07 AM

« Previous entry | Main | Next entry »
Monday June 30, 2008
Books in June
Kids' stuff...
Borrower of the Night Elizabeth Peters
Again I picked this author originally due to a similarity to "Ellis Peters" and was smitten by the concept of Victorian archeologists combined with Thriller/Detection. However, I was not very thrilled with the 'Amelia Peabody' series, and laughed out loud at the book blurbs declaring "an author so popular that copies of her books in the public libraries have to kept under lock and key!" [on which planet I wonder?].
This book is a 'Vicky Bliss' mystery. The first in the series, written in 1974, and quite interesting for me to read a contemporary view of modern manners - I would say "to remember" but I was not quite adult enough in the 1970s to take anything other than the subjective view of a participant. Vicky Bliss is just as irritating as Amelia. Need I say more? Strangely enough I find this author's more serious writing - which you get to experience in the Amelia series when Amelia's children take over the narrative - quite good; however I don't really enjoy what I imagine to be tongue in cheek humorous stuff which is exhibited through Amelia, and to some extent Vicky.
The view of the 1970s, in combination with the antagonistic relationship of hero and heroine brought back memories - not only Mills and Boon but - of Mary Stewart. I realised I have not given her books a thought for at least 30 years.
I read her novels initially as mystery/suspense/thrillers - but in fact I am sure I took to them as much for the romance angle. To quote from Wikipedia she maintains "a full mystery while focusing on the courtship between two people"; I note that they also say that she was "at the height of her popularity in the 1960s and 70s", though I also notice these novels were written more in the 1950s. She writes unashamedly to a very specific formula - and is successful every time I would say. She has an exotic picturesque setting, a 'difficult' man (who turns out to be "the one"), often some protegé, (maternal instincts), and the element of danger and mystery. Perfect fodder for the teenage me.
In this respect, it came to me that there is a strong similarity to Dick Francis - another favourite, and excellent thriller writer. It is really no surpise to relate these similarities to the acknowledged fact that Francis's wife contributed many ideas to his books. He has a hero rather than a heroine, of course, but always very sensitive with a bittersweet emotional intensity. He also chooses a specific setting though usually by means of an unusual job for his hero.
Mary Stewart also wrote fantasy/historical novels (the Merlin series) in which I was not so interested, even though historical novels were a mainstay of my reading materials of that time. This led to more memories of such intensity, I was compelled to go and review my own bookshelves, and then wander through a maze of internet pathways to recall authors that I am ashamed to say I had simply forgotten.
At school we were generally encouraged to read historical novels for children - by 'suitable' authors, naturally. I began with Rosemary Sutcliff's Eagle of the Ninth first published in 1954. It is set in Roman Britain in the 130s and follows the story of a boy's search to discover the truth about the disappearance of his father's legion in the north of Britain. This was the first in a sequence of novels: The Silver Branch, The Lantern Bearers, and Sword at Sunset. This last one is really an adult book, and is a modern interpretation of the legends of King Arthur. This is the one in residence on my bookshelf. I feel I ought to read it again - though all I remember of it is that it is unbearably sad. I must say that I did not even realise it was related to her other Roman books in any way.
I remember her as an excellent writer, and we all fell in adolescent love with her heroes, (Beowulf, for example...!).
I then remembered Henry Treece . I had somehow managed to totally wipe him from my memory. He was a little more 'serious' for me than the female writers, but I was drawn into his work by the desire for more "Roman" fiction, and then on to his Viking Series. The Eagles Have Flown published in 1954, deals with Britain after the Romans, and and again with the supposed historical figure behind the legends of Arthur.
Much as I am inclined to do today, I think I read a 'set' of books on Arthur - the third of which was T H White's famous Once and Future King - which again was suited to the adolescent reading transition from child to adult.
Even more amusingly, just like moving from Ellis Peters to Elizabeth Peters - Henry Treece led me to Geoffrey Trease (nearby on the library shelf) - another author of children's historical novels. So perhaps my easy substitution of names is not due to old age and loss of marbles, but simply a genetic trait after all...
Finally I need to mention a book which I have not read at all! When I was at school our Deputy Head Mistress, Mrs McCarthy - amazing woman, straight out of he 1940's complete with hair roll - taught us not only about ladylike manners, and what make-up was suitable for young women (ie none), but also history. This included the Jacobite rebellions of 1715 and 1745; apart from the rather fundamental difference of which King or Prince was "pretending" at the time, we always got the events and battles muddled. Her advice (more than once) was to read a "very good book" by Anya Seton and "you will never mix them up again". I think this must have been Devil Water as it's about the Earl of Derwentwater and his involvement with the Jacobite rising of 1715, and his brother Charles, beheaded after the 1745 rebellion, the last man to die for the cause.
Sounds great doesn't it? Maybe they have it in the library...

I shall end here - Mrs McCarthy was also our English teacher, and asked my parents what I (aged 12) read, as my writing style was not very good. [And the answer was Agatha Christie - so her inferences were probably correct].


Posted on June 30, 2008 at 11:27 PM

« Previous entry | Main | Next entry »
Tuesday June 17, 2008
Festival of Creativity - Croydon College
This evening I joined Rob for the summer exhibition of his students work. The departments on show were graphic design, (very polished), video practice, and theatrical design, (Fashion get their turn tomorrow with a catwalk in the Whitgift Centre as part of Croydon's Fashion Festival).
The students take on various design projects - for example, to create complete designs for a show - they may do a model box for the set, draw a number of costumes, and then make one of them up. Here is a project to make a costume from a period deco design and see if it "could be made to work as a practical costume". [Marks are given not only for designs but also for comfort and ability to move].
I saw a lot of design projects and costumes, as well as short dramas - enacted on video and in the Peter Jackman Theatre.
"3" was the third in a series of short theatrical pieces "conceived, designed, directed" (and acted) by Clare Seviour.
These are not drama students and these theatrical pieces evolved out of the "sound to light" projects which used to be part of the lighting course. The students gradually became more and more ambitious in their desire to outdo one another - and this is what has evolved.

It is interesting to see students of the arts developing their talents. It's like watching the first life forms crawl out of the primeval soup and shake off the gloop. They make "mistakes", of course - however, it's hard to judge whether they are actual mistakes in fact - or whether they are intentionally taking a different angle on the subject - making a statement - being young and experimental.

This - as opposed to science, where we all learned what we were told at that level of development. I suppose there was some encouragement to move on from school learning - I remember spending some time explaining to undergraduates doing chemistry practicals (and pestering me to know if they had the right answer) that there were no "right answers" any more, and that any answer they got was valid and needed to be plotted on their graph and a judgement made by themselves as to the significance. Of course this was transparently not true, since they were not actually pushing back the boundaries of science at that point but....
Sigh.
Chemistry practicals. Thrilling discoveries from a bygone age*.
And now.... science departments too expensive to run and no longer required. Brave Old World.

[*Read "The Search" - C P Snow (1934)]

Posted on June 17, 2008 at 11:44 AM

« Previous entry | Main | Next entry »
Saturday June 7, 2008
Flora the Red Menace

Last night, we went to see the BROS Theatre Company production of Flora the Red Menace at the Hampton Hill Playhouse. It was directed by my colleague Tony, who has been excited about it ever since his idea for the project was first accepted.
My partner in crime for the evening was Robert, who (as you can imagine) has been looking forward to it all week..... sort of..... Well it was both an amateur production and a musical - you can hardly blame him.
In the event he found it not merely OK but very good - very impressed with Tony's direction, use of stage in the round, and choice and design of the wooden blocks as props and setting. The cast were brilliant - a very entertaining night.

Posted on June 7, 2008 at 8:49 AM

« Previous entry | Main | Next entry »
Saturday May 31, 2008
Books in May
Ha!
There weren't any...
I have been completing a lot of knitting projects, and have thus been listening extensively to my iPOD - however, sadly not to "proper" books. George told me that "there are a lot of MP3s of books out there on the internet" and to prove it downloaded a stack of BBC radio plays - all Miss Marple (portrayed by June Whitfield) and Poirot (played by John Moffat) - I'm afraid I am not keen on the latter - the French accent seems to consist of strangely pronounced "w" - as if there were extraneous "h"s present.
I have a love/hate relationship with these plays but they kept me well amused while concentrating on other things. However, one or two of the downloads are David Suchet reading some of the Poirot short stories, which I am looking forward to listening to in the future.

Posted on May 31, 2008 at 8:19 AM

« Previous entry | Main | Next entry »
Wednesday April 30, 2008
Books in April
Locked Rooms Laurie R King
This is the latest in a series of novels which start with The Beekeepers Apprentice, or, "What Sherlock Did Next". It follows the famous sleuth after he retires to Sussex to keep bees. Apart from the excellent (really excellent) work by Michael Dibdin**, I have found modern Holmes pastiches to be truly poor - even comparing them with the later Conan Doyle stories, which were often poorly written. And it is true that a synopsis of the basic premise of the books [young American jewish girl meets older Holmes and marries him..] does sound pretty bad - to us fans.
However, I'm no purist and Laurie King is easily forgiven. She writes very well, the stories are true adventure stories with the emphasis on the word story, in the very best traditions of Conan Doyle or Rudyard Kipling, and they are not pastiches, being really about Mary Russell, rather than "More Adventures of Sherlock Holmes". Probably neither she nor you need my justification, but perhaps I feel I need to justify why I read them!.
Any changes observed in the Holmes character are easily attributed to his being seen through different eyes, and he is, after all, much older. It is amusing to see that Mary is clearly King herself, even down to physical descriptions, and I think because of this she writes with such sympathy and love for her subject matter, that you can forgive her messing about with such an English institution. She makes her premise entirely plausible - I was not so sure about the idea of Holmes marrying, but for the time about which she writes, and our own reader's sensibilities, it would be hard to create stories about an unmarried couple careering around together in such intimate circumstances. It also occurred to me that she has a good contemporary model for such an idea, in Lord Baden-Powell, who, famous Victorian hero of Mafeking, and a bachelor at 55, in 1912 met and married Olave, aged 23; wikipedia notes "not an uncommon age gap at that time".
My favourite of these novels to date has been "The Game" - I think because it is set in India, (always interested me due to family connections) and has nice references to Kipling throughout. Now I have got to grips with my iPod, I have been listening to an audio version of it recently (read by Jenny Sterlin), in tandem with reading Locked Rooms.
Laurie King has a great website with lots of fanzine materials and links, plus a most enjoyable blog which illustrates her charming and fun personality.

** The last Sherlock Holmes Story is such an excellent book that I was astonished to see it was his first and dates from 1978. It really is perfect, in my opinion, so that even while proposing a heretical view of Holmes character, the portrayal is so very accurate that you wonder how we could have ever have perceived the detective in any other way.
I remember a similar sensation when I saw the all male version of Swan Lake - how could anyone ever stage it any other way?!


At Bertrams Hotel Agatha Christie
Read by Rosemary Leach
"In which Christina learns a new word."
I am pleased when my excursions into re-reading Christie novels of dubious literary merit do in fact enrich my intellectual life in some way... The word in question is "simulacrum", and it is the foundation upon which the novel is set. Bertram's Hotel is not simply a nice old-fashioned hotel with all the "old standards", nor is it a commercial Olde Worlde copy for the benefit of tourists - it is a hyper-real stagey version of an old hotel. Not stagnant but actively groomed and polished to produce the required effect.
Within the elderly class-ridden society that inhabit it, all are agreed how wonderful it all is. Yet, most satisfyingly, it takes Miss Marple - who is not one for mawkish nostalgia - no time at all to shrewdly take it all in and regard it not only with suspicion, but also as somewhat threatening. To my mind, this is most vividly portrayed in the Joan Hickson TV series, where the plot is fairly accurately followed - though it could be said, improved upon. In the book, there is a rather tedious focus on the police investigation, and perhaps more true to life, less focus on Miss Marple - she is after all just a little old lady.
Here are some snatches of reviews which I think give a good idea of the overall quality of the book:
"...can hardly be called a major Agatha Christie..."
"...denouement is really too far-fetched..."
"...seldom at her best when she goes thrillerish on you..."
"...a reasonably snug read..."
"...plot is rather creaky, as in most of the late ones..."
"...Elvira Blake is one of the best observed of the many young people in late Christie..."
"...seemingly trashy fiction that nevertheless contributes to a genre of speculative fiction..."
This last reviewer goes on to draw comparisons with other examples of synthetic worlds that seem at first to be benevolent: The Portrait of Dorian Grey, Blade Runner, Westworld, Jurassic Park, and The Truman Show.

In addition to listening to the book, I watched (again) the Geraldine McEwan version in "Marple". This deviates from the book considerably - as do all the Marple series - but in a Good way. Some episodes of this series were very disappointing (for example Murder at the Vicarage, which promised so much with such a fabulous cast but...); however, generally, they offer some nice variations in themes and characters, which I quite approve of. Joan Hickson provided a definitive version - so why repeat that?
The side plot with Martine McCutcheon and Stephen Mangan adds very positively to the story, and reinforces the more light-hearted tone of the Marple series. I read that McEwan has abandoned the role and it will be taken up by Julia McKenzie - it seems slightly odd as they must have filmed almost all of them by now (even some that were not actually Marple stories) and it seems odd that they have filmed Nemesis without the prequel Caribbean Mystery.... but I digress.
More important than any of these considerations - McEwan wears a delightful cardigan throughout - which I fondly imagine having been knitted by someone in the costume department. It seems to me to be a recreation of the pattern from 1936 "My Home" (although this was a jumper not a cardigan) as reprinted in Jane Waller's 30s Family Knitting Book*** published in 1981.
Note that Miss Marple has her trusty knitting bag over her arm, and much is made of the knitting in the recent portrayals. Julia McKenzie says of her new role "I suppose I shall have to remind myself how to knit". I think originally it was introduced to emphasise her persona as one of harmless old lady; in one story she use the pretence of buying some wool in a local shop in order to pick up information. I can't imagine Christie herself knitting somehow, but I guess it was and is a fairly common pursuit.

This must have been a fun role for McEwan - but I was most delighted by her portrayal of Lucia in the TV series of the E F Benson books. These were surely perfect, and the audio books - some read by McEwan and some by Prunella Scales - are also wonderful to listen to.

*** I notice that Amazon show this as a "rare" book and one seller is asking £121 for a copy. Jane Waller mentioned to me that she thought her books from the 1980s - Stitch in Time, 30s Family Knitting Book, and Mens Book - would be worth reprinting, but the publishers were not interested in doing so.
Posted on April 30, 2008 at 8:14 AM

« Previous entry | Main | Next entry »
Monday March 31, 2008
Books in March
The Fourth Bear Jasper Fforde
I think I was probably introduced to Jasper Fforde (Thursday Next novels) by Robert, and swiftly passed them on to Alison. Although I continued with Thursday Next's adventures, I never bothered with the "Nursery Crime" books until I was given (Robert again) two for my birthday. Through an administrative error I took the second one to France with me, so I have read them out of sequence, but I don't think that has impeded my enjoyment.
Like Terry Pratchett, Fforde's novels are tagged Fantasy Satire, and like Pratchett, they are brilliant. A fantasy world makes you somehow able to look at what is obviously our own world with more objective eyes - and see humbug and hypocrisy for what it really is - and have a good laugh.
I do not have journalistic skills to write an elegant review - instead try this.
The Right Attitude to Rain Alexander McCall Smith
This is third in the series about Isobel Dalhousie; a quick read, and most enjoyable. The main character really reminds me of my friend Diane; that is really "reminds" me of her, rather than being actually the same as her. It is her sense of what is fundamentally Right, perhaps, as well as the the descriptions of the Edinburgh locations. Alison said she was very surprised by the ending of the book, and it provoked a quite interesting few moments of discussion on the characters' motivations.
This a