Archive Entries for
November 2010
« October 2010 | Main | December 2010 »
Tuesday November 30, 2010
Books in November
The Triumph of Caesar Steven Saylor [read by Peter Wickham]
I was a bit surprised (and pleased) that Saylor has written a further Roma Sub Rosa novel. I thought we had seen the last of Gordianus in Egypt in The Judgement of Caesar. As the earlier novels progressed rapidly through history, I always felt that Saylor planned to continue the sagas perhaps by focusing on other members of Gordianus' family, but this never fully developed. I think Gordianus proved to be more interesting than any of the others. However, our hero is certainly getting on a bit now, and the style of the novel seems affected by that fact, (which is interesting in that the author himself is not so very ancient). This is a way of saying that I did find the pace a bit slow and the basic plot a little weak, but as usual the historical detail is very interesting in itself, and clearly where Saylor's interest and expertise lie.
I think that may be the overriding reason that we have not moved to later periods in history with G's sons or daughter. And - presumably to keep a plausible lifespan for Gordianus, while avoiding a chronological dead-end for the series - the next novel is said to be a "prequel that will take the young Gordianus to the Seven Wonders of the World".
I look forward to it.


Scarpetta by Patricia Cornwell [read by Lorelei King]
So - I plod on reading the Scarpetta series - always a good read (if you like crime thrillers - not so good if you don't). You can see from other notes on these books, I have some reservations about the portrayal of the heroine. However, in this book I seemed to discern a change. Kay seems to have become much more human, and I had a greater sense of warmth from all the characters - as if a study in black and white had suddenly been tinged with colour. I think the analogy works well as the black and white depiction stands on its own artistic merit as well as colour adding interest.
Looking back on the series and Cornwell's other novels I think she has quite simply adopted different writing styles and that alters how I feel when reading. The most notable is writing in the third person and yet in the present tense. You (I) would imagine that writing in the present tense would add to the tension and immediacy of the action, but the use of the third person makes for a sense of icy detachment, as if you are watching the characters and the plot unfold through a pane of glass.
In this book we return to third person past tense ("normal"!) and the characters suddenly seem more alive. So I'm looking forward to her next couple of books which seem (from excerpts I have read) to continue with this style.

Posted on November 30, 2010 at 9:24 AM. Category: Books of the Month.
Sunday November 28, 2010
Medlars
We have a medlar tree in France and this year we found some fruit from it, so I "left them to rot" for a while, as instructed, and then made jelly and jam.
Not sure if it's because it's a good year for medlars, but whatever the reason they seem to be having a lot of items about them in the media. I did know you have to blet them, but, having watched the TV programs, I think that's more for eating them as fruit rather than making jelly. For the latter I think you need more of a mix with unripened fruit. My jelly and jam was somewhat bland, and not very exciting. Eating the raw bletted fruit was much as described - like stewed apple with the cinammon and spices already added.
Posted on November 28, 2010 at 12:38 PM. Category: The Garden.
Sunday November 21, 2010
San Francisco
It was dull and drizzley so what else but to hit the shops. We went to Nordstrom in the Westfield Center - mostly just Nordstrom! It boasts the first spiral escalator - and it is a pretty impressive centrepiece to the mall.
Last night's torrential rain had ceased but it was a cloudy brooding day - this is a perhaps a less-than-picturesque view from our hotel window - but I thought it was great.
To rally ourselves for the shopping, we had a marvelous "brunch" at Dottie's True Blue Cafe, in the Tenderloin neighbourhood. It's a much-loved unpretentious cafe which I would liken to a UK transport cafe (in a good way). The main difficulty with Dottie's is a cramped interior (adds to the charm) and thus the potentially long wait for a table (not so charming). However, on the day, we hardly had to wait any time (20 mins?) and the food was great.
Since our visit, Dottie's has reopened at a new location in Sixth Street - the interior looks very swish, but I think the biggest plus must be the increase in covers, which - even if you regret the old earthy styling - must mean that more people can enjoy their great food without the terrible queue.
Posted on November 21, 2010 at 8:35 PM. Category: Holiday USA.
Saturday November 20, 2010
China Beach and Lands End
We take a weekend off in SanFrancisco.
Having had fabulous holiday weather ("for the time of year" - as the natives kept reminding me but which I took entirely for granted), the predictions for the weekend were for heavy rain. However, on our arrival, the day was beautiful - breezy as usual in SF, but lovely. We visited Lands End and China Beach, where I could not resist a paddle. The sea had one lone swimmer, but I did not envy him his bracing experience.
We had a light lunch at the Cliff House - we could not get into the restaurant but in fact that suited us better because it turned out they had "bar snacks" which meant a proper cafe style lunch (as opposed to an inappropriately large meal). The Cliff House has burned down a couple of times in its early history, and when rebuilt around 1909 it was in neo-classical style, not the amazing and wonderful Victorian edifice that preceded it.
The Sutro baths were part of the same development - to my amazement built in the 1890s. I was going to embed a YouTube clip here - but there were so many good ones, I simply refer you to these:
This is just the sort of place that interests both of us - in history and style. Sad that none of the amazing architecture of the baths survive, (always too expensive to maintain "working" buildings that no longer pay their own way).
In the late afternoon, before checking in to our hotel, we found our way to Imagine Knit - a lovely yarn store on 18th and Sanchez. We spent some happy hours browsing books and yarn, and finally bought some absolutely fabulous lace-weight yarns that we don't really need. Perfect.
We had parked on a residential side street that seemed to be almost vertical, which was quite something even taking into account SF's reputation in this area; the cars were parked sideways on, and we puzzled over how the residents got their cars into their built-in garages, which were at street level on one side of the doors, but about a foot higher at the other side, (....ramps?). So it was quite a relief to get back to the car and manoeuvre it back on to saner streets, and finally into the hotel's valet parking. We got under cover just in time as the rain swept in. The hotel restaurant has a reputation for good dining, so we began discussing the issue of where to have dinner over a refreshing cup of tea, went seamlessly on to happy-hour cocktails, and then as we watched the rain tipping down outside, we happily settled on an excellent dinner in the hotel.
Posted on November 20, 2010 at 10:41 PM. Category: Holiday USA.
Friday November 19, 2010
Quarter Century
And now to the main purpose of my trip to the USA. Alison has been with our company for 25 years, and this is her celebratory lunch with colleagues at the California Cafe in Los Gatos. It was a really good experience and great to meet all her co-workers.
Posted on November 19, 2010 at 8:15 PM. Category: Holiday USA.
Thursday November 18, 2010
Santa Cruz and Natural Bridges
We both love Santa Cruz and spent a lovely day here - mainly to see the Monarch butterflies - which, despite many trips, excursions around Monterey, and tales from colleagues about the amazing sites, I have never managed to see the reputedly spectacular congregations of these insects.
Note: also took in lunch and purchased lovely Coach bag... (!)
If we look slightly wild in the above photo, it's because we took it with a delayed timer; we had many attempts before managing this one, involving balancing the camera on a tree stump, rebalancing (quickly) after pressing the button, then running round into shot. What Larks!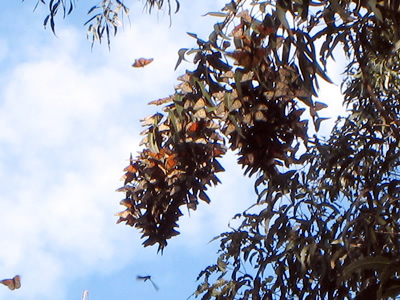 The butterflies were much more wonderful than my ability with a camera can convey. Above you can see what looks like a hanging cluster of dead leaves - which are the Monarchs; the more orange colours are them with their wings open (you have to trust me).
Below is the best close-up shot I could achieve of one with closed wings - sadly focussed on the twigs rather than the insect. However, you can see how a mass of them just look like dead leaves.
---
Monarch Grove
Directions to trailhead: Natural Bridges State Beach is located off Highway 1 in Santa Cruz at 2531 W. Cliff Drive. Follow the signs from Highway 1.
The hike: Signed Monarch Trail begins near the park's small interpretive center. Soon the trail splits; the leftward fork leads to a monarch observation platform. Sometimes on cold mornings, the butterflies look like small, brown, fluttering leaves. As the sun warms the tropical insects, the "leaves" come to life bobbing and darting. As many as 200,000 monarchs cluster in the state park on a "good" butterfly year. The other branch of the trail is a self-guided nature trail. It ends in a grove of Monterey pine.
Posted on November 18, 2010 at 9:42 PM. Category: Holiday USA.
Tuesday November 16, 2010
Blossom Hill
So this is just a boring road - with some pretty autumnal trees.
But it is bestowed with a name to conjure with. It is filled with nostalgia, encompassing my first ever visit to California through to the very origins of its name. For me, it was the first road I had to become familiar with in California stretching right from my initial lodging in Los Gatos up to the factory gates of where I was working in San Jose (which in those days was almost a little town all on its own - and is now bulldozed, despite having been designated of historical interest); and going home to my condo "down Blossom Hill, turn right at Snell". It makes me think of those sad lyrics dating from long before there was a Silicon Valley, when a lonely would-be actor wistfully dreams of home.
You are hard pressed to find the plum trees there now - but I always see the blossom.
---
San José
The City of San José has a rich history, one that has been marked over the years by the extent of change that has accentuated its landscapes - both physical and figurative. Once a largely agrarian community, San José was a city of bucolic hillsides and an expansive valley dotted with orchards of apricots, walnuts, cherries and plums. In those days, San José was known as the "Prune Capital of the World." Decades later, the city successfully carved out a niche as the Capital of Silicon Valley, and is known around the globe as a high-tech center.
San José Statistics
Founded: November 29, 1777 San José was California's first civilian settlement
Incorporated: March 27, 1850 San José was California's first incorporated city and site of the first state capital.
Incorporated Area: 178.2 square miles
County: Santa Clara
Population: 1,007,000*
San José is the third largest city in California, following Los Angeles and San Diego.
It is the 10th largest city in the U.S.
*2009 California Department of Finance
Technology Expertise: The San José area is home to the largest concentration of technology expertise in the world--more than 5,600 technology companies employing more than 240,000 people.
Climate: Temperatures vary from an average of 50º in January to an average of 70º in July.
San José boasts an average of more than 300 sunny days per year, and has a mean annual rainfall of 14.4 inches.
Elevation: The highest elevation is 4,372 feet at Copernicus Peak on Mt. Hamilton (near Lick Observatory) in the Diablo Range; the lowest elevation is sea level.
Distinctions
10th Largest City in the U.S.
#1 Recycler among nation's largest cities
Highest credit rating of any large City in California
#1 median household income in the United States
San José by the number
Cultural Events (Approx.) ..........................450
Arts Groups (Approx.) ...............................125
Regional Parks .............................................9
Neighborhood Parks..................................203
Parks Acres.............................................2,884
Libraries......................................................18
Community Centers....................................29
Senior Centers ..........................................12
Youth Centers ............................................14
Fire Stations ..............................................34
Sworn Fire Personnel ...............................716
Sworn Police Personnel .........................1,343
Total Employees ....................................6,623
Miles of City Streets ...............................2,300
Miles of Trails .............................................50
Airport Area Acres .................................1,050
---
All information in extended entry about San José copied from San Jose City Facts Leaflet 2009
Office of the City Manager
200 East Santa Clara Street, San José, CA 95113
Customer Service Call Center
(408) 535-3500
www.sanjoseca.gov
Posted on November 16, 2010 at 4:31 PM. Category: Holiday USA.
Friday November 12, 2010
Where in the world...?
I am always so excited I have to take a photo like this.
Posted on November 12, 2010 at 12:23 PM. Category: Holiday USA.