Archive Entries for
March 2011
« February 2011 | Main | April 2011 »
Thursday March 31, 2011
Books in March
Bedtime listening. Yawn.
Fresh from the Country by Miss Read [read by Gwen Watford]
I really enjoyed the gently humorous homely tales in "Over the Gate". However this book is not written in the same mould at all. It's an account of a newly-qualified female teacher's experiences in the early 1960s, and I found it rather tedious with little substance. I also disliked the representation of the "perfect" and patronising head teacher who was clearly the potential role model for the heroine; one can only hope that the very tiny intimations of romance might swiftly blossom into the traditional marriage proposal and acceptance, thereby rescuing her from such a fate for good (!).
One of the problems may be that I cannot relate to the story in the same way that perhaps those in the teaching profession could. Nonetheless, I think some of her other stories are much more pleasing and fun.


Depths by Henning Mankell [read by Seán Barrett]
This is a very gloomy book - all icy wilderness and barrenness bleakness, set during the First World War. It was hard for me to empathise with this hero, and as it's told from his point of view, (and he is clearly psychotic), it's hard to get to grips with how others view him. He is deeply disturbed throughout, and entangles himself in a web of deceit, leading to multiple murders, and fairly inevitably, as his duplicity is unravelled, his own demise.
(It reminded me a little of Zola's "Thérèse Raquin", and to confirm me as a Phillistine, I did not like that much either.)
And yes - I am one of those idiots who thought this would be a Wallander novel.

Posted on March 31, 2011 at 9:56 AM. Category: Books of the Month.
Sunday March 27, 2011
More birthday delights
Helen dropped by on her way home from a trip to Italy, so I was able to present her with the woolly gifts. Unfortunately the cushion pads didn't turn up in time, (in case you were wondering), so she'll be collecting them on another visit.
Posted on March 27, 2011 at 8:57 AM. Category: Knitting and Crochet.
Saturday March 26, 2011
Cheese Scones
I am always trying to make cheese scones - I love them. But mine always seem flat and mean looking. This recipe proved most successful to date, involving: an egg, handling the dough as little as possible, and rolling out the dough quite thickly and cutting out larger scones (the latter most obvious I suppose). I think using buttermilk instead of milk can help activate the rising agent in the flour.
---
Cheese Scones
Ingredients
6 ozs self raising flour
1-1½ oz butter
pinch of salt
pinch of English mustard powder (or less if you like)
a good pinch of cayenne
3½ ozs grated Cheddar cheese
1 egg
2-3 tbsps milk (as needed)
Method
Pre-heat the oven to gas mark 7, 425°F (220°C)..
Sift the flour into a bowl along with the mustard powder, salt, and cayenne pepper; mix together.
Rub in the butter with finger tips until well combined. Mix in most of the grated cheese leaving the remainder (about a tbsp) to use later.
Beat the eggs with 2 tbsp milk and add to the dry ingredients. Mix together to form a soft dough, adding a little more milk as required if the mixture seems dry. Try to avoid working the mixture too much.
Gently roll out the dough on a well-floured surface, as evenly as possible to a thickness of ¾ - 1 inch. Pat the dough into a square shape as you roll and cut into 9 square (ish) scones (3 x 3) with a knife.
Place evenly spaced on a baking sheet, allowing a little room for rising. Brush the tops with a little more milk, and sprinkle with grated cheese.
Bake for 12-15 minutes (or a little longer if necessary) until the cheese has started to bubble and the scones are browned. Cool on a wire rack.
Serve warm or cold with or without butter but the scones are best eaten the day they are cooked. [You can freeze them, but reheat in an oven after defrosting].
Posted on March 26, 2011 at 5:45 PM. Category: Kitchen and food.
Sunday March 13, 2011
Birthday at the Swan
Notable quote: "I'm sorry we don't do bread pudding any more - customers complained that it was very bready". .....er...hello?
Posted on March 13, 2011 at 5:45 PM. Category: Days Out.
Saturday March 5, 2011
The Friends - in Chichester
This year it was Chichester, which was sufficiently close for me to make it a day trip. We may have had a few informal pre-dinner drinks (below) - followed by the traditional curry (above).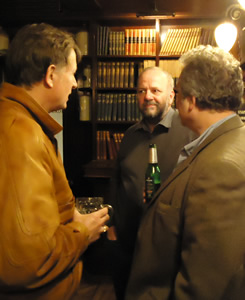 It was a lovely afternoon, so prior to meeting everyone, I took a walk around the walls - which I don't remember doing very much (if at all) when I lived here.
There was great excitement in East Street where there had clearly been a fire - apparently affecting Fat Face and the accommodation above.
I finished off my sight-seeing by visiting the cathedral and the Bishops gardens. I tried to photograph the Chagall window but with limited success. (Hard to get the correct angle and a stable position in which to focus).
Posted on March 5, 2011 at 11:43 PM. Category: Friends.